Shayari for Eyes"Koi Ankhon Se Baat Kar Leta Hai"
|
Koi Ankhon Se Baat Kar Leta Hai.Koi Ankhon Mai Mulakat Kar Leta Hai.Bada Mushkil Hota Hai Jawab Dena.Jab Koi Khamosh Rehkar Sawaal Kar Leta Hai.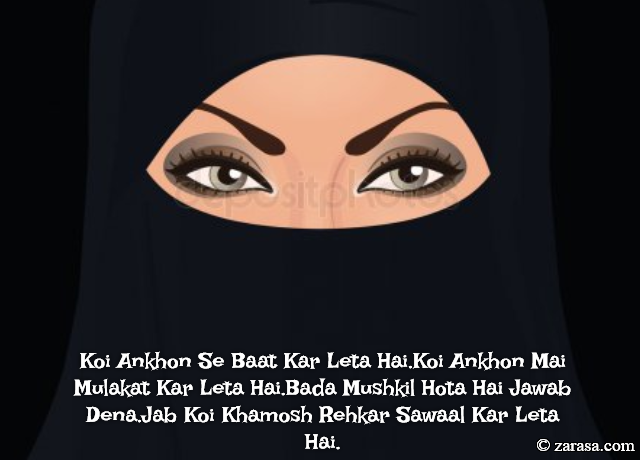 ---

कोई आँखों से बात कर लेता है .कोई आँखों मै मुलाकात कर लेता है .बड़ा मुश्किल होता है जवाब देना .जब कोई ख़ामोश रहकर सवाल कर लेता है .


---

کوئی آنکھوں سے بات کر لیتا ہے کوئی آنکھوں می ملکت کر لیتا ہے .بد مشکل ہوتا ہے جواب دینا .جب کوئی خاموش رہکر سوال کر لیتا ہے .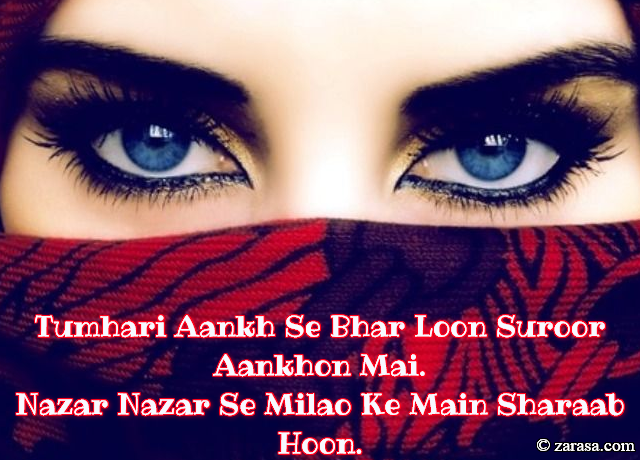 Tumhari Aankh Se Bhar Loon Suroor Aankhon Mai.
Nazar Nazar Se Milao Ke Main Sharaab Hoon.
तुम्हारी आँख से भर लून सुरूर आँखों में .
नज़र नज़र से मिलाओ के मैं शराब हु .
تمہاری آنکھ سے بھر لوں سرور آنکھوں می .
نظر نظر سے ملاؤ کے میں شراب ہوں .
---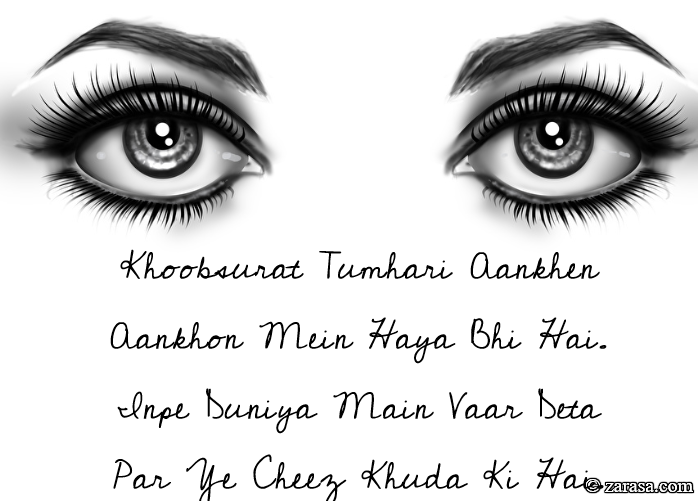 Khoobsurat Tumhari Aankhen Aankhon Mein Haya Bhi Hai.
Inpe Duniya Main Vaar Deta Par Ye Cheez Khuda Ki Hai.
खूबसूरत तुम्हारी आँखें आँखों में हाय भी है .
इनपे दुनिया मैं वार देता पर ये चीज़ खुदा की है .
خوبصورت تمہاری آنکھیں آنکھوں میں ہی بھی ہے .
انپے دنیا میں وار دیتا پر یہ چیز خدا کی ہے .
---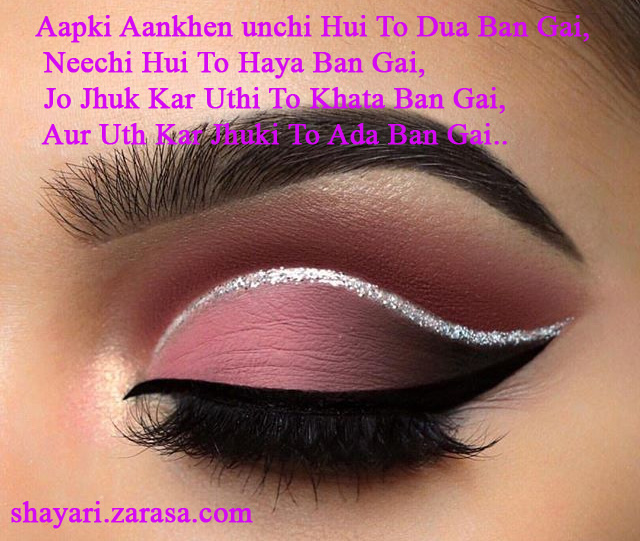 Aapki Aankhen unchi Hui To Dua Ban Gai,
Neechi Hui To Haya Ban Gai,
Jo Jhuk Kar Uthi To Khata Ban Gai,
Aur Uth Kar Jhuki To Ada Ban Gai..



आपकी आँखें ऊँची हुई तो दुआ बन गई,
नीची हुई तो हाय बन गई,
जो झुक कर उठी तो खता बन गई,
और उठ कर झुकी तो अदा बन गई।
اپ کی انکحعن اءنچی حوی تو حےا بن گی
نععچحی حوی تو حےا بن گین
جو جھک کر اٹھی تو ختا بن گین
اور اٹھ کر جھکی تو ادا بن گین۔
---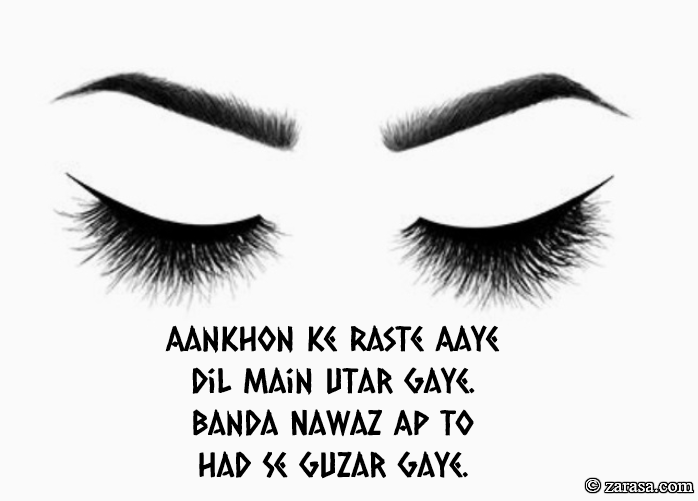 Aankhon Ke Raste Aaye Dil Main Utar Gaye.
Banda Nawaz Ap To Had Se Guzar Gaye.
आँखों के रस्ते आये दिल मैं उतर गए .
बाँदा नवाज़ आप तो हद से गुज़र गए .
آنکھوں کے راستے اے دل میں اتر گئے .
بندا نواز اپ تو حد سے گزر گئے .
---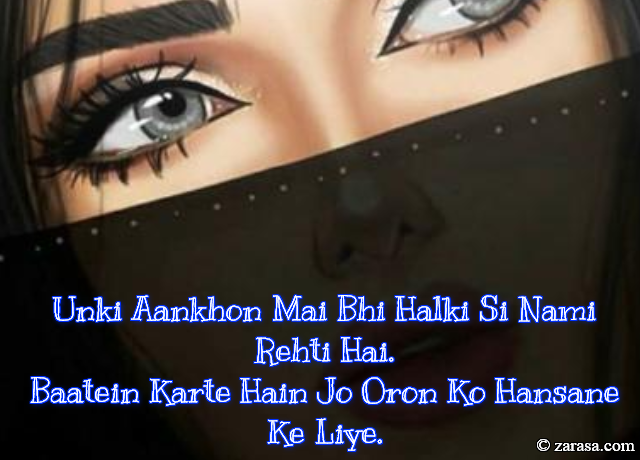 Unki Aankhon Mai Bhi Halki Si Nami Rehti Hai.
Baatein Karte Hain Jo Oron Ko Hansane Ke Liye.
उनकी आँखों मै भी हलकी सी नमी रहती है .
बातें करते हैं जो ोरों को हंसाने के लिए .
انکی می بھی ہلکی سی نامی رہتی ہے.
باتے کرتے ہیں جو اوروں کو ہنسانے کے لئے .
.
---