Shayari for Eyes"Koi Ankhon Se Baat Kar Leta Hai"
|
Koi Ankhon Se Baat Kar Leta Hai.Koi Ankhon Mai Mulakat Kar Leta Hai.Bada Mushkil Hota Hai Jawab Dena.Jab Koi Khamosh Rehkar Sawaal Kar Leta Hai.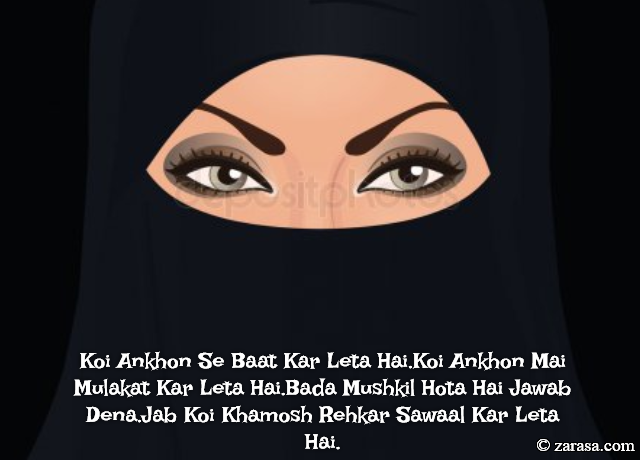 ---

कोई आँखों से बात कर लेता है .कोई आँखों मै मुलाकात कर लेता है .बड़ा मुश्किल होता है जवाब देना .जब कोई ख़ामोश रहकर सवाल कर लेता है .


---

کوئی آنکھوں سے بات کر لیتا ہے کوئی آنکھوں می ملکت کر لیتا ہے .بد مشکل ہوتا ہے جواب دینا .جب کوئی خاموش رہکر سوال کر لیتا ہے .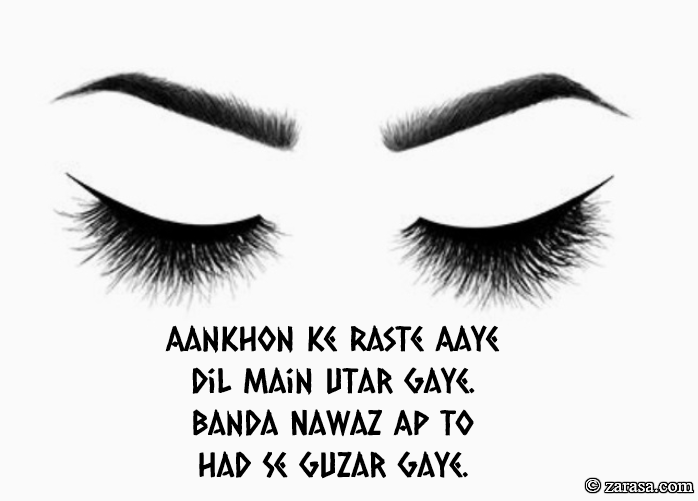 Aankhon Ke Raste Aaye Dil Main Utar Gaye.
Banda Nawaz Ap To Had Se Guzar Gaye.
आँखों के रस्ते आये दिल मैं उतर गए .
बाँदा नवाज़ आप तो हद से गुज़र गए .
آنکھوں کے راستے اے دل میں اتر گئے .
بندا نواز اپ تو حد سے گزر گئے .
---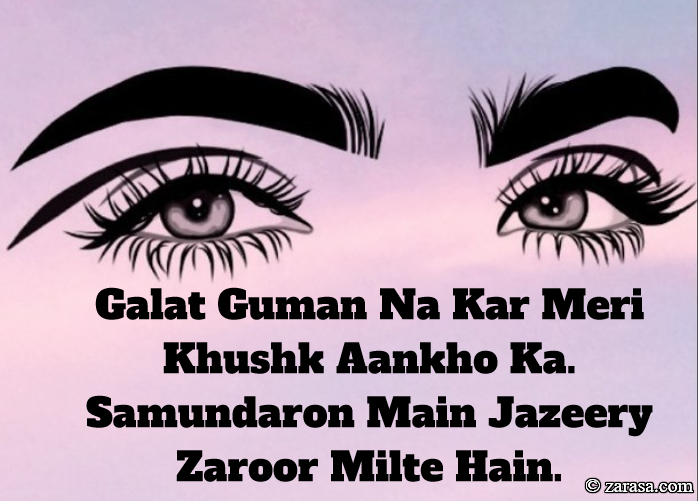 Galat Guman Na Kar Meri Khushk Aankho Ka.
Samundaron Main Jazeery Zaroor Milte Hain.
गलत गुमान ना कर मेरी खुश्क आँखों का .
समन्दरों मैं जज़ीरी ज़रूर मिलते हैं .
گلت گمان نہ کر میری خشک آنکھوں کا .
سمندروں میں جزیرے ضرور ملتے ہیں
---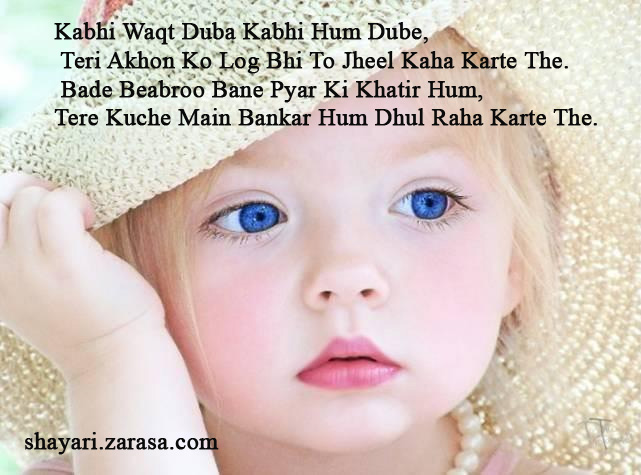 Kabhi Waqt Duba Kabhi Hum Dube,
Teri Akhon Ko Log Bhi To Jheel Kaha Karte The.
Bade Beabroo Bane Pyar Ki Khatir Hum,
Tere Kuche Main Bankar Hum Dhul Raha Karte The.


कभी वक़्त डूबा कभी हम दुबे,
तेरी आँखों को लोग भी तो झील कहा करते थे.
बड़े बेआबरू बने प्यार की खातिर हम,
तेरे कूचे मैं बनकर हम धूल रहा करते थे।
کبھی وقت ڈوبا کبھی ہم ڈوبے
تیری انکھون کو لوگ بھی جھیل کہا کرتے تھے
برھے بےابرو بنے پیار کی خھاتر ہم
تیرے کوچے مے بنکر ہم دھول رحا کرتے تھے
---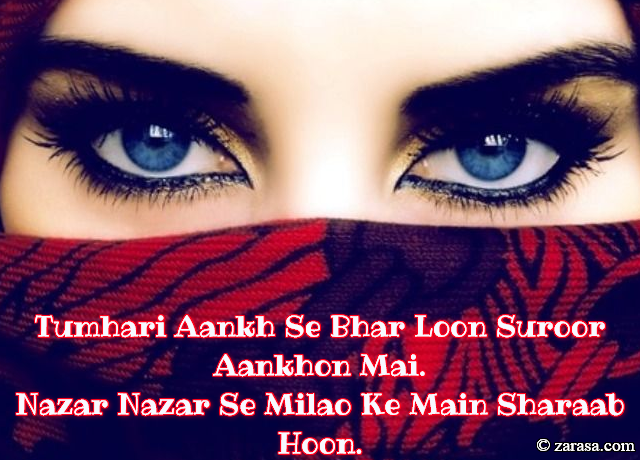 Tumhari Aankh Se Bhar Loon Suroor Aankhon Mai.
Nazar Nazar Se Milao Ke Main Sharaab Hoon.
तुम्हारी आँख से भर लून सुरूर आँखों में .
नज़र नज़र से मिलाओ के मैं शराब हु .
تمہاری آنکھ سے بھر لوں سرور آنکھوں می .
نظر نظر سے ملاؤ کے میں شراب ہوں .
---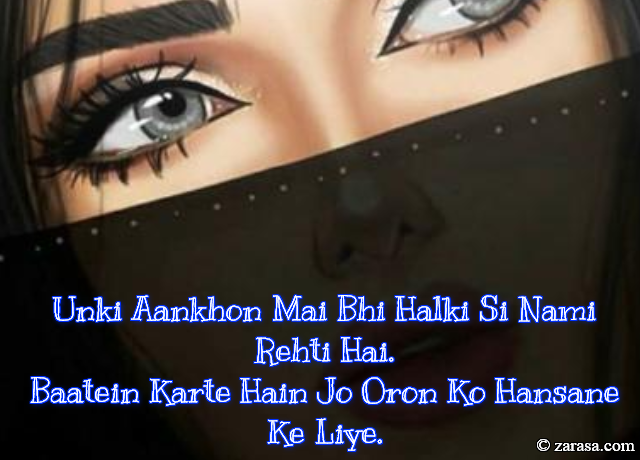 Unki Aankhon Mai Bhi Halki Si Nami Rehti Hai.
Baatein Karte Hain Jo Oron Ko Hansane Ke Liye.
उनकी आँखों मै भी हलकी सी नमी रहती है .
बातें करते हैं जो ोरों को हंसाने के लिए .
انکی می بھی ہلکی سی نامی رہتی ہے.
باتے کرتے ہیں جو اوروں کو ہنسانے کے لئے .
.
---