Shayari for Farewell "काश इस जाते हुए वक़्त को हम रोक सकते"
|
Kash is jaate hue waqt ko hum rok sakte,
apno ke saath guzra har lamha jod sakte,
na jaane kitni yaadein jo apno ne di humein,
kaash zindagi ko hum peeche mod sakte.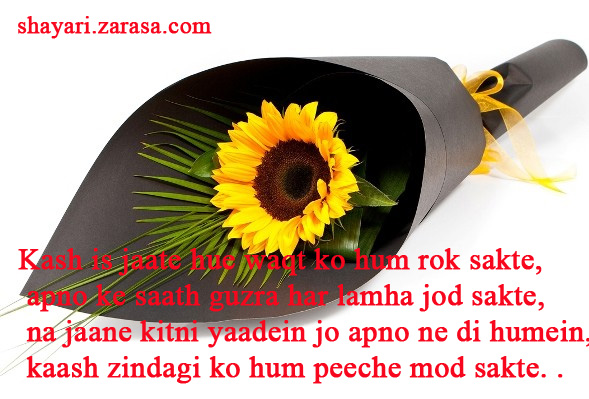 ---

काश इस जाते हुए वक़्त को हम रोक सकते,
अपनों के साथ गुज़रा हर लम्हा जोड़ सकते,
न जाने कितनी यादें जो अपनों ने दी हमें ,
काश ज़िन्दगी को हम पीछे मोड़ सकते.


---

کاش اس جاتے حوے وقت کو ہم روک سکتے
اپنون کہ سانتھ گدرا حوا حر لمحا جوڑ سکتے
نہ جانے کتنی یادین جو اپنون نے دی ہمین
کاش زنوگی کو ہم پیچھے موڑ سکتے۔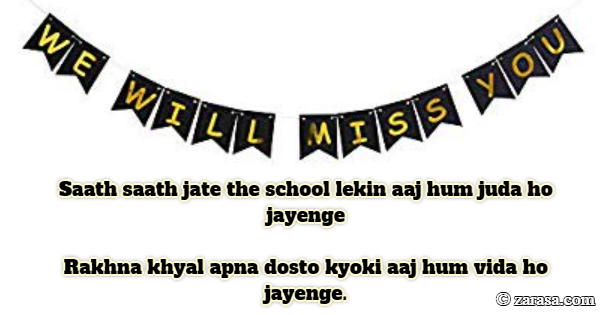 Saath saath jate the school lekin aaj hum juda ho jayenge
Rakhna khyal apna dosto kyoki aaj hum vida ho jayenge.
साथ-साथ जाते थे स्कूल लेकिन आज हम जुदा हो जायेंगे
रखना ख्याल अपना दोस्तों क्योंकि आज हम विदा हो जायेंगे।
سات سات جاتے تھے اسکول لیکن آج ہم جودا ہو جاینگے
رخنا خیال اپنا دوستو کیونکی آج ہم ویدا ہو جاینگے
---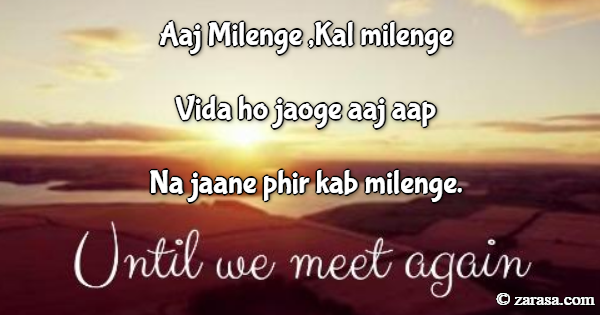 Aaj Milenge ,Kal milenge
Vida ho jaoge aaj aap
Na jaane phir kab milenge.
आज मिलेंगे, कल मिलेंगे
विदा हो जाओगे आज आप
ना जाने फिर कब मिलेंगे।
آج ملینگے کل ملینگے
ودا ہو جاؤگے آج آپ
نہ جانے پھر کب ملینگے
---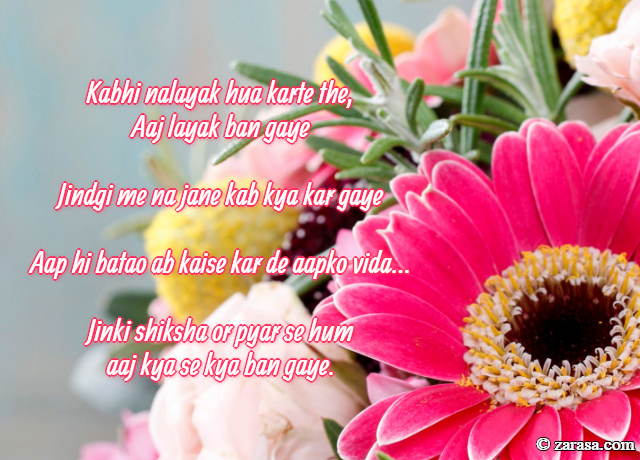 Kabhi nalayak hua karte the, Aaj layak ban gaye
Jindgi me na jane kab kya kar gaye
Aap hi batao ab kaise kar de aapko vida…
Jinki shiksha or pyar se hum aaj kya se kya ban gaye.
कभी नालायक हुआ करते थे, आज लायक बन गए
जिन्दगी में ना जाने कब क्या कर गए
आप ही बताओ अब कैसे कर दे आपको विदा…
जिनकी शिक्षा और प्यार से हम आज क्या से क्या बन गए।
کبھی نالایک ہوا کرتے تھے آج لیک بن گئے
زندگی می نہ جانے کب کیا کر گئے
آپ ہی بتاؤ اب کیسے کر دے آپکو ویدا
جنکی شکشا اور پیار سے ہم آج کیا سے کیا بن گئے
---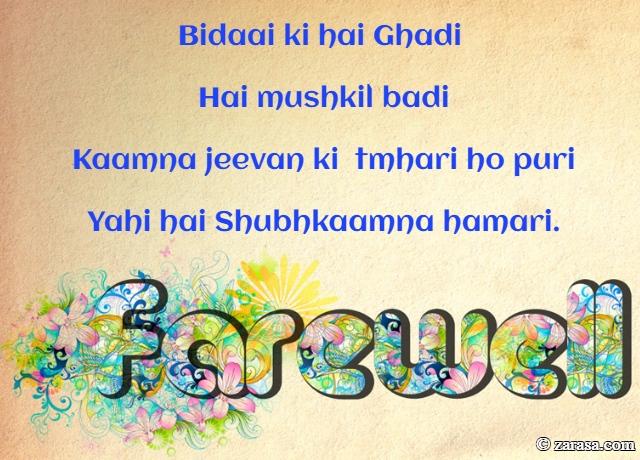 Bidaai ki hai Ghadi
Hai mushkil badi
Kaamna jeevan ki  tmhari ho puri
Yahi hai Shubhkaamna hamari.
विदाई की है घड़ी
है मुश्किल बड़ी
कामना जीवन की तम्हारी हो पूरी
यही है शुभकामना हमारी।
بدای کی ہے گھاڈی
ہے موشکل باڈی
کامنہ جیون کی تمہاری ھو پوری
یہی ہے شبھکامنہ ہماری
---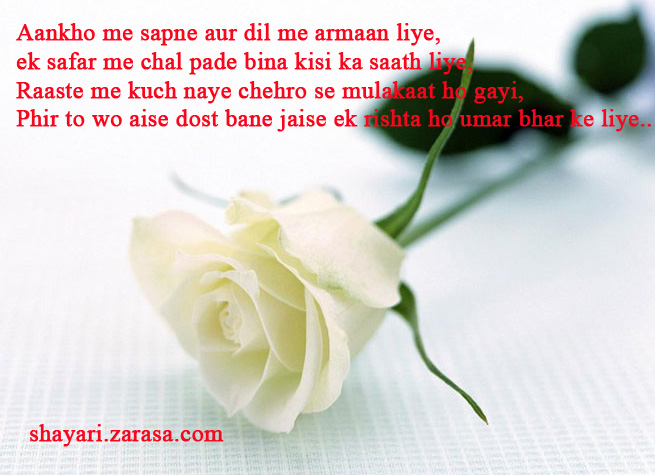 Aankho me sapne aur dil me armaan liye,
ek safar me chal pade bina kisi ka saath liye,
Raaste me kuch naye chehro se mulakaat ho gayi,
Phir to wo aise dost bane jaise ek rishta ho umar bhar ke liye.



आँखों में सपने और दिल में अरमान लिए,
एक सफर में चल पड़े बिना किसी का साथ लिए,
रास्ते में कुछ नए चेहरों से मुलाकात हो गयी,
फिर तो वो ऐसे दोस्त बने जैसे एक रिश्ता हो उम्र भर के लिए.
انکھون منی سپنے اور دل مین ارمان لیے
ایک سفر مین چل پڑے بنا کسی کا نام لیے
راستے مین کچھ نیے چھرون سے ملاقات حو گہی
فر تو وہ ایسے دوست بنے جیسے اک رشتا حو عمر بھر کے لیے۔
---