Shayari for Happiness "हर ख़ुशी आपकी दीवानी रहे"
|
Sajti Rahe Khushiyon Ki Mehfil
Har Khushi Itni Suhani Rahe,
Aap Zindagi Me Itne Khush Rahen Ki
Har Khushi Apki Deewani Rahe .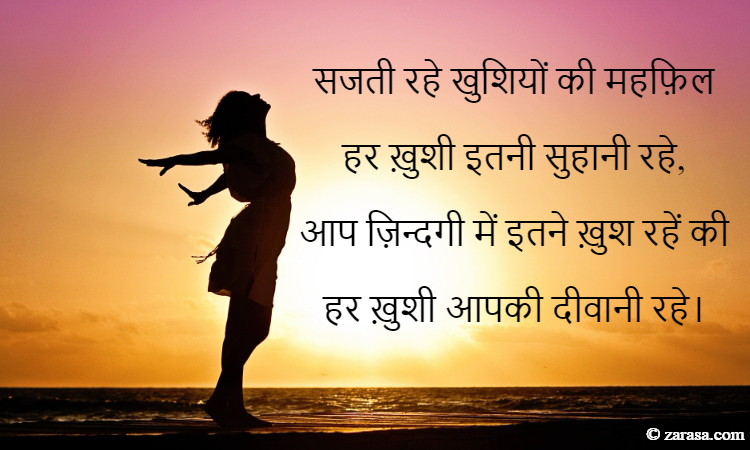 ---

सजती रहे खुशियों की महफ़िल
हर ख़ुशी इतनी सुहानी रहे,
आप ज़िन्दगी में इतने ख़ुश रहें की
हर ख़ुशी आपकी दीवानी रहे।


---

سجتی رہے خوشیوں کی محفل
ہر خوشی اتنی سہانی رہے
آپ زندگی مے اتنے خوش رہیں کی
ہر خوشی آپکی دیوانی رہے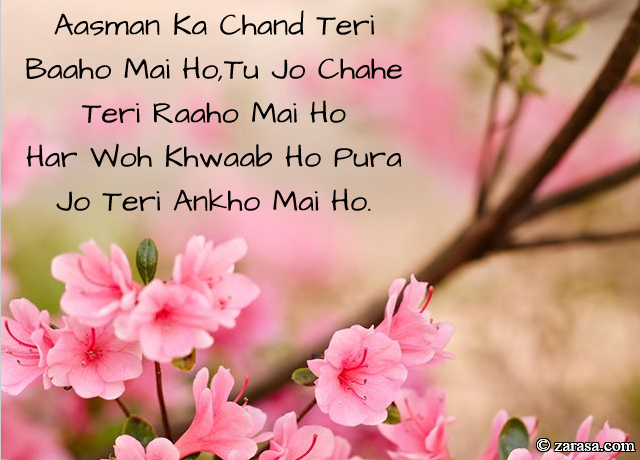 Aasman Ka Chand Teri Baaho Mai Ho,Tu Jo Chahe Teri Raaho Mai Ho
Har Woh Khwaab Ho Pura Jo Teri Ankho Mai Ho.
आसमान का चाँद तेरी बाहो मै हो ,तू जो चाहे तेरी राहो मै हो
हर वो ख़्वाब हो पूरा जो तेरी आँखों मै हो .
آسمان کا چند تیری بہو می ہو ,تو جو چاہے تیری رہاہو می ہو
ہر وہ خواب ہو پورا جو تیری انکھو می ہو .
---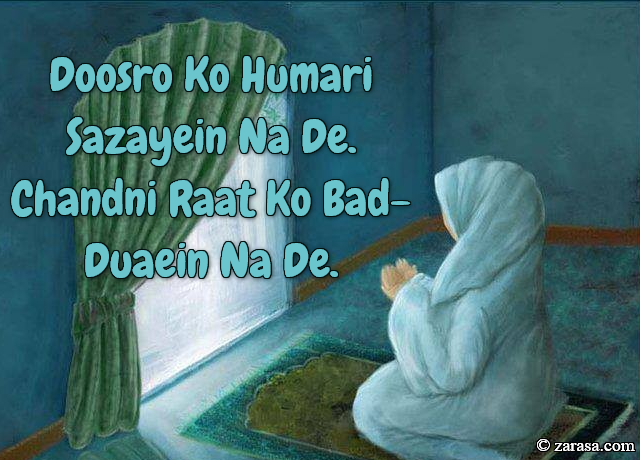 Doosro Ko Humari Sazayein Na De.
Chandni Raat Ko Bad-Duaein Na De.
दूसरो को हमारी सज़ाएं ना दे .
चांदनी रात को बाद -दुआएं ना दे .
دوسرو کو ہماری سزےیں نہ دیں .
چاندنی رات کو بعد -دعائیں نہ دے .
---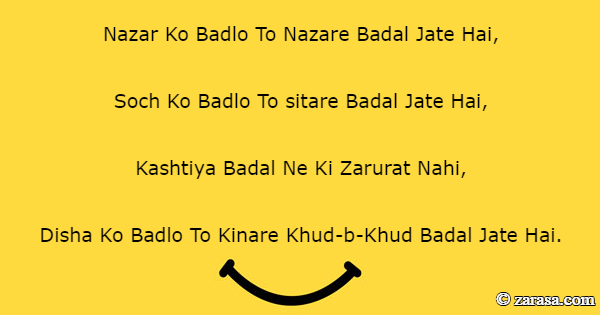 Nazar Ko Badlo To Nazare Badal Jate Hai,
Soch Ko Badlo To sitare Badal Jate Hai,
Kashtiya Badal Ne Ki Zarurat Nahi,
Disha Ko Badlo To Kinare Khud-b-Khud Badal Jate Hai.
नज़र को बदलो तो नज़ारे बदल जाते है,
सोच को बदलो तो सितारे बदल जाते है,
कश्तिया बदल ने की ज़रूरत नहीं ,
दिशा को बदलो तो किनारे खुद बा खुद बदल जाते है।
نظر کو بفلو تو نظارے بدل جاتے ہے
سوچ کو بدلو تو ستارے بدل جاتے ہے
کشتیا بدل نے کی ضرورت نہیں
دشا کو بدلو تو کنارے خود با خود بدل جاتے ہے
---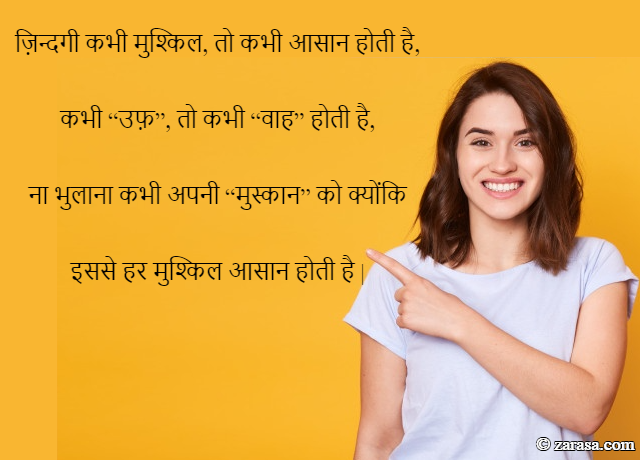 Zindagi Kabhi Mushkil, To Kabhi Aasaan Hoti Hai,
Kabhi "Uf", To Kabhi "Vaah" Hoti Hai,
Na Bhulaana Kabhi Apni "Muskaan" Ko Kyonki
Isse Har Mushkil Aasaan Hoti Hai .
ज़िन्दगी कभी मुश्किल, तो कभी आसान होती है,
कभी "उफ़", तो कभी "वाह" होती है,
ना भुलाना कभी अपनी "मुस्कान" को क्योंकि
इससे हर मुश्किल आसान होती है |
زندگی کبھی مشکل تو کبھی آسان ہوتی ہے
کبھی اف تو کبھی واہ ہوتی ہے
نہ بھلانا کبھی اپنی مسکان کو کیونکی
اسے ہر مشکل آسان ہوتی ہے
---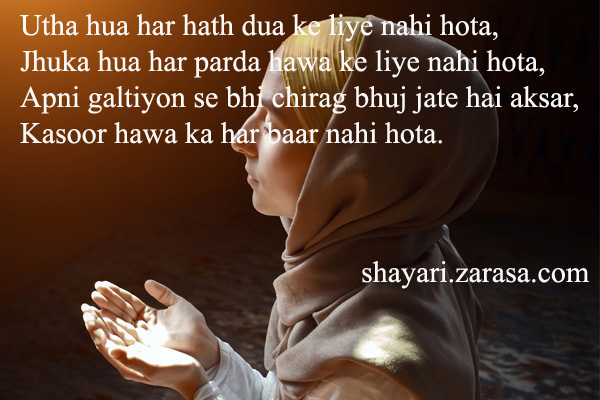 Utha hua har hath dua ke liye nahi hota,
Jhuka hua har parda hawa ke liye nahi hota,
Apni galtiyon se bhi chirag bhuj jate hai aksar,
Kasoor hawa ka har baar nahi hota.



उठा हुआ हर हाथ दुआ के लिए नहीं होता,
झुका हुआ हर पर्दा हवा के लिए नहीं होता,
अपनी गलतियों से भी चिराग भुज जाते है अक्सर,
कसूर हवा का हर बार नहीं होता।
اٹھا ہوا ہر ہاتھ دعا کے لئے نہیں ہوتا
جھکا ہوا ہر پردے ہوا کے لئے نہیں ہوتا
اپنی غلطیوں سے بھی چراغ بھج جاتے ہیں اکثر
قصور ہوا ہر بار نہیں ہوتا
---