Shayari for Happiness "हर ख़ुशी आपकी दीवानी रहे"
|
Sajti Rahe Khushiyon Ki Mehfil
Har Khushi Itni Suhani Rahe,
Aap Zindagi Me Itne Khush Rahen Ki
Har Khushi Apki Deewani Rahe .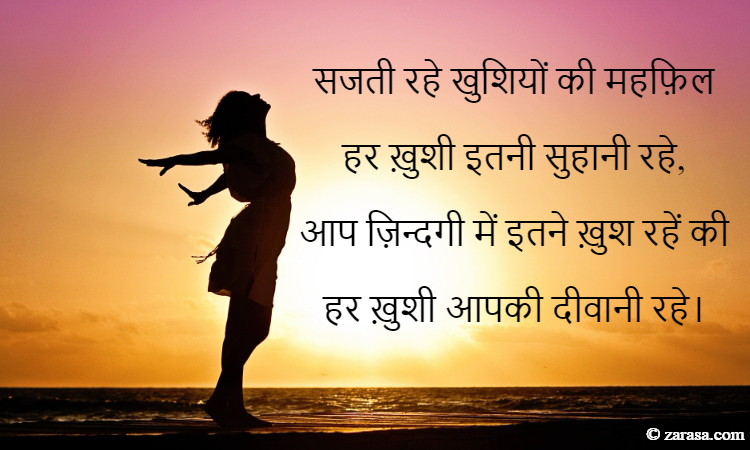 ---

सजती रहे खुशियों की महफ़िल
हर ख़ुशी इतनी सुहानी रहे,
आप ज़िन्दगी में इतने ख़ुश रहें की
हर ख़ुशी आपकी दीवानी रहे।


---

سجتی رہے خوشیوں کی محفل
ہر خوشی اتنی سہانی رہے
آپ زندگی مے اتنے خوش رہیں کی
ہر خوشی آپکی دیوانی رہے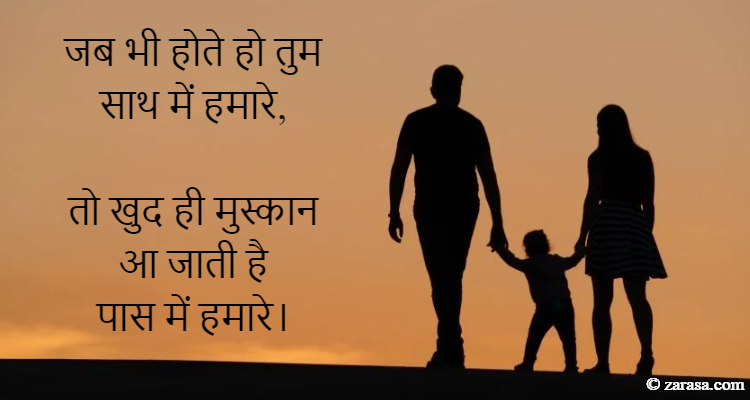 Jab Bhi Hote Ho Tum Saath Me Hamare,
To Khud Hi Muskan Aajati Hai Pass Me Hamare.
जब भी होते हो तुम साथ में हमारे,
तो खुद ही मुस्कान आ जाती है पास में हमारे।
جب بھی ہوتے ہو تم ساتھ مے ہمارے
تو خود ہی مسکن آجاتی ہے پاس مے ہمارے
---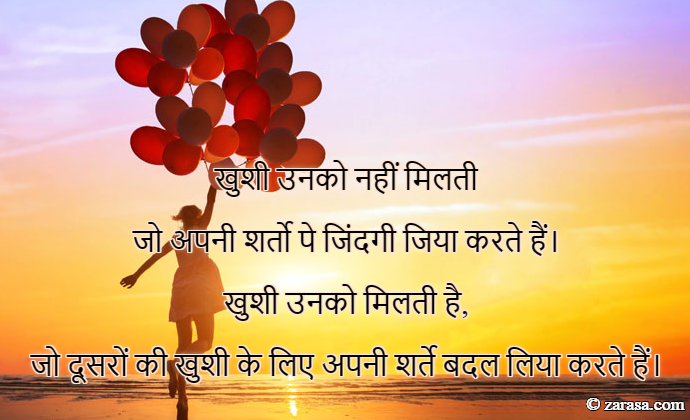 Khushi Unko Nahi Milti
Jo Apni Sharton Pe Zindagi Jiya Karte Hain,
Khushi Unko Milti Hai,
Jo Dusron ki Khushi Ke Liye Apni Sharton Ko Badal Liya Karte Hain…
खुशी उनको नहीं मिलती
जो अपनी शर्तो पे जिंदगी जिया करते हैं।
खुशी उनको मिलती है,
जो दूसरों की खुशी के लिए अपनी शर्ते बदल लिया करते हैं।
خوشی انکو نہیں ملتی
جو اپنی شرطوں پی زندگی جیا کرتے ہیں
خوشی انکو ملتی ہے
جو دوسروں کی خوشی کے لئے اپنی شرطوں کو بدل لیا کرتے ہیں
---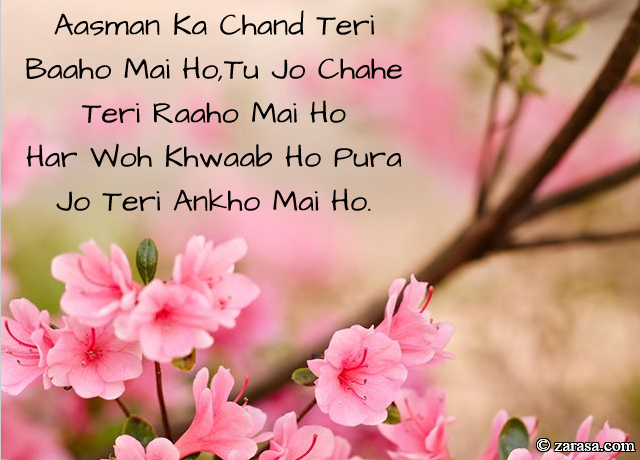 Aasman Ka Chand Teri Baaho Mai Ho,Tu Jo Chahe Teri Raaho Mai Ho
Har Woh Khwaab Ho Pura Jo Teri Ankho Mai Ho.
आसमान का चाँद तेरी बाहो मै हो ,तू जो चाहे तेरी राहो मै हो
हर वो ख़्वाब हो पूरा जो तेरी आँखों मै हो .
آسمان کا چند تیری بہو می ہو ,تو جو چاہے تیری رہاہو می ہو
ہر وہ خواب ہو پورا جو تیری انکھو می ہو .
---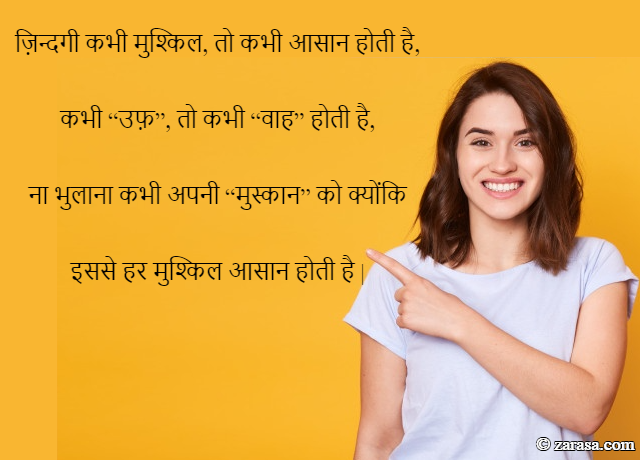 Zindagi Kabhi Mushkil, To Kabhi Aasaan Hoti Hai,
Kabhi "Uf", To Kabhi "Vaah" Hoti Hai,
Na Bhulaana Kabhi Apni "Muskaan" Ko Kyonki
Isse Har Mushkil Aasaan Hoti Hai .
ज़िन्दगी कभी मुश्किल, तो कभी आसान होती है,
कभी "उफ़", तो कभी "वाह" होती है,
ना भुलाना कभी अपनी "मुस्कान" को क्योंकि
इससे हर मुश्किल आसान होती है |
زندگی کبھی مشکل تو کبھی آسان ہوتی ہے
کبھی اف تو کبھی واہ ہوتی ہے
نہ بھلانا کبھی اپنی مسکان کو کیونکی
اسے ہر مشکل آسان ہوتی ہے
---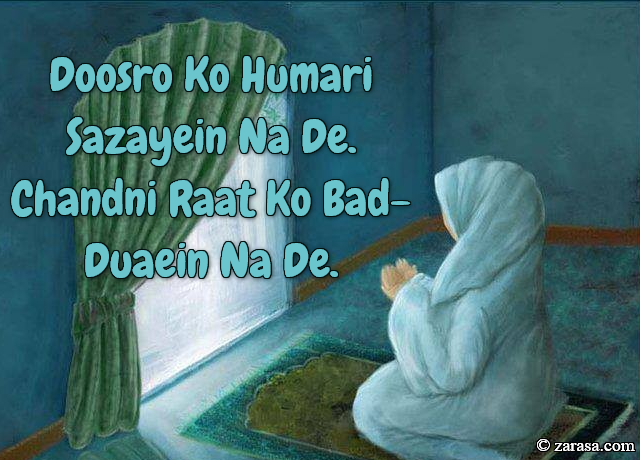 Doosro Ko Humari Sazayein Na De.
Chandni Raat Ko Bad-Duaein Na De.
दूसरो को हमारी सज़ाएं ना दे .
चांदनी रात को बाद -दुआएं ना दे .
دوسرو کو ہماری سزےیں نہ دیں .
چاندنی رات کو بعد -دعائیں نہ دے .
---