Shayari for Hug Day "कोई कहे इसे जादू की झप्पी"
|
Koi Kahe Ise Jadu Ki Jhappi,
Koi Kahe Ise Pyaar…
Moka Hai Khubsurat,
Aa Gale Lag Ja Mere Yaar.
Wishing you Hug day…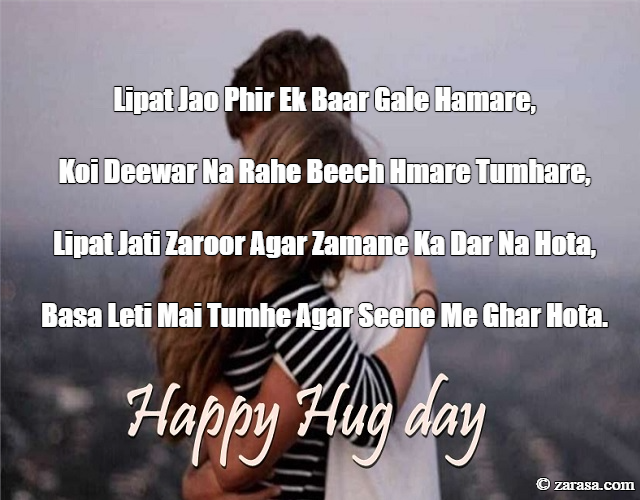 ---

कोई कहे इसे जादू की झप्पी,
कोई कहे इसे प्यार…
मौका है खूबसूरत,
आ गले लग जा मेरे यार।

Wishing you Hug day…


---

کوئی کہے اسے جادو کی جھپپی
کوئی کھے اسے پیار
موکا ہے خوبصورت
آ گلے لگ جا میرے یار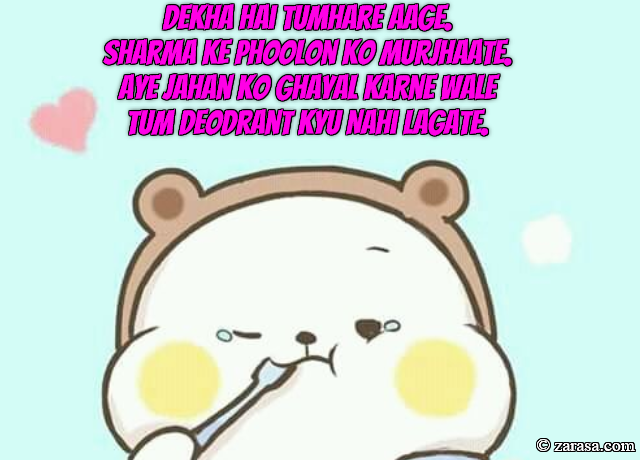 Dekha Hai Tumhare Aage.
Sharma Ke Phoolon Ko Murjhaate.
Aye Jahan Ko Ghayal Karne Wale
Tum Deodrant Kyu Nahi Lagate.
देखा है तुम्हारे आगे,
शर्मा के फूलों को मुरझाते,
ए जहाँ को घायल करने वाले
तुम डिओडोरेंट क्यों नहीं लगाते।
دیکھا ہے تمہارے آگے .
شرما کے پھولوں کو مرجھاتے .
ہے جہاں کو غیل کرنے والے .
تم دیودرانٹ کیو نہیں لگاتے .
---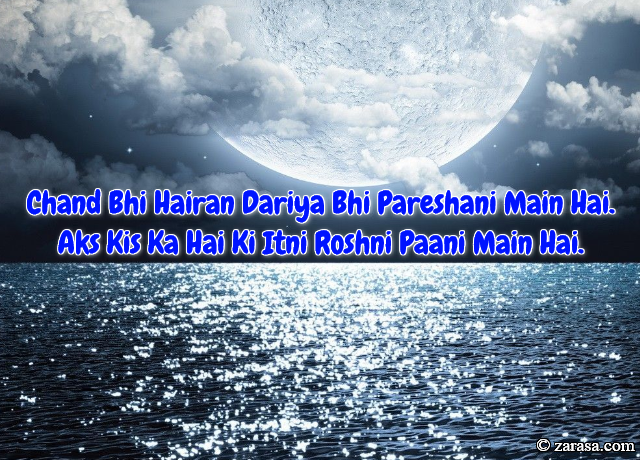 Chand Bhi Hairan Dariya Bhi Pareshani Main Hai.
Aks Kis Ka Hai Ki Itni Roshni Paani Main Hai.
चाँद भी हैरान दरिया भी परेशानी मैं है .
अक्स किस का है की इतनी रौशनी पानी मैं है .
چاند بھی حیران دریا بھی پریشانی میں ہے .
عکس کس کا ہے کی اتنی روشنی پانی میں ہے .
---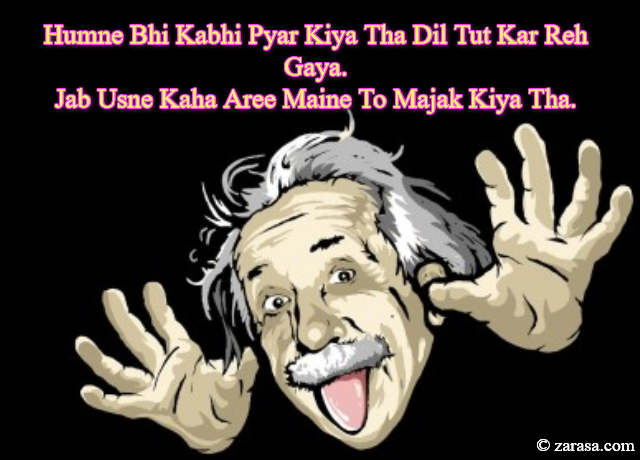 Humne Bhi Kabhi Pyar Kiya Tha Dil Tut Kar Reh Gaya.
Jab Usne Kaha Aree Maine To Majak Kiya Tha.
हमने भी कभी प्यार किया था दिल टूट कर रह गया .
जब उसने कहा ारी मैंने तो मज़ाक किया था .
ہمنے بھی کبھی پیار کیا تھا دل ٹوٹ کر رہ گیا .
جب اسنے کہا ارے مہینے تو مذک کیا تھا .
---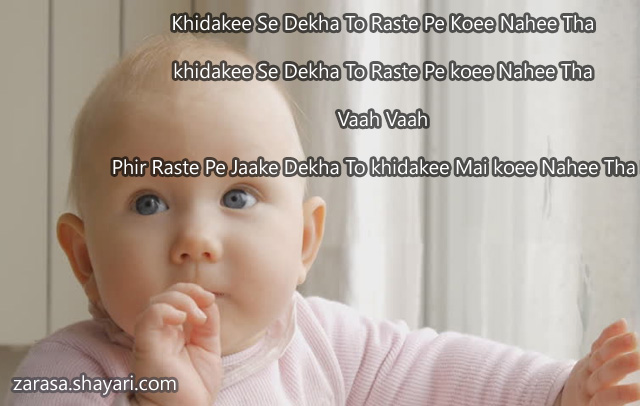 Khidakee Se Dekha To Raste Pe Koee Nahee Tha
khidakee Se Dekha To Raste Pe koee Nahee Tha
Vaah Vaah
Phir Raste Pe Jaake Dekha To khidakee Mai koee Nahee Tha ?

 



खिडकी से देखा तो रस्ते पे कोई नही था
खिडकी से देखा तो रस्ते पे कोई नही था
वाह वाह
फिर रस्ते पे जाके देखा तो खिडकी मै कोई नही था ?
کھڑکی سے دیکھا تو رستے پہ کوئی نہیں تھا
کھڑکی سے دیکھا تو رستے پہ کوئی نہیں تھا
واہ واہ
پھر رستے پہ جاکے دیکھا تو کھڑکی مے کوئی نہیں تھا
---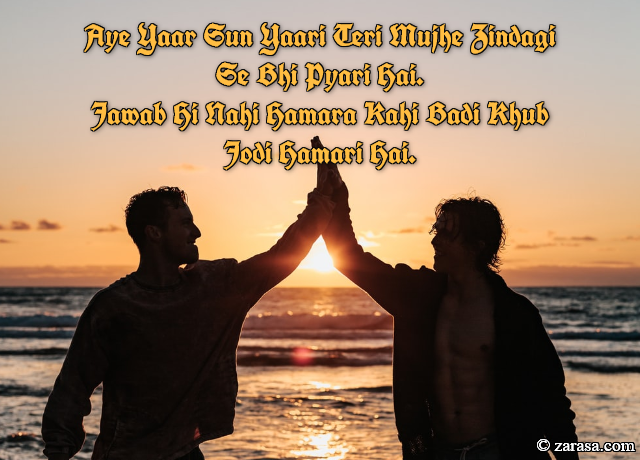 Aye Yaar Sun Yaari Teri Mujhe Zindagi Se Bhi Pyari Hai.
Jawab Hi Nahi Hamara Kahi Badi Khub Jodi Hamari Hai.
ए यार सुन यारी तेरी मुझे ज़िन्दगी से भी प्यारी है .
जवाब ही नहीं हमारा कही बड़ी खूब जोड़ी हमारी है .
ہے یار سن یاری تیری مجھے زندگی سے بھی پیاری ہے .
جواب ہی نہیں ہمارا کہی بدی خوب جوڈی ہماری ہے .
---