Funny Shayari "Humne Kaha Shayad Aaj Naha Kar Aayi Hai"
|
Zulfo Main Phoolon Ko Saja Kar Aayi Hai.
Chehre Se Dupatta Utha Kar Aayi Hai.
Kisi Ne Pucha Ki Kitni Khubsurat Lag Rahi Hai.
Humne Kaha Shayad Aaj Naha Kar Aayi Hai.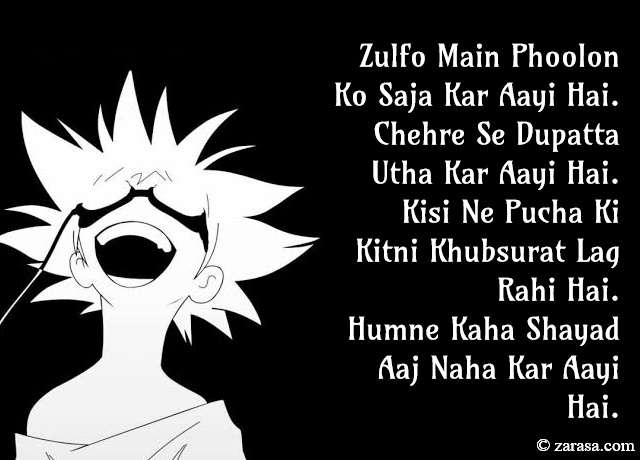 ---

जुल्फों में फूलों को सजा के आयी,
चेहरे से दुपट्टा उठा के आयी,
किसी ने पूछा आज बड़ी खुबसूरत लग रही है,
हमने कहा शायद आज नहा के आयी।



---

زلفو میں پھولوں کو سجا کر آی ہے .
چہرے سے دوپٹے اٹھا کر آی ہے .
کسی نے پچا کی کتنی خوبصورت لگ رہی ہے .
ہمنے کہا شاید آج نہ کر آی ہے .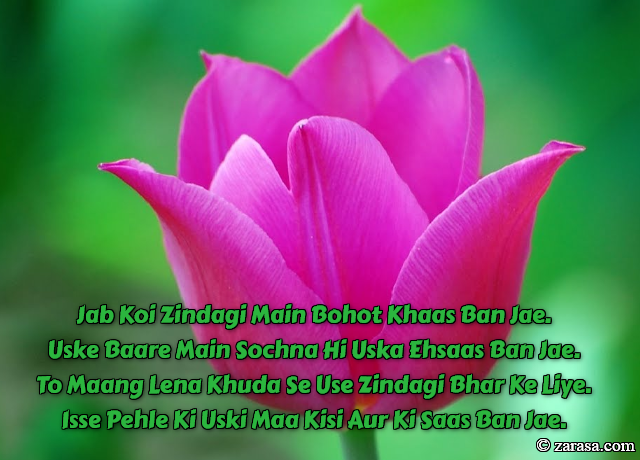 Jab Koi Zindagi Main Bohot Khaas Ban Jae.
Uske Baare Main Sochna Hi Uska Ehsaas Ban Jae.
To Maang Lena Khuda Se Use Zindagi Bhar Ke Liye.
Isse Pehle Ki Uski Maa Kisi Aur Ki Saas Ban Jae.
जब कोई ज़िन्दगी मैं बोहोत ख़ास बन जाए .
उसके बारे मैं सोचना ही उसका एहसास बन जाए .
तो मांग लेना खुदा से उसे ज़िन्दगी भर के लिए .
इससे पहले की उसकी माँ किसी और की सास बन जाए .

جب کوئی زندگی میں بوہوت خاص بن جاۓ .
اسکے بارے میں سوچنا ہی اسکا احساس بن جاۓ .
تو مانگ لینا خدا سے اسے زندگی بھر کے لئے .
اسے پہلے کی اسکی ما کسی اور کی ساس بن جاۓ .

---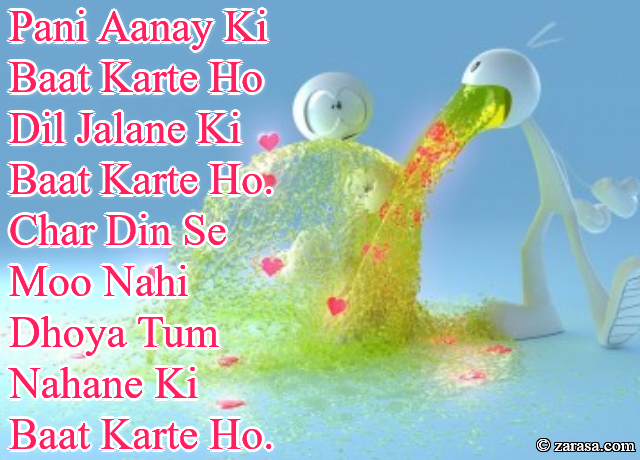 Pani Aanay Ki Baat Karte Ho Dil Jalane Ki Baat Karte Ho.
Char Din Se Moo Nahi Dhoya Tum Nahane Ki Baat Karte Ho.
पानी आने की बात करते हो दिल जलने की बात करते हो .
चार दिन से मू नहीं धोया तुम नहाने की बात करते हो .
پانی آنے کی بات کرتے ہو دل جلانے کی بات کرتا ہو .
چار دن سے مو نہیں دھویا تم نہانے کی بات کرتے ہو .
---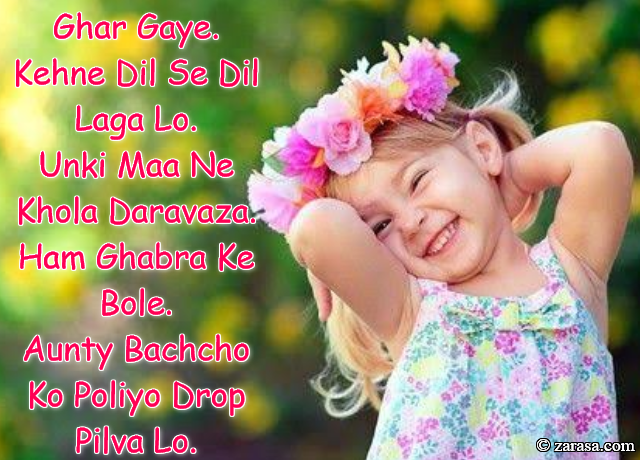 Jab Ham Unke Ghar Gaye.
Kehne Dil Se Dil Laga Lo.
Unki Maa Ne Khola Daravaza.
Ham Ghabra Ke Bole.
Aunty Bachcho Ko Poliyo Drop Pilva Lo.
जब हम उनके घर गए .
कहने दिल से दिल लगा लो .
उनकी माँ ने खोला दरवाज़ा .
हम घबरा के बोले .
आंटी बच्चो को पोलियो ड्राप पिलवा लो .

جب ہم انکے گھر گئے .
کہنے دل سے دل لگا لو .
انکی ما نے کھولا دروازہ .
ہم گھبرا کے بولے .
اونتے بچّھو کو پولیو ڈراپ پلوا لو .

---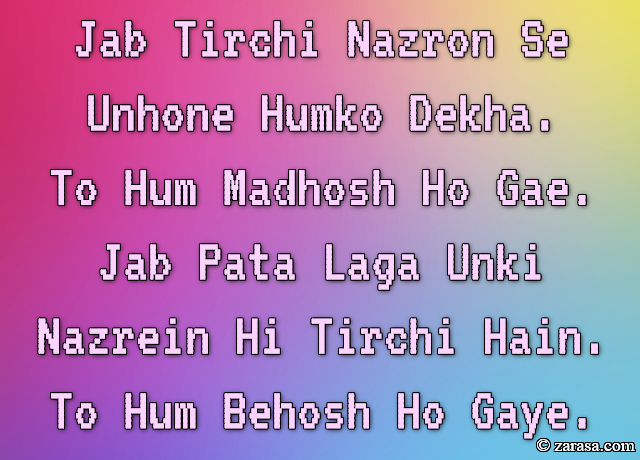 Jab Tirchi Nazron Se Unhone Humko Dekha.
To Hum Madhosh Ho Gae.
Jab Pata Laga Unki Nazrein Hi Tirchi Hain.
To Hum Behosh Ho Gaye.
जब तिरछी नज़रों से उन्होंने हमको देखा .
तो हम मदहोश हो गए .
जब पता लगा उनकी नज़रें ही तिरछी हैं .
तो हम बेहोश हो गए .

جب ترچھی نظروں سے انہونے ہمکو دیکھا .
تو ہم مدہوش ہو گے .
جب پتا لگا انکی نظریں ہی ترچھی ہیں .
تو ہم بیہوش ہو گئے .

---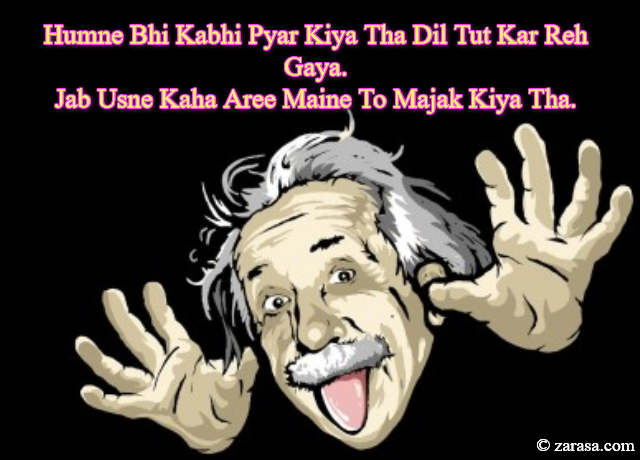 Humne Bhi Kabhi Pyar Kiya Tha Dil Tut Kar Reh Gaya.
Jab Usne Kaha Aree Maine To Majak Kiya Tha.
हमने भी कभी प्यार किया था दिल टूट कर रह गया .
जब उसने कहा ारी मैंने तो मज़ाक किया था .
ہمنے بھی کبھی پیار کیا تھا دل ٹوٹ کر رہ گیا .
جب اسنے کہا ارے مہینے تو مذک کیا تھا .
---