Funny Shayari l"2 line funny shayari for whatsapp"
|
Dil Mein Koi Gham Nahi Baaton Mein Koi Dam Nahi,
Yeh Grup Hai Nawabon Ka Yehan Koi Kisi Se Kam Nahi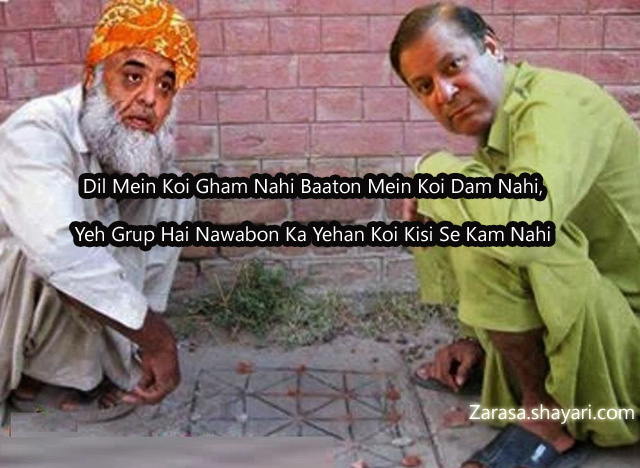 ---

दिल में कोई गम नहीं बातों में कोई दम नहीं,
ये ग्रुप है नवाबो का यहाँ कोई किसीसे कम नहीं।


---

دل میں کوئی غم نہیں باتوں میں کوئی دم نہیں
یہ گروپ ہے نوابوں کا یہاں کوئی کسی سے کم نہیں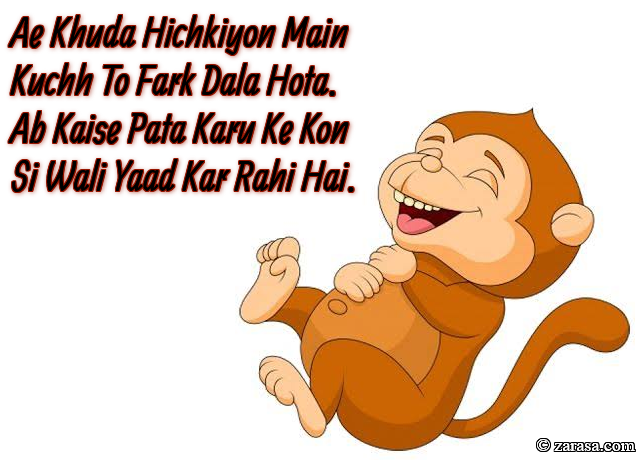 Ae Khuda Hichkiyon Main Kuchh To Fark Dala Hota.
Ab Kaise Pata Karu Ke Kon Si Wali Yaad Kar Rahi Hai.
ऐ खुदा हिचकियों में कुछ तो फर्क डाला होता,
अब कैसे पता करूँ के कौन सी वाली याद कर रही है।




اے خدا ہچکیوں میں کچھ تو پھڑک ڈالا ہوتا .
اب کیسے پتا کرو کے کون سی والی یاد کر رہی ہے .

---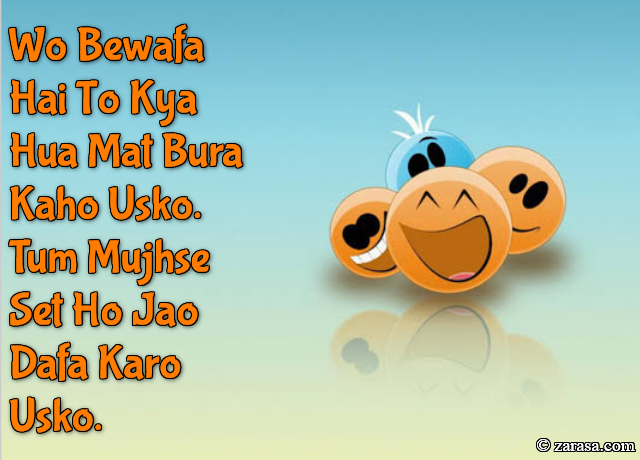 Wo Bewafa Hai To Kya Hua Mat Bura Kaho Usko.
Tum Mujhse Set Ho Jao Dafa Karo Usko.
वह बेवफा है तो क्या हुआ मत बुरा कहो उसको.
तुम मुझसे सेट हो जाओ दफा करो उसको.
وہ بیوفا ہے تو کیا ہوا مت برا کہو اسکو .
تم مجھسے سیٹ ہو جو دفع کرو اسکو .

---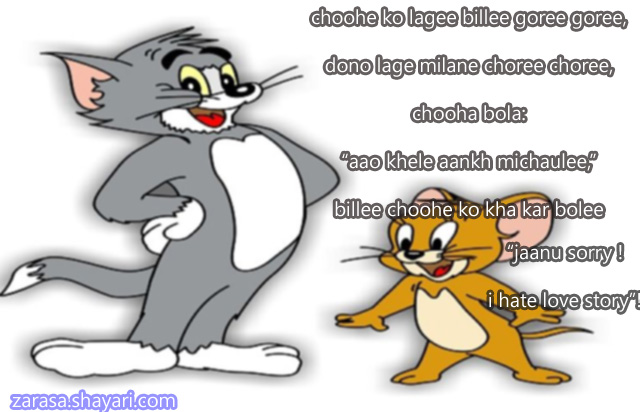 Choohe ko Lagee Billee Goree Goree,
Dono Lage Milane Choree Choree,
Chooha Bola:
"Aao khele Aankh Michaulee,"
Billee Choohe ko kha kar Bolee
"Jaanu Sorry !
I HateS Love Story"!
चूहे को लगी बिल्ली गोरी गोरी,
दोनों लगे मिलाने चोरी चोरी,
चूहा बोला:
"आओ खेले आँख मिचौली,"
बिल्ली चूहे को खा कर बोली
"जानू  सॉरी  !
इ  हेट  लव  स्टोरी "!
چوہے کو لگی بلی گوری گوری
دونوں لگے ملانے چوری چوری
چوہا بولا
"آؤ کھیلے آنکھ مچولی،"بلی چوہے کو کھا کر بولی
جانو سوررے ! ا ہتھے لوو سٹورے
---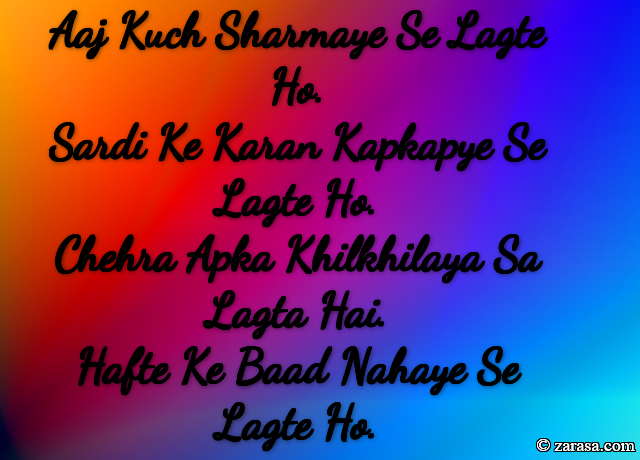 Aaj Kuch Sharmaye Se Lagte Ho.
Sardi Ke Karan Kapkapye Se Lagte Ho.
Chehra Apka Khilkhilaya Sa Lagta Hai.
Hafte Ke Baad Nahaye Se Lagte Ho.
आज कुछ शर्माए से लगते हो,
सर्दी के कारण कपकपए से लगते हो,
चेहरा आपका खिलखिलाये सा लगता है,
हफ्ते के बाद नहाए से लगते हो।

آج کچھ شرماے سے لگتے ہو .
سردی کے کران کپکپیسے لگتے ہو .
چہرہ اپکا کھلکھلایا سا لگتا ہے .
ہفتے کے بعد ناہے سے لگتے ہو .
---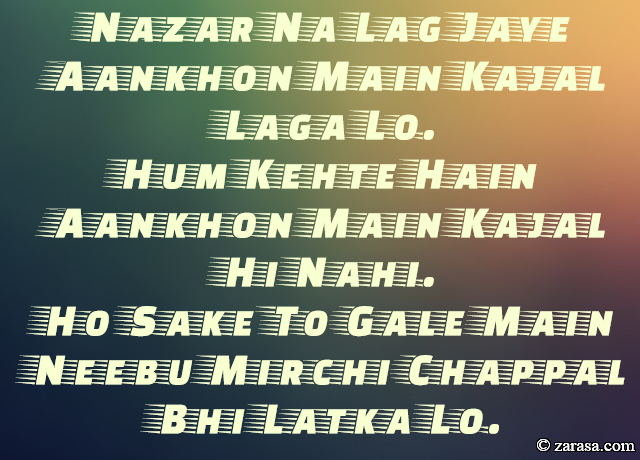 Nazar Na Lag Jaye Aankhon Main Kajal Laga Lo.
Hum Kehte Hain Aankhon Main Kajal Hi Nahi.
Ho Sake To Gale Main Neebu Mirchi Chappal Bhi Latka Lo.
नज़र ना लग जाये आँखों मैं काजल लगा लो .
हम कहते हैं आँखों मैं काजल ही नहीं .
हो सके तो गले मैं नीबू मिर्ची चप्पल भी लटका लो .
نظر نہ لگ جائے آنکھوں میں کاجل لگا لو .
ہم کہتے ہیں آنکھوں میں کاجل ہی نہیں .
ہو سکے تو گلے میں نیبو مرچی چپپل بھی لٹکا لو .
---