Funny Shayari l"2 line funny shayari for whatsapp"
|
Dil Mein Koi Gham Nahi Baaton Mein Koi Dam Nahi,
Yeh Grup Hai Nawabon Ka Yehan Koi Kisi Se Kam Nahi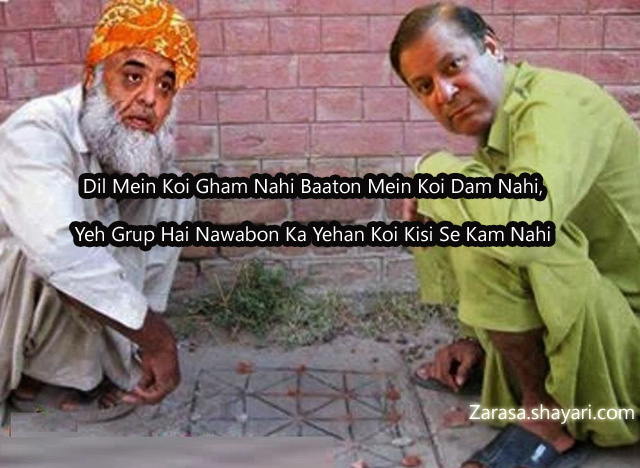 ---

दिल में कोई गम नहीं बातों में कोई दम नहीं,
ये ग्रुप है नवाबो का यहाँ कोई किसीसे कम नहीं।


---

دل میں کوئی غم نہیں باتوں میں کوئی دم نہیں
یہ گروپ ہے نوابوں کا یہاں کوئی کسی سے کم نہیں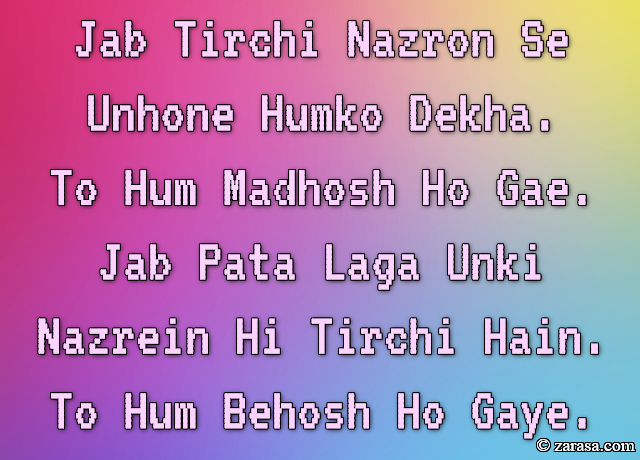 Jab Tirchi Nazron Se Unhone Humko Dekha.
To Hum Madhosh Ho Gae.
Jab Pata Laga Unki Nazrein Hi Tirchi Hain.
To Hum Behosh Ho Gaye.
जब तिरछी नज़रों से उन्होंने हमको देखा .
तो हम मदहोश हो गए .
जब पता लगा उनकी नज़रें ही तिरछी हैं .
तो हम बेहोश हो गए .

جب ترچھی نظروں سے انہونے ہمکو دیکھا .
تو ہم مدہوش ہو گے .
جب پتا لگا انکی نظریں ہی ترچھی ہیں .
تو ہم بیہوش ہو گئے .

---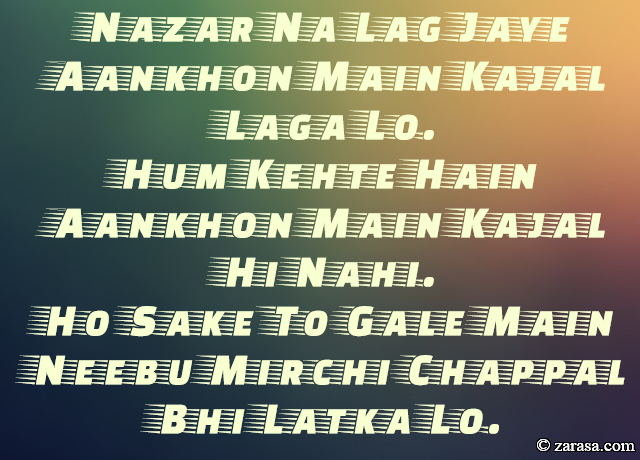 Nazar Na Lag Jaye Aankhon Main Kajal Laga Lo.
Hum Kehte Hain Aankhon Main Kajal Hi Nahi.
Ho Sake To Gale Main Neebu Mirchi Chappal Bhi Latka Lo.
नज़र ना लग जाये आँखों मैं काजल लगा लो .
हम कहते हैं आँखों मैं काजल ही नहीं .
हो सके तो गले मैं नीबू मिर्ची चप्पल भी लटका लो .
نظر نہ لگ جائے آنکھوں میں کاجل لگا لو .
ہم کہتے ہیں آنکھوں میں کاجل ہی نہیں .
ہو سکے تو گلے میں نیبو مرچی چپپل بھی لٹکا لو .
---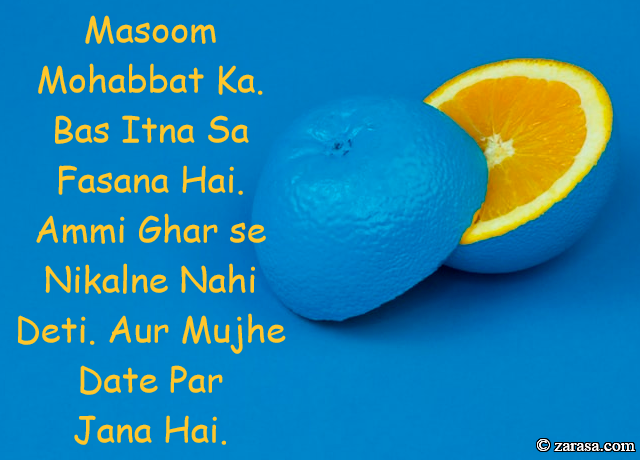 Masoom Mohabbat Ka.
Bas Itna Sa Fasana Hai.
Ammi Ghar se Nikalne Nahi Deti.
Aur Mujhe Date Par Jana Hai.
मासूम मोहब्बत का .
बस इतना सा फ़साना है .
अम्मी घर से निकलने नहीं देती .
और मुझे डेट पर जाना है .

ماسوم موحبّت کا .
بس اتنا سا فسانہ ہے .
عی گھر سے نکلنے نہیں دیتی .
اور مجھے ڈٹے پر جانا ہے .

---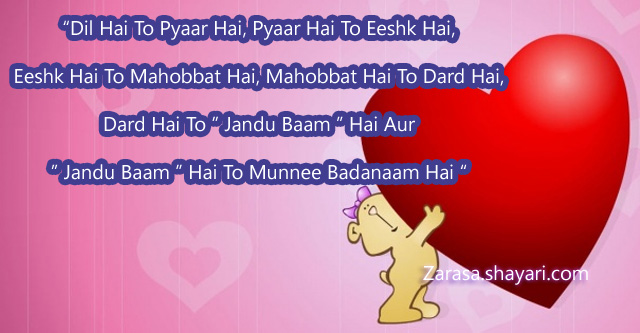 "Dil Hai To Pyaar Hai, Pyaar Hai To Eeshk Hai,
Eeshk Hai To Mahobbat Hai, Mahobbat Hai To Dard Hai,
Dard Hai To " Jandu Baam " Hai Aur
" Jandu Baam " Hai To Munnee Badanaam Hai "

 

 

"दिल है तो प्यार है, प्यार है तो ईश्क है,
ईश्क है तो महोब्बत है, महोब्बत है तो दर्द है,
दर्द है तो " जंडु बाम " है और
" जंडु बाम " है तो मुन्नी बदनाम है "
دل ہے تو محبت ہے، محبت ہے تو يشك ہے
يشك ہے تو مهوببت ہے، مهوببت ہے تو درد ہے
درد ہے تو "جڈ بام" ہے اور
"جڈ بام" ہے تو منی بدنام ہے "
---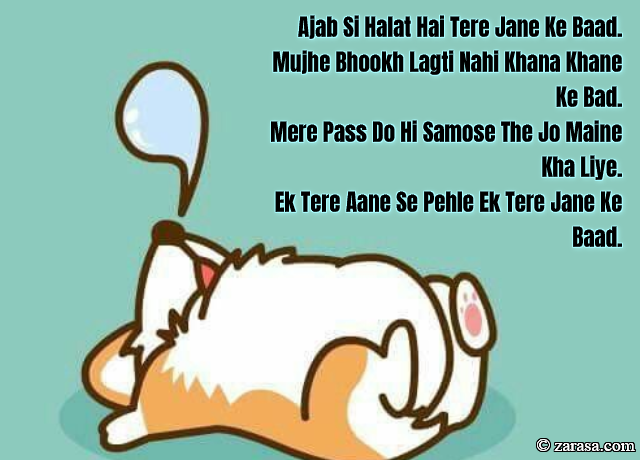 Ajab Si Halat Hai Tere Jane Ke Baad.
Mujhe Bhookh Lagti Nahi Khana Khane Ke Bad.
Mere Pass Do Hi Samose The Jo Maine Kha Liye.
Ek Tere Aane Se Pehle Ek Tere Jane Ke Baad.
अजब सी हालत है तेरे जाने के बाद,
मुझे भूख लगती नहीं खाना खाने के बाद,
मेरे पास दो ही समोसे थे जो मैंने खा लिए,
एक तेरे आने से पहले, एक तेरे जाने के बाद।
عجب سی حالت ہے تیرے جانے کے بعد .
مجھے بھوکھ لگتی نہیں کھانا خانے کے بعد .
میرے پاسس دو ہی سموسے تھے جو مہینے کھا لئے .
ایک تیرے آنے سے پہلے ایک تیرے جانے کے بعد .
---