Shayari for Husband "वह मुझसे दूर होकर खुश हैं तोह खुश ही रहने दो"
|
Woh Mujhse Door Hokar Khush Hein Toh Khush Hi Rehne Do,
Mujhe Apni Chahat Se Zyada, Unki Muskrahat Pasand Hai!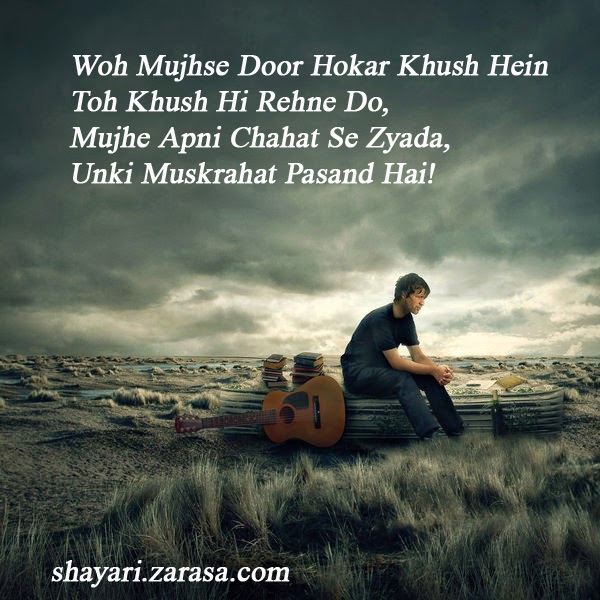 ---

वह मुझसे दूर होकर खुश हैं तोह खुश ही रहने दो,
मुझे अपनी चाहत से ज़्यादा, उनकी मुस्कराहट पसंद है!


---

وہ مجھ سے دور ہو کر خوش ہیں تو خوش ہی رہنے دو
مجھے اپنی چاہت سے زیادہ، ان کی مسکراہٹ پسند ہے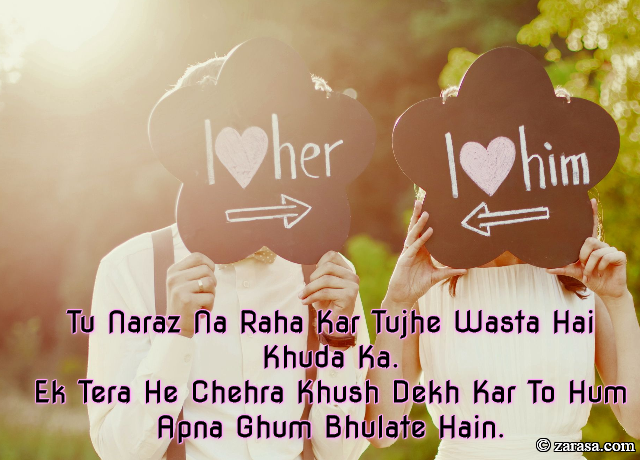 Tu Naraz Na Raha Kar Tujhe Wasta Hai Khuda Ka.
Ek Tera He Chehra Khush Dekh Kar To Hum Apna Ghum Bhulate Hain.
तू नाराज़ ना रहा कर तुझे वास्ता है खुदा का.
एक तेरा हे चेहरा खुश देख कर तो हम अपना ग़म भुलाते हैं .
تو ناراض نہ رہا کر تجھے واسطہ خدا کا .
ایک تیرا ہے چہرہ خوش دیکھ کر تو ہم اپنا غم بھولتے ہیں .
---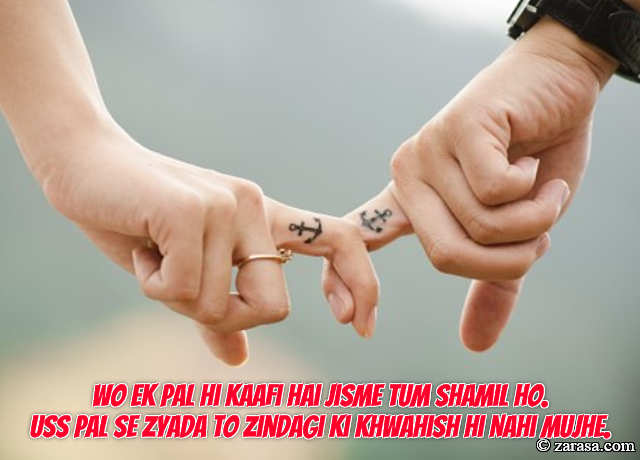 Wo Ek Pal Hi Kaafi Hai Jisme Tum Shamil Ho.
Uss Pal Se Zyada To Zindagi Ki Khwahish Hi Nahi Mujhe.
वो एक पल ही काफी है जिसमे तुम शामिल हो .
उस पल से ज़्यादा तो ज़िन्दगी की ख्वाहिश ही नहीं मुझे .
وہ ایک پل ہی کافی ہے جسمے تم شامل ہو .
اس پل سے زیادہ تو زندگی کی خواہش ہی نہیں مجھے
---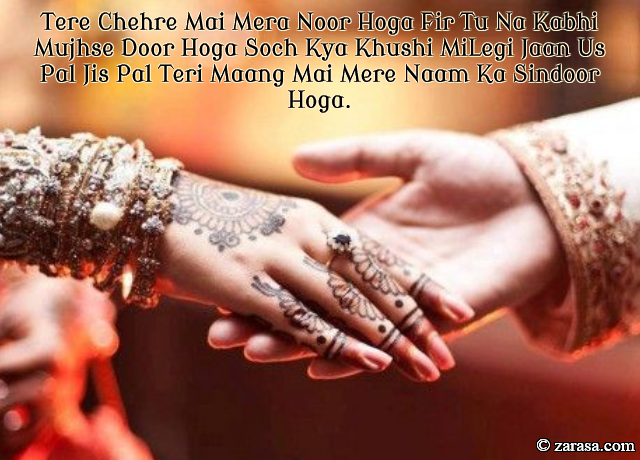 Tere Chehre Mai Mera Noor Hoga Fir Tu Na Kabhi Mujhse Door Hoga Soch Kya Khushi MiLegi Jaan Us Pal Jis Pal Teri Maang Mai Mere Naam Ka Sindoor Hoga.
तेरे चेहरे में मेरा नूर होगा फिर तू न कभी मुझसे दूर होगा सोच क्या ख़ुशी मिलेगी जान उस पल जिस पल तेरी मांग में मेरे नाम का सिन्दूर होगा .
تیرے چہرے میں میرا نور ہوگا فر تو نہ کبھی مجھسے دور ہوگا سوچ کیا خوشی ملیگی جان اس پل جس پل تیری مانگ میں میرے نام کا سندور ہوگا .
---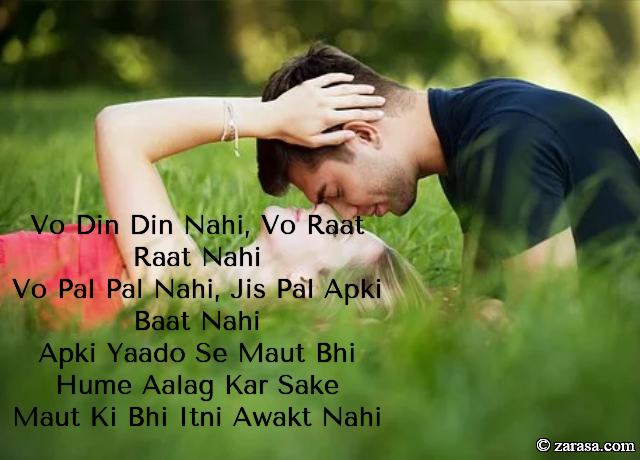 Vo Din Din Nahi, Vo Raat Raat Nahi
Vo Pal Pal Nahi, Jis Pal Apki Baat Nahi
Apki Yaado Se Maut Bhi Hume Aalag Kar Sake
Maut Ki Bhi Itni Awakt Nahi
वो दिन दिन नहीं , वो रात रात नहीं
वो पल पल नहीं , जिस पल आपकी बात नहीं
आपकी यादो से मौत भी हमे अलग कर सके
मौत की भी इतनी अव्यक्त नहीं
وہ دن دن نہیں , وو رات رات نہیں
وہ پل پل نہیں , جس پل آپکی بات نہیں
آپکی یادو سے موت بھی ہمیں الگ کر سکے
موت کی بھی اتنی آواکت نہیں
---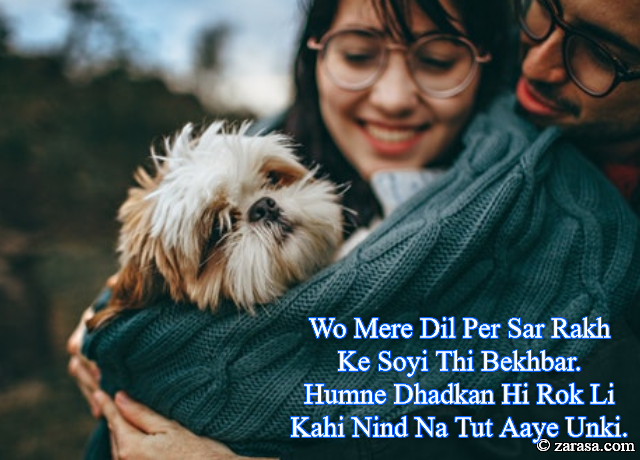 Wo Mere Dil Per Sar Rakh Ke Soyi Thi Bekhbar.
Humne Dhadkan Hi Rok Li Kahi Nind Na Tut Aaye Unki.
वो मेरे दिल पर सर रख के सोई थी बेखबर .
हमने धड़कन ही रोक ली कही नींद न टूट जाए उनकी .
وہ میرے دل پر سر رکھ کے سویی تھی بےخبر .
ہمنے دھڑکن ہی روک لی کہی نیند نہ ٹوٹ اے انکی .
---