Shayari for India (Country) "चैन ओ अमन का देश है मेरा, इस देश में दंगा रहने दो"
|
Chain O Aman Ka Desh Hai Mera, Is Desh Me Danga Rehne Do,
Lal Hare Mai Mat Baato, Ise Shan E Tiranga Rehne Do.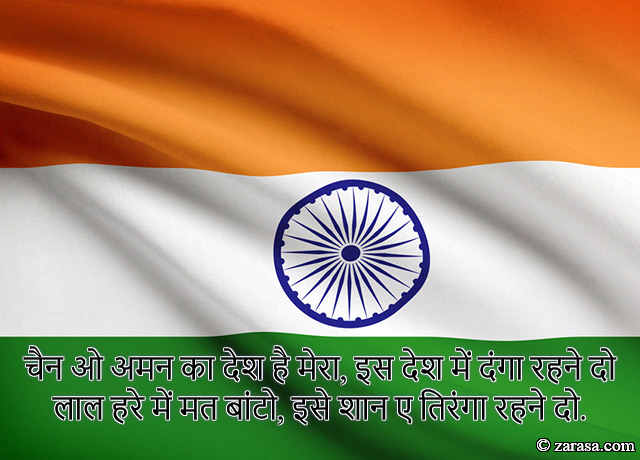 ---

चैन ओ अमन का देश है मेरा, इस देश में दंगा रहने दो
लाल हरे में मत बांटो, इसे शान ए तिरंगा रहने दो i


---

چین و امن کا دیش ہے میرا, اس دیش مے دنگا رہنے دو,

لال ہارے می مت باتو, اسے شان ے ترنگا رہنے دو.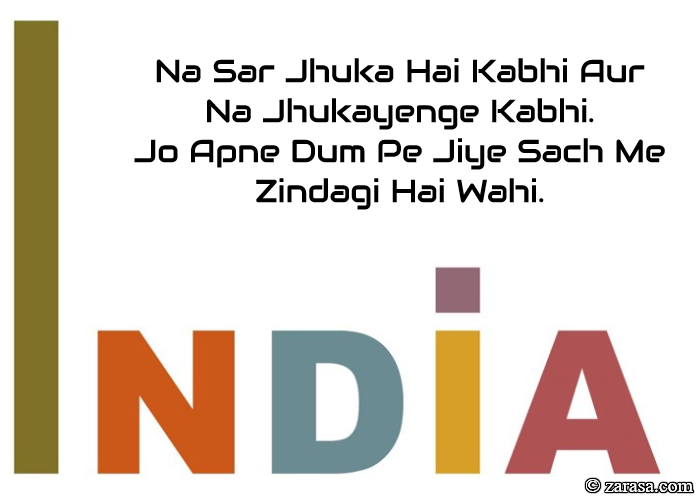 Na Sar Jhuka Hai Kabhi Aur Na Jhukayenge Kabhi.
Jo Apne Dum Pe Jiye Sach Me Zindagi Hai Wahi.
ना सर झुका है कभी और ना झुकायेंगे कभी .
जो अपने दम पे जिए सच में ज़िन्दगी है वही .
نہا سر جھکا ہے کبھی اور نہ جھکینگے کبھی .
جو اپنے دم پی جی سچ مے زندگی ہے وہی .
---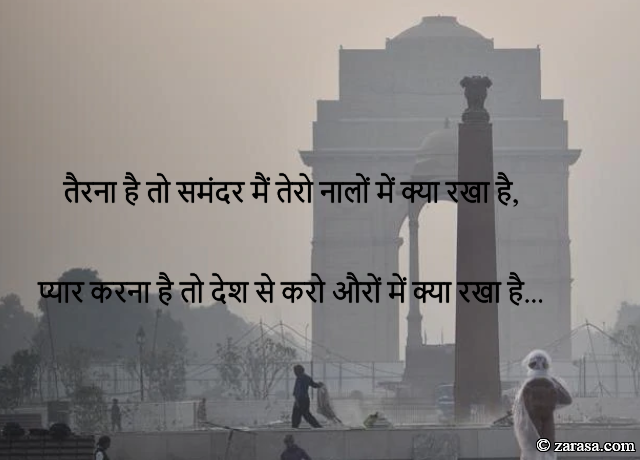 Terna Hai To Samandar Me Tero Naalon Me Kya Rakha Hai,
Pyar Karna Hai To Desh Se Karo Auron Me Kya Rakha Hai...
तैरना है तो समंदर मैं तेरो नालों मैं क्या रखा है,
प्यार करना है तो देश से करो औरों मैं क्या रखा है...
تیرنا ہے تو سمندر می تھرو نالوں میں کیا رکھا ہے'
پیار کرنا ہے تو دیش میں کرو آوروں میں کیا رکھا ہے -
---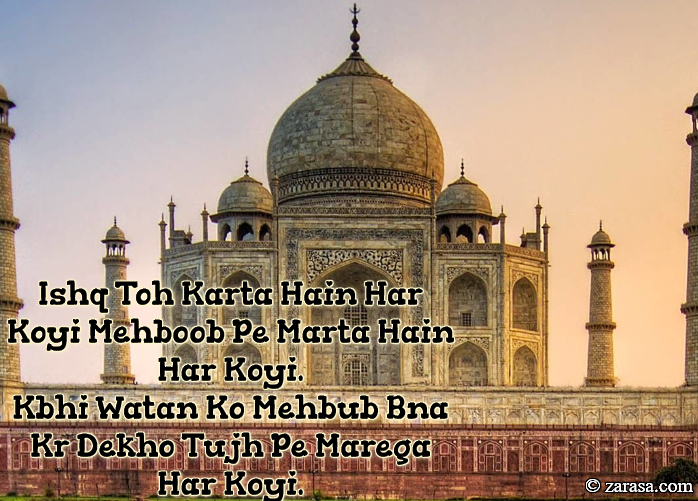 Ishq Toh Karta Hain Har Koyi Mehboob Pe Marta Hain Har Koyi.
Kbhi Watan Ko Mehbub Bna Kr Dekho Tujh Pe Marega Har Koyi.
इश्क़ तोह करता हैं हर कोई मेहबूब पे मरता हैं हर कोई .
कभी वतन को मेहबूब बना कर देखो तुझ पे मरेगा हर कोई .
عشق ٹوہ کرتا ہیں ہر کویی محبوب پی مارتا ہیں ہر کویی .
کبھی وطن کو محبوب بنا کر دیکھو تجھ پی مریگا ہر کویی .
---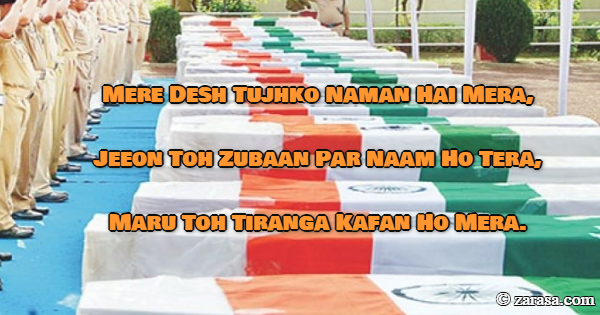 Mere Desh Tujhko Naman Hai Mera,
Jeeon Toh Zubaan Par Naam Ho Tera,
Maru Toh Tiranga Kafan Ho Mera.
मेरे देश तुझको नमन है मेरा,
जीऊं तो जुबां पर नाम हो तेरा,
मरूं तो तिरंगा कफन हो मेरा |
میرے دیش توجھکو نعمان ہے میرا
جیو تو زبان پر نام ہو تیرا
مرو تو ترنگا کفن ہو میرا
---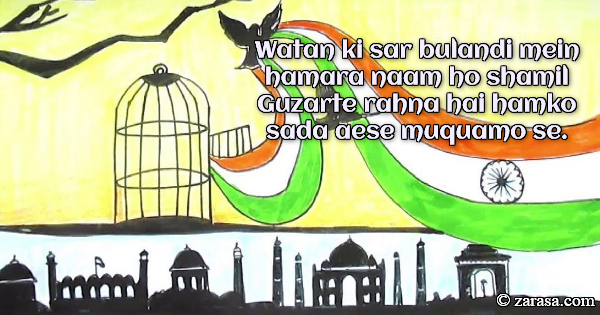 Watan Ki Sar Bulandi Mein Hamara Naam Ho Shamil
Guzarte Rahna Hai Hamko Sada Aese Muquamo Se.
वतन की सर बुलंदी में, हमारा नाम हो शामिल
गुजरते रहना है हमको, सदा ऐसे मुकामो से.
وطن کی سر بلندی میں ہمارا نام ہو شامل
گزرتے رہنا ہے ہمکو سادہ ایسے مقامو سے .
---