Shayari for JUdaai "Usne Kaha Bhool Jao Mujhe"
|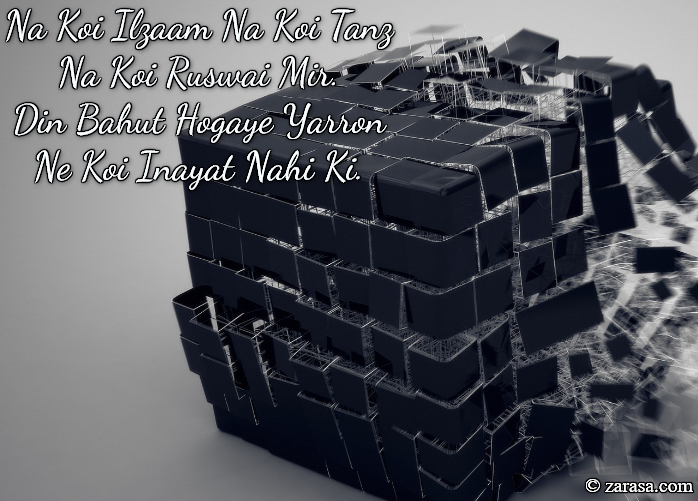 Na Koi Ilzaam Na Koi Tanz Na Koi Ruswai Mir.
Din Bahut Hogaye Yarron Ne Koi Inayat Nahi Ki.
ना कोई इलज़ाम ना कोई तंज़ ना कोई रुस्वाई मीर .
दिन बहुत होगए यार्रों ने कोई इनायत नहीं की .
نہ کوئی الزام نہ کوئی طنز نہ کوئی رسوائی میر .
دن بہت ہوگے یارروں نے کوئی عنایات نہیں کی .
---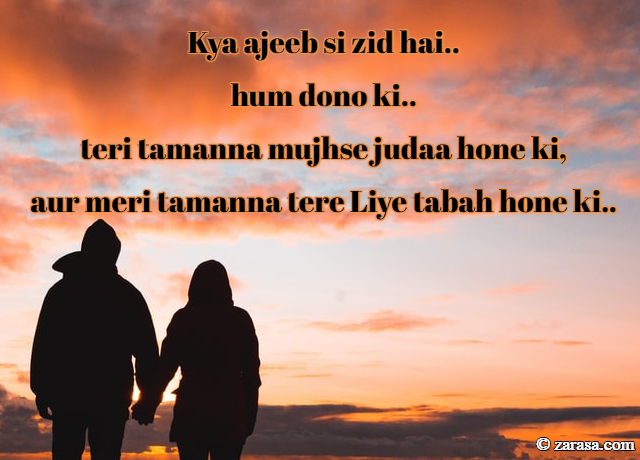 Kya ajeeb si zid hai..
hum dono ki..
teri tamanna mujhse judaa hone ki,
aur meri tamanna tere Liye tabah hone ki..
क्या अजीब सी ज़िद है..
हम दोनों की,
तेरी मर्ज़ी हमसे जुदा होने की..
और मेरी तेरे पीछे तबाह होने की..
کیا عجیب سی زد ہے
ہم دونو کی
تیری تمنّا مجھسے جدا ہونے کی
اور میری تمنّا تیرے لئے تباہ ہونے کی
---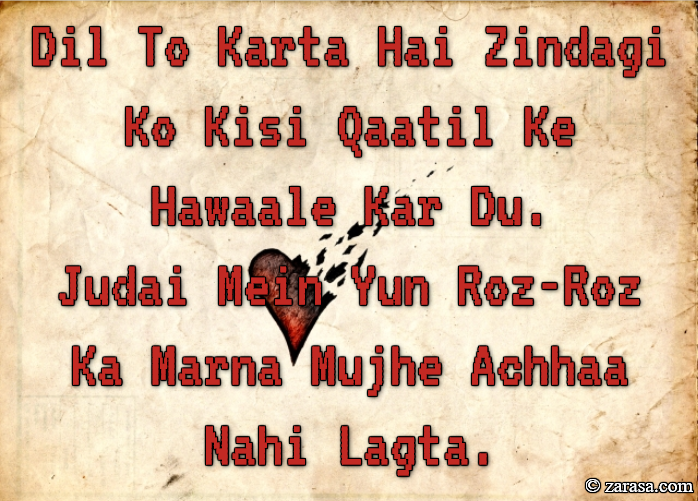 Dil To Karta Hai Zindagi Ko Kisi Qaatil Ke Hawaale Kar Du.
Judai Mein Yun Roz-Roz Ka Marna Mujhe Achhaa Nahi Lagta.
दिल तो करता है ज़िन्दगी को किसी कातिल के हवाले कर दू .
जुदाई में यूँ रोज़ -रोज़ का मरना मुझे अच्छा नहीं लगता .
دل تو کرتا ہے زندگی کو کسی قاتل کے حوالے کر دو .
جدائی میں یوں روز -روز کا مارنا مجھے اچھا نہیں لگتا .
---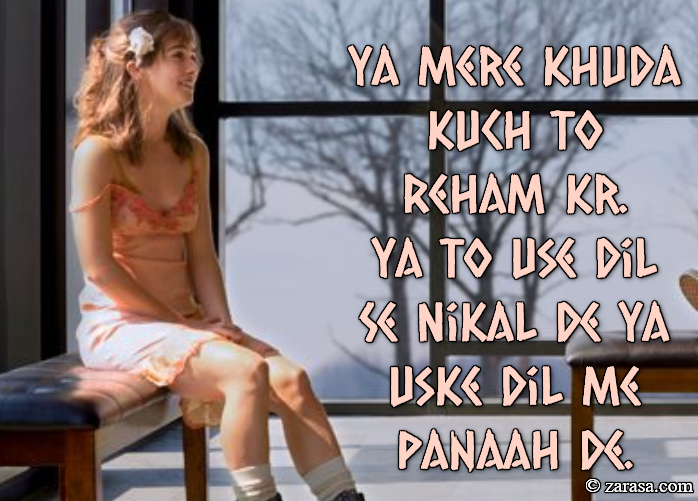 Ya Mere Khuda Kuch To Reham Kr.
Ya To Use Dil Se Nikal De Ya Uske Dil Me Panaah De.
या मेरे खुदा कुछ तो रेहम क्र .
या तो उसे दिल से निकल दे या उसके दिल में पनाह दे .
یا میرے خدا کچھ تو رحم کر .
یا تو اسے دل سے نکل دے یا اسکے دل مے پناہ دے .
---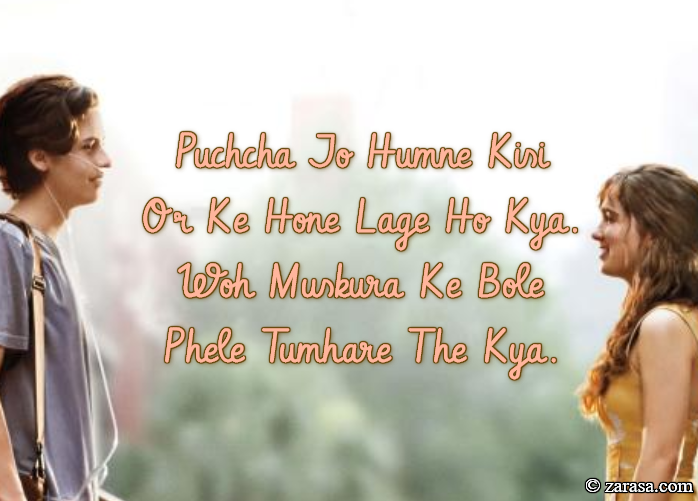 Puchcha Jo Humne Kisi Or Ke Hone Lage Ho Kya.
Woh Muskura Ke Bole Phele Tumhare The Kya.
पूछा जो हमने किसी और के होने लगे हो क्या .
वह मुस्कुरा के बोले पहले तुम्हारे थे क्या .
پچچا جو ہمنے کسی ور کے ہونے لگے ہو کیا .
وہ مسکرا کے بولے پھلے تمہارے تھے کیا .
---