Shayari for Khuda "लाख ढूंढें गौहर-ए-मक़सूद मिल सकता नहीं"
|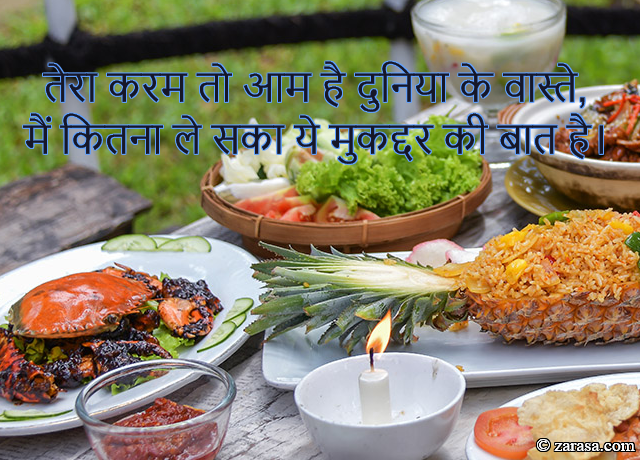 Tera Karam To Aam Hai Duniya Ke Vaste,
Main Kitna Le Saka Ye Muqaddar Ki Baat Hai.
तेरा करम तो आम है दुनिया के वास्ते,
मैं कितना ले सका ये मुकद्दर की बात है।
تیرا کرم تو ام ہے دنیا کے واسطے,
میں کتنا لے سکا یہ مقدّر کی بات ہے.
---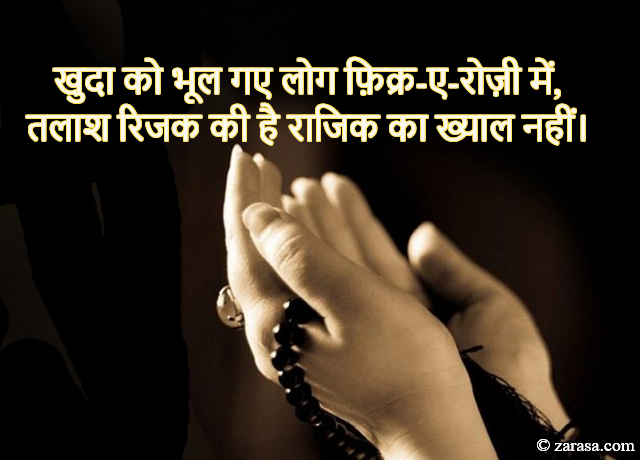 Khuda Ko Bhool Gaye Log Fikar-e-Rozi Mein,
Talaash Rizq Ki Hai Raaziq Ka Khayaal Nahi.




खुदा को भूल गए लोग फ़िक्र-ए-रोज़ी में,
तलाश रिजक की है राजिक का ख्याल नहीं।
خدا کو بھول گئے لوگ فکر-ے- روزی می
تلاش رزق کی ہے رازق کا خیال نہیں.
---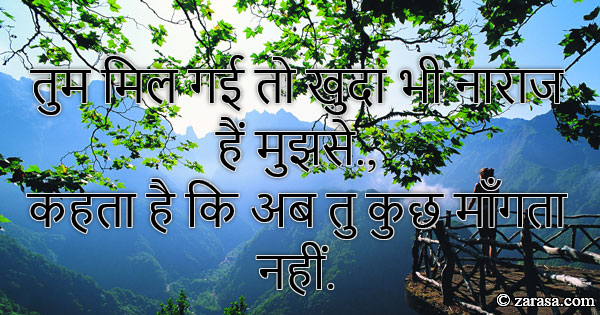 Tum Mil Gai To Khuda Bhi Naraz he Mujhse,
Kehta He Ki Ab Tu Kuch Mangta Hi Nahi.






तुम मिल गई तो खुदा भी नाराज हैं मुझसे.,
कहता है कि अब तु कुछ माँगता नहीं.
تم مل گئی تو خدا بھی ناراض ہے مجھسے ,
کہتا ہے کی اب تو کچھ مانگتا ہی نہیں .
---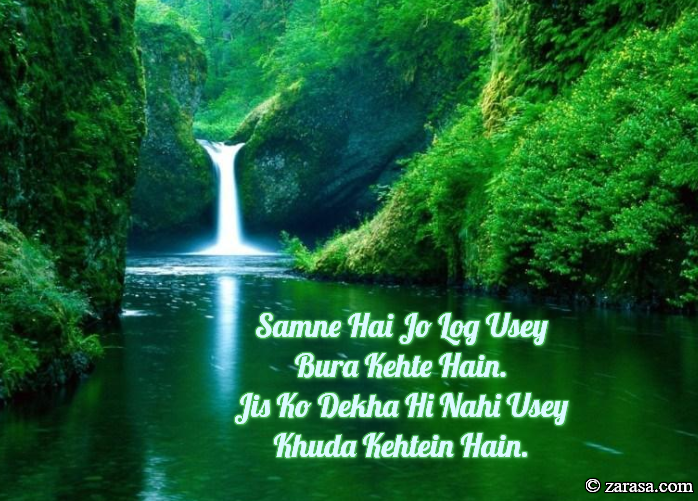 Samne Hai Jo Log Usey Bura Kehte Hain.
Jis Ko Dekha Hi Nahi Usey Khuda Kehtein Hain.
सामने है जो लोग उसे बुरा कहते हैं .
जिस को देखा ही नहीं उसे खुदा कहतें हैं .
سامنے ہے جو لوگ اسے برا کہتے ہیں .
جس کو دیکھا ہی نہیں اسے خدا کہتیں ہیں .
---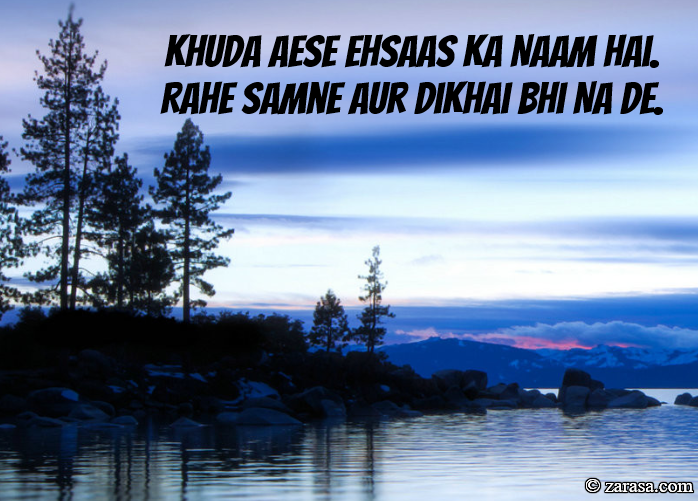 Khuda Aese Ehsaas Ka Naam Hai.
Rahe Samne Aur Dikhai Bhi Na De.
खुदा ऐसे एहसास का नाम है .
रहे सामने और दिखाई भी ना दे .
خدا ایسے احساس کا نام ہے .
رہے سامنے اور دکھائی بھی نہا دے .
---