Shayari for Khuda "Kismat Mai Koi Aisa Likh De Jo Maut Tak Wafa Kare"
|
Mohabbat Ki Aazmaish De De Kar Thak Gaya Hu Ae Khuda.
Kismat Mai Koi Aisa Likh De Jo Maut Tak Wafa Kare.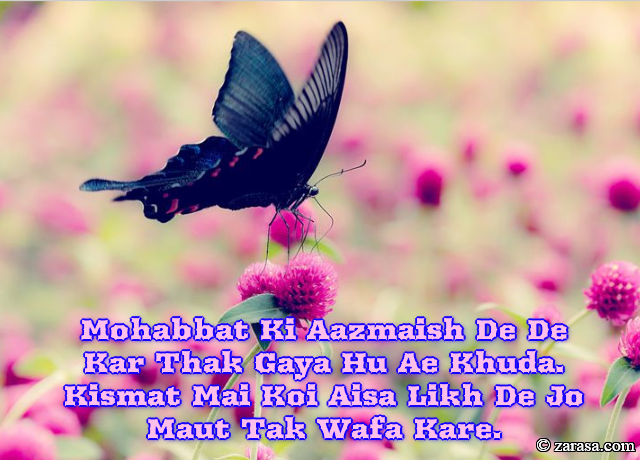 ---

मोहब्बत की आज़माइश दे दे कर थक गया हु ऐ खुदा .
क़िस्मत मै कोई ऐसा लिख दे जो मौत तक वफ़ा करे .


---

موحبّت کی آزمائش دے دے کر تھک گیا ہو اے خدا .
کسمت می کوئی ایسا لکھ دے جو موت تک وفا کرے .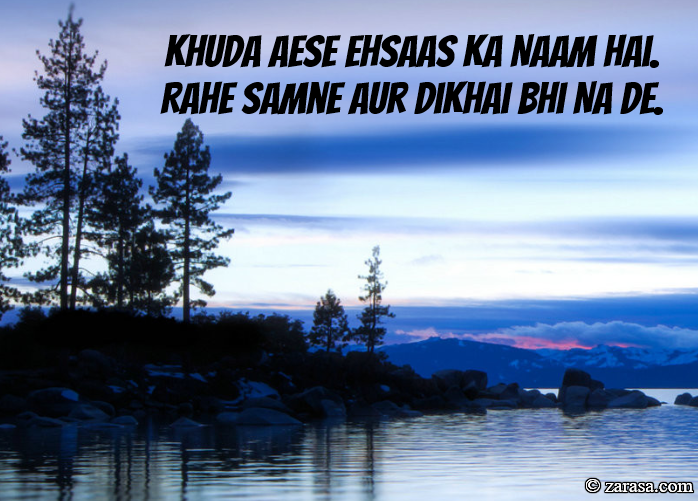 Khuda Aese Ehsaas Ka Naam Hai.
Rahe Samne Aur Dikhai Bhi Na De.
खुदा ऐसे एहसास का नाम है .
रहे सामने और दिखाई भी ना दे .
خدا ایسے احساس کا نام ہے .
رہے سامنے اور دکھائی بھی نہا دے .
---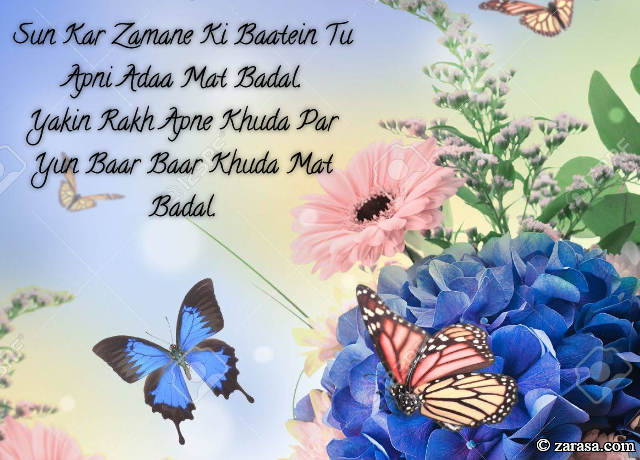 Sun Kar Zamane Ki Baatein Tu Apni Adaa Mat Badal.
Yakin Rakh Apne Khuda Par Yun Baar Baar Khuda Mat Badal.
सुन कर ज़माने की बातें तू अपनी अदा मत बदल .
यकीं रख अपने ख़ुदा पर यूँ बार बार खुदा मत बदल .
سن کر زمانے کی باتیں تو اپنی ادا مت بدل .
یکین رکھ اپنے خدا پر یوں بار بار خدا مت بدل .
---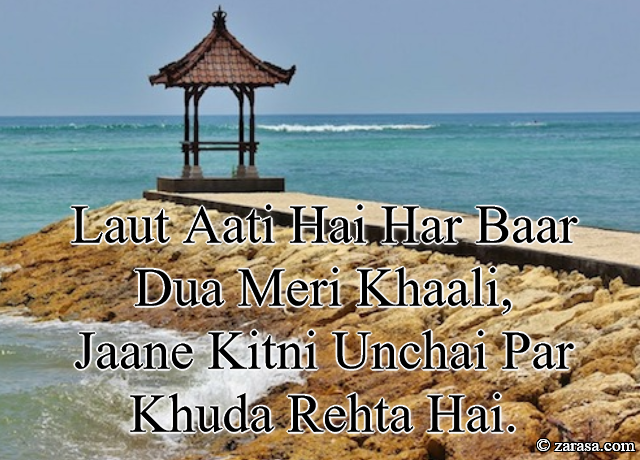 Laut Aati Hai Har Baar Dua Meri Khaali,
Jaane Kitni Unchai Par Khuda Rehta Hai.
लौट आती है हर बार दुआ मेरी खाली,
जाने कितनी ऊंचाई पर खुदा रहता है।
لوٹ آتی ہے ہر بار دوا میری خالی,
جانے کتنی اونچائی پر خدا رہتا ہے-
---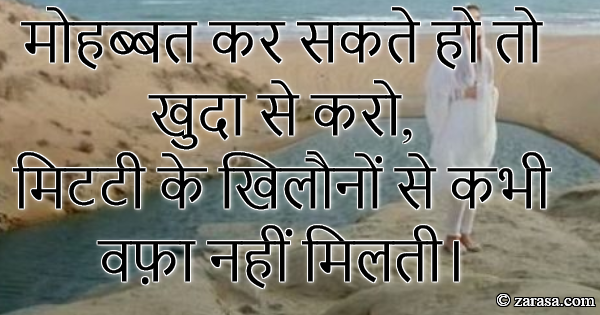 Mohabbat Kar Sakte Ho To Khuda Se Karo,
Mitti Ke Khilono Se Kabhi Wafa Nahi Milti.
मोहब्बत कर सकते हो तो खुदा से करो,
मिटटी के खिलौनों से कभी वफ़ा नहीं मिलती।
موحبّت کر سکتے ہو تو خدا سے کرو,
متی کے کھلونو سے کبھی وفا نہیں ملتی.
---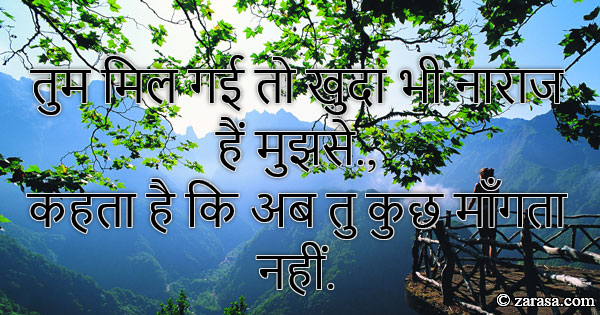 Tum Mil Gai To Khuda Bhi Naraz he Mujhse,
Kehta He Ki Ab Tu Kuch Mangta Hi Nahi.






तुम मिल गई तो खुदा भी नाराज हैं मुझसे.,
कहता है कि अब तु कुछ माँगता नहीं.
تم مل گئی تو خدا بھی ناراض ہے مجھسے ,
کہتا ہے کی اب تو کچھ مانگتا ہی نہیں .
---