Shayari for Khuda "Khuda Ko Bhool Gaye Log Fikar-e-Rozi Mein"
|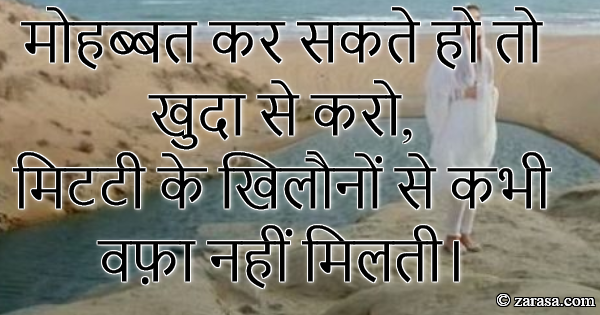 Mohabbat Kar Sakte Ho To Khuda Se Karo,
Mitti Ke Khilono Se Kabhi Wafa Nahi Milti.
मोहब्बत कर सकते हो तो खुदा से करो,
मिटटी के खिलौनों से कभी वफ़ा नहीं मिलती।
موحبّت کر سکتے ہو تو خدا سے کرو,
متی کے کھلونو سے کبھی وفا نہیں ملتی.
---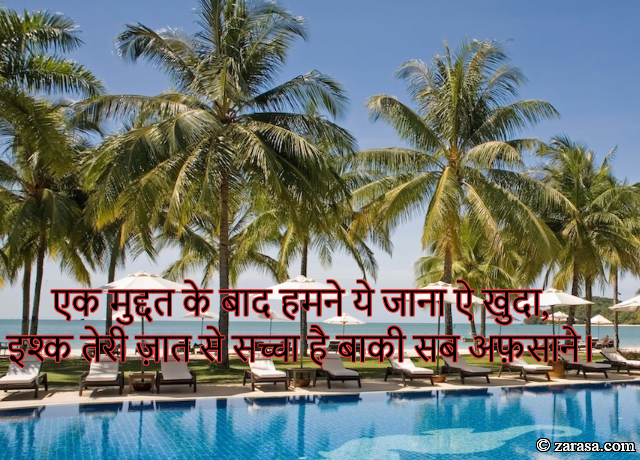 Ek Muddat Ke Baad Hum Ne Ye Jaana Ai Khuda,
Ishq Teri Zaat Se Sachha Hai Baki Sab Afsaane.
एक मुद्दत के बाद हमने ये जाना ऐ खुदा,
इश्क तेरी ज़ात से सच्चा है बाकी सब अफ़साने।
ایک مدّت کے بعد ہم نے یہ جانا ای خدا,
عشق تیری ذات سے سچھ ہے باکی سب افسانے.
---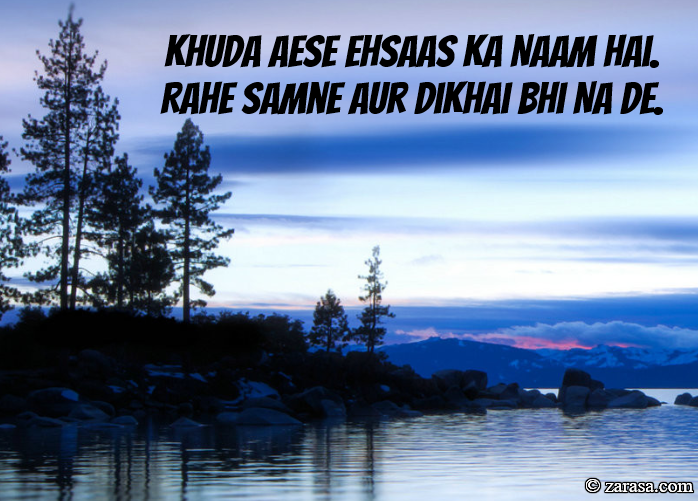 Khuda Aese Ehsaas Ka Naam Hai.
Rahe Samne Aur Dikhai Bhi Na De.
खुदा ऐसे एहसास का नाम है .
रहे सामने और दिखाई भी ना दे .
خدا ایسے احساس کا نام ہے .
رہے سامنے اور دکھائی بھی نہا دے .
---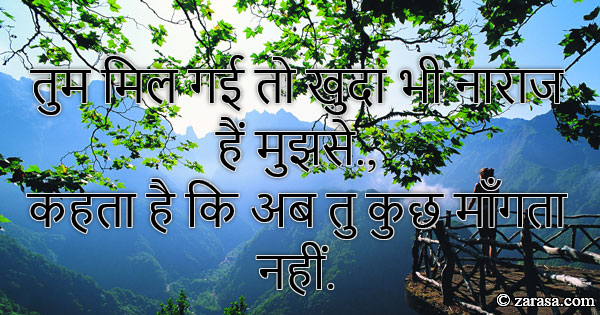 Tum Mil Gai To Khuda Bhi Naraz he Mujhse,
Kehta He Ki Ab Tu Kuch Mangta Hi Nahi.






तुम मिल गई तो खुदा भी नाराज हैं मुझसे.,
कहता है कि अब तु कुछ माँगता नहीं.
تم مل گئی تو خدا بھی ناراض ہے مجھسے ,
کہتا ہے کی اب تو کچھ مانگتا ہی نہیں .
---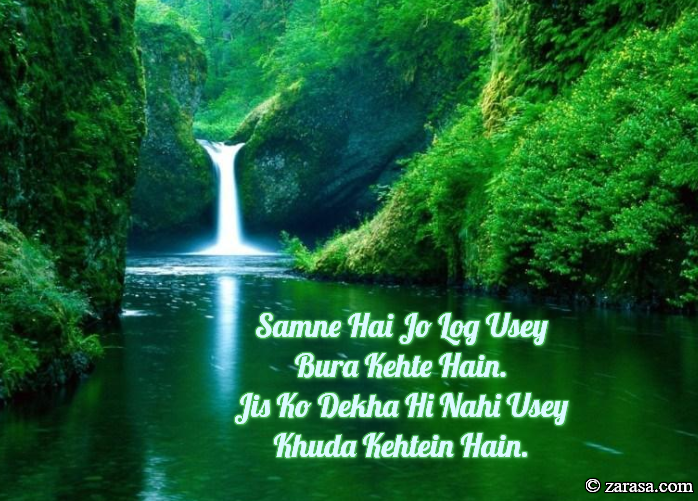 Samne Hai Jo Log Usey Bura Kehte Hain.
Jis Ko Dekha Hi Nahi Usey Khuda Kehtein Hain.
सामने है जो लोग उसे बुरा कहते हैं .
जिस को देखा ही नहीं उसे खुदा कहतें हैं .
سامنے ہے جو لوگ اسے برا کہتے ہیں .
جس کو دیکھا ہی نہیں اسے خدا کہتیں ہیں .
---