Shayari for Khuda "लौट आती है हर बार दुआ मेरी खाली"
|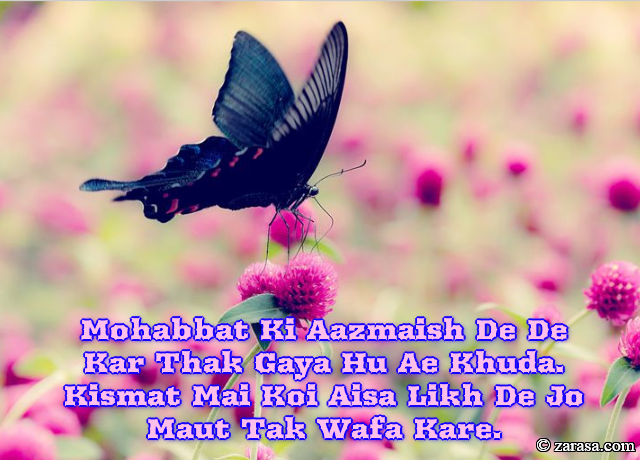 Mohabbat Ki Aazmaish De De Kar Thak Gaya Hu Ae Khuda.
Kismat Mai Koi Aisa Likh De Jo Maut Tak Wafa Kare.
मोहब्बत की आज़माइश दे दे कर थक गया हु ऐ खुदा .
क़िस्मत मै कोई ऐसा लिख दे जो मौत तक वफ़ा करे .
موحبّت کی آزمائش دے دے کر تھک گیا ہو اے خدا .
کسمت می کوئی ایسا لکھ دے جو موت تک وفا کرے .
---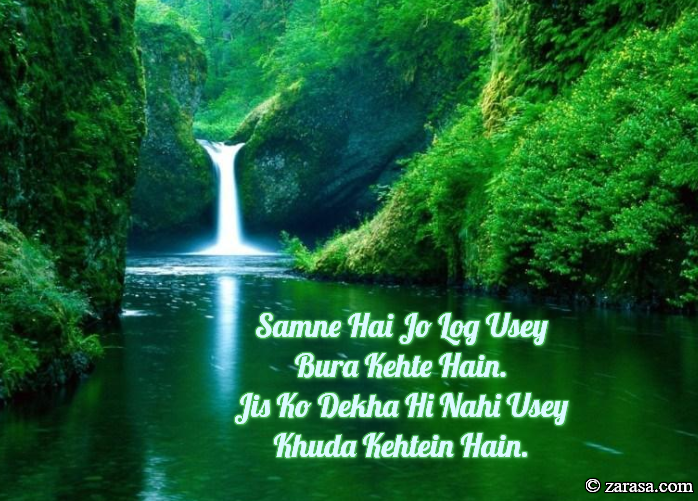 Samne Hai Jo Log Usey Bura Kehte Hain.
Jis Ko Dekha Hi Nahi Usey Khuda Kehtein Hain.
सामने है जो लोग उसे बुरा कहते हैं .
जिस को देखा ही नहीं उसे खुदा कहतें हैं .
سامنے ہے جو لوگ اسے برا کہتے ہیں .
جس کو دیکھا ہی نہیں اسے خدا کہتیں ہیں .
---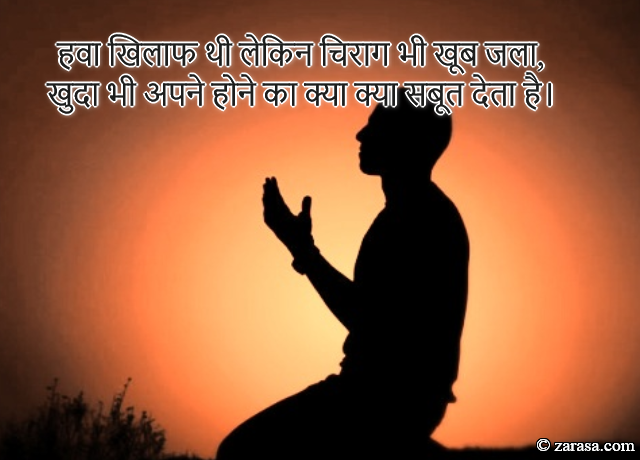 Hawa Khilaaf Thi Lekin Chirag Bhi Khoob Jala,
Khuda Bhi Apne Hone Ka Kya Kya Saboot Deta Hai.
हवा खिलाफ थी लेकिन चिराग भी खूब जला,
खुदा भी अपने होने का क्या क्या सबूत देता है।
ہوا خلاف تھی لیکن چراگ بھی خوب جلا,
خدا بھی اپنے ہونے کا کیا کیا ثبوت دیتا ہے.
---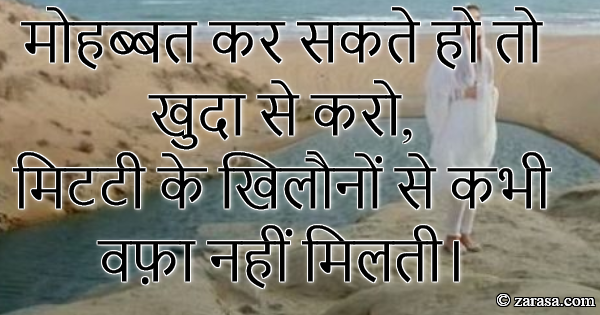 Mohabbat Kar Sakte Ho To Khuda Se Karo,
Mitti Ke Khilono Se Kabhi Wafa Nahi Milti.
मोहब्बत कर सकते हो तो खुदा से करो,
मिटटी के खिलौनों से कभी वफ़ा नहीं मिलती।
موحبّت کر سکتے ہو تو خدا سے کرو,
متی کے کھلونو سے کبھی وفا نہیں ملتی.
---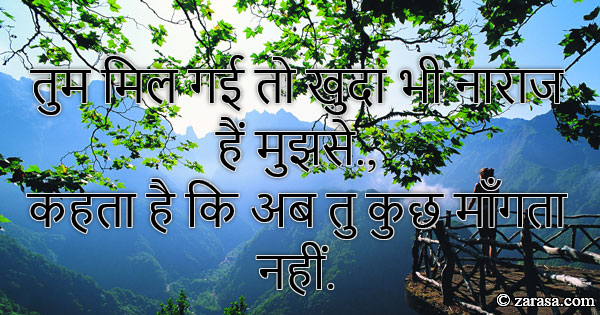 Tum Mil Gai To Khuda Bhi Naraz he Mujhse,
Kehta He Ki Ab Tu Kuch Mangta Hi Nahi.






तुम मिल गई तो खुदा भी नाराज हैं मुझसे.,
कहता है कि अब तु कुछ माँगता नहीं.
تم مل گئی تو خدا بھی ناراض ہے مجھسے ,
کہتا ہے کی اب تو کچھ مانگتا ہی نہیں .
---