Shayari for Khuda "लौट आती है हर बार दुआ मेरी खाली"
|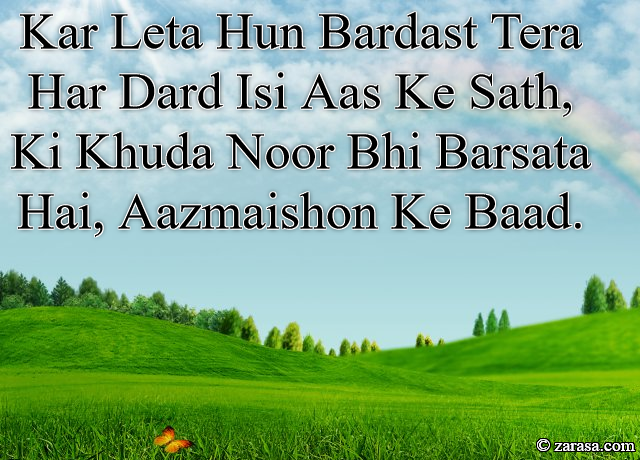 Kar Leta Hun Bardast Tera Har Dard Isi Aas Ke Sath,
Ki Khuda Noor Bhi Barsata Hai, Aazmaishon Ke Baad.
कर लेता हूँ बर्दाश्त तेरा हर दर्द इसी आस के साथ,
की खुदा नूर भी बरसाता है, आज़माइशों के बाद।

کر لیتا ہو برداشت تیرا ہر درد اسی اس کے ساتھ'
کی خدا نور بھی برساتا ہے آزمائش کے بعد-
---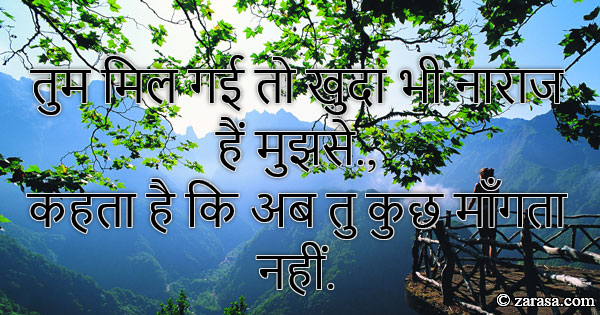 Tum Mil Gai To Khuda Bhi Naraz he Mujhse,
Kehta He Ki Ab Tu Kuch Mangta Hi Nahi.






तुम मिल गई तो खुदा भी नाराज हैं मुझसे.,
कहता है कि अब तु कुछ माँगता नहीं.
تم مل گئی تو خدا بھی ناراض ہے مجھسے ,
کہتا ہے کی اب تو کچھ مانگتا ہی نہیں .
---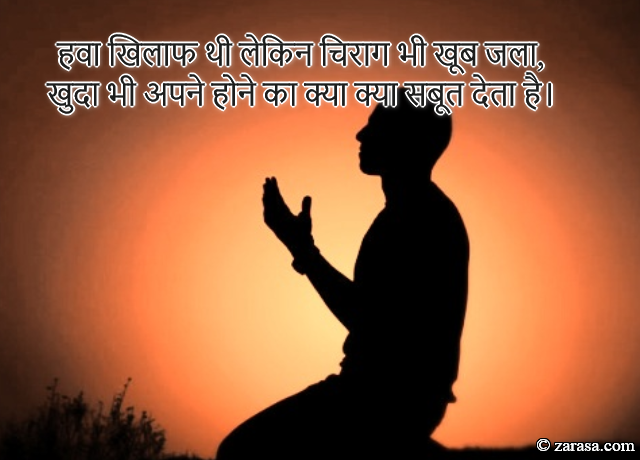 Hawa Khilaaf Thi Lekin Chirag Bhi Khoob Jala,
Khuda Bhi Apne Hone Ka Kya Kya Saboot Deta Hai.
हवा खिलाफ थी लेकिन चिराग भी खूब जला,
खुदा भी अपने होने का क्या क्या सबूत देता है।
ہوا خلاف تھی لیکن چراگ بھی خوب جلا,
خدا بھی اپنے ہونے کا کیا کیا ثبوت دیتا ہے.
---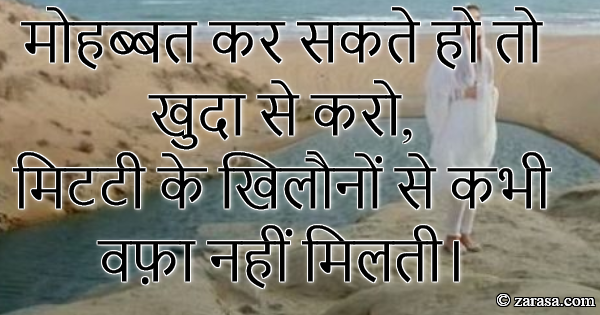 Mohabbat Kar Sakte Ho To Khuda Se Karo,
Mitti Ke Khilono Se Kabhi Wafa Nahi Milti.
मोहब्बत कर सकते हो तो खुदा से करो,
मिटटी के खिलौनों से कभी वफ़ा नहीं मिलती।
موحبّت کر سکتے ہو تو خدا سے کرو,
متی کے کھلونو سے کبھی وفا نہیں ملتی.
---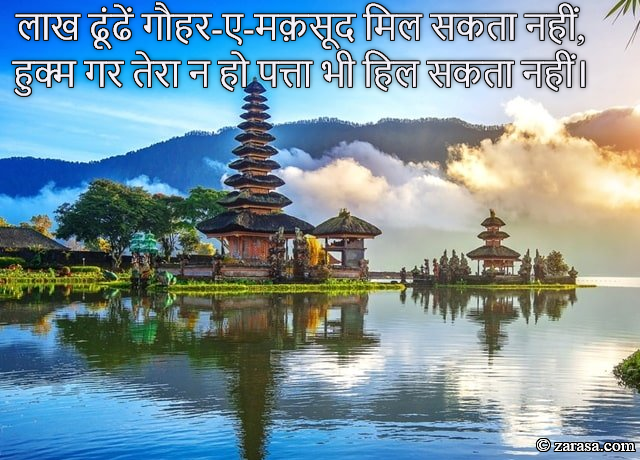 Laakh Dhoondhen Gauhar-e-Maqsood Mil Sakta Nahin,
Hukm Gar Tera Na Ho Patta Bhi Hil Sakta Nahin.
लाख ढूंढें गौहर-ए-मक़सूद मिल सकता नहीं,
हुक्म गर तेरा न हो पत्ता भी हिल सकता नहीं।
لاکھ ڈھونڈھن گوہر -ے- مقصود مل سکتا نہیں,
حکم گر تیرا نہ ہو پتا بھی حل سکتا نہیں .
---