Shayari for Khuda"Yun Baar Baar Khuda Mat Badal"
|
Sun Kar Zamane Ki Baatein Tu Apni Adaa Mat Badal.
Yakin Rakh Apne Khuda Par Yun Baar Baar Khuda Mat Badal.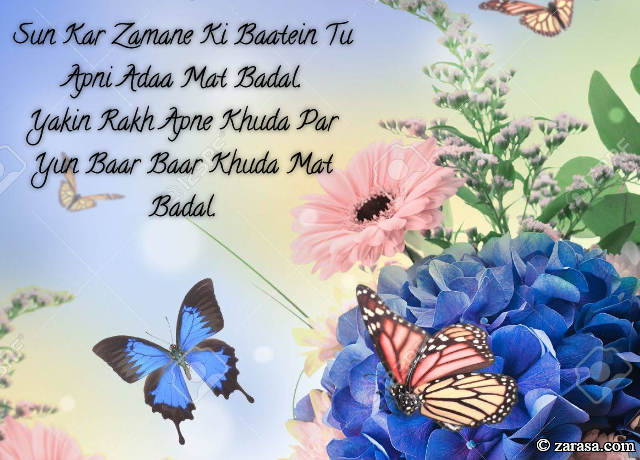 ---

सुन कर ज़माने की बातें तू अपनी अदा मत बदल .
यकीं रख अपने ख़ुदा पर यूँ बार बार खुदा मत बदल .


---

سن کر زمانے کی باتیں تو اپنی ادا مت بدل .
یکین رکھ اپنے خدا پر یوں بار بار خدا مت بدل .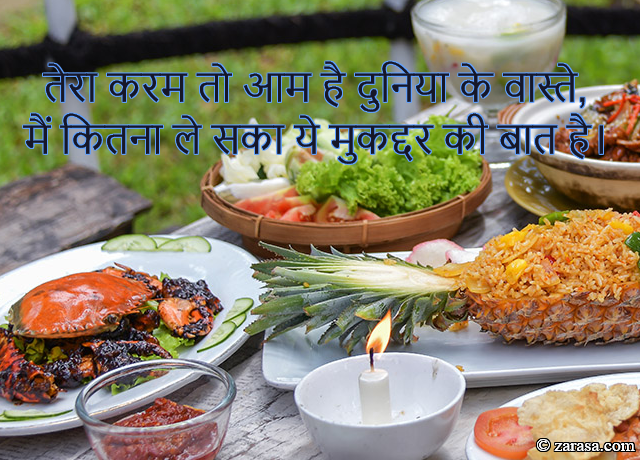 Tera Karam To Aam Hai Duniya Ke Vaste,
Main Kitna Le Saka Ye Muqaddar Ki Baat Hai.
तेरा करम तो आम है दुनिया के वास्ते,
मैं कितना ले सका ये मुकद्दर की बात है।
تیرا کرم تو ام ہے دنیا کے واسطے,
میں کتنا لے سکا یہ مقدّر کی بات ہے.
---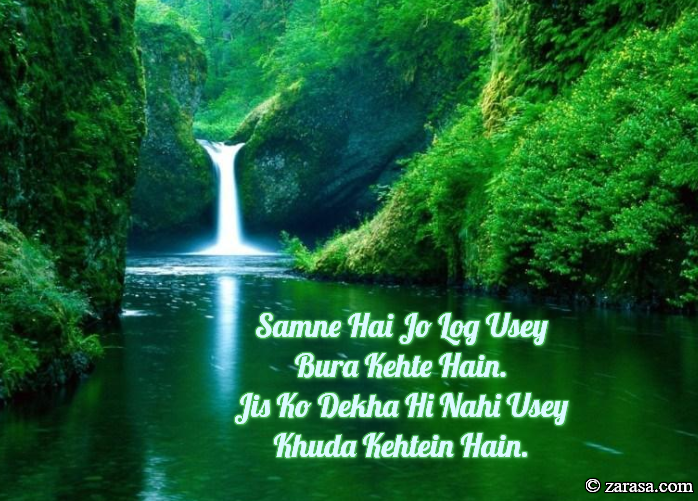 Samne Hai Jo Log Usey Bura Kehte Hain.
Jis Ko Dekha Hi Nahi Usey Khuda Kehtein Hain.
सामने है जो लोग उसे बुरा कहते हैं .
जिस को देखा ही नहीं उसे खुदा कहतें हैं .
سامنے ہے جو لوگ اسے برا کہتے ہیں .
جس کو دیکھا ہی نہیں اسے خدا کہتیں ہیں .
---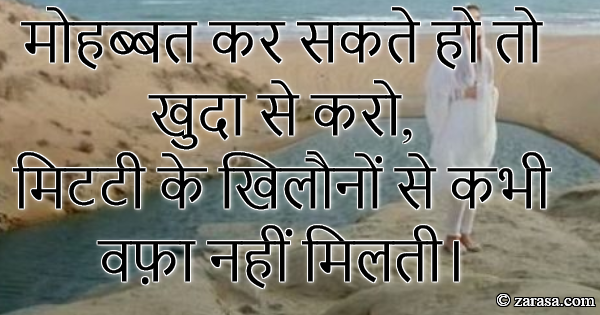 Mohabbat Kar Sakte Ho To Khuda Se Karo,
Mitti Ke Khilono Se Kabhi Wafa Nahi Milti.
मोहब्बत कर सकते हो तो खुदा से करो,
मिटटी के खिलौनों से कभी वफ़ा नहीं मिलती।
موحبّت کر سکتے ہو تو خدا سے کرو,
متی کے کھلونو سے کبھی وفا نہیں ملتی.
---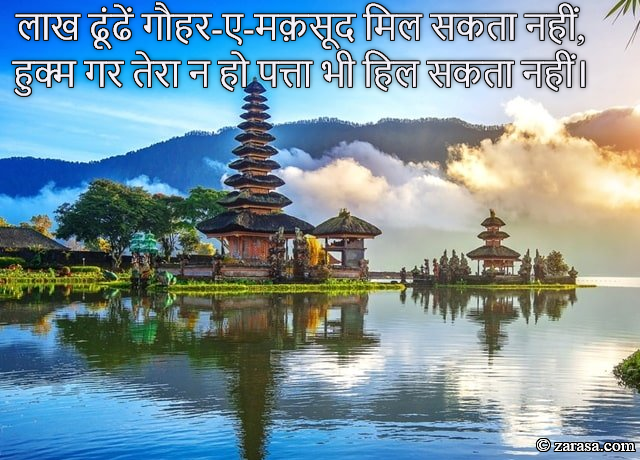 Laakh Dhoondhen Gauhar-e-Maqsood Mil Sakta Nahin,
Hukm Gar Tera Na Ho Patta Bhi Hil Sakta Nahin.
लाख ढूंढें गौहर-ए-मक़सूद मिल सकता नहीं,
हुक्म गर तेरा न हो पत्ता भी हिल सकता नहीं।
لاکھ ڈھونڈھن گوہر -ے- مقصود مل سکتا نہیں,
حکم گر تیرا نہ ہو پتا بھی حل سکتا نہیں .
---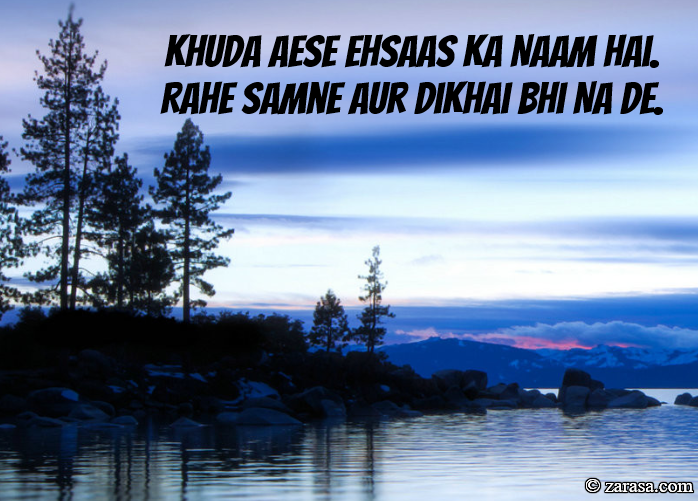 Khuda Aese Ehsaas Ka Naam Hai.
Rahe Samne Aur Dikhai Bhi Na De.
खुदा ऐसे एहसास का नाम है .
रहे सामने और दिखाई भी ना दे .
خدا ایسے احساس کا نام ہے .
رہے سامنے اور دکھائی بھی نہا دے .
---