Shayari for Khuda "Ek Muddat Ke Baad Hum Ne Ye Jaana Ai Khuda"
|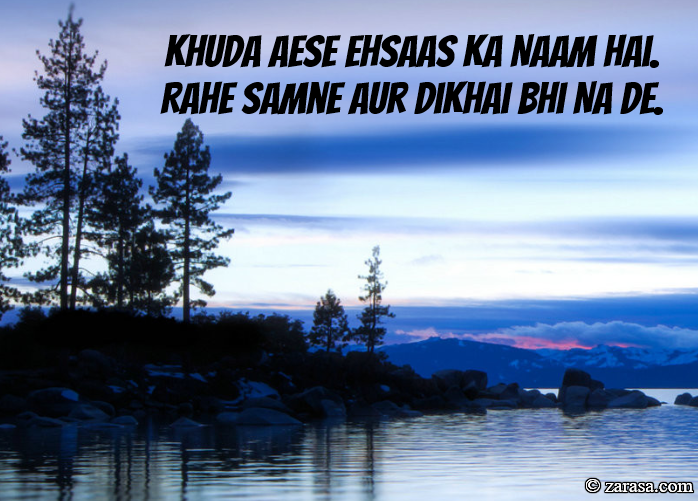 Khuda Aese Ehsaas Ka Naam Hai.
Rahe Samne Aur Dikhai Bhi Na De.
खुदा ऐसे एहसास का नाम है .
रहे सामने और दिखाई भी ना दे .
خدا ایسے احساس کا نام ہے .
رہے سامنے اور دکھائی بھی نہا دے .
---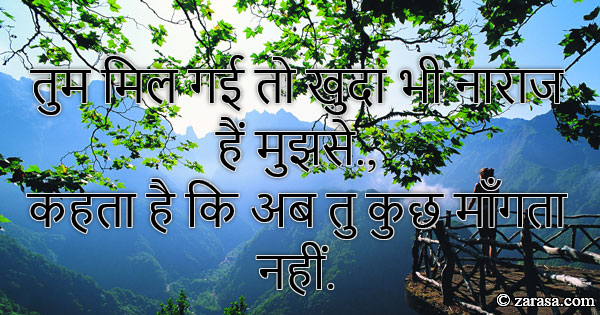 Tum Mil Gai To Khuda Bhi Naraz he Mujhse,
Kehta He Ki Ab Tu Kuch Mangta Hi Nahi.






तुम मिल गई तो खुदा भी नाराज हैं मुझसे.,
कहता है कि अब तु कुछ माँगता नहीं.
تم مل گئی تو خدا بھی ناراض ہے مجھسے ,
کہتا ہے کی اب تو کچھ مانگتا ہی نہیں .
---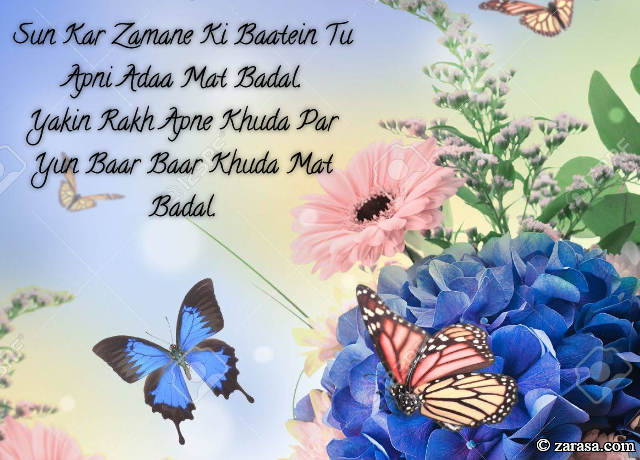 Sun Kar Zamane Ki Baatein Tu Apni Adaa Mat Badal.
Yakin Rakh Apne Khuda Par Yun Baar Baar Khuda Mat Badal.
सुन कर ज़माने की बातें तू अपनी अदा मत बदल .
यकीं रख अपने ख़ुदा पर यूँ बार बार खुदा मत बदल .
سن کر زمانے کی باتیں تو اپنی ادا مت بدل .
یکین رکھ اپنے خدا پر یوں بار بار خدا مت بدل .
---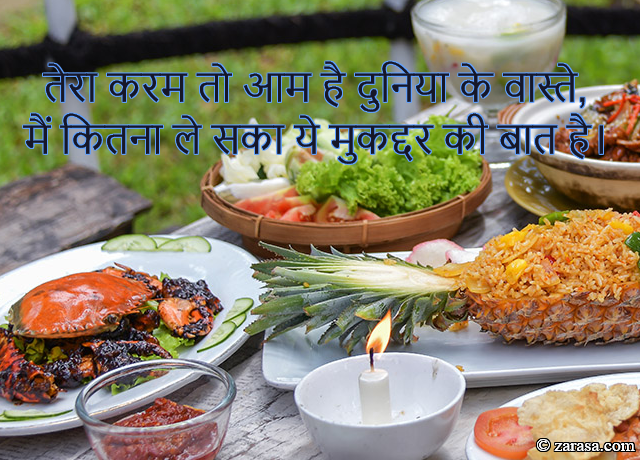 Tera Karam To Aam Hai Duniya Ke Vaste,
Main Kitna Le Saka Ye Muqaddar Ki Baat Hai.
तेरा करम तो आम है दुनिया के वास्ते,
मैं कितना ले सका ये मुकद्दर की बात है।
تیرا کرم تو ام ہے دنیا کے واسطے,
میں کتنا لے سکا یہ مقدّر کی بات ہے.
---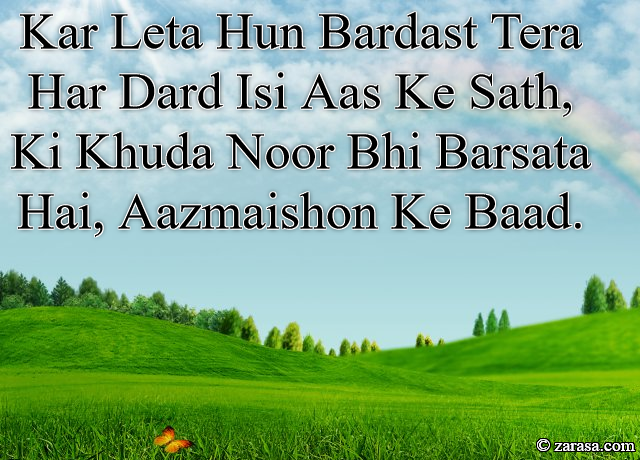 Kar Leta Hun Bardast Tera Har Dard Isi Aas Ke Sath,
Ki Khuda Noor Bhi Barsata Hai, Aazmaishon Ke Baad.
कर लेता हूँ बर्दाश्त तेरा हर दर्द इसी आस के साथ,
की खुदा नूर भी बरसाता है, आज़माइशों के बाद।

کر لیتا ہو برداشت تیرا ہر درد اسی اس کے ساتھ'
کی خدا نور بھی برساتا ہے آزمائش کے بعد-
---