Shayari for Khuda "Ek Muddat Ke Baad Hum Ne Ye Jaana Ai Khuda"
|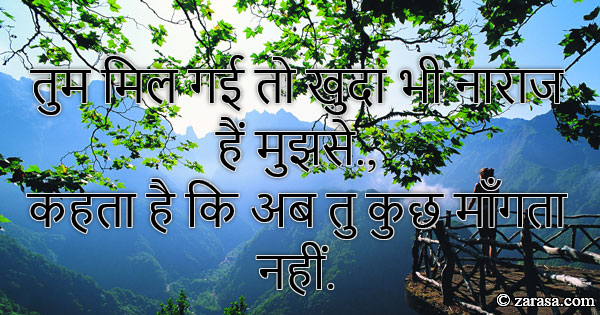 Tum Mil Gai To Khuda Bhi Naraz he Mujhse,
Kehta He Ki Ab Tu Kuch Mangta Hi Nahi.






तुम मिल गई तो खुदा भी नाराज हैं मुझसे.,
कहता है कि अब तु कुछ माँगता नहीं.
تم مل گئی تو خدا بھی ناراض ہے مجھسے ,
کہتا ہے کی اب تو کچھ مانگتا ہی نہیں .
---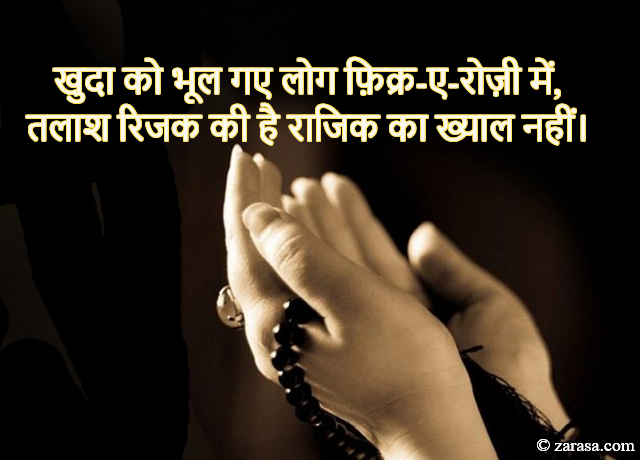 Khuda Ko Bhool Gaye Log Fikar-e-Rozi Mein,
Talaash Rizq Ki Hai Raaziq Ka Khayaal Nahi.




खुदा को भूल गए लोग फ़िक्र-ए-रोज़ी में,
तलाश रिजक की है राजिक का ख्याल नहीं।
خدا کو بھول گئے لوگ فکر-ے- روزی می
تلاش رزق کی ہے رازق کا خیال نہیں.
---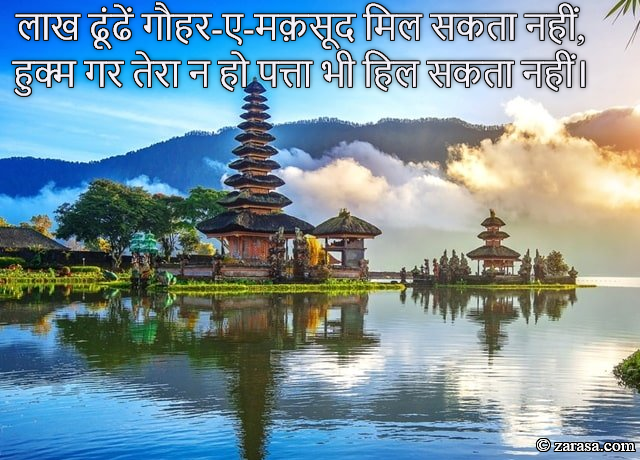 Laakh Dhoondhen Gauhar-e-Maqsood Mil Sakta Nahin,
Hukm Gar Tera Na Ho Patta Bhi Hil Sakta Nahin.
लाख ढूंढें गौहर-ए-मक़सूद मिल सकता नहीं,
हुक्म गर तेरा न हो पत्ता भी हिल सकता नहीं।
لاکھ ڈھونڈھن گوہر -ے- مقصود مل سکتا نہیں,
حکم گر تیرا نہ ہو پتا بھی حل سکتا نہیں .
---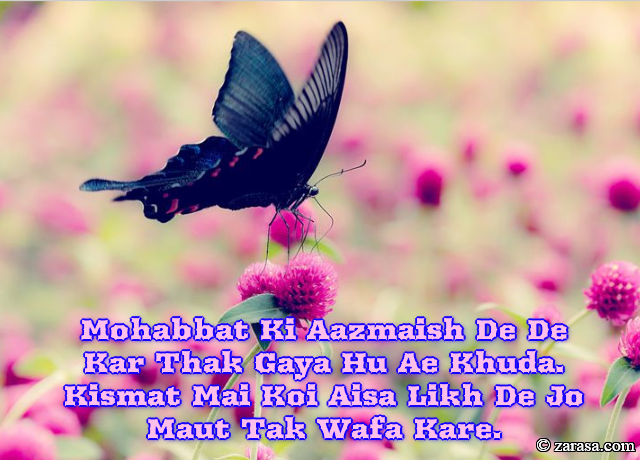 Mohabbat Ki Aazmaish De De Kar Thak Gaya Hu Ae Khuda.
Kismat Mai Koi Aisa Likh De Jo Maut Tak Wafa Kare.
मोहब्बत की आज़माइश दे दे कर थक गया हु ऐ खुदा .
क़िस्मत मै कोई ऐसा लिख दे जो मौत तक वफ़ा करे .
موحبّت کی آزمائش دے دے کر تھک گیا ہو اے خدا .
کسمت می کوئی ایسا لکھ دے جو موت تک وفا کرے .
---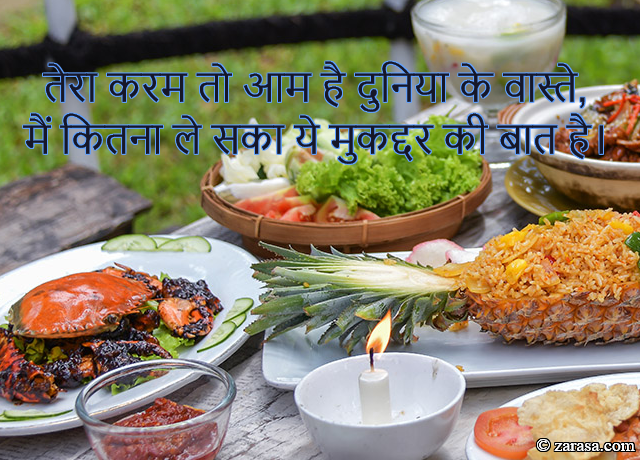 Tera Karam To Aam Hai Duniya Ke Vaste,
Main Kitna Le Saka Ye Muqaddar Ki Baat Hai.
तेरा करम तो आम है दुनिया के वास्ते,
मैं कितना ले सका ये मुकद्दर की बात है।
تیرا کرم تو ام ہے دنیا کے واسطے,
میں کتنا لے سکا یہ مقدّر کی بات ہے.
---