Shayari for Khuda "Tera Karam To Aam Hai Duniya Ke Vaste"
|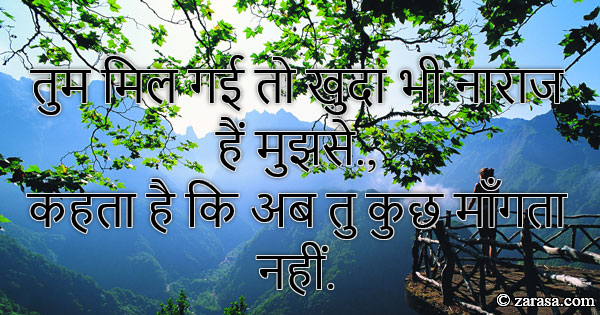 Tum Mil Gai To Khuda Bhi Naraz he Mujhse,
Kehta He Ki Ab Tu Kuch Mangta Hi Nahi.






तुम मिल गई तो खुदा भी नाराज हैं मुझसे.,
कहता है कि अब तु कुछ माँगता नहीं.
تم مل گئی تو خدا بھی ناراض ہے مجھسے ,
کہتا ہے کی اب تو کچھ مانگتا ہی نہیں .
---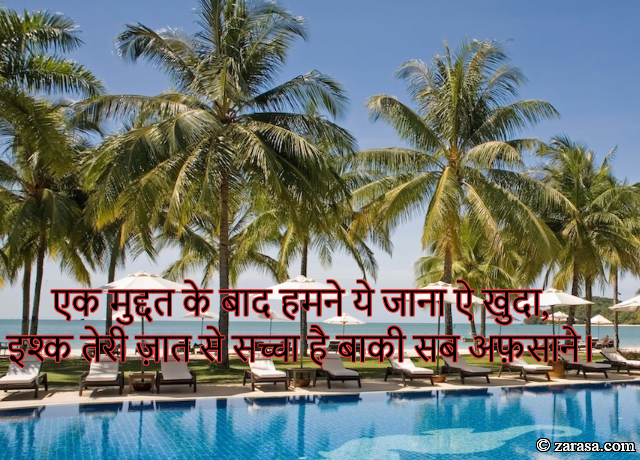 Ek Muddat Ke Baad Hum Ne Ye Jaana Ai Khuda,
Ishq Teri Zaat Se Sachha Hai Baki Sab Afsaane.
एक मुद्दत के बाद हमने ये जाना ऐ खुदा,
इश्क तेरी ज़ात से सच्चा है बाकी सब अफ़साने।
ایک مدّت کے بعد ہم نے یہ جانا ای خدا,
عشق تیری ذات سے سچھ ہے باکی سب افسانے.
---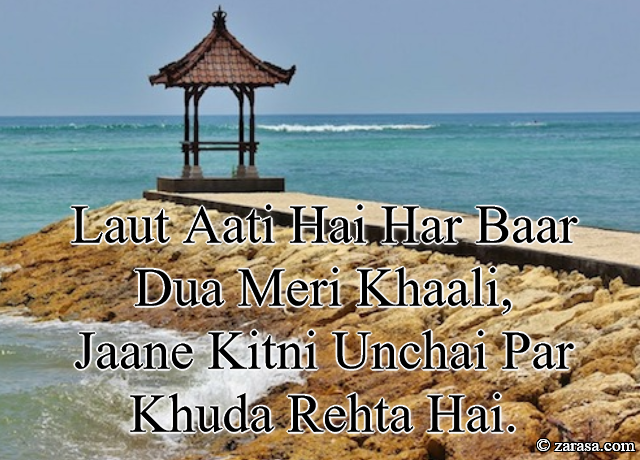 Laut Aati Hai Har Baar Dua Meri Khaali,
Jaane Kitni Unchai Par Khuda Rehta Hai.
लौट आती है हर बार दुआ मेरी खाली,
जाने कितनी ऊंचाई पर खुदा रहता है।
لوٹ آتی ہے ہر بار دوا میری خالی,
جانے کتنی اونچائی پر خدا رہتا ہے-
---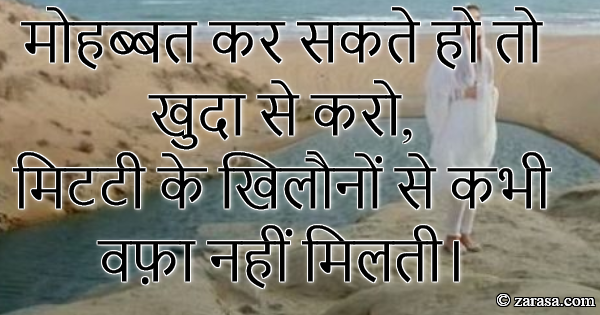 Mohabbat Kar Sakte Ho To Khuda Se Karo,
Mitti Ke Khilono Se Kabhi Wafa Nahi Milti.
मोहब्बत कर सकते हो तो खुदा से करो,
मिटटी के खिलौनों से कभी वफ़ा नहीं मिलती।
موحبّت کر سکتے ہو تو خدا سے کرو,
متی کے کھلونو سے کبھی وفا نہیں ملتی.
---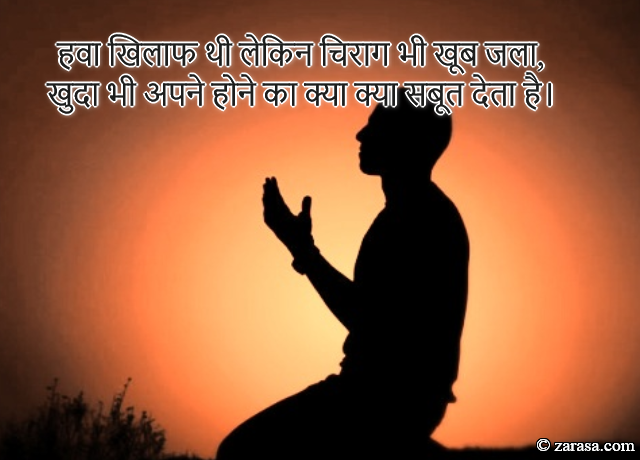 Hawa Khilaaf Thi Lekin Chirag Bhi Khoob Jala,
Khuda Bhi Apne Hone Ka Kya Kya Saboot Deta Hai.
हवा खिलाफ थी लेकिन चिराग भी खूब जला,
खुदा भी अपने होने का क्या क्या सबूत देता है।
ہوا خلاف تھی لیکن چراگ بھی خوب جلا,
خدا بھی اپنے ہونے کا کیا کیا ثبوت دیتا ہے.
---