Shayari for Kids "बच्चे मेरी उँगली थामे धीरे धीरे चलते थे"
|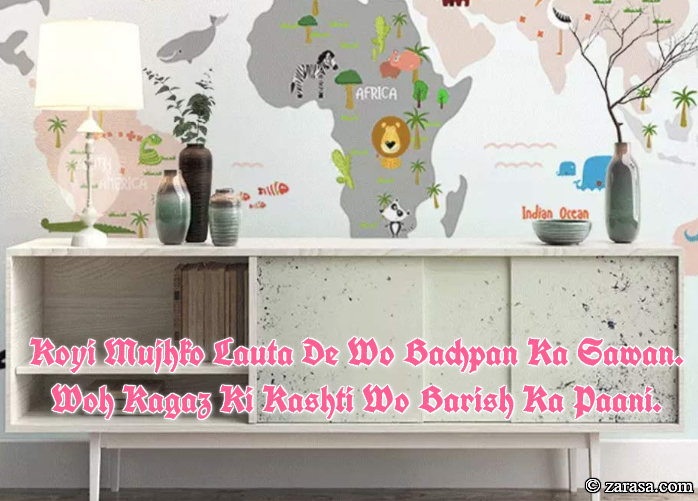 Koyi Mujhko Lauta De Wo Bachpan Ka Sawan.
Woh Kagaz Ki Kashti Wo Barish Ka Paani.
कोई मुझको लौटा दे वो बचपन का सावन .
वह कागज़ की कश्ती वो बारिश का पानी .

کویی مجھکو لوٹا دے وو بچپن کا ساون .
وہ کگاز کی کشتی وو بارش کا پانی .
---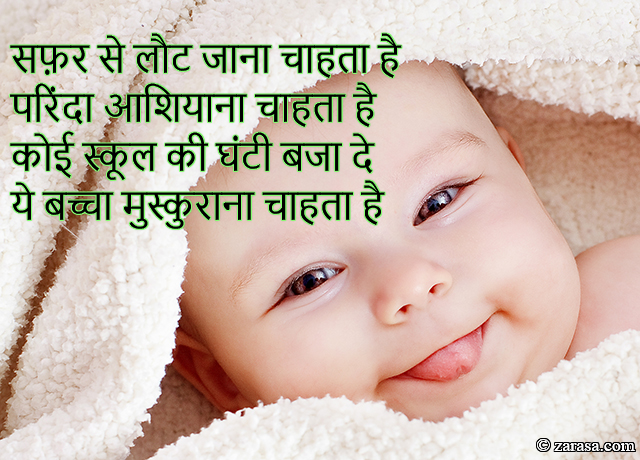 Safar Se Lot Jana Chahta Hai
Parinda Aashyana Chahta Hai,
Koi School Ki Ghanti Bajade
Ye Bachcha Muskurana Chahta Hai.


सफ़र से लौट जाना चाहता है
परिंदा आशियाना चाहता है
कोई स्कूल की घंटी बजा दे
ये बच्चा मुस्कुराना चाहता है
سفر سے لوٹ جانا چاہتا ہے ,
پرندہ آشیانہ چاہتا ہے,
کوی اسکول کی گھنٹی بجا دے
یہ بچچا مسکرانا چاہتا ہے.
---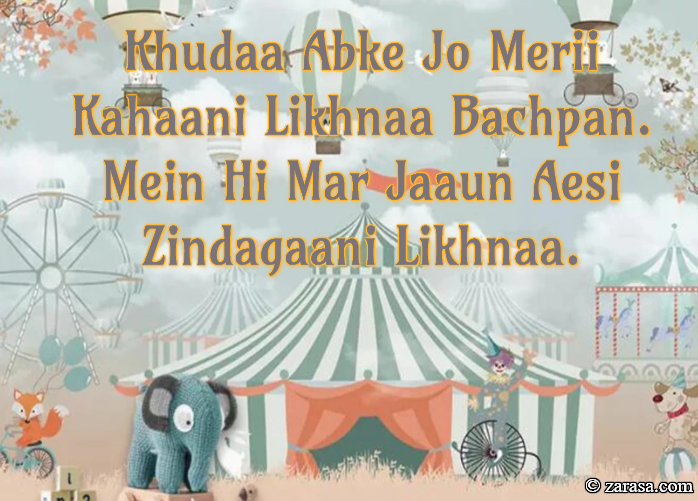 Khudaa Abke Jo Merii Kahaani Likhnaa Bachpan.
Mein Hi Mar Jaaun Aesi Zindagaani Likhnaa.
खुदा अबके जो मेरी कहानी लिखना बचपन .
में ही मर जाऊं ऐसी ज़िंदगानी लिखना .
خدا ابکے جو میری کہانی لکھنا بچپنا .
میں ہی مر جان ایسی زندگانی لکھنا .
---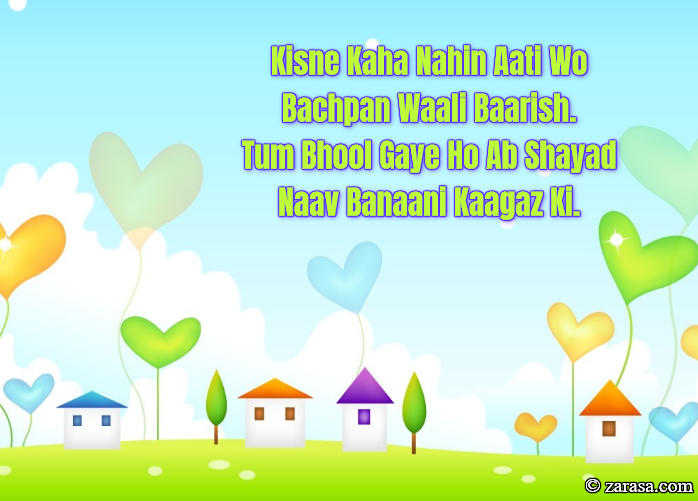 Kisne Kaha Nahin Aati Wo Bachpan Waali Baarish.
Tum Bhool Gaye Ho Ab Shayad Naav Banaani Kaagaz Ki.
किसने कहा नहीं आती वो बचपन वाली बारिश .
तुम भूल गए हो अब शायद नाव बनानी कागज़ की .
کسنے کہا نہیں آتی وو بچپن والی بارش .
تم بھول گئے ہو اب شاید ناؤ بنانی کاگز کی .
---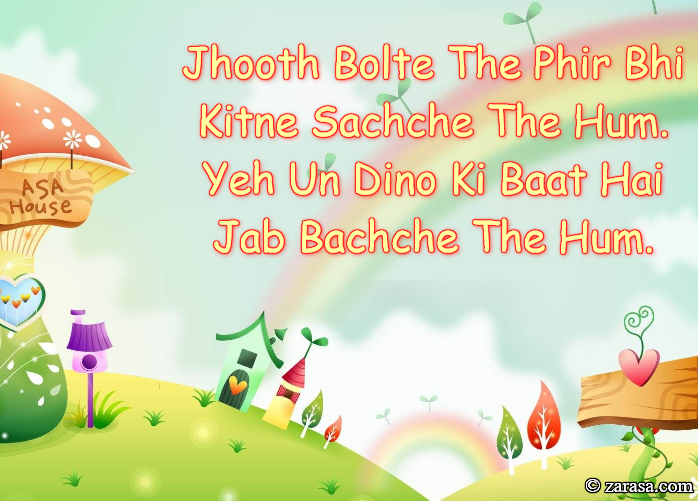 Jhooth Bolte The Phir Bhi Kitne Sachche The Hum.
Yeh Un Dino Ki Baat Hai Jab Bachche The Hum.
झूठ बोलते थे फिर भी कितने सच्चे थे हम .
यह उन दिनों की बात है जब बच्चे थे हम .
جھوٹھ بولتے تھے پھر بھی کتنے سچچے تھے ہم .
یہ ان دنو کی بات ہے جب بچچے تھے ہم .
---