Shayari for Love"Tujhme Baat Hi Kuch Aisi Hai"
|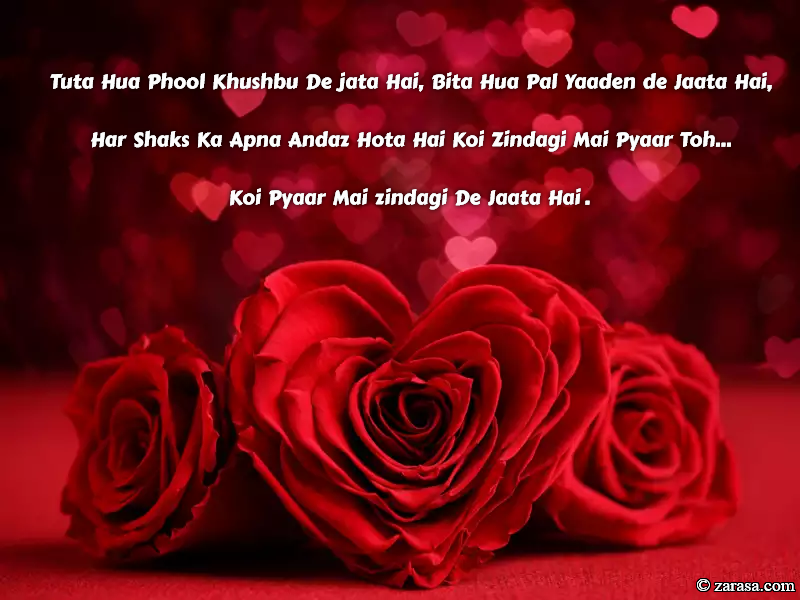 Tuta Hua Phool Khushbu De jata Hai,
Bita Hua Pal Yaaden de Jaata Hai,
Har Shaks Ka Apna Andaz Hota Hai
Koi Zindagi Mai Pyaar Toh...
Koi Pyaar Mai zindagi De Jaata Hai .
टुटा हुआ फूल खुशबु दे जाता है
बिता हुआ पल यादें दे जाता है,
हर शख्स का अपना अंदाज़ होता है
कोई ज़िन्दगी में प्यार तोह ..
कोई प्यार में ज़िन्दगी दे जाता है।
ٹوٹا ہوا [پھول خوشبو دے جاتا ہے
بتا ہوا پل یادیں دے جاتا ہے
ہر شکس کا اپنا انداز ہوتا ہے
کوئی زندگی می پیار ٹوہ
کوئی پیار مے زندگی دے جاتا ہے
---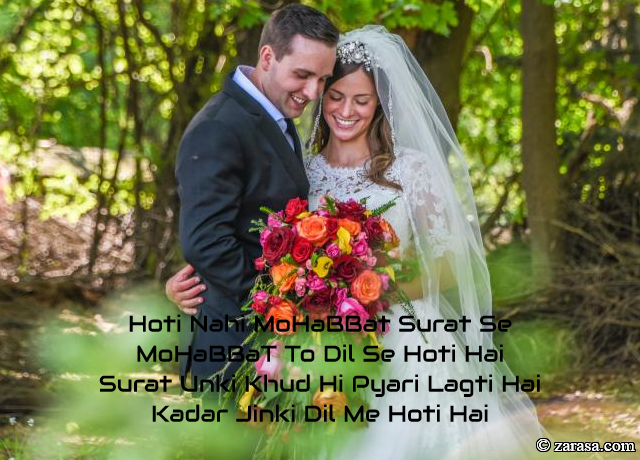 Hoti Nahi Mohabbat Surat Se
Mohabbat To Dil Se Hoti Hai
Surat Unki Khud Hi Pyari Lagti Hai
Kadar Jinki Dil Me Hoti Hai
होती नहीं मोहब्बत सूरत से
मोहब्बत तो दिल से होती है
सूरत उनकी खुद ही प्यारी लगती है
कदर जिनक दिल में होती है
ہوتی نہیں موحبّت صورت سے
موحبّت تو دل سے ہوتی ہے
صورت انکی خود ہی پیاری لگتی ہے
قدر جنکی دل مے ہوتی ہے
---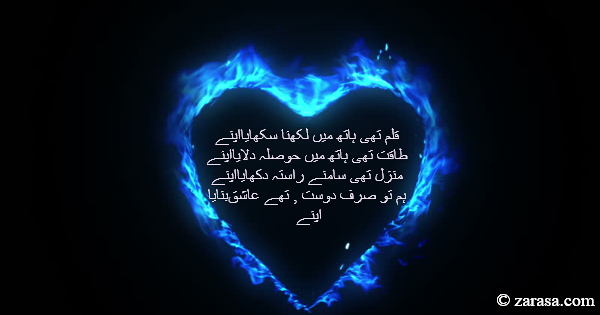 Kalam thi haath mai likhna sikhaya aapne

Taakt thi haath mai hausla Dilaya aapne

Manzil thi saamne rasta dikhaya aapne

Hm toh sirf Dost the ,Aashiq banaya aapne
कलम थी हाथ मई लिखना सिखाया आपने
ताकत थी हाथ मई हौसला दिलाया आपने
मंज़िल थी सामने रास्ता दिखाया आपने
हम तो सिर्फ दोस्त थे , आशिक़ बनाया आपने
قلم تھی ہاتھ میں لکھنا سکھایا اپنے
طاقت تھی ہاتھ میں حوصلہ دلایا اپنے
منزل تھی سامنے راستہ دکھایا اپنے
ہم تو صرف دوست تھے , عاشق بنایا اپنے
---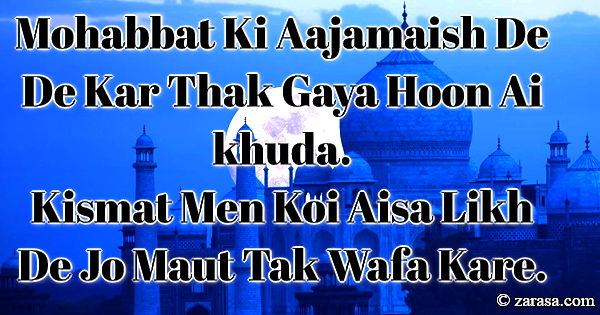 Mohabbat Ki Aajamaish De De Kar Thak Gaya Hoon Ai khuda.
Kismat Men Koi Aisa Likh De Jo Maut Tak Wafa Kare.
मोहब्बत की आजमाइश दे दे कर थक गया हूँ ऐ खुदा.
किस्मत मेँ कोई ऐसा लिख देजो मौत तक वफा करे.
موحبّت کی آجامائش دے دے کر تھک گیا ہوں ای خدا.
کسمت میں کوئی ایسا لکھ دے جو موت تک وفا کرے .
---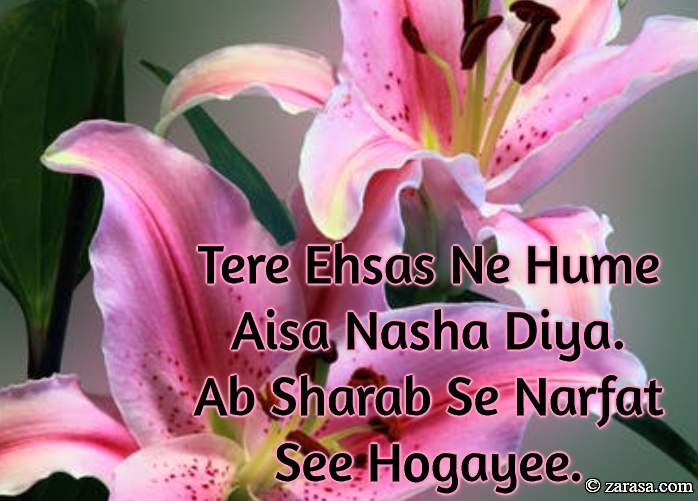 Tere Ehsas Ne Hume Aisa Nasha Diya.
Ab Sharab Se Narfat See Hogayee.
तेरे एहसास ने हमे ऐसा नशा दिया .
अब शराब से नरफत सी होगई .
تیرے احساس نے ہمے ایسا نشہ دیا .
اب شراب سے نرفت سی ہوگیے .
---