Shayari For Mohabbat "हम तुम्हारी बाहों में खो जाएँ"
|
Khuda kare ki ek aisa din aa jaye,
Hum tumhaari baahon mein kho jaayein,
Sirf hum ho aur tum ho
Aur samay wahi so jaaye…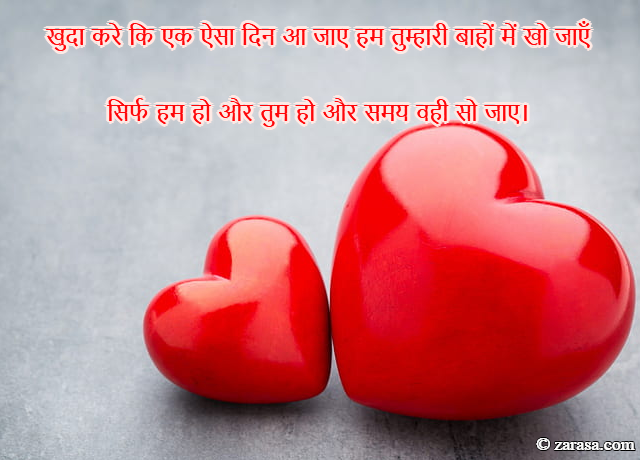 ---

खुदा करे कि एक ऐसा दिन आ जाए,
हम तुम्हारी बाहों में खो जाएँ,
सिर्फ हम हो और तुम हो,
और समय वही सो जाए।


---

خدا کرے کی ایک ایسا دن اجے
ہم تمہاری باہوں می کھو جائے
صرف ہم ہو اور تم ہو اور سمے وہی سو جائے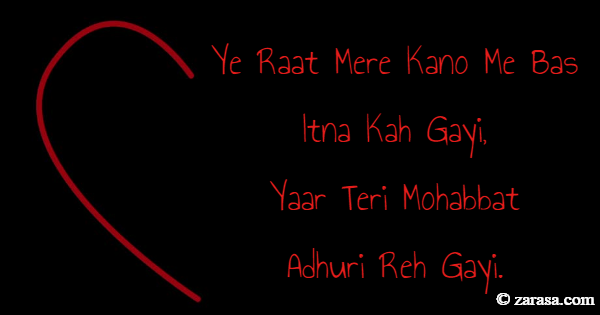 Ye Raat Mere Kano Me Bas
Itna Kah Gayi,
Yaar Teri Mohabbat
Adhuri Reh Gayi.
ये रात मेरे कानों में बस
इतना कह गयी,
यार तेरी मोहब्बत
अधूरी रह गयी |
یہ رات میرے کانو می بس
اتنا کہ گی
یار تیری موحبّت
ادھوری رہ گی
---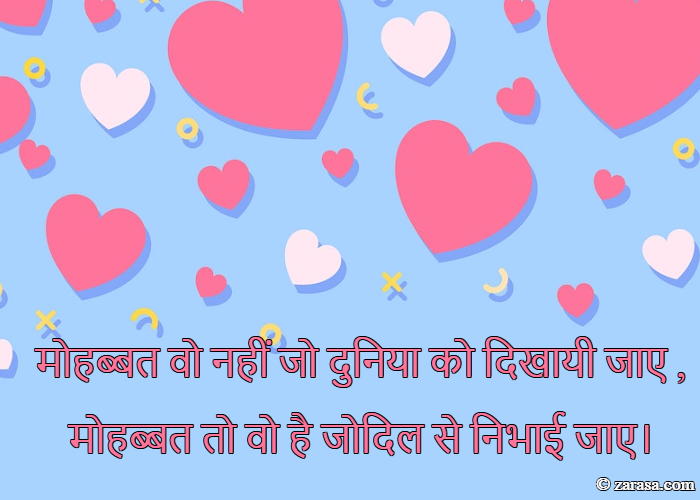 Mohabbat Wo Nahi Jo
Duniya Ko Dikhayi Jaye,
 Mohabbat To Wo Hai Jo
Dil Se Nibhayi Jaaye.
मोहब्बत वो नहीं जो
दुनिया को दिखायी जाए ,
मोहब्बत तो वो है जो
दिल से निभाई जाए।
موحبّت وہ نہیں جو
دنیا کو دکھایی جائے
موحبّت تو وہ ہے جو
دل سے نبھیی جائے
---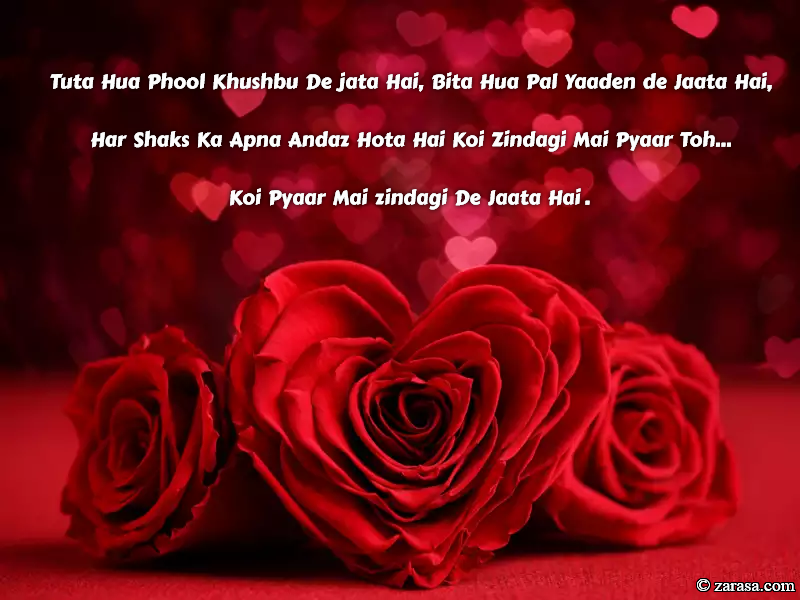 Tuta Hua Phool Khushbu De jata Hai,
Bita Hua Pal Yaaden de Jaata Hai,
Har Shaks Ka Apna Andaz Hota Hai
Koi Zindagi Mai Pyaar Toh...
Koi Pyaar Mai zindagi De Jaata Hai .
टुटा हुआ फूल खुशबु दे जाता है
बिता हुआ पल यादें दे जाता है,
हर शख्स का अपना अंदाज़ होता है
कोई ज़िन्दगी में प्यार तोह ..
कोई प्यार में ज़िन्दगी दे जाता है।
ٹوٹا ہوا [پھول خوشبو دے جاتا ہے
بتا ہوا پل یادیں دے جاتا ہے
ہر شکس کا اپنا انداز ہوتا ہے
کوئی زندگی می پیار ٹوہ
کوئی پیار مے زندگی دے جاتا ہے
---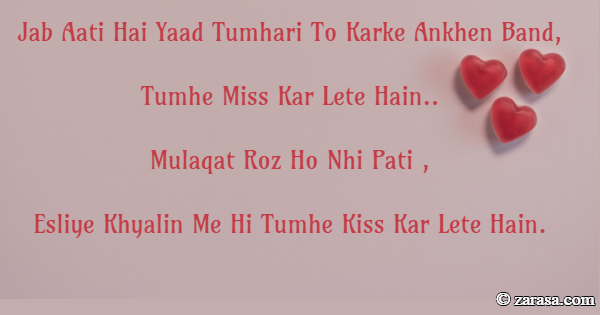 Jab Aati Hai Yaad Tumhari To Karke Ankhen Band,
Tumhe Miss Kar Lete Hain..
Mulaqat Roz Ho Nhi Pati ,
Esliye Khyalin Me Hi Tumhe Kiss Kar Lete Hain.

जब आती है याद तुम्हारी तो करके आंखे बंद,
तुम्हें मिस कर लेते हैं..
मुकालात रोज़ हो नहीं पाती,
इसलिए ख्यालों में ही तुम्हें किस कर लेते हैं।
جب آتی ہے یاد تمہاری تو کرکے آنکھ بند
تمھ مس کر لیتے ہیں
ملکات روز ہو نہی پتو
اسلئے خیالوں مے ہی تمھ کس کر لیتے ہیں
---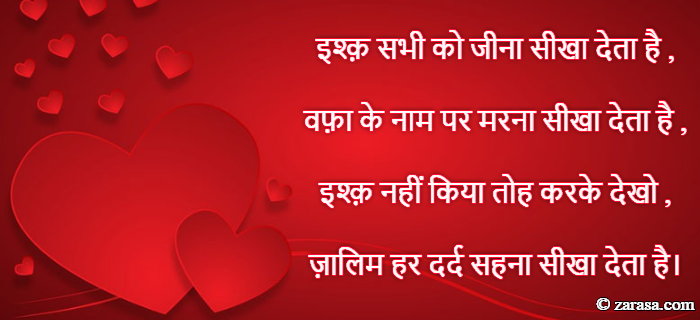 Ishq Sabhi Ko Jeena Sikha Deta Hai ,
Wafa Ke Naam Par Marna Sikha Deta Hai ,
Ishq Nhi Kiya Toh Karke Dekho,
Zalim Har Dard Sehna Sikha Deta Hai ,
इश्क़ सभी को जीना सीखा देता है ,
वफ़ा के नाम पर मरना सीखा देता है ,
इश्क़ नहीं किया तोह करके देखो ,
ज़ालिम हर दर्द सहना सीखा देता है।
عشق سبھی کو جینا سکھا دیتا ہے
وفا کے نام پر مرنا سکھا دیتا ہے
عشق نہی کیا تو کرکے دیکھو
ظالم ہر درد سہنا سکھا دیتا ہے
---