Shayari For Mohabbat "हम तुम्हारी बाहों में खो जाएँ"
|
Khuda kare ki ek aisa din aa jaye,
Hum tumhaari baahon mein kho jaayein,
Sirf hum ho aur tum ho
Aur samay wahi so jaaye…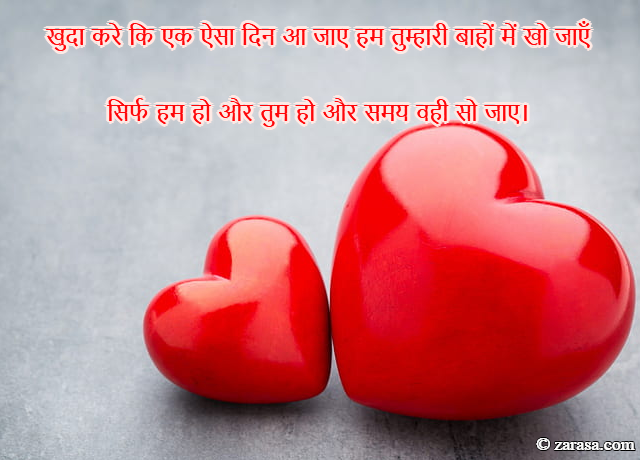 ---

खुदा करे कि एक ऐसा दिन आ जाए,
हम तुम्हारी बाहों में खो जाएँ,
सिर्फ हम हो और तुम हो,
और समय वही सो जाए।


---

خدا کرے کی ایک ایسا دن اجے
ہم تمہاری باہوں می کھو جائے
صرف ہم ہو اور تم ہو اور سمے وہی سو جائے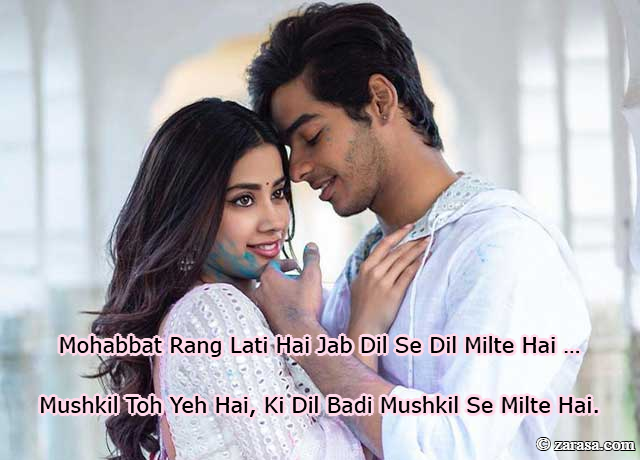 Mohabbat Rang Lati Hai Jab Dil Se Dil Milte Hai …
Mushkil Toh Yeh Hai, Ki Dil Badi Mushkil Se Milte Hai.
मोहब्बत रंग लती है जब दिल से दिल मिलते है,
मुश्किल तोह यह है की दिल बड़ी मुश्किल से मिलते है।
موحبّت رنگ لاتی ہے جب دل سے دل ملتے ہے
مشکل ٹوہ یہ ہے کی دل باڈی مشکل سے ملتے ہے
---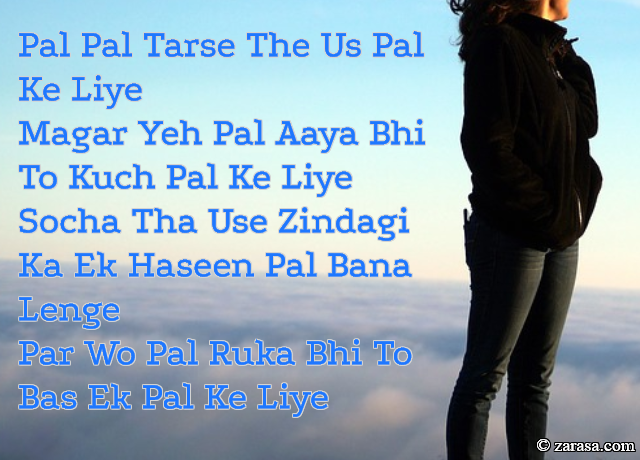 Pal Pal Tarse The Us Pal Ke Liye
Magar Yeh Pal Aaya Bhi To Kuch Pal Ke Liye
Socha Tha Use Zindagi Ka Ek Haseen Pal Bana Lenge
Par Wo Pal Ruka Bhi To Bas Ek Pal Ke Liye
पल पल तरसे थे उस पल के लिए
मगर यह पल आया भी तो कुछ पल के लिए
सोचा था उसे ज़िन्दगी का एक हसीं पल बना लेंगे
पर वो पल रुका भी तो बस एक पल के लिए
پل پل ترسے تھے اس پل کے لئے
مگر یہ پل آیا بھی تو کچھ پل کے لئے
سوچا تھا اسے زندگی کا ایک حسین پل بنا لینگے
پر وو پل روکا بھی تو بس ایک پل کے لئے
---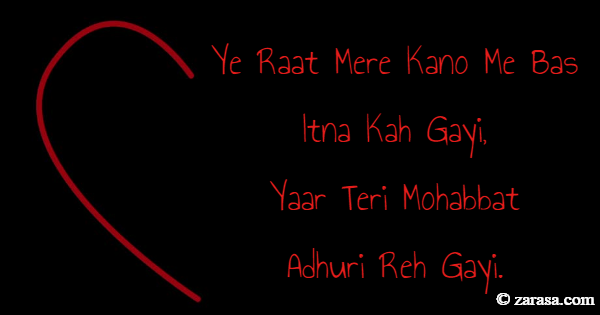 Ye Raat Mere Kano Me Bas
Itna Kah Gayi,
Yaar Teri Mohabbat
Adhuri Reh Gayi.
ये रात मेरे कानों में बस
इतना कह गयी,
यार तेरी मोहब्बत
अधूरी रह गयी |
یہ رات میرے کانو می بس
اتنا کہ گی
یار تیری موحبّت
ادھوری رہ گی
---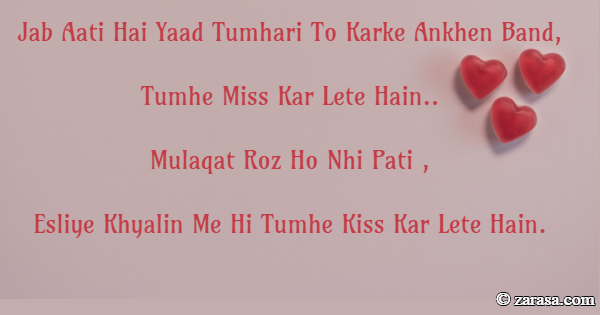 Jab Aati Hai Yaad Tumhari To Karke Ankhen Band,
Tumhe Miss Kar Lete Hain..
Mulaqat Roz Ho Nhi Pati ,
Esliye Khyalin Me Hi Tumhe Kiss Kar Lete Hain.

जब आती है याद तुम्हारी तो करके आंखे बंद,
तुम्हें मिस कर लेते हैं..
मुकालात रोज़ हो नहीं पाती,
इसलिए ख्यालों में ही तुम्हें किस कर लेते हैं।
جب آتی ہے یاد تمہاری تو کرکے آنکھ بند
تمھ مس کر لیتے ہیں
ملکات روز ہو نہی پتو
اسلئے خیالوں مے ہی تمھ کس کر لیتے ہیں
---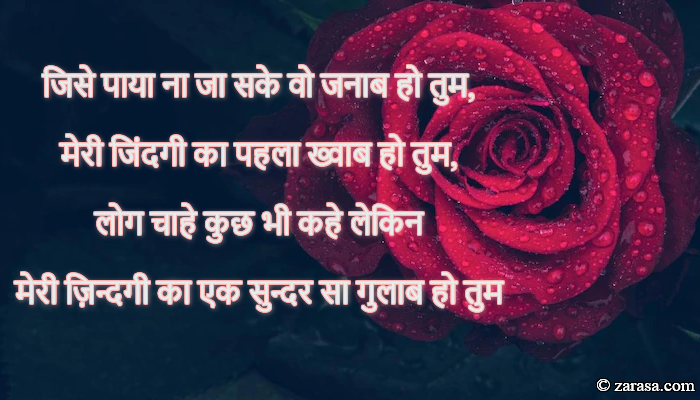 Jise Paya Na ja Sake Vo Janab Ho Tum,
Meri Zindagi Ka Pehla Khwab Ho Tum,
Log Chahe Kuch Bhi Kahe Lekin
Meri Zindagi Ka Ek Sundar sa Gulab Ho Tum.
जिसे पाया ना जा सके वो जनाब हो तुम,
मेरी जिंदगी का पहला ख्वाब हो तुम,
लोग चाहे कुछ भी कहे लेकिन
मेरी ज़िन्दगी का एक सुन्दर सा गुलाब हो तुम |

جسے پایا نہ جا سکے وو جناب ہو تم
میری زندگی کا پہلا خواب ہو تم
لوگ چاہے کچھ بھی کہے لیکن
میری زندگی کا ایک سندر سا گلاب ہو تم
---