Shayari for Mother"Pairo Ke Neeche Jannat Hai"
|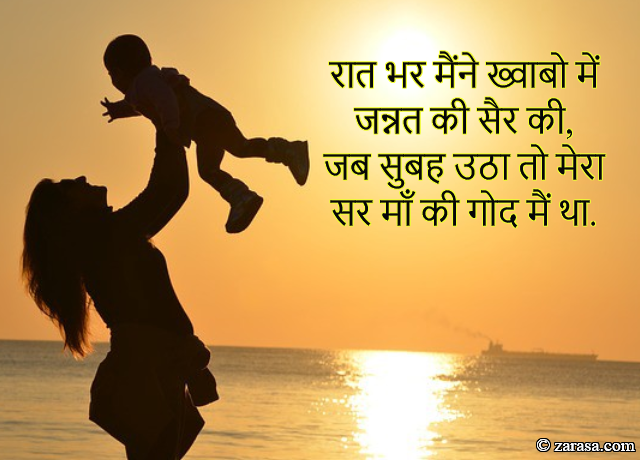 Raat Bhar Maine Khwabo Me Jannat Ki Sair Ki
Jab Subah Utha To Mera Sar Maa Ki God Me Tha.
रात भर मैंने ख्वाबो में जन्नत की सैर की
जब सुबह उठा तो मेरा सर माँ की गोद मैं था .
رات بھر مہینے خوابو میں جنّت کی سیر کی
جب صوبہ اٹھا تو میرا سر ماں کی گود میں تھا .
---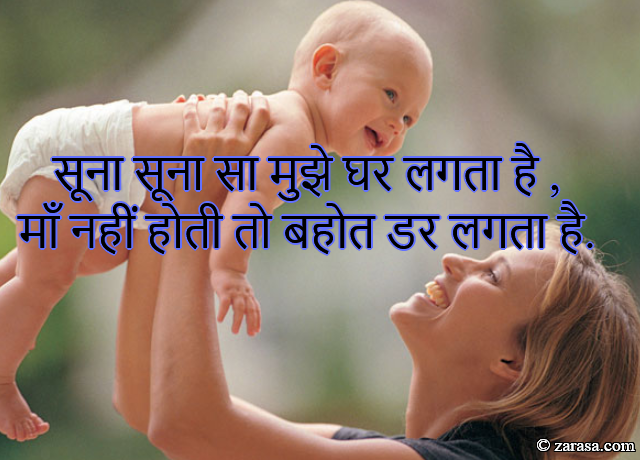 Suna Suna sa Mujhe Ghar Lagta hai,
Maa Nahi hoti toh Bahot Darr Lagta Hai
सूना सूना सा मुझे घर लगता है ,
माँ नहीं होती तो बहोत डर लगता है.
سونا سونا سا مجھے گھر لگتا ہے
ماں نہیں ہوتی بھوت درر لگتا ہے.
---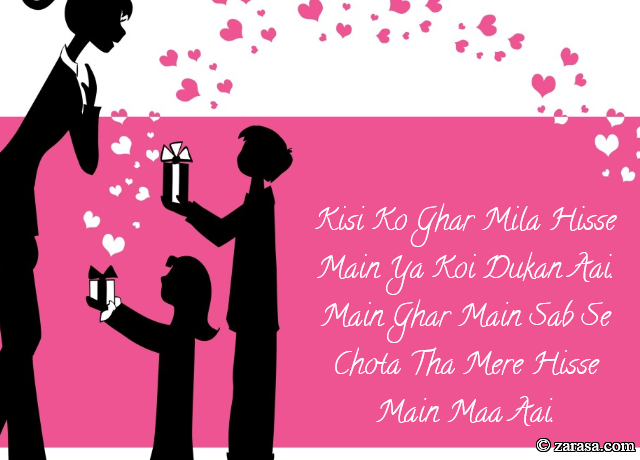 Kisi Ko Ghar Mila Hisse Main Ya Koi Dukan Aai.
Main Ghar Main Sab Se Chota Tha Mere Hisse Main Maa Aai.
किसी को घर मिला हिस्से मैं या कोई दुकान आई .
मैं घर मैं सब से छोटा था मेरे हिस्से मैं माँ आई .
کسی کو گھر ملا حصّے میں یا کوئی دکان ای .
میں گھر میں سب سے چھوٹا تھا میرے حصّے میں ما ای .
---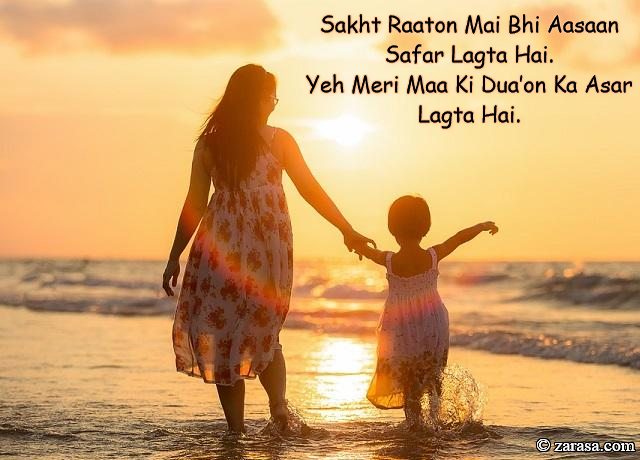 Sakht Raaton Mai Bhi Aasaan Safar Lagta Hai.
Yeh Meri Maa Ki Dua'on Ka Asar Lagta Hai.
सख़्त रातों मै भी आसान सफ़र लगता है .
यह मेरी माँ की दुआओं का असर लगता है .
سخت راتوں می بھی آسان سفر لگتا ہے .
یہ میری ما کی دعاؤں کا اثر لگتا ہے .
---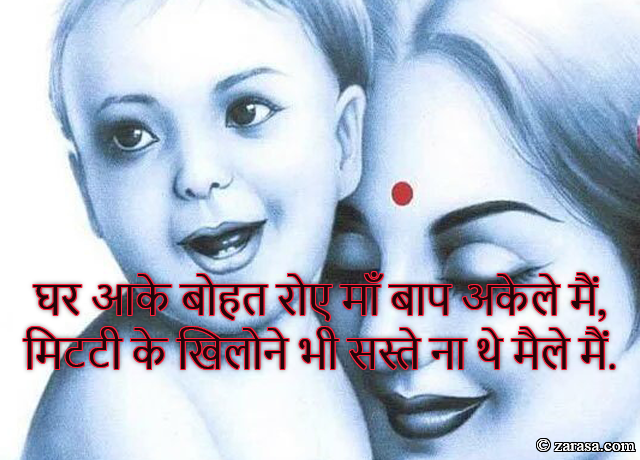 Ghar Aa Ke Bohat Roye Maa Baap Akele Mein,
Mitti Ke Khilone Bhi Saste Na The Maile Mein.
घर आके बोहत रोए माँ बाप अकेले मैं ,
मिटटी के खिलोने भी सस्ते ना थे मैले मैं.
گھر آکے بوہت رویے ماں باپ اکیلے میں ,
مٹتی کے کھلونے بھی سستے نہ تھے میلے میں .
---