Shayari for Politics "गंदी राजनीति का यह भी एक परिणाम "
|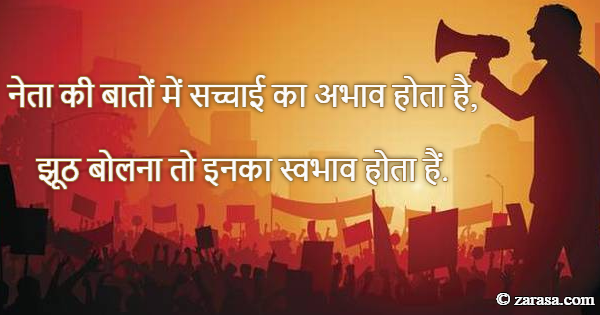 Neta Ki Baton Mai Sachai Ka Aabhav Hota Hai,
Jhut Bolna to Inke Saubhav Hota Hai.
नेता की बातों में सच्चाई का अभाव होता है,
झूठ बोलना तो इनका स्वभाव होता हैं.
نیتا کی باتو می سچھائ کا ابہاو ہوتا ہے
جھٹ بولنا تو انکے سبھاؤ ہوتا ہے
---
Ab Koi Aur Na Dhoka Dega,
Itni Umeed To Vapas Kar De
Hum Se Har Khuab Chenne Vale,
Hamari Neend toh Vaapas Kar De....
अब कोई और न धोखा देगा,
इतनी उम्मीद तो वापस कर दे.
हम से हर ख़्वाब छीनने वाले,
हमारी नींद तो वापस कर दे..
اب کوئی اور نہ دھوکہ دیگا
اتنی امید تو واپس کردے
ہم سے حر خواب چننے والے
ہماری نیند ٹوہ واپس کر دے
---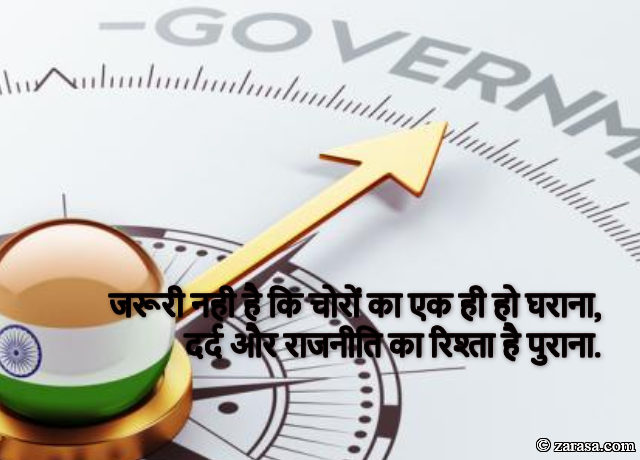 Zaroori Nahi Hai  Ki Choron Ka Ek Hi Ho Gharana ,
Dard Aur Rajneeti Ka Rishta Hai Purana.
जरूरी नही है कि चोरों का एक ही हो घराना,
दर्द और राजनीति का रिश्ता है पुराना.
زروری نہیں ہے  کی چوروں کا ایک ہی ہو گھرانہ ,
درد اور راجنیتی کا رشتہ ہے پرانا
---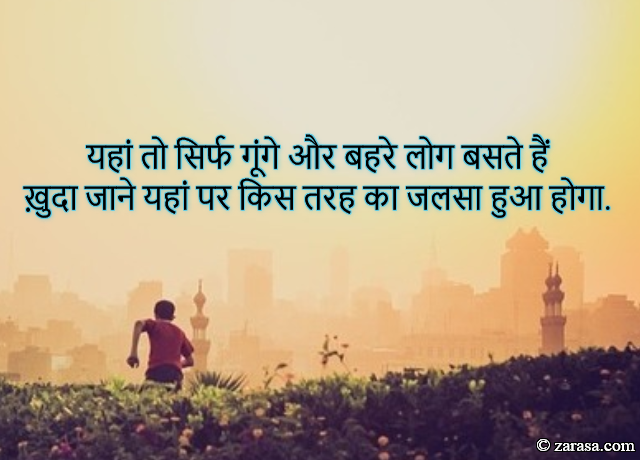 Yaha To Sirf Goonge Aur Behre Log Baste Hai,
Khuda Jaane Yahan Par Kis Tarha ka Jalsa Hua Hoga.
यहां तो सिर्फ गूंगे और बहरे लोग बसते हैं
ख़ुदा जाने यहां पर किस तरह का जलसा हुआ होगा.
یہا تو صرف گونگے اور بھرے لوگ بستے ہے ,
خدا جانے یہاں پر کس تارہا کا جلسہ ہوا ہوگا .
---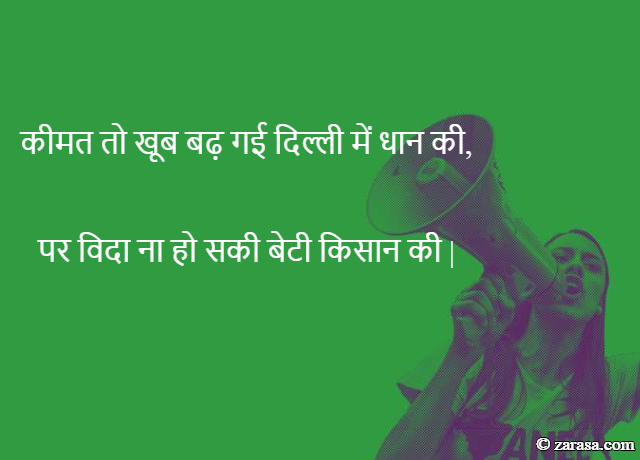 Kimat Toh Khub Badh Gayi Dilli Mai Dhan Ki,
Par Vida na Ho Saki Beti Kisan Ki.
कीमत तो खूब बढ़ गई दिल्ली में धान की,

पर विदा ना हो सकी बेटी किसान की |
قیمت تو خوب بڑھ گی دیلی می دھان کی
پر ودا نہ ہو سکی بیٹی کسان کی
---