Shayari for Politics "हम से हर ख़्वाब छीनने वाले"
|
Ab Koi Aur Na Dhoka Dega,
Itni Umeed To Vapas Kar De
Hum Se Har Khuab Chenne Vale,
Hamari Neend toh Vaapas Kar De….


---

अब कोई और न धोखा देगा,
इतनी उम्मीद तो वापस कर दे.
हम से हर ख़्वाब छीनने वाले,
हमारी नींद तो वापस कर दे..


---

اب کوئی اور نہ دھوکہ دیگا
اتنی امید تو واپس کردے
ہم سے حر خواب چننے والے
ہماری نیند ٹوہ واپس کر دے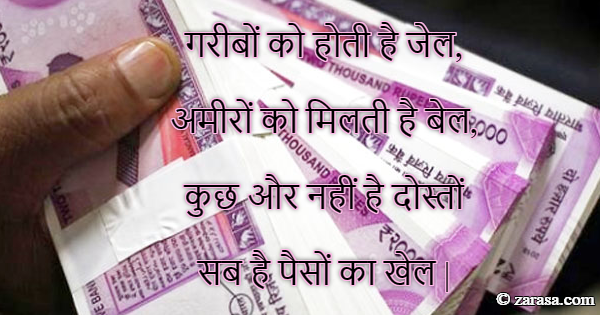 Garibon Ko Hoti Hai Jail ,
Amiron Ko Milti Hai Bail,
Kuch Or Nhi Hai Doston,
Sab Hai Paison Ka Khel.
गरीबों को होती है जेल,
अमीरों को मिलती है बेल,
कुछ और नहीं है दोस्तों
सब है पैसों का खेल |
گریبوں کو ہوتی ہے جیل
امیروں کو ملتی ہے بیل
کچھ ور نہی ہے دوستو
سب ہے پیسوں کا کھل
---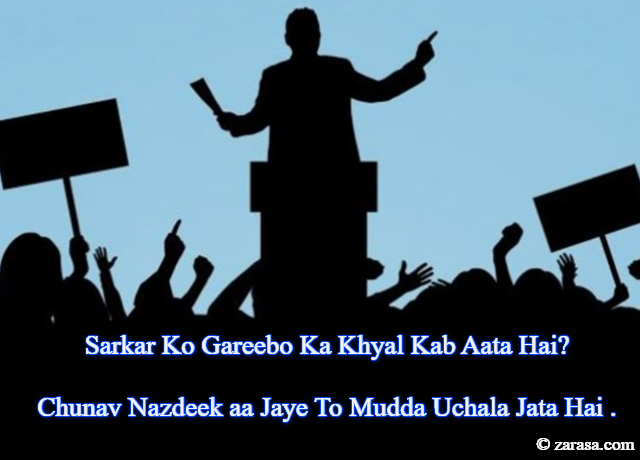 Sarkar Ko Gareebo Ka Khyal Kab Aata Hai?
Chunav Nazdeek aa Jaye To Mudda Uchala Jata Hai .
सरकार को गरीबों का ख्याल कब आता है?
चुनाव नजदीक आ जाए तो मुद्दा उछाला जाता है.
سرکار کو گریبوں کا خیال کب آتا ہے
چناو نزدیک آ جائے تو مودّا اچھالا جاتا ہے
---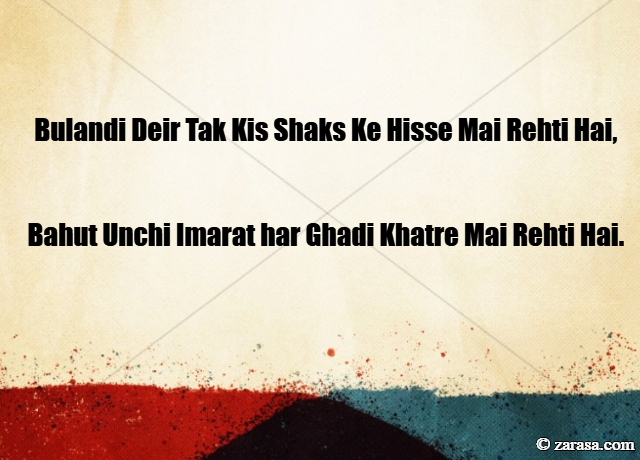 Bulandi Deir Tak Kis Shaks Ke Hisse Mai Rehti Hai,
Bahut Unchi Imarat har Ghadi Khatre Mai Rehti Hai.
बुलंदी देर तक किस शख़्स के हिस्से में रहती है،
बहुत ऊँची इमारत हर घड़ी खतरे में रहती है |

بولاندی دیر تک کس شکس کے حصّے می رھتی ہے
بہت اونچی عمارت ہر گھڈی خطرے می رہتی ہے
---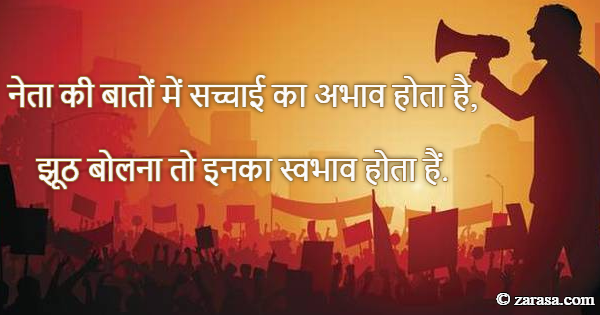 Neta Ki Baton Mai Sachai Ka Aabhav Hota Hai,
Jhut Bolna to Inke Saubhav Hota Hai.
नेता की बातों में सच्चाई का अभाव होता है,
झूठ बोलना तो इनका स्वभाव होता हैं.
نیتا کی باتو می سچھائ کا ابہاو ہوتا ہے
جھٹ بولنا تو انکے سبھاؤ ہوتا ہے
---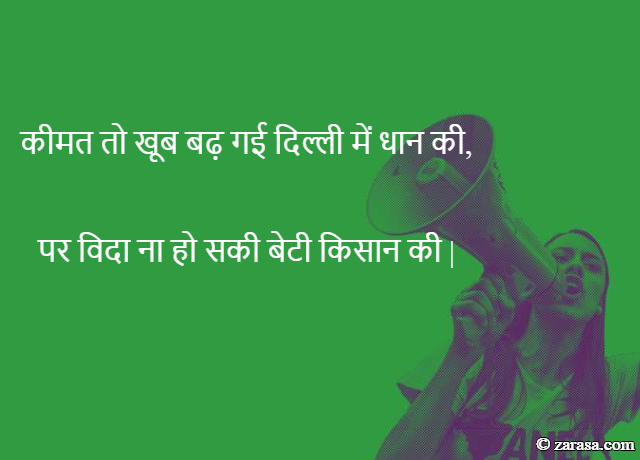 Kimat Toh Khub Badh Gayi Dilli Mai Dhan Ki,
Par Vida na Ho Saki Beti Kisan Ki.
कीमत तो खूब बढ़ गई दिल्ली में धान की,

पर विदा ना हो सकी बेटी किसान की |
قیمت تو خوب بڑھ گی دیلی می دھان کی
پر ودا نہ ہو سکی بیٹی کسان کی
---