Shayari for Promise Day "ये वादा हैं हमारा"
|
Yeh Vada Hain Hamara,
Na Chodenge Kabhi Saath Tumhara
Jo Gye Tum Hum Bhul kar Kahin,
Le Aayenge Pakad kar Haath Tumhara.
Happy Promise Day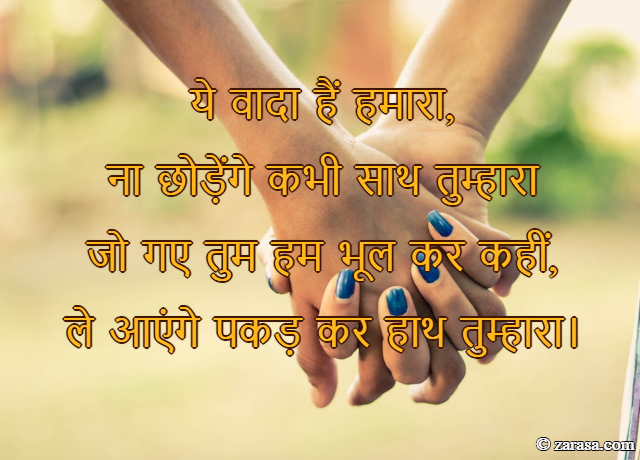 ---

ये वादा हैं हमारा,
ना छोड़ेंगे कभी साथ तुम्हारा
जो गए तुम हम भूल कर कहीं,
ले आएंगे पकड़ कर हाथ तुम्हारा।

Happy Promise Day


---

یہ وادا ہیں ہمارا
نہ چودینگے کبھی ساتھ تمہارا
جو گے بھلکر کہیں
لے ااینگے پکاڈ کر ہاتھ تمہارا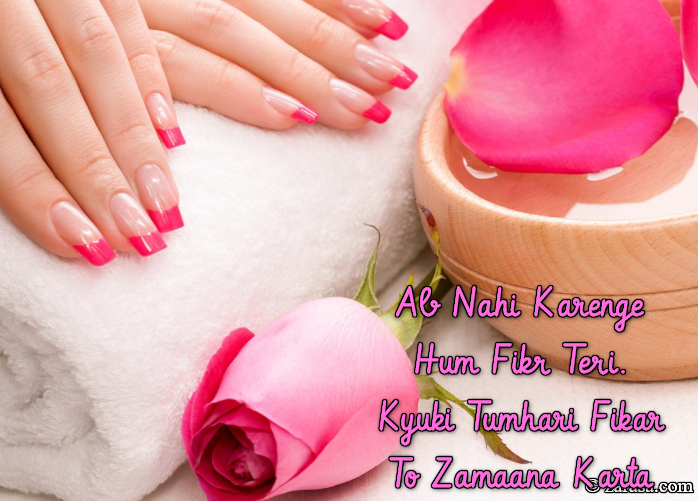 Ab Nahi Karenge Hum Fikr Teri.
Kyuki Tumhari Fikar To Zamaana Karta Hai.
अब नहीं करेंगे हम फ़िक्र तेरी .
क्युकी तुम्हारी फ़िक्र तो ज़माना करता है .
اب نہیں کرینگے ہم فکر تیری .
کیکی تمہاری فکر تو زمانہ کرتا ہے .
---
Har Pal Tumhe Pyaar Karenge Ye Irada Hai,
Kayamat Tak Rahega Hamara Saath, Ye Vada Hai...
Happy Promise Day
हर पल तुम्हें प्यार करेंगे ये इरादा है,
कयामत तक रहेेगा हमारा साथ, ये वादा है…
Happy Promise Day
ہر پل تمھ پیار کرینگے یہ ارادہ ہے
کیامت تک رہیگا ہمارا ساتھ یہ وادا ہے
---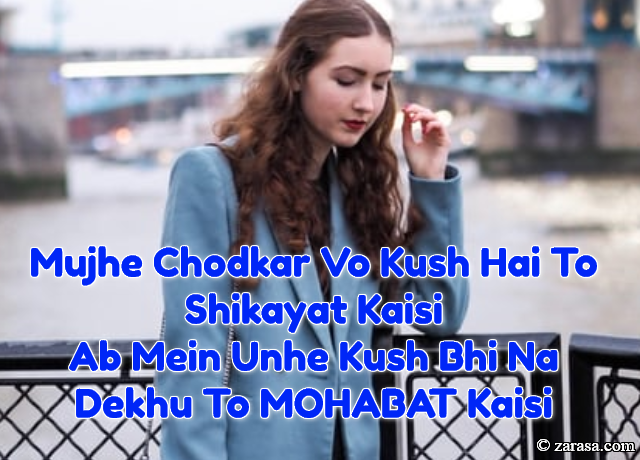 Mujhe Chodkar Vo Kush Hai To Shikayat Kaisi
Ab Mein Unhe Khush Bhi Na Dekhu To Mohabbat Kaisi
मुझे छोड़कर वो कुश है तो शिकायत कैसी
अब में उन्हें कुश भी न देखु तो मोहबत कैसी
مجھے چھوڑکر وہ خوش ہے تو شکایات کیسی
اب میں انھ خوش بھی نہ دیکھو تو موہبت کیسی
---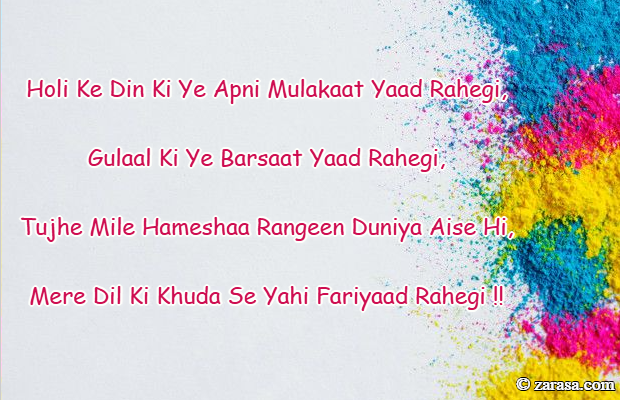 Holi Ke Din Ki Ye Apni Mulakaat Yaad Rahegi,
Gulaal Ki Ye Barsaat Yaad Rahegi,
Tujhe Mile Hameshaa Rangeen Duniya Aise Hi,
Mere Dil Ki Khuda Se Yahi Fariyaad Rahegi !!
होली के दिन की ये अपनी मुलाकात याद रहेगी,
गुलाल की ये बरसात याद रहेगी,
तुझे मिले हमेशा रंगीन दुनिया ऐसे ही,
मेरे दिल की खुद से यही फ़रियाद रहेगी !!
ہولی کے دن کی یہ اپنی ملاقات یاد رہیگی
گلال کی یہ برسات یاد رہیگی
تجھے میل ہمیشہ رنگین دنیا ایسے ہی
میرے دل کی خدا سے یہی فریاد رہیگی
---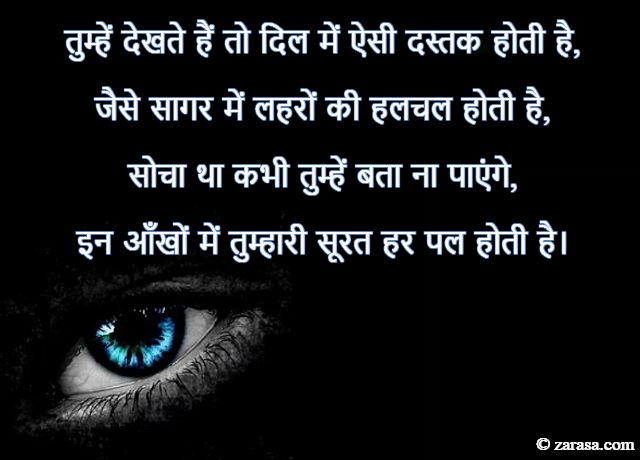 Tumhe Dekhte Dain to Dil Mein aisi Dastak Hoti Hai,
Jaise Saagar Mein Lehron ki Halchal Hoti Hai,
Socha tha Kabhi Tumhe Bataa na Payenge,
In Aankhon Mein Tumhaari Soorat har pal Hoti Hai…
तुम्हें देखते हैं तो दिल में ऐसी दस्तक होती है,
जैसे सागर में लहरों की हलचल होती है,
सोचा था कभी तुम्हें बता ना पाएंगे,
इन आँखों में तुम्हारी सूरत हर पल होती है।
تمھ دیکھتے ہے تو دل می ایسی دستک ہوتی ہے
جیسے ساگر می لہروں کی ہلچل ہوتی ہے
سوچا تھا کبھی تمھ بتا نہ پاینگے
ان آنکھوں می تمہاری صورت ہر پل ہوتی ہے
---