Shayari For Mohabbat "Mohabbat Ki Gehraaiyon Mein Sabse Khoobsurat"
|
Mohabbat Ki Gehraaiyon Mein Sabse Khoobsurat Kya Hai,
Hum Hain, Tum Ho Aur Kisi Cheez Ki Zaroorat Hi Kya Hai….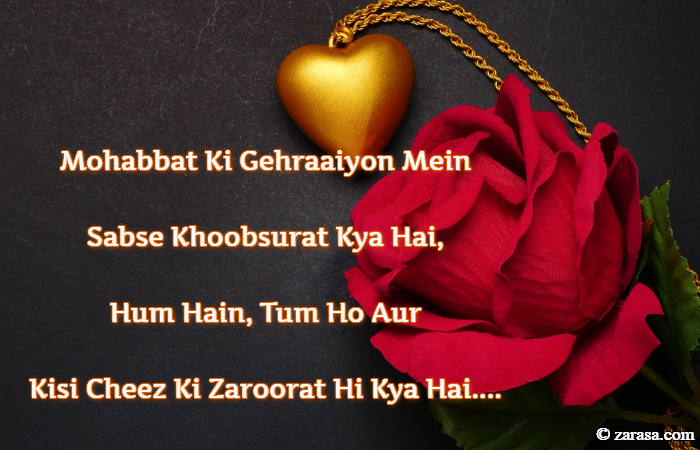 ---

मोहब्बत की गहराइयों में सबसे ख़ूबसूरत क्या है?
हम हैं, तुम हो और किसी चीज़ की जरूरत क्या है।


---

موحبّت کی گہرایوں میں سبسے خوبصورت کیا ہے
ہم ہے تم ہو اور کسی چیز کی ضرورت ہی کیا ہے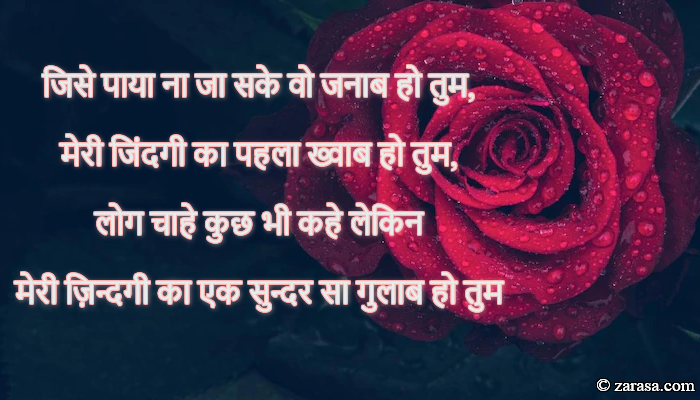 Jise Paya Na ja Sake Vo Janab Ho Tum,
Meri Zindagi Ka Pehla Khwab Ho Tum,
Log Chahe Kuch Bhi Kahe Lekin
Meri Zindagi Ka Ek Sundar sa Gulab Ho Tum.
जिसे पाया ना जा सके वो जनाब हो तुम,
मेरी जिंदगी का पहला ख्वाब हो तुम,
लोग चाहे कुछ भी कहे लेकिन
मेरी ज़िन्दगी का एक सुन्दर सा गुलाब हो तुम |

جسے پایا نہ جا سکے وو جناب ہو تم
میری زندگی کا پہلا خواب ہو تم
لوگ چاہے کچھ بھی کہے لیکن
میری زندگی کا ایک سندر سا گلاب ہو تم
---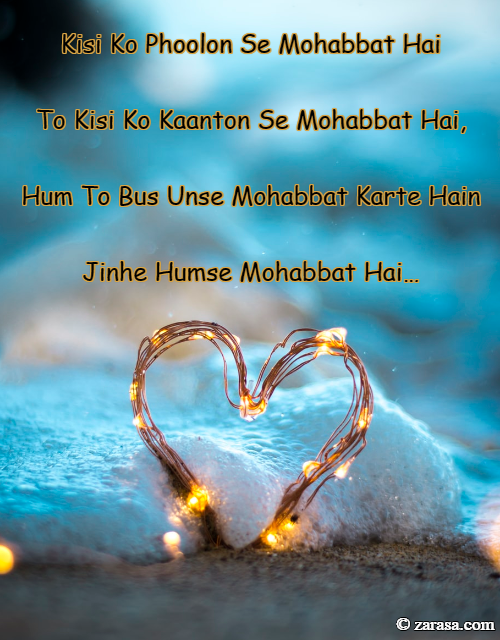 Kisi Ko Phoolon Se Mohabbat Hai
To Kisi Ko Kaanton Se Mohabbat Hai,
Hum To Bus Unse Mohabbat Karte Hain
Jinhe Humse Mohabbat Hai…
किसी को फूलों से मोहब्बत है
तो किसी को काँटों से मोहब्बत है,
हम तो बस उनसे मोहब्बत करते हैं
जिन्हे हमसे मोहब्बत है।
کسی کو پھولوں سے موحبّت ہے
تو کسی کو کانٹو سے موحبّت ہے
ہم تو بس انسے موحبّت کرتے ہے
جنھ ہمسے موحبّت ہے
---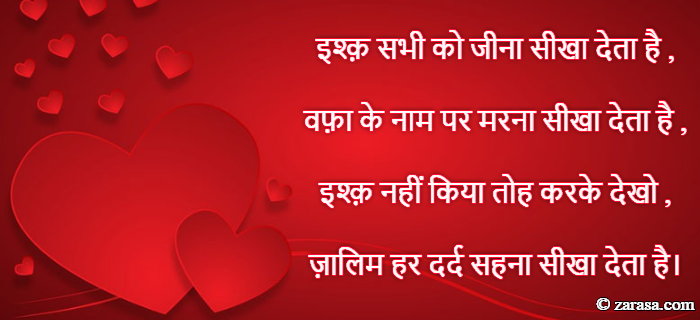 Ishq Sabhi Ko Jeena Sikha Deta Hai ,
Wafa Ke Naam Par Marna Sikha Deta Hai ,
Ishq Nhi Kiya Toh Karke Dekho,
Zalim Har Dard Sehna Sikha Deta Hai ,
इश्क़ सभी को जीना सीखा देता है ,
वफ़ा के नाम पर मरना सीखा देता है ,
इश्क़ नहीं किया तोह करके देखो ,
ज़ालिम हर दर्द सहना सीखा देता है।
عشق سبھی کو جینا سکھا دیتا ہے
وفا کے نام پر مرنا سکھا دیتا ہے
عشق نہی کیا تو کرکے دیکھو
ظالم ہر درد سہنا سکھا دیتا ہے
---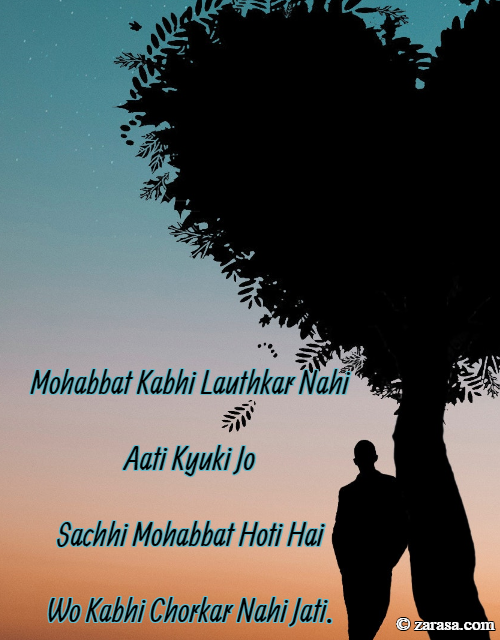 Mohabbat Kabhi Lauthkar Nahi
Aati Kyuki Jo
Sachhi Mohabbat Hoti Hai
Wo Kabhi Chorkar Nahi Jati,
मोहब्बत कभी लौटकर नहीं
आती क्युकी जो
सच्ची मोहब्बत होती है
वो कभी छोड़कर नहीं जाती |
موحبّت کبھی لوٹکر نہی
آتی کنکی جو
سچھی موحبّت ہوتی ہے
وہ کبھی چھوڑکر نہی جاتی
---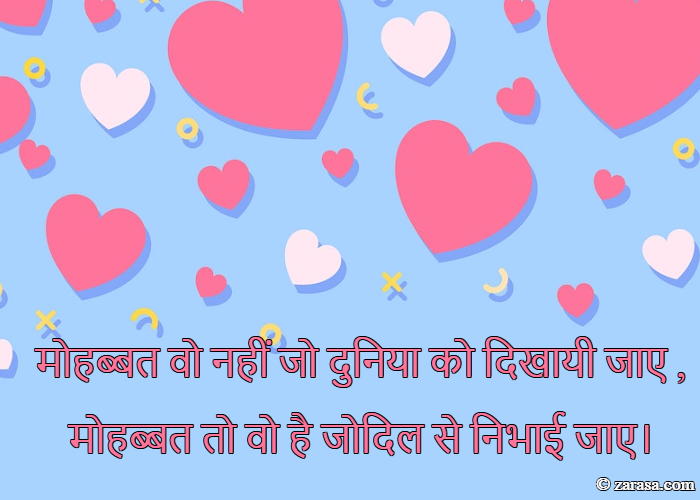 Mohabbat Wo Nahi Jo
Duniya Ko Dikhayi Jaye,
 Mohabbat To Wo Hai Jo
Dil Se Nibhayi Jaaye.
मोहब्बत वो नहीं जो
दुनिया को दिखायी जाए ,
मोहब्बत तो वो है जो
दिल से निभाई जाए।
موحبّت وہ نہیں جو
دنیا کو دکھایی جائے
موحبّت تو وہ ہے جو
دل سے نبھیی جائے
---