Zid Shayari "Usaki Zid Hai Ki Wo Mujhe Maar Hi Daale"
|
Pyaar Usse Is Kadar Karti Chali Jau,
Wo Zakhm De Aur Main Bharti Chali Jaau.
Uski Zid Hai Ki Wo Mujhe Maar Hi Daale To,
Meri Bhi Zid Hai Uspe Marti Chali Jaau..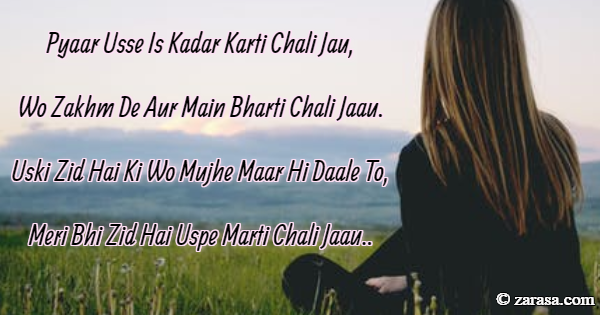 ---

प्यार उससे इस कदर करती चली जाऊँ,
वो जख़्म दे और मैं भरती चली जाऊँ.
उसकी ज़िद हैं कि वो मुझे मार ही डाले तो,
मेरी भी ज़िद हैं उसपे मरती चली जाऊँ..


---

پیار اسے اس کدر کرتی چلی جاو
وہ زخم دے اور می بھرتی چلی جاو
اسکی زد ہے کی وہ مجھے مار ہی دالے تو
میری بھی زد ہے اسپے مرتی چلی جاو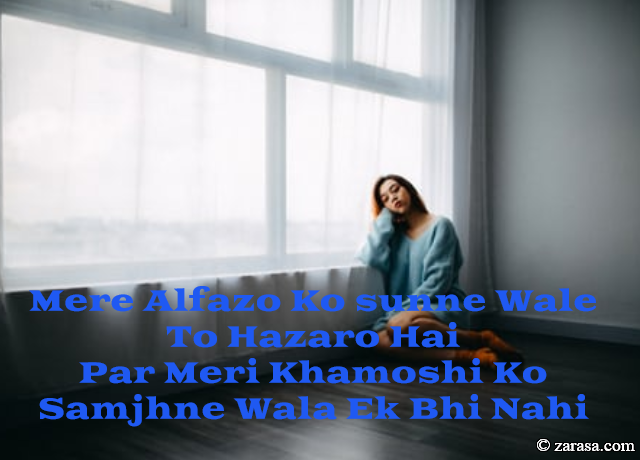 Mere Alfazo Ko sunne Wale To Hazaro Hai
Par Meri Khamoshi Ko Samjhne Wala Ek Bhi Nahi
मेरे अल्फाज़ो को सुनने वाले तो हज़ारो है
पर मेरी ख़ामोशी को समझने वाला एक भी नहीं
میرے الفاظو کو سنے والے تو ہزارو ہے
پر میری خاموشی کو سمجھنے والا ایک بھی نہیں
---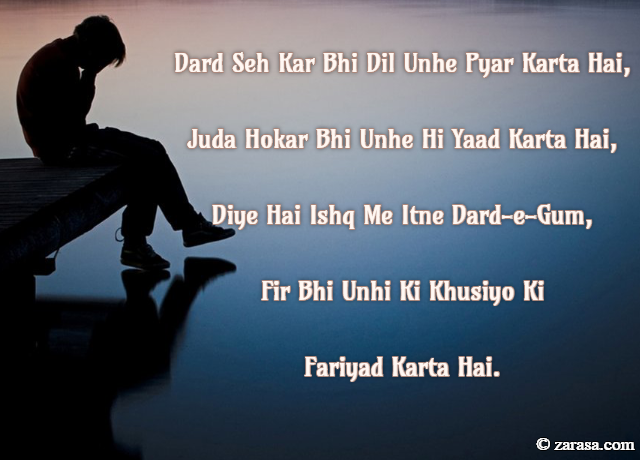 Dard Seh Kar Bhi Dil Unhe Pyar Karta Hai,
Juda Hokar Bhi Unhe Hi Yaad Karta Hai,
Diye Hai Ishq Me Itne Dard-e-Gum,
Fir Bhi Unhi Ki Khusiyo Ki Fariyad Karta Hai.
दर्द सह कर भी दिल उन्हें प्यार करता है ,
जुदा होकर भी उन्हें ही याद करता है ,
दिए है इश्क़ में इतने दर्द -ए -गम,
फिर भी उन्हीं की खुशियों की फ़रियाद करता है।
درد سہ کر بھی دل انھ پیار کرتا ہے
جدا ہوکر بھی انھ ہی یاد کرتا ہے
دے ہے عشق مے اتنے درد- ے -گم
فر بھی انہی کی خوشیو کی فریاد کرتا ہے
---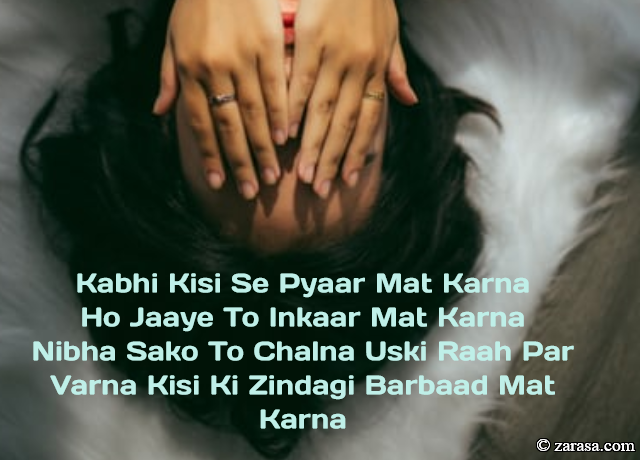 Kabhi Kisi Se Pyaar Mat Karna
Ho Jaaye To Inkaar Mat Karna
Nibha Sako To Chalna Uski Raah Par
Varna Kisi Ki Zindagi Barbaad Mat Karna
कभी किसी से प्यार मत करना
हो जाए तो इंकार मत करना
निभा सको तो चलना उसकी राह पर
वार्ना किसी की ज़िन्दगी बर्बाद मत करना
کبھی کسی سے پیار مت کرنا
ہو جائے تو انکار مت کرنا
نبھا سکو تو چلنا اسکی راہ پر
ورنہ کسی کی زندگی برباد مت کرنا
---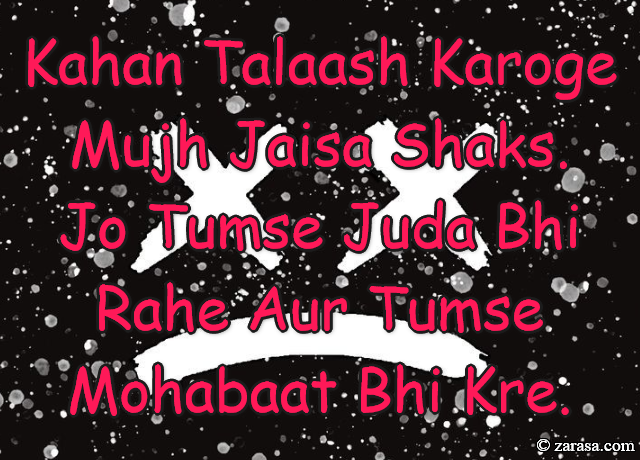 Kahan Talaash Karoge Mujh Jaisa Shaks.
Jo Tumse Juda Bhi Rahe Aur Tumse Mohabaat Bhi Kre.
कहाँ तलाश करोगे मुझ जैसा शख्स .
जो तुमसे जुदा भी रहे और तुमसे मोहबत भी करे .
کہاں تلاش کروگے مجھ جیسا شکس .
جو تمسے جدا بھی رہے اور تمسے موہبات بھی کرے .
---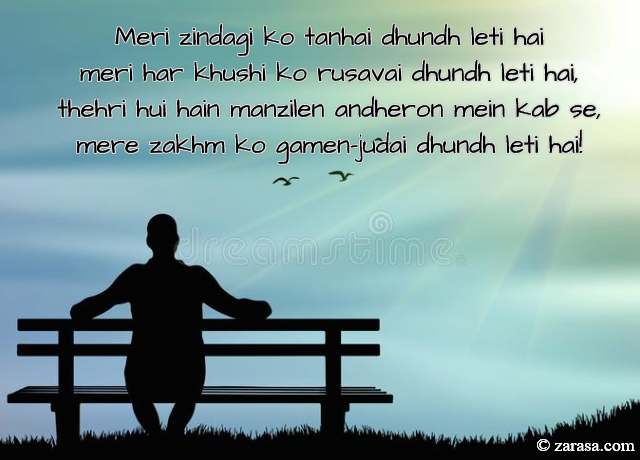 Meri zindagi ko tanhai dhundh leti hai
meri har khushi ko rusavai dhundh leti hai,
thehri hui hain manzilen andheron mein kab se,
mere zakhm ko gamen-judai dhundh leti hai!

मेरी ज़िन्दगी को तन्हाई ढूँढ लेती है,
मेरी हर खुशी को रुसवाई ढूँढ लेती है,
ठहरी हुई हैं मंजिलें अंधेरों में कबसे,
मेरे ज़ख्म को गमे-जुदाई ढूँढ लेती है!
میری زندگی کو تنہائی ڈھونڈ لیتی ہے
میری ہر خوشی کو رسوائی ڈھونڈ لیتی ہے
ٹھہری ہی ہیں منزلیں اندھیروں میں کب سے
میرے زخم کو گیم -جدائی ڈھونڈ لیتی ہے
---