Shayari for Sharab "Aamaal Mujhe Apane Us Waqt Nazar Aaye"
|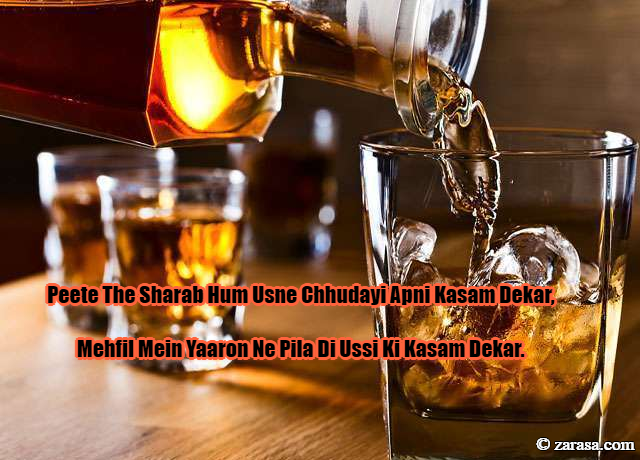 Peete The Sharab Hum Usne Chhudayi Apni Kasam Dekar,
Mehfil Mein Yaaron Ne Pila Di Ussi Ki Kasam Dekar.
पीते थे शराब हम उसने छुड़ाई अपनी कसम देकर,
महफ़िल में यारों ने पिलाई उसी की कसम देकर।
پیتے تھے شراب ہم اسنے چھڈی اپنی کسم دیکر
محفل می یارو نے پلا دی اسی کی کسم دیکر
---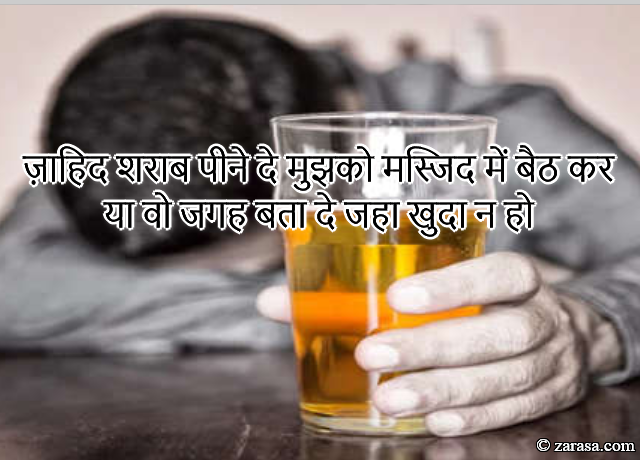 Zāhid Sharāb Peene De Masjid Mein BaiTh Kar
Yā Vo Jagah Batā De Jahāñ Par Khudā Na Ho.


ज़ाहिद शराब पीने दे मुझको मस्जिद में बैठ कर
या वो जगह बता दे जहा खुदा न हो
ظاہر شراب پینے دے مسجد مے بیٹھ کر
یا وو جگہ بتا دے جہا خدا نہ ہو-
---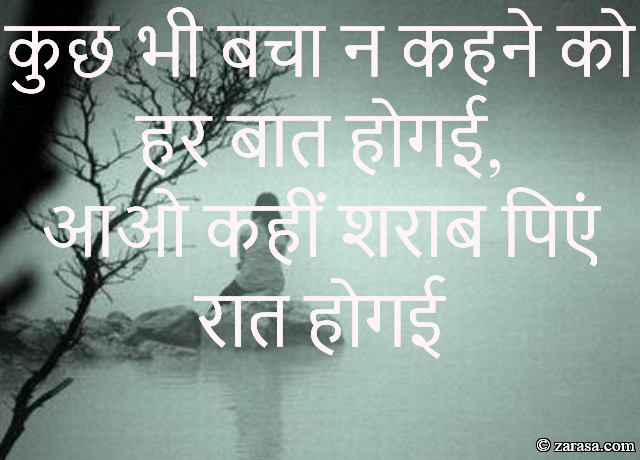 Kuch Bhi Bacha Na Khene Ko
Har Baat Ho Gai,
Aao Kahin Sharab Piyein
Raat Hogai.
कुछ भी बचा न कहने को
हर बात होगई,
आओ कहीं शराब पिएं
रात होगई
کچھ بھی بچا نہ کہنے کو
ہر بات ہوگی ,
او کہیں شراب پیئیں
رات ہوگی
---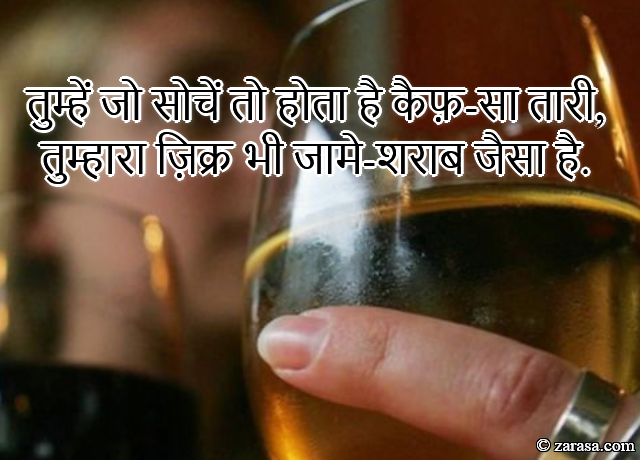 Tumhe Jo Soche To Hota Hai Kaif-Sa Taari,
Tumhaara Zikr Bhi Jaame-Sharab Jaisa Hai.
तुम्हें जो सोचें तो होता है कैफ़-सा तारी,
तुम्हारा ज़िक्र भी जामे-शराब जैसा है.
تمہے جو سوچا تو ھوتا ہے کیف سا تری
تمہارا ذکر بھی جمے شراب جیسا ہے -
---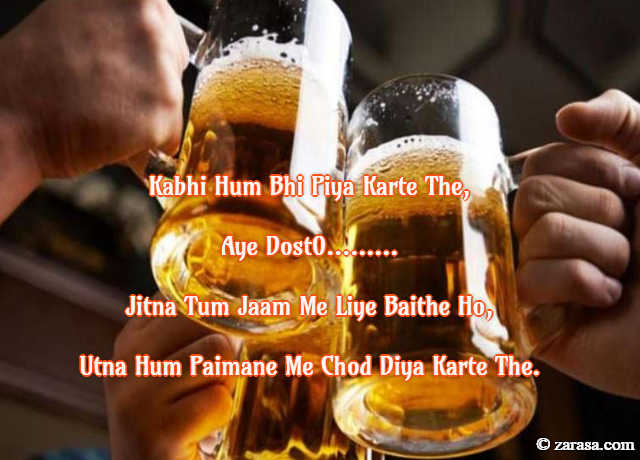 Peene Pilane Ki Baat Karte Ho,
Kabhi Hum Bhi Piya Karte The,
Aye Dost0………
Jitna Tum Jaam Me Liye Baithe Ho,
Utna Hum Paimane Me Chod Diya Karte The.
पीने पिलाने की बात करते हो ,
कभी हम भी पिया करते थे ,
ऐ दोस्तों। ...
जितना तुम जाम में लिए बैठे हो ,
उतना हम पैमाने में छोड़ दिया करते थे।
پینے پلانے کی بات کرتے ھو
کبھی ہم بھی پیا کرتے تھے
اے دوستو
جتنا تم جام می لئے بیٹھے ھو
اتنا ہم پیمانے مے چھوڈ دیا کرتے تھے
---