Shayari for Sharab "Nasha Mohabbat Ka Ho Ya harab ka"
|
Nasha Mohabbat Ka Ho Ya Sharab Ka
Hosh Dono Me Kho Jaate Hai.
Fark Sirf Itana Hai Ki Sharab Sula Deti Hai
Aur Mohabbat Rula Deti HAI.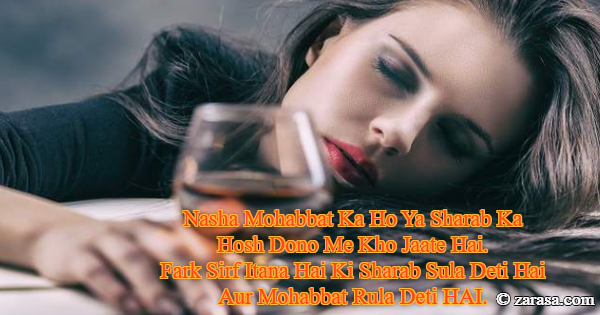 ---

नशा मोहब्बत का हो या शराब का
होश दोनों में खो जाते है ,
फर्क सिर्फ इतना है की शराब सुला देती है
और मोहब्बत रुला देती है |


---

نشا محبّت کا ہو یا شراب کا
ہوش دونو مے خو جاتے ہے
فارک صرف اتنا ہے کی شراب سولہ دیتی ہے
اور محبّت رولا دیتی ہے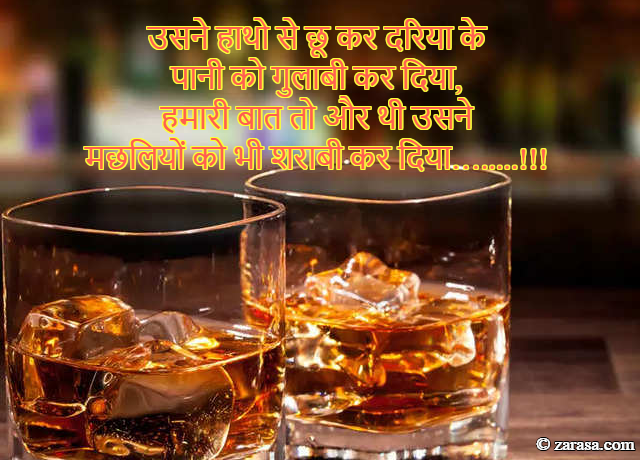 Usne hatho se chu kar Dariya ke,
Pani ko Gulabi kr Diya,
Hamari baat toh Aur thi Usne,
Machliyon ko bhi Sharabi kr diya......
उसने हाथो से छू कर दरिया के
पानी को गुलाबी कर दिया,
हमारी बात तो और थी उसने
मछलियों को भी शराबी कर दिया….....!!!
اسنے ہاتھو سے چھو کر دریا کے
پانی کو گلابی کر دیا
ہماری بات تو اور تھی اسنے
مچلیوں کو بھی شرابی کر دیا
---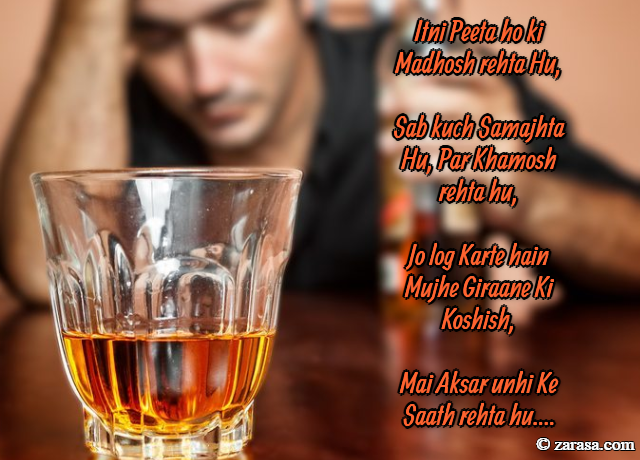 Itni Peeta ho ki Madhosh rehta Hu,
Sab kuch Samajhta Hu, Par Khamosh rehta hu,
Jo log Karte hain Mujhe Giraane Ki Koshish,
Mai Aksar unhi Ke Saath rehta hu....
इतनी पीता हू की मदहोश रहता हू,
सब कुछ समझता हू, पर खामोश रहता हू,
जो लोग करते है मुझे गिराने की कोशिश,
मै अक्सर उन्ही के साथ रहता हू........!!!
اتنی پیتا ہو کی مدہوش رہتا ہو
سب کوچ سمجھتا ہو ،پر خاموش رہتا ہو
جو لوگ کرتے ہے مجھے گرانے کی کوشش
می اکثر انہی کے سات رہتا ہو
---

Khud Apani Masti Hai، Jis Ne Machayi Hai Halachal

Nasha Sharab Me Hota To Naachati Botal.

खुदा अपनी मस्ती है जिस ने मचाई है हलचल
नशा शराब में होता तो नाचती बोतल।
خودا اپنی مستی ہے جیس نے مچیی ہے ہلچل
نشا شراب مے ہوتا تو ناچتی بوتل
---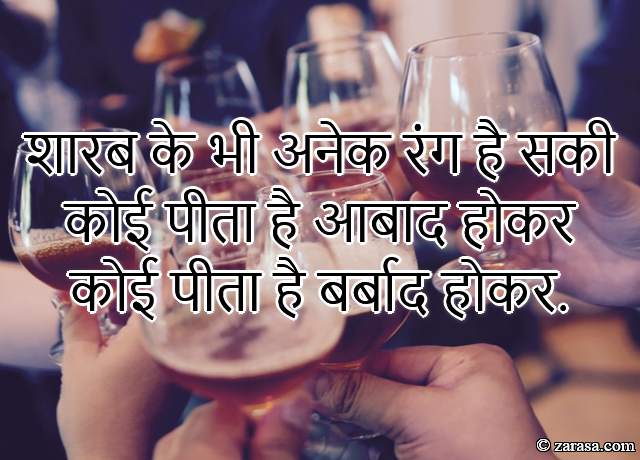 Sharab Ke Bhi Anek Rang Hai Saki
Koi Peeta Hai Aabad Hokar
To Koi Peeta Hai Barbaad Hokar.
शारब के भी अनेक रंग है सकी
कोई पीता है आबाद होकर
कोई पीता है बर्बाद होकर.
شراب کے بھی انک رنگ ہے ساکی
کوئی پیتا ہے آباد ہوکر
کوئی پیتا ہے برباد ہوکر-
---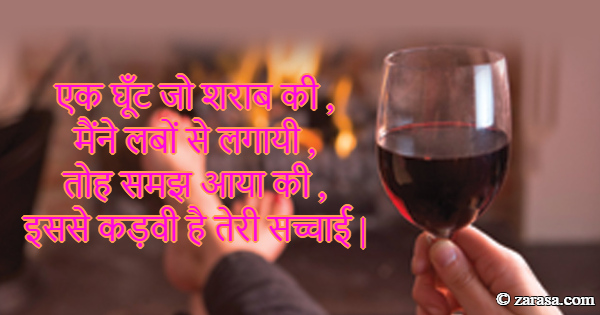 Ek ghoot jo Sharab ki ,
Maine labon se lagayi,
Toh samajh aaya ki,
Isse kadvi hai Teri Sacchai.
एक घूँट जो शराब की ,
मैंने लबों से लगायी ,
तोह समझ आया की ,
इससे कड़वी है तेरी सच्चाई |
اک گھونٹ جو شراب کی
مہینے لبوں سے لگی
ٹوہ سمجھ آیا کی
اسسے کڑوی ہے تیری سچائی
---