Shayari for Sharab "Peete The Sharab Hum"
|
Peete The Sharab Hum Usne Chhudayi Apni Kasam Dekar,
Mehfil Mein Yaaron Ne Pila Di Ussi Ki Kasam Dekar.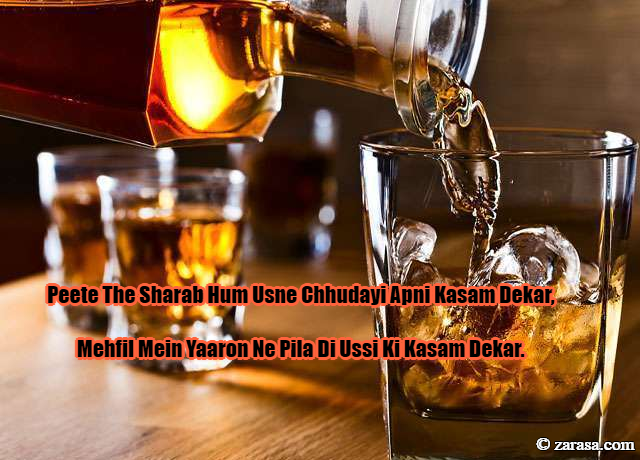 ---

पीते थे शराब हम उसने छुड़ाई अपनी कसम देकर,
महफ़िल में यारों ने पिलाई उसी की कसम देकर।


---

پیتے تھے شراب ہم اسنے چھڈی اپنی کسم دیکر
محفل می یارو نے پلا دی اسی کی کسم دیکر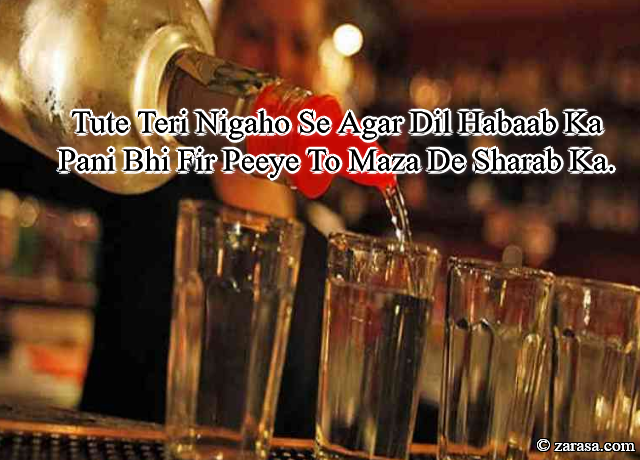 Tute Teri Nigaho Se Agar Dil Habaab Ka
Pani Bhi Fir Peeye To Maza De Sharab Ka.
टूटे तेरी निगाहो से अगर दिल हबाब का
पानी भी फिर पिएं तो मज़ा दे शराब का.

ٹوٹے تیری نگاھو سے اگر دل حباب کا
پانی بھی پھر پے تو مزہ دے شراب کا-
---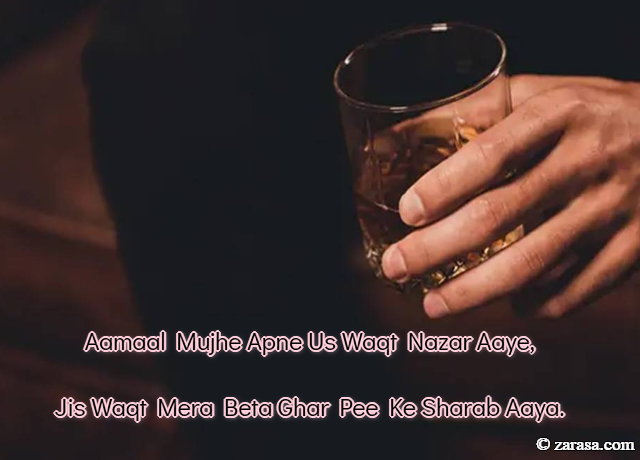 Aamaal Mujhe Apne Us Waqt Nazar Aaye,

Jis Waqt Mera Beta Ghar Pee Ke Sharab Aaya.

आमाल मुझे अपने उस वक़्त नज़र आए ,
जिस वक़्त मेरा बेटा घर पी के शराब आया |
اعمال مجھے اپنے اس وقت نظر اے
جیس وقت میرا بیٹا گھر پی کے شراب آیا
---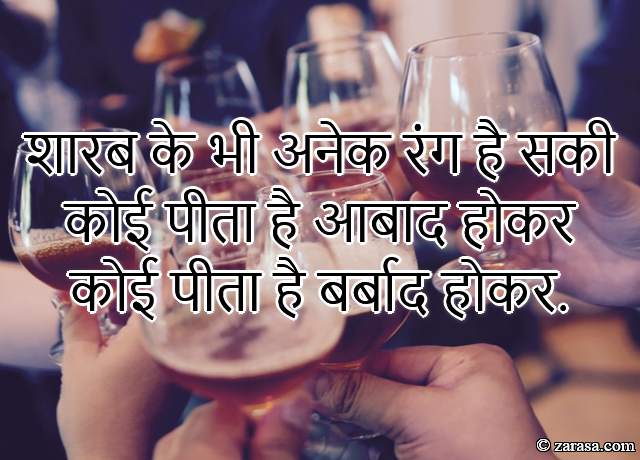 Sharab Ke Bhi Anek Rang Hai Saki
Koi Peeta Hai Aabad Hokar
To Koi Peeta Hai Barbaad Hokar.
शारब के भी अनेक रंग है सकी
कोई पीता है आबाद होकर
कोई पीता है बर्बाद होकर.
شراب کے بھی انک رنگ ہے ساکی
کوئی پیتا ہے آباد ہوکر
کوئی پیتا ہے برباد ہوکر-
---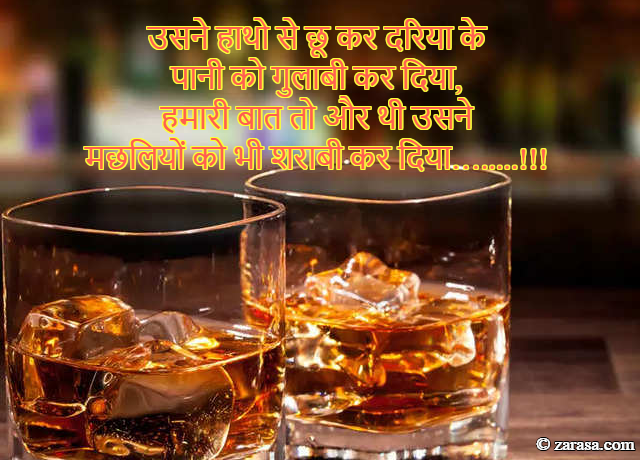 Usne hatho se chu kar Dariya ke,
Pani ko Gulabi kr Diya,
Hamari baat toh Aur thi Usne,
Machliyon ko bhi Sharabi kr diya......
उसने हाथो से छू कर दरिया के
पानी को गुलाबी कर दिया,
हमारी बात तो और थी उसने
मछलियों को भी शराबी कर दिया….....!!!
اسنے ہاتھو سے چھو کر دریا کے
پانی کو گلابی کر دیا
ہماری بات تو اور تھی اسنے
مچلیوں کو بھی شرابی کر دیا
---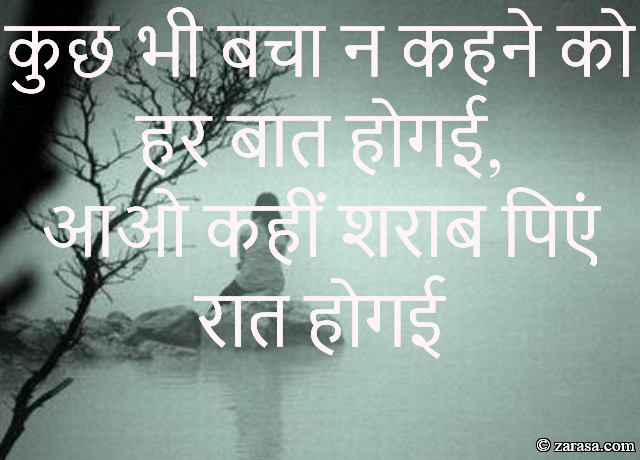 Kuch Bhi Bacha Na Khene Ko
Har Baat Ho Gai,
Aao Kahin Sharab Piyein
Raat Hogai.
कुछ भी बचा न कहने को
हर बात होगई,
आओ कहीं शराब पिएं
रात होगई
کچھ بھی بچا نہ کہنے کو
ہر بات ہوگی ,
او کہیں شراب پیئیں
رات ہوگی
---