Shayari for Sharab "Ek ghoot jo Sharab ki "
|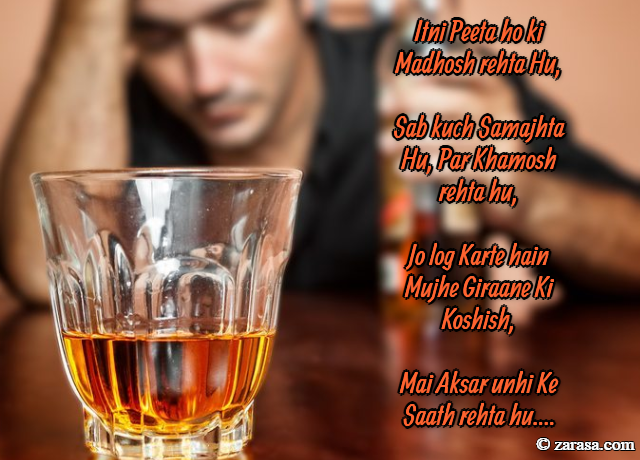 Itni Peeta ho ki Madhosh rehta Hu,
Sab kuch Samajhta Hu, Par Khamosh rehta hu,
Jo log Karte hain Mujhe Giraane Ki Koshish,
Mai Aksar unhi Ke Saath rehta hu....
इतनी पीता हू की मदहोश रहता हू,
सब कुछ समझता हू, पर खामोश रहता हू,
जो लोग करते है मुझे गिराने की कोशिश,
मै अक्सर उन्ही के साथ रहता हू........!!!
اتنی پیتا ہو کی مدہوش رہتا ہو
سب کوچ سمجھتا ہو ،پر خاموش رہتا ہو
جو لوگ کرتے ہے مجھے گرانے کی کوشش
می اکثر انہی کے سات رہتا ہو
---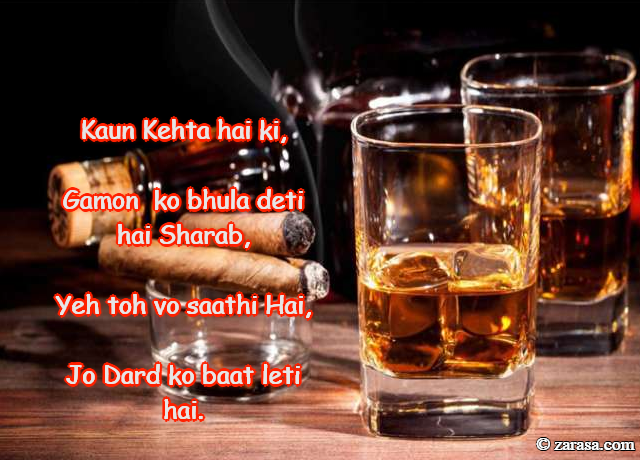 Kaun Kehta hai ki,
Gamon  ko bhula deti hai Sharab,
Yeh toh vo saathi Hai,
Jo Dard ko baat leti hai.

कौन कहता है कि ,
ग़मों को भुला देती है शराब ,
यह तोह वो साथी है ,
जो दर्द को बाट लेती है |
کون کہتا ہے کی
گاموں کو بھلا دیتی ہے شراب
یہ ٹوہ وو ساتھ ہے
جو درد کو باٹ لیتی ہے
---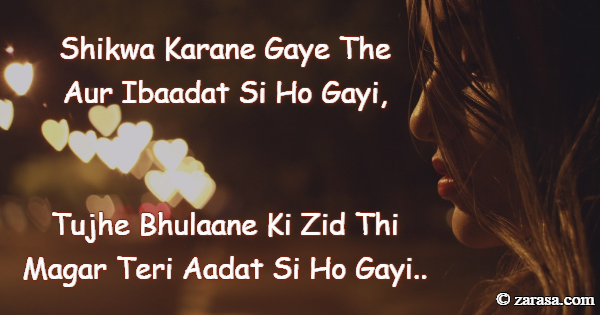 Shikwa Karane Gaye The Aur Ibaadat Si Ho Gayi,
Tujhe Bhulaane Ki Zid Thi Magar Teri Aadat Si Ho Gayi..
शिकवा करने गए थे और इबादत सी हो गई…
तुझे भुलाने की जिद थी मगर तेरी आदत सी हो गई.....
شکوہ کرنے گئے تھے اور عبادت سی ہوگیی
تجھے بھلانے کی زد تھی مگر تیری عادت سی ہوگیی
---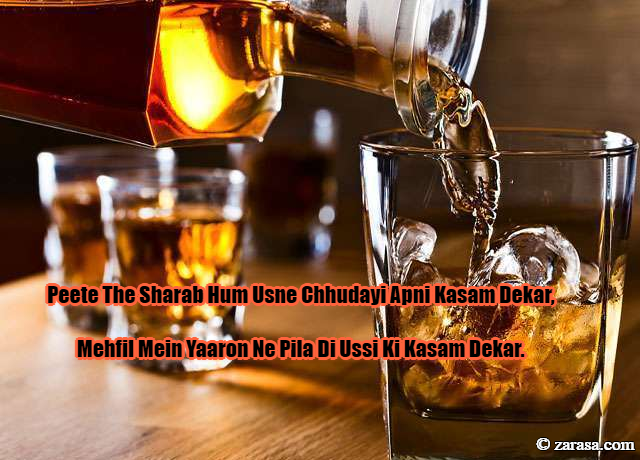 Peete The Sharab Hum Usne Chhudayi Apni Kasam Dekar,
Mehfil Mein Yaaron Ne Pila Di Ussi Ki Kasam Dekar.
पीते थे शराब हम उसने छुड़ाई अपनी कसम देकर,
महफ़िल में यारों ने पिलाई उसी की कसम देकर।
پیتے تھے شراب ہم اسنے چھڈی اپنی کسم دیکر
محفل می یارو نے پلا دی اسی کی کسم دیکر
---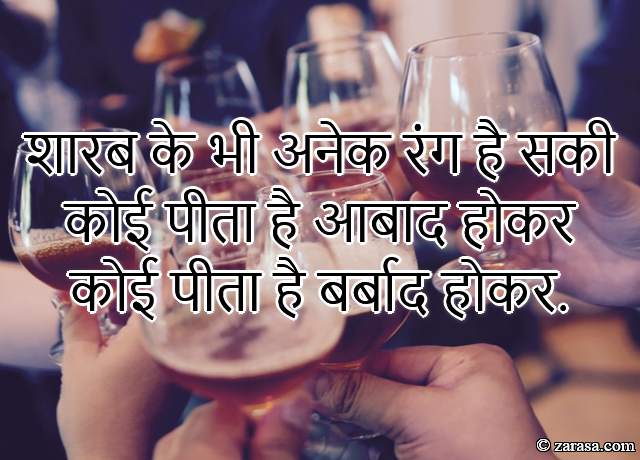 Sharab Ke Bhi Anek Rang Hai Saki
Koi Peeta Hai Aabad Hokar
To Koi Peeta Hai Barbaad Hokar.
शारब के भी अनेक रंग है सकी
कोई पीता है आबाद होकर
कोई पीता है बर्बाद होकर.
شراب کے بھی انک رنگ ہے ساکی
کوئی پیتا ہے آباد ہوکر
کوئی پیتا ہے برباد ہوکر-
---