Shayari for Sharab "Kabhi Hum Bhi Piya Karte The"
|
Peene Pilane Ki Baat Karte Ho,
Kabhi Hum Bhi Piya Karte The,
Aye Dost0………
Jitna Tum Jaam Me Liye Baithe Ho,
Utna Hum Paimane Me Chod Diya Karte The.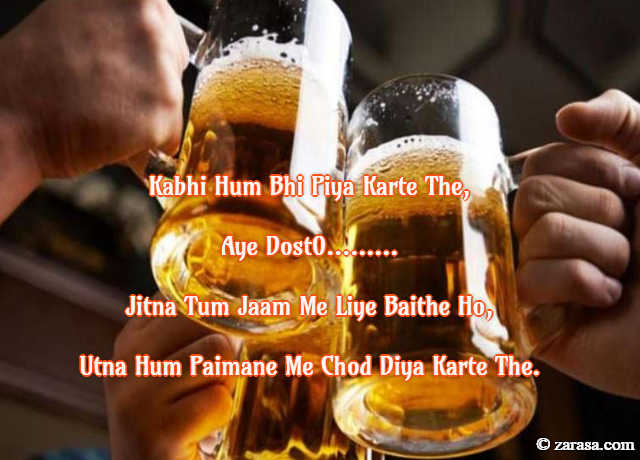 ---

पीने पिलाने की बात करते हो ,
कभी हम भी पिया करते थे ,
ऐ दोस्तों। ...
जितना तुम जाम में लिए बैठे हो ,
उतना हम पैमाने में छोड़ दिया करते थे।


---

پینے پلانے کی بات کرتے ھو
کبھی ہم بھی پیا کرتے تھے
اے دوستو
جتنا تم جام می لئے بیٹھے ھو
اتنا ہم پیمانے مے چھوڈ دیا کرتے تھے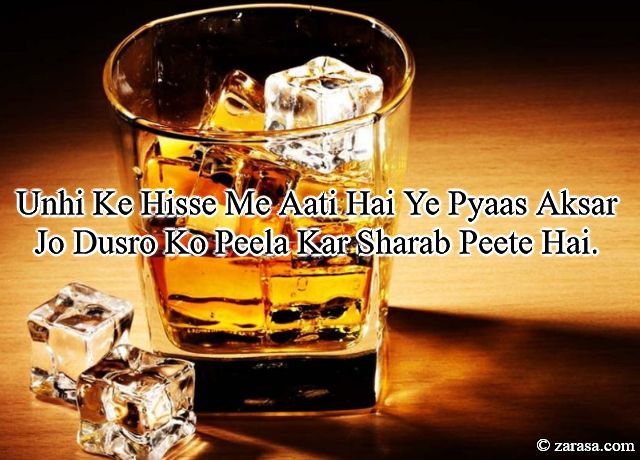 Unhi Ke Hisse Me Aati Hai Ye Pyaas Aksar
Jo Dusro Ko Peela Kar Sharab Peete Hai.
उन्ही के हिस्से में आती है ये प्यास अक्सर
जो दुसरो को पीला कर शराब पीते है.
انہی کے حصّے مے آتی ہے یہ پیاس اکثر
جو دوسرو کو پیلا کر شراب پیتے ہے -
---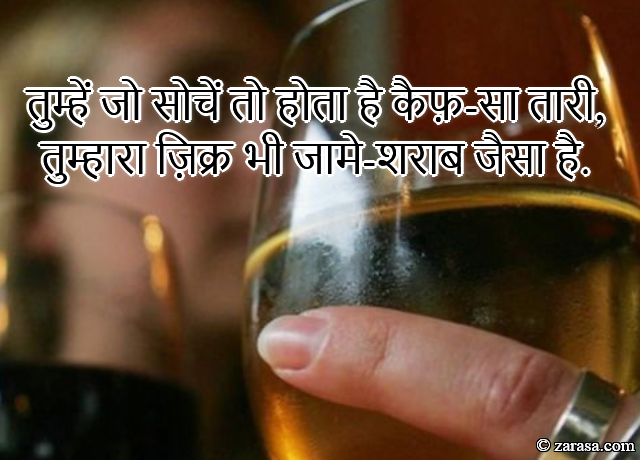 Tumhe Jo Soche To Hota Hai Kaif-Sa Taari,
Tumhaara Zikr Bhi Jaame-Sharab Jaisa Hai.
तुम्हें जो सोचें तो होता है कैफ़-सा तारी,
तुम्हारा ज़िक्र भी जामे-शराब जैसा है.
تمہے جو سوچا تو ھوتا ہے کیف سا تری
تمہارا ذکر بھی جمے شراب جیسا ہے -
---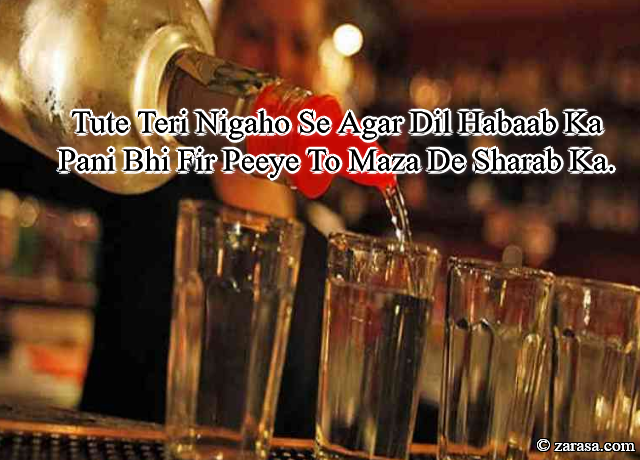 Tute Teri Nigaho Se Agar Dil Habaab Ka
Pani Bhi Fir Peeye To Maza De Sharab Ka.
टूटे तेरी निगाहो से अगर दिल हबाब का
पानी भी फिर पिएं तो मज़ा दे शराब का.

ٹوٹے تیری نگاھو سے اگر دل حباب کا
پانی بھی پھر پے تو مزہ دے شراب کا-
---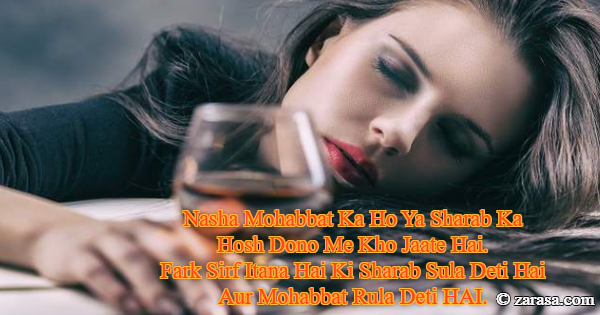 Nasha Mohabbat Ka Ho Ya Sharab Ka
Hosh Dono Me Kho Jaate Hai.
Fark Sirf Itana Hai Ki Sharab Sula Deti Hai
Aur Mohabbat Rula Deti HAI.



नशा मोहब्बत का हो या शराब का
होश दोनों में खो जाते है ,
फर्क सिर्फ इतना है की शराब सुला देती है
और मोहब्बत रुला देती है |
نشا محبّت کا ہو یا شراب کا
ہوش دونو مے خو جاتے ہے
فارک صرف اتنا ہے کی شراب سولہ دیتی ہے
اور محبّت رولا دیتی ہے
---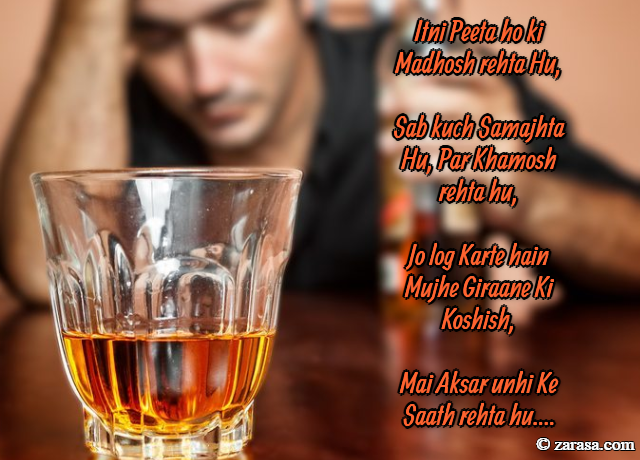 Itni Peeta ho ki Madhosh rehta Hu,
Sab kuch Samajhta Hu, Par Khamosh rehta hu,
Jo log Karte hain Mujhe Giraane Ki Koshish,
Mai Aksar unhi Ke Saath rehta hu....
इतनी पीता हू की मदहोश रहता हू,
सब कुछ समझता हू, पर खामोश रहता हू,
जो लोग करते है मुझे गिराने की कोशिश,
मै अक्सर उन्ही के साथ रहता हू........!!!
اتنی پیتا ہو کی مدہوش رہتا ہو
سب کوچ سمجھتا ہو ،پر خاموش رہتا ہو
جو لوگ کرتے ہے مجھے گرانے کی کوشش
می اکثر انہی کے سات رہتا ہو
---