Shayari for Sharab "Kabhi Hum Bhi Piya Karte The"
|
Peene Pilane Ki Baat Karte Ho,
Kabhi Hum Bhi Piya Karte The,
Aye Dost0………
Jitna Tum Jaam Me Liye Baithe Ho,
Utna Hum Paimane Me Chod Diya Karte The.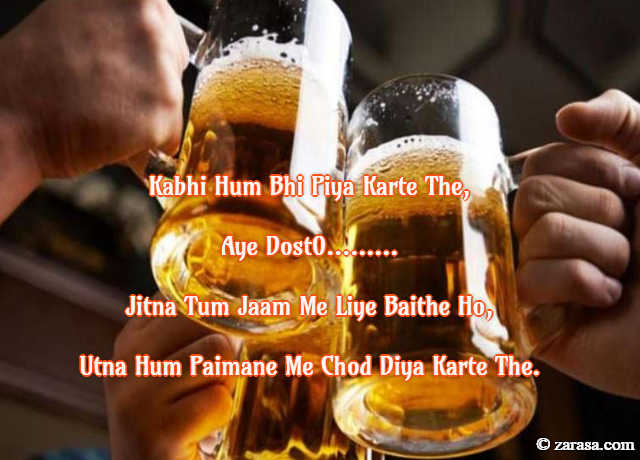 ---

पीने पिलाने की बात करते हो ,
कभी हम भी पिया करते थे ,
ऐ दोस्तों। ...
जितना तुम जाम में लिए बैठे हो ,
उतना हम पैमाने में छोड़ दिया करते थे।


---

پینے پلانے کی بات کرتے ھو
کبھی ہم بھی پیا کرتے تھے
اے دوستو
جتنا تم جام می لئے بیٹھے ھو
اتنا ہم پیمانے مے چھوڈ دیا کرتے تھے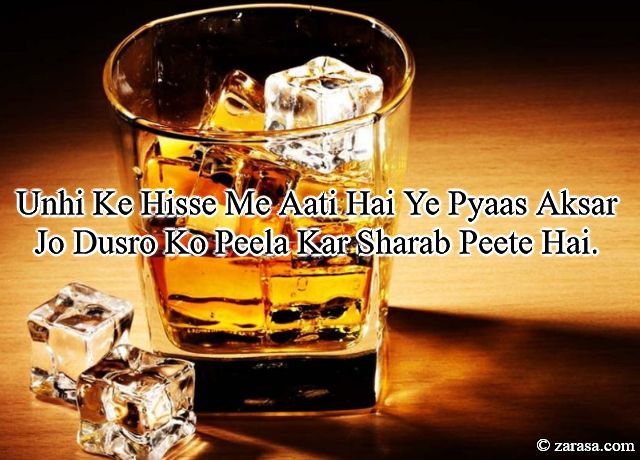 Unhi Ke Hisse Me Aati Hai Ye Pyaas Aksar
Jo Dusro Ko Peela Kar Sharab Peete Hai.
उन्ही के हिस्से में आती है ये प्यास अक्सर
जो दुसरो को पीला कर शराब पीते है.
انہی کے حصّے مے آتی ہے یہ پیاس اکثر
جو دوسرو کو پیلا کر شراب پیتے ہے -
---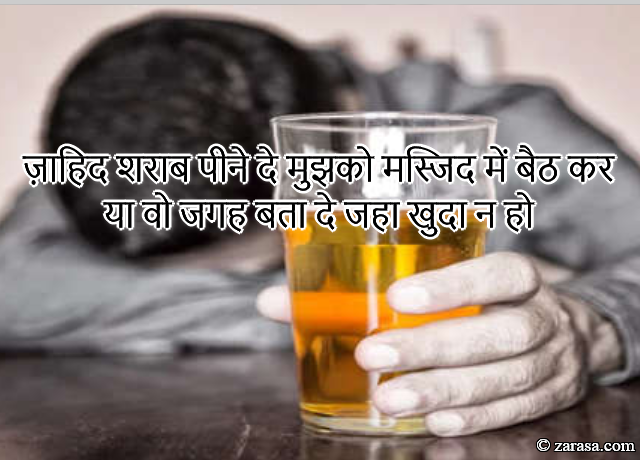 Zāhid Sharāb Peene De Masjid Mein BaiTh Kar
Yā Vo Jagah Batā De Jahāñ Par Khudā Na Ho.


ज़ाहिद शराब पीने दे मुझको मस्जिद में बैठ कर
या वो जगह बता दे जहा खुदा न हो
ظاہر شراب پینے دے مسجد مے بیٹھ کر
یا وو جگہ بتا دے جہا خدا نہ ہو-
---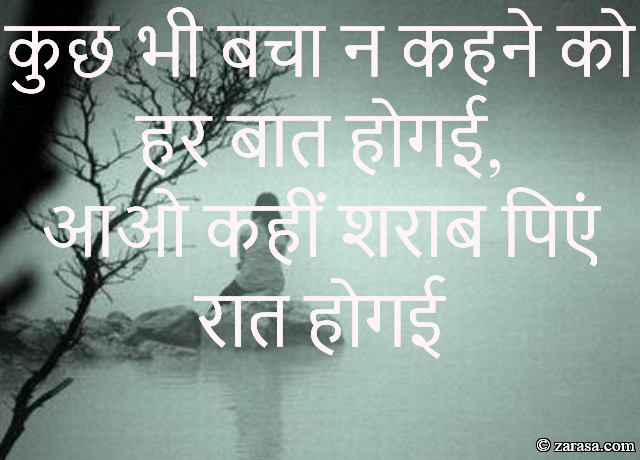 Kuch Bhi Bacha Na Khene Ko
Har Baat Ho Gai,
Aao Kahin Sharab Piyein
Raat Hogai.
कुछ भी बचा न कहने को
हर बात होगई,
आओ कहीं शराब पिएं
रात होगई
کچھ بھی بچا نہ کہنے کو
ہر بات ہوگی ,
او کہیں شراب پیئیں
رات ہوگی
---

Khud Apani Masti Hai، Jis Ne Machayi Hai Halachal

Nasha Sharab Me Hota To Naachati Botal.

खुदा अपनी मस्ती है जिस ने मचाई है हलचल
नशा शराब में होता तो नाचती बोतल।
خودا اپنی مستی ہے جیس نے مچیی ہے ہلچل
نشا شراب مے ہوتا تو ناچتی بوتل
---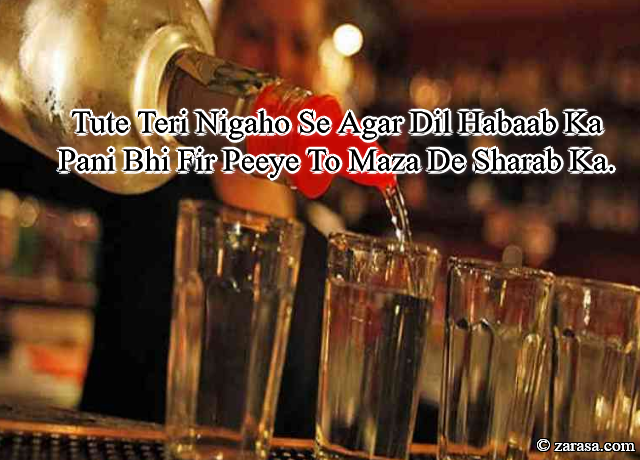 Tute Teri Nigaho Se Agar Dil Habaab Ka
Pani Bhi Fir Peeye To Maza De Sharab Ka.
टूटे तेरी निगाहो से अगर दिल हबाब का
पानी भी फिर पिएं तो मज़ा दे शराब का.

ٹوٹے تیری نگاھو سے اگر دل حباب کا
پانی بھی پھر پے تو مزہ دے شراب کا-
---