Shayari for Sharab "Kabhi Hum Bhi Piya Karte The"
|
Peene Pilane Ki Baat Karte Ho,
Kabhi Hum Bhi Piya Karte The,
Aye Dost0………
Jitna Tum Jaam Me Liye Baithe Ho,
Utna Hum Paimane Me Chod Diya Karte The.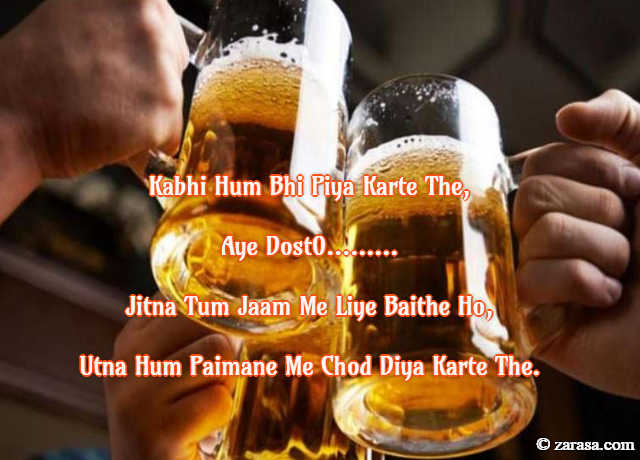 ---

पीने पिलाने की बात करते हो ,
कभी हम भी पिया करते थे ,
ऐ दोस्तों। ...
जितना तुम जाम में लिए बैठे हो ,
उतना हम पैमाने में छोड़ दिया करते थे।


---

پینے پلانے کی بات کرتے ھو
کبھی ہم بھی پیا کرتے تھے
اے دوستو
جتنا تم جام می لئے بیٹھے ھو
اتنا ہم پیمانے مے چھوڈ دیا کرتے تھے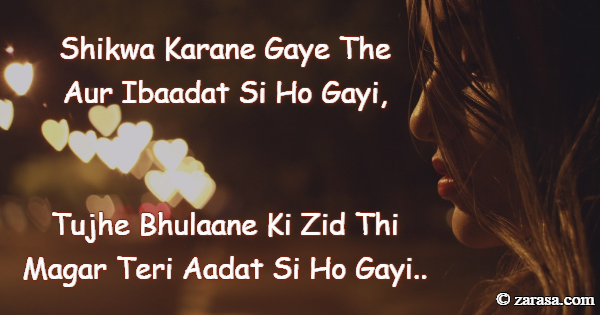 Shikwa Karane Gaye The Aur Ibaadat Si Ho Gayi,
Tujhe Bhulaane Ki Zid Thi Magar Teri Aadat Si Ho Gayi..
शिकवा करने गए थे और इबादत सी हो गई…
तुझे भुलाने की जिद थी मगर तेरी आदत सी हो गई.....
شکوہ کرنے گئے تھے اور عبادت سی ہوگیی
تجھے بھلانے کی زد تھی مگر تیری عادت سی ہوگیی
---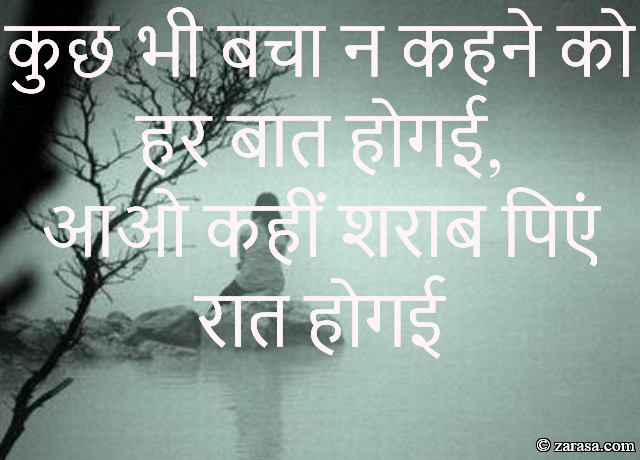 Kuch Bhi Bacha Na Khene Ko
Har Baat Ho Gai,
Aao Kahin Sharab Piyein
Raat Hogai.
कुछ भी बचा न कहने को
हर बात होगई,
आओ कहीं शराब पिएं
रात होगई
کچھ بھی بچا نہ کہنے کو
ہر بات ہوگی ,
او کہیں شراب پیئیں
رات ہوگی
---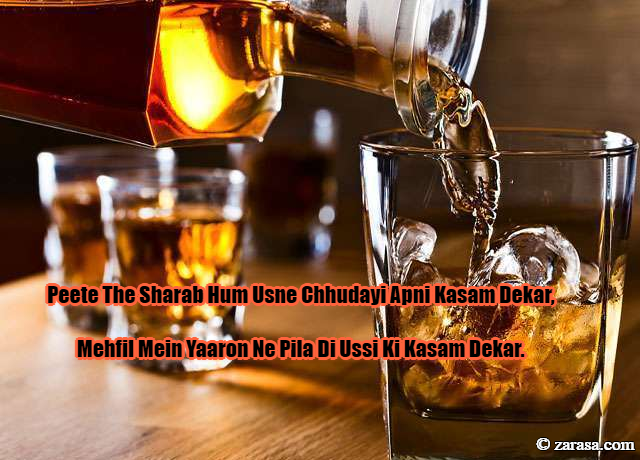 Peete The Sharab Hum Usne Chhudayi Apni Kasam Dekar,
Mehfil Mein Yaaron Ne Pila Di Ussi Ki Kasam Dekar.
पीते थे शराब हम उसने छुड़ाई अपनी कसम देकर,
महफ़िल में यारों ने पिलाई उसी की कसम देकर।
پیتے تھے شراب ہم اسنے چھڈی اپنی کسم دیکر
محفل می یارو نے پلا دی اسی کی کسم دیکر
---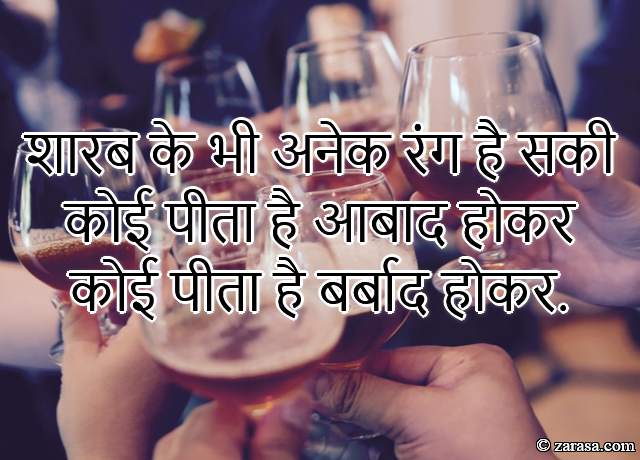 Sharab Ke Bhi Anek Rang Hai Saki
Koi Peeta Hai Aabad Hokar
To Koi Peeta Hai Barbaad Hokar.
शारब के भी अनेक रंग है सकी
कोई पीता है आबाद होकर
कोई पीता है बर्बाद होकर.
شراب کے بھی انک رنگ ہے ساکی
کوئی پیتا ہے آباد ہوکر
کوئی پیتا ہے برباد ہوکر-
---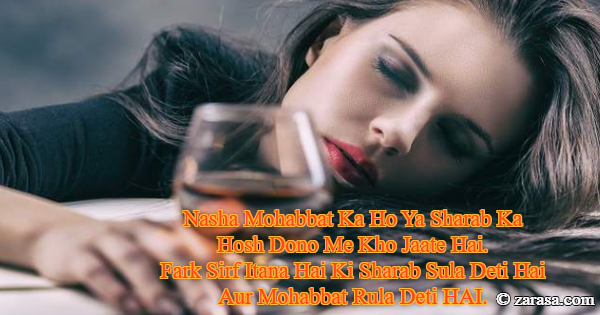 Nasha Mohabbat Ka Ho Ya Sharab Ka
Hosh Dono Me Kho Jaate Hai.
Fark Sirf Itana Hai Ki Sharab Sula Deti Hai
Aur Mohabbat Rula Deti HAI.



नशा मोहब्बत का हो या शराब का
होश दोनों में खो जाते है ,
फर्क सिर्फ इतना है की शराब सुला देती है
और मोहब्बत रुला देती है |
نشا محبّت کا ہو یا شراب کا
ہوش دونو مے خو جاتے ہے
فارک صرف اتنا ہے کی شراب سولہ دیتی ہے
اور محبّت رولا دیتی ہے
---