Shayari for Sharab "Tute Teri Nigaho Se Agar Dil Habaab Ka"
|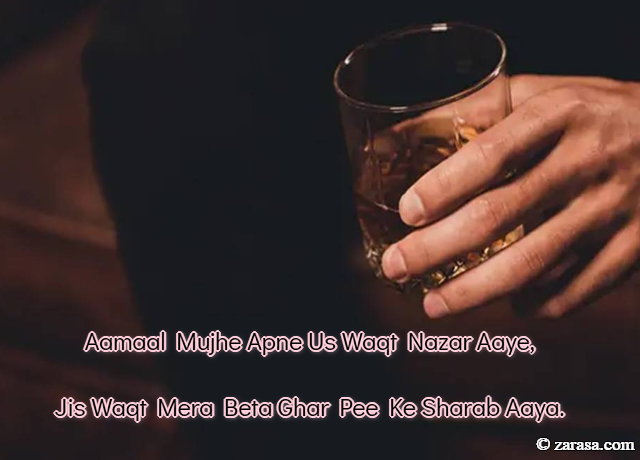 Aamaal Mujhe Apne Us Waqt Nazar Aaye,

Jis Waqt Mera Beta Ghar Pee Ke Sharab Aaya.

आमाल मुझे अपने उस वक़्त नज़र आए ,
जिस वक़्त मेरा बेटा घर पी के शराब आया |
اعمال مجھے اپنے اس وقت نظر اے
جیس وقت میرا بیٹا گھر پی کے شراب آیا
---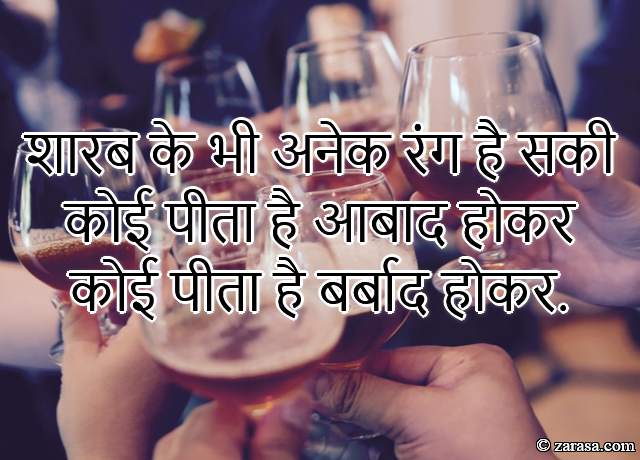 Sharab Ke Bhi Anek Rang Hai Saki
Koi Peeta Hai Aabad Hokar
To Koi Peeta Hai Barbaad Hokar.
शारब के भी अनेक रंग है सकी
कोई पीता है आबाद होकर
कोई पीता है बर्बाद होकर.
شراب کے بھی انک رنگ ہے ساکی
کوئی پیتا ہے آباد ہوکر
کوئی پیتا ہے برباد ہوکر-
---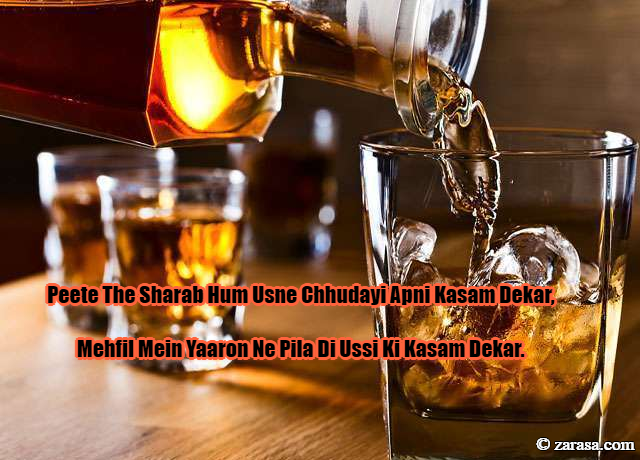 Peete The Sharab Hum Usne Chhudayi Apni Kasam Dekar,
Mehfil Mein Yaaron Ne Pila Di Ussi Ki Kasam Dekar.
पीते थे शराब हम उसने छुड़ाई अपनी कसम देकर,
महफ़िल में यारों ने पिलाई उसी की कसम देकर।
پیتے تھے شراب ہم اسنے چھڈی اپنی کسم دیکر
محفل می یارو نے پلا دی اسی کی کسم دیکر
---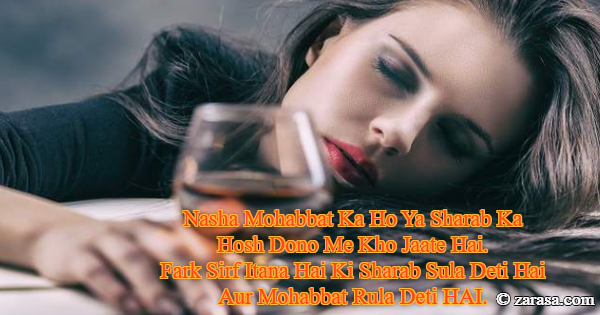 Nasha Mohabbat Ka Ho Ya Sharab Ka
Hosh Dono Me Kho Jaate Hai.
Fark Sirf Itana Hai Ki Sharab Sula Deti Hai
Aur Mohabbat Rula Deti HAI.



नशा मोहब्बत का हो या शराब का
होश दोनों में खो जाते है ,
फर्क सिर्फ इतना है की शराब सुला देती है
और मोहब्बत रुला देती है |
نشا محبّت کا ہو یا شراب کا
ہوش دونو مے خو جاتے ہے
فارک صرف اتنا ہے کی شراب سولہ دیتی ہے
اور محبّت رولا دیتی ہے
---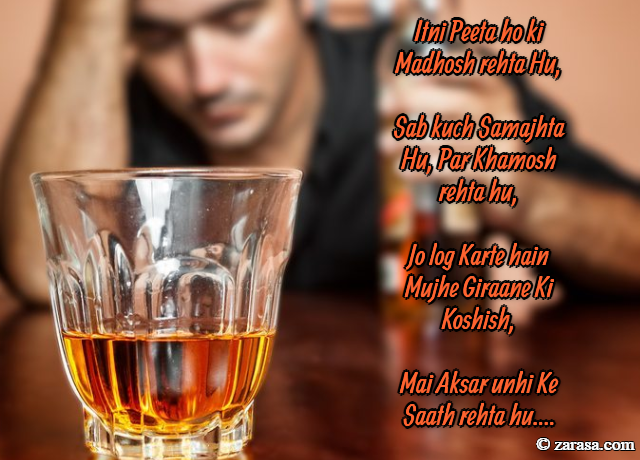 Itni Peeta ho ki Madhosh rehta Hu,
Sab kuch Samajhta Hu, Par Khamosh rehta hu,
Jo log Karte hain Mujhe Giraane Ki Koshish,
Mai Aksar unhi Ke Saath rehta hu....
इतनी पीता हू की मदहोश रहता हू,
सब कुछ समझता हू, पर खामोश रहता हू,
जो लोग करते है मुझे गिराने की कोशिश,
मै अक्सर उन्ही के साथ रहता हू........!!!
اتنی پیتا ہو کی مدہوش رہتا ہو
سب کوچ سمجھتا ہو ،پر خاموش رہتا ہو
جو لوگ کرتے ہے مجھے گرانے کی کوشش
می اکثر انہی کے سات رہتا ہو
---