Shayari for Sharab "Itni Peeta ho ki Madhosh rehta Hu,"
|
Itni Peeta ho ki Madhosh rehta Hu,
Sab kuch Samajhta Hu, Par Khamosh rehta hu,
Jo log Karte hain Mujhe Giraane Ki Koshish,
Mai Aksar unhi Ke Saath rehta hu….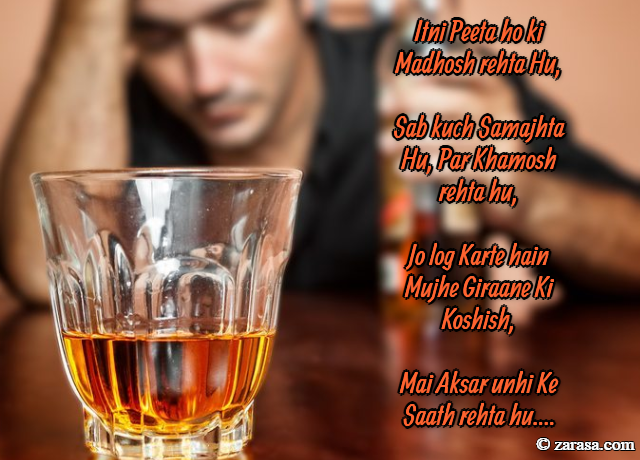 ---

इतनी पीता हू की मदहोश रहता हू,
सब कुछ समझता हू, पर खामोश रहता हू,
जो लोग करते है मुझे गिराने की कोशिश,
मै अक्सर उन्ही के साथ रहता हू........!!!


---

اتنی پیتا ہو کی مدہوش رہتا ہو
سب کوچ سمجھتا ہو ،پر خاموش رہتا ہو
جو لوگ کرتے ہے مجھے گرانے کی کوشش
می اکثر انہی کے سات رہتا ہو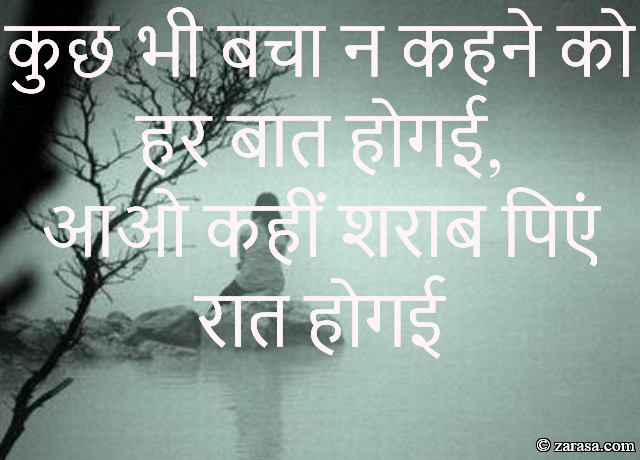 Kuch Bhi Bacha Na Khene Ko
Har Baat Ho Gai,
Aao Kahin Sharab Piyein
Raat Hogai.
कुछ भी बचा न कहने को
हर बात होगई,
आओ कहीं शराब पिएं
रात होगई
کچھ بھی بچا نہ کہنے کو
ہر بات ہوگی ,
او کہیں شراب پیئیں
رات ہوگی
---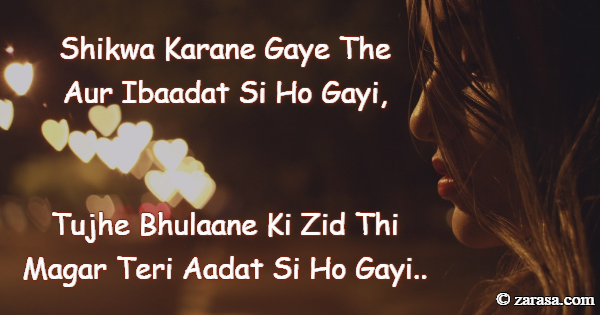 Shikwa Karane Gaye The Aur Ibaadat Si Ho Gayi,
Tujhe Bhulaane Ki Zid Thi Magar Teri Aadat Si Ho Gayi..
शिकवा करने गए थे और इबादत सी हो गई…
तुझे भुलाने की जिद थी मगर तेरी आदत सी हो गई.....
شکوہ کرنے گئے تھے اور عبادت سی ہوگیی
تجھے بھلانے کی زد تھی مگر تیری عادت سی ہوگیی
---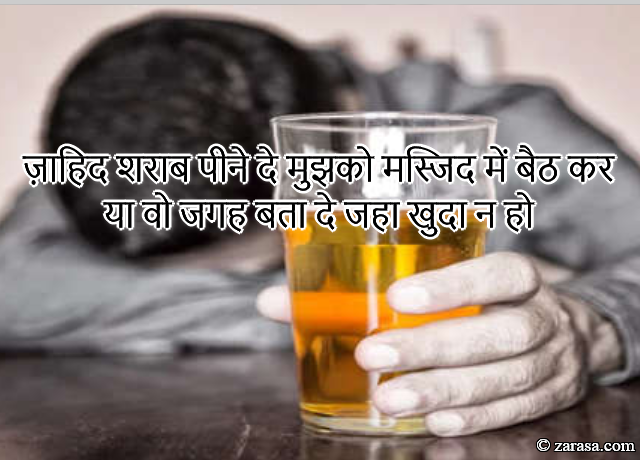 Zāhid Sharāb Peene De Masjid Mein BaiTh Kar
Yā Vo Jagah Batā De Jahāñ Par Khudā Na Ho.


ज़ाहिद शराब पीने दे मुझको मस्जिद में बैठ कर
या वो जगह बता दे जहा खुदा न हो
ظاہر شراب پینے دے مسجد مے بیٹھ کر
یا وو جگہ بتا دے جہا خدا نہ ہو-
---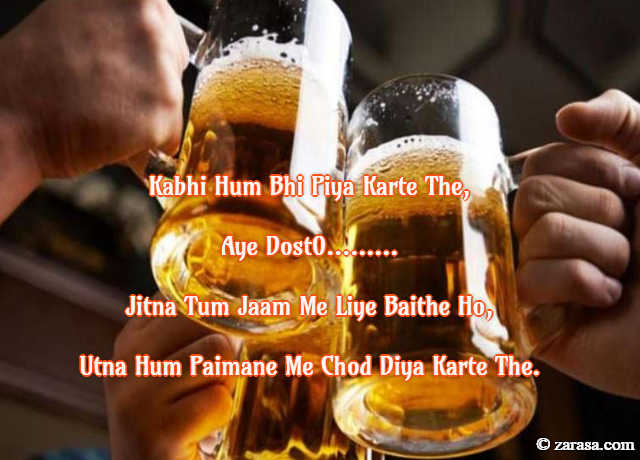 Peene Pilane Ki Baat Karte Ho,
Kabhi Hum Bhi Piya Karte The,
Aye Dost0………
Jitna Tum Jaam Me Liye Baithe Ho,
Utna Hum Paimane Me Chod Diya Karte The.
पीने पिलाने की बात करते हो ,
कभी हम भी पिया करते थे ,
ऐ दोस्तों। ...
जितना तुम जाम में लिए बैठे हो ,
उतना हम पैमाने में छोड़ दिया करते थे।
پینے پلانے کی بات کرتے ھو
کبھی ہم بھی پیا کرتے تھے
اے دوستو
جتنا تم جام می لئے بیٹھے ھو
اتنا ہم پیمانے مے چھوڈ دیا کرتے تھے
---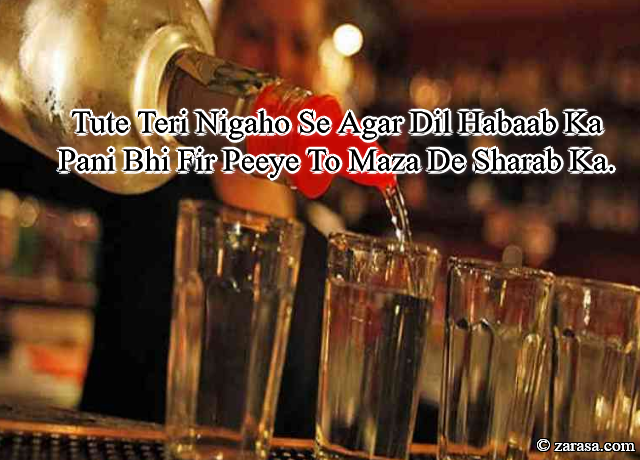 Tute Teri Nigaho Se Agar Dil Habaab Ka
Pani Bhi Fir Peeye To Maza De Sharab Ka.
टूटे तेरी निगाहो से अगर दिल हबाब का
पानी भी फिर पिएं तो मज़ा दे शराब का.

ٹوٹے تیری نگاھو سے اگر دل حباب کا
پانی بھی پھر پے تو مزہ دے شراب کا-
---