Shayari for Sharab "Sharab Ke Bhi Anek Rang Hai Saki"
|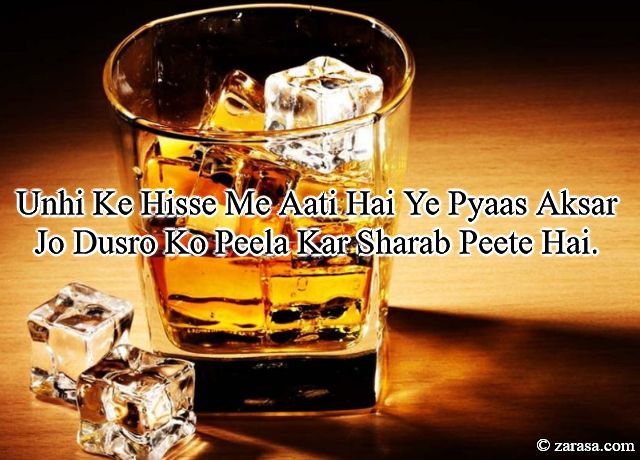 Unhi Ke Hisse Me Aati Hai Ye Pyaas Aksar
Jo Dusro Ko Peela Kar Sharab Peete Hai.
उन्ही के हिस्से में आती है ये प्यास अक्सर
जो दुसरो को पीला कर शराब पीते है.
انہی کے حصّے مے آتی ہے یہ پیاس اکثر
جو دوسرو کو پیلا کر شراب پیتے ہے -
---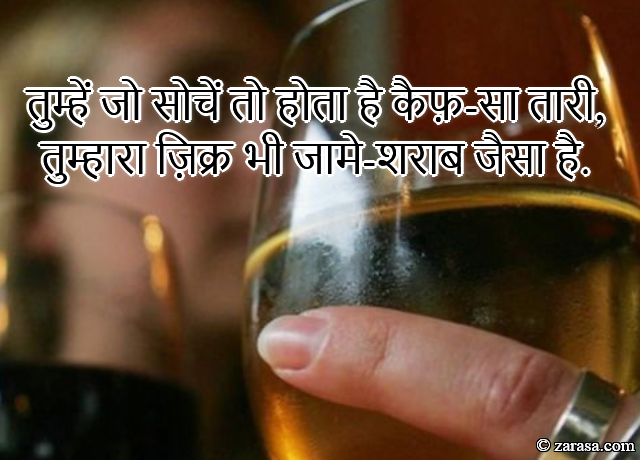 Tumhe Jo Soche To Hota Hai Kaif-Sa Taari,
Tumhaara Zikr Bhi Jaame-Sharab Jaisa Hai.
तुम्हें जो सोचें तो होता है कैफ़-सा तारी,
तुम्हारा ज़िक्र भी जामे-शराब जैसा है.
تمہے جو سوچا تو ھوتا ہے کیف سا تری
تمہارا ذکر بھی جمے شراب جیسا ہے -
---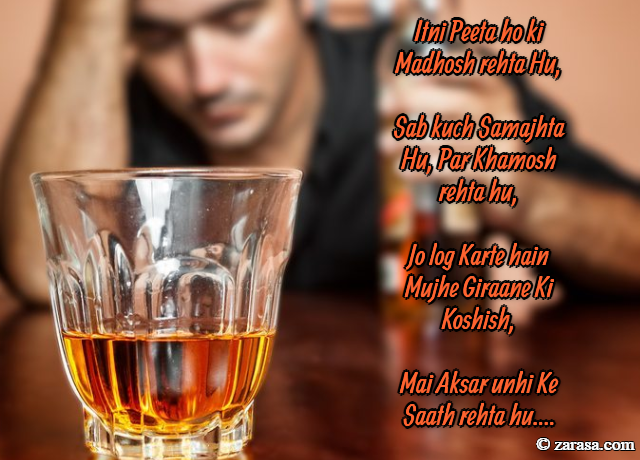 Itni Peeta ho ki Madhosh rehta Hu,
Sab kuch Samajhta Hu, Par Khamosh rehta hu,
Jo log Karte hain Mujhe Giraane Ki Koshish,
Mai Aksar unhi Ke Saath rehta hu....
इतनी पीता हू की मदहोश रहता हू,
सब कुछ समझता हू, पर खामोश रहता हू,
जो लोग करते है मुझे गिराने की कोशिश,
मै अक्सर उन्ही के साथ रहता हू........!!!
اتنی پیتا ہو کی مدہوش رہتا ہو
سب کوچ سمجھتا ہو ،پر خاموش رہتا ہو
جو لوگ کرتے ہے مجھے گرانے کی کوشش
می اکثر انہی کے سات رہتا ہو
---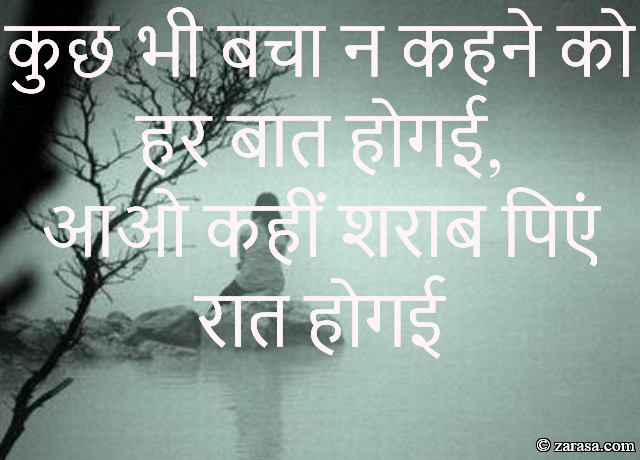 Kuch Bhi Bacha Na Khene Ko
Har Baat Ho Gai,
Aao Kahin Sharab Piyein
Raat Hogai.
कुछ भी बचा न कहने को
हर बात होगई,
आओ कहीं शराब पिएं
रात होगई
کچھ بھی بچا نہ کہنے کو
ہر بات ہوگی ,
او کہیں شراب پیئیں
رات ہوگی
---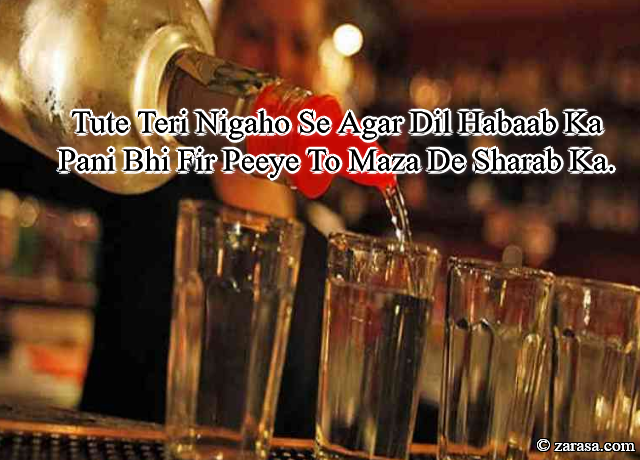 Tute Teri Nigaho Se Agar Dil Habaab Ka
Pani Bhi Fir Peeye To Maza De Sharab Ka.
टूटे तेरी निगाहो से अगर दिल हबाब का
पानी भी फिर पिएं तो मज़ा दे शराब का.

ٹوٹے تیری نگاھو سے اگر دل حباب کا
پانی بھی پھر پے تو مزہ دے شراب کا-
---