Shayari for Speeches "Kathinai Aur Sangharsh Sahe Bina Achhe Din Nahi Aate."
|
Patjhad Huye Bina Pedo Par Naye Patte Nahi Aate,
Kathinai Aur Sangharsh Sahe Bina Achhe Din Nahi Aate.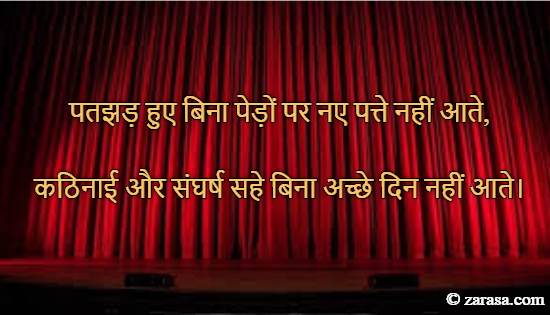 ---

पतझड़ हुए बिना पेड़ों पर नए पत्ते नहीं आते,
कठिनाई और संघर्ष सहे बिना अच्छे दिन नहीं आते।


---

پتجہاڈ ہوئے بنا پیڈں پر نیے پتے نہی آتے
کٹھنائی اور سنگھرش سہی بنا اچھے دن نہیں آتے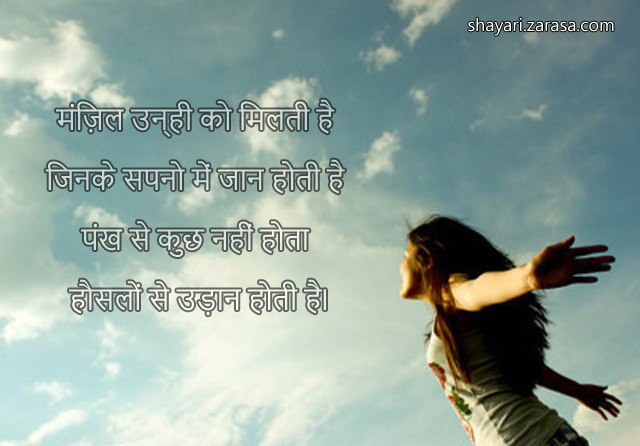 Manzil unhi ko milti hai
Jinke sapno me jaan hoti hai
Pankh se kuchh nahi hota
Hauslon se udaan hoti hai.







मंजिल उन्हीं को मिलती है
जिनके सपनो में जान होती है
पंख से कुछ नहीं होता
हौसलों से उड़ान होती है

منزل انہی کو ملتی ہے
جنکے سپنو مے جان ہوتی ہے
پنکھ سے کچھ نہیں ہوتا
حوصلوں سے ادان ہوتی ہے
---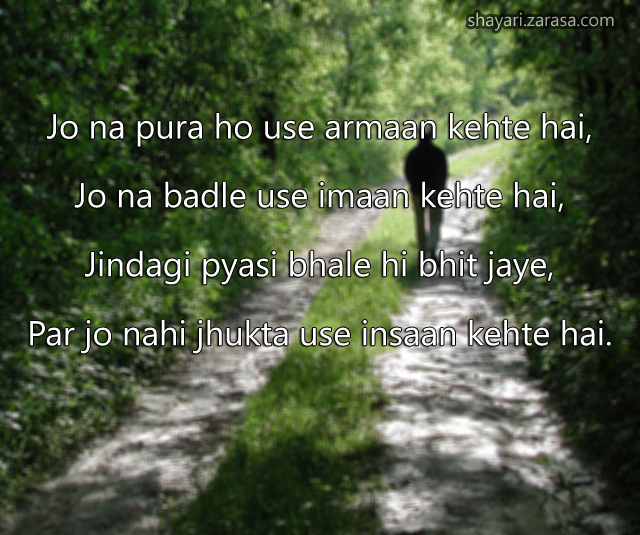 Jo na pura ho use armaan kehte hai,
Jo na badle use imaan kehte hai,
Zindagi pyasi bhale hi bhit jaye,
Par jo nahi jhukta use insaan kehte hai.






जो न पूरा हो उसे अरमाँ कहते है,
जो न बदले उसे ईमान कहते है,
जिंदगी प्यासी भले ही बीत जाये,
पर जो नहीं झुकता उसे इंसान कहते है.

جو  نہ  پورا  ہو اسے  ارمان  کہتے  ہے
جو  نہ  بدلے  اسے  امان کہتے  ہے
زندگی پیاسی  بھلے  ہی  بیت  جائے
پر  جو  نہیں  جھکتا  اسی  انسان  کہتے ہے
---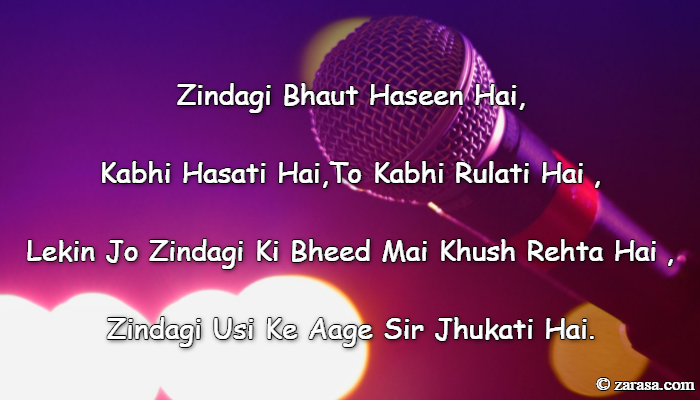 Zindagi Bhaut Haseen Hai,
Kabhi Hasati Hai,To Kabhi Rulati Hai ,
Lekin Jo Zindagi Ki Bheed Mai Khush Rehta Hai ,
Zindagi Usi Ke Aage Sir Jhukati Hai.
ज़िन्दगी बहुत हसीन है,
कभी हंसाती है, तो कभी रुलाती है,
लेकिन जो ज़िन्दगी की भीड़ में खुश रहता है,
ज़िन्दगी उसी के आगे सिर झुकाती है।
زندگی بہت حسین ہے
کبھی حسنتی ہے ،ٹوہ کبھی رلاتی ہے
لیکن جو زندگی کی بھیڈ می خوش رہتا ہے
زندگی اسی کے آگے سر جھکتی ہے
---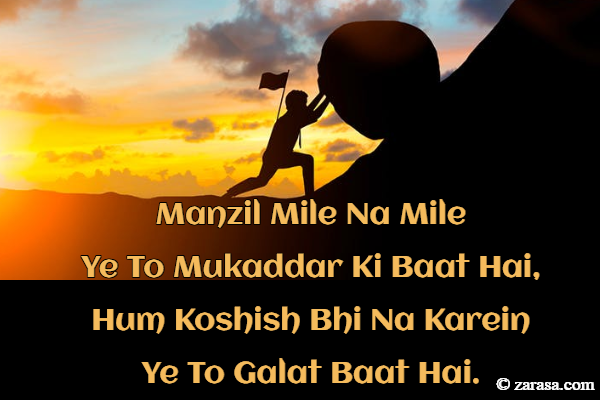 Manzil Mile Na Mile
Ye To Mukaddar Ki Baat Hai,
Hum Koshish Bhi Na Karein
Ye To Galat Baat Hai.

मंज़िल मिले न मिले
ये तो मुकद्दर की बात है,
हम कोशिश भी न करें
ये तो गलत बात है।
منزل میل نہ میل
یہ تو مقدار کی بات ہے
ہم کوشش بھی نہ کرے
یہ تو گلت بات ہے
---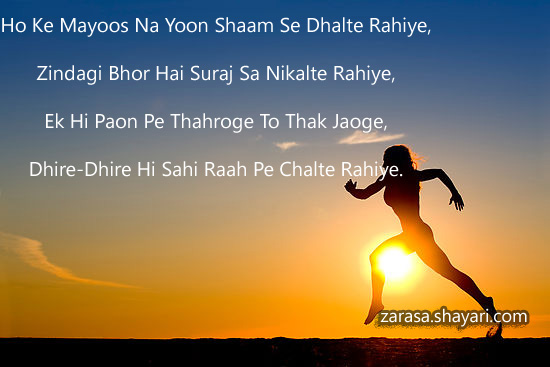 Ho Ke Mayoos Na Yoon Shaam Se Dhalte Rahiye,
Zindagi Bhor Hai Suraj Sa Nikalte Rahiye,
Ek Hi Paon Pe Thahroge To Thak Jaoge,
Dhire-Dhire Hi Sahi Raah Pe Chalte Rahiye.

 

 

हो  के  मायूस  न  यूं  शाम  से ढलते  रहिये ,
ज़िन्दगी  भोर  है  सूरज  सा  निकलते  रहिये ,
एक  ही पाऊँ  पे  ठहरोगे  तो थक  जाओगे,
धीरे -धीरे  ही  सही  राह  पे  चलते  रहिये ।
ہو کے مایوس نہ یوں شام سے ڈھلتے رہے
زندگی بھور ہے سورج سا نکلتے رہے
ایک ہی پاؤں پی ٹھہروگے تو تھک جاؤگے
دھرے -دھرے ہی سہی راہ پی چلتے رہے
---