Shayari for Speeches "Hooslon Se Udaan Hoti Hai."
|
Manzil Unhi Ko Milti Hai ,
Jinke Sapno Mai Jaan Hoti Hai ,
Pankho Se Kuch Nhi Hota ,
Hooslon Se Udaan Hoti Hai.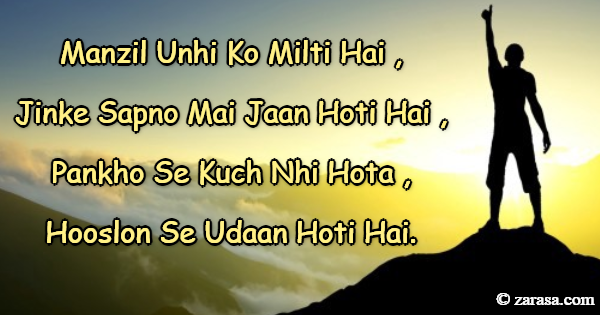 ---

मंजिल उन्हीं को मिलती है,
जिनके सपनों में जान होती है,
पंखों से कुछ नहीं होता,
हौसलों से उड़ान होती है |


---

منزل انہی کو ملتی ہے
جنکے سپنو می جان ہوتی ہے
پنکھو سے کچھ نہی ہوتا
حوصلوں سے وڈان ہوتی ہے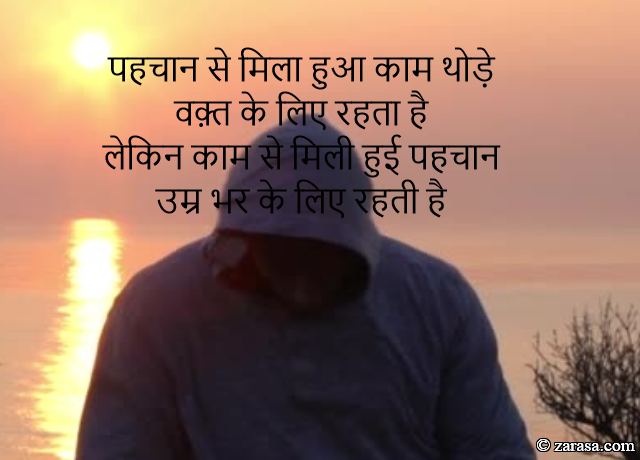 PEHCHAN SE MILA HUA KAAM THODE WAQT KE LIY REHTA HAI
LEKIN KAAM SE MILLI HUI PECHAN UMAR BHER KE LIY REHTI HAI
पहचान से मिला हुआ काम थोड़े वक़्त के लिए रहता है
लेकिन काम से मिली हुई पहचान उम्र भर के लिए रहती है
پہچان سے ملا ہوا کام تھودے وقت کے لی رہتا ہے
لیکن کام سے میللی ہی پہچان امر بھر کے لی رہتی ہے

---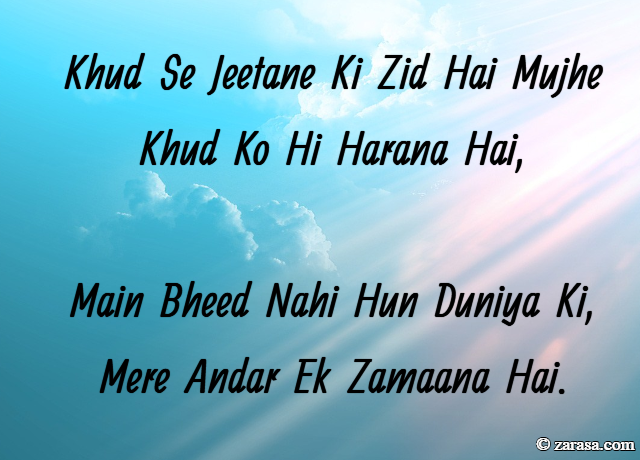 Khud Se Jeetane Ki Zid Hai Mujhe Khud Ko Hi Harana Hai,
Main Bheed Nahi Hun Duniya Ki, Mere Andar Ek Zamaana Hai.



खुद से जीतने की जिद है मुझे खुद को ही हराना है,
मै भीड़ नहीं हूँ दुनिया की ,मेरे अन्दर एक ज़माना है.
خود سے جیتنے کی زد ہے مجھے خود کو ہی ہرانا ہے
می بھیڈ نہی ہو دنیا کی میرے اندر ایک زمانہ ہے
---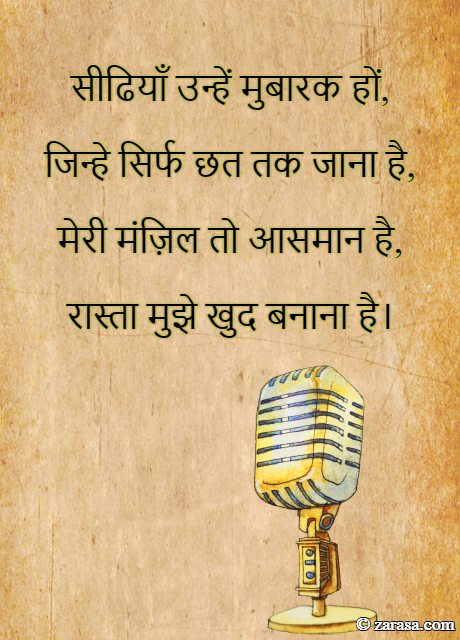 Sidiyan Unhe Mubarak Hon,
Jinhe Sirf Chhat Tak Jana Hai,
Meri Manzil To Aasmaan Hai,
Rasta Mujhe Khud Banana Hai.

सीढियाँ उन्हें मुबारक हों,
जिन्हे सिर्फ छत तक जाना है,
मेरी मंज़िल तो आसमान है,
रास्ता मुझे खुद बनाना है।
سیڈیاں انھ مبارک ہوں
جنھ صرف چھت تک جانا ہے
میری منزل تو آسمان ہے
راستا مجھے خود بنانا ہے
---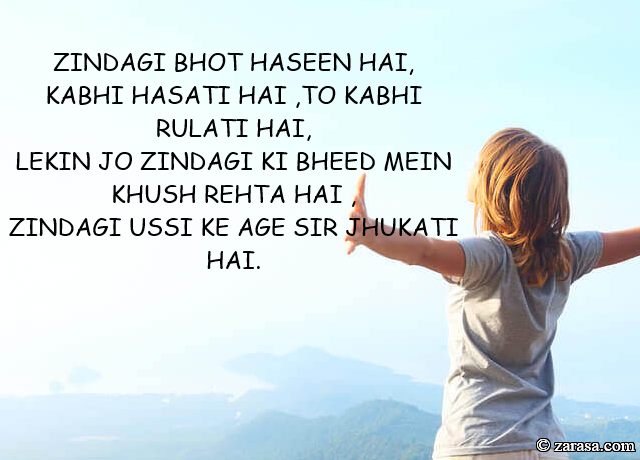 ZINDAGI BHOT HASEEN HAI,
HABHI HASTI HAI ,TO KABHI RULATI HAI,
LEKIN JO ZINDAGI KI BHEED MEIN KHUSH REHTA HAI ,
ZINDAGI USSI KE AGE SIR JHUKATI HAI.
ज़िन्दगी बोहोत हसींन है
कभी हसती है ,तोह कभी रुलाती है
लेकिन जो ज़िन्दगी की भीड़ में खुश रहता है
ज़िन्दगी उसी के आगे सर झुकाती है
زندگی بھوت حسین ہے -
کبھی ہستی ہے ,توہ کبھی رلاتی ہے -
لیکن جو زندگی کی بھیڈ میں خوش رہتاہ-
زندگی اسی کے اگے سر جھکاتی ہے -

---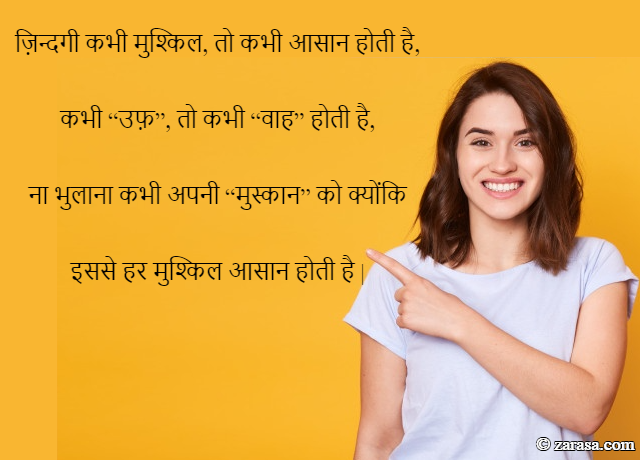 Zindagi Kabhi Mushkil, To Kabhi Aasaan Hoti Hai,
Kabhi "Uf", To Kabhi "Vaah" Hoti Hai,
Na Bhulaana Kabhi Apni "Muskaan" Ko Kyonki
Isse Har Mushkil Aasaan Hoti Hai .
ज़िन्दगी कभी मुश्किल, तो कभी आसान होती है,
कभी "उफ़", तो कभी "वाह" होती है,
ना भुलाना कभी अपनी "मुस्कान" को क्योंकि
इससे हर मुश्किल आसान होती है |
زندگی کبھی مشکل تو کبھی آسان ہوتی ہے
کبھی اف تو کبھی واہ ہوتی ہے
نہ بھلانا کبھی اپنی مسکان کو کیونکی
اسے ہر مشکل آسان ہوتی ہے
---