Shayari for Speeches "Hooslon Se Udaan Hoti Hai."
|
Manzil Unhi Ko Milti Hai ,
Jinke Sapno Mai Jaan Hoti Hai ,
Pankho Se Kuch Nhi Hota ,
Hooslon Se Udaan Hoti Hai.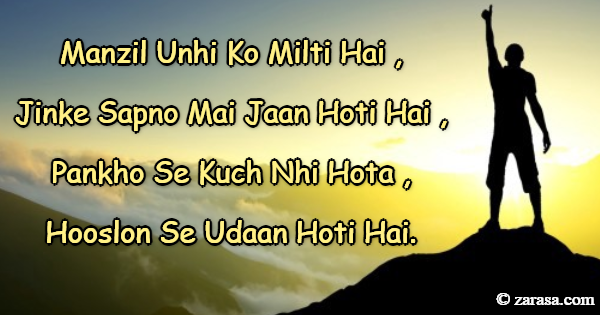 ---

मंजिल उन्हीं को मिलती है,
जिनके सपनों में जान होती है,
पंखों से कुछ नहीं होता,
हौसलों से उड़ान होती है |


---

منزل انہی کو ملتی ہے
جنکے سپنو می جان ہوتی ہے
پنکھو سے کچھ نہی ہوتا
حوصلوں سے وڈان ہوتی ہے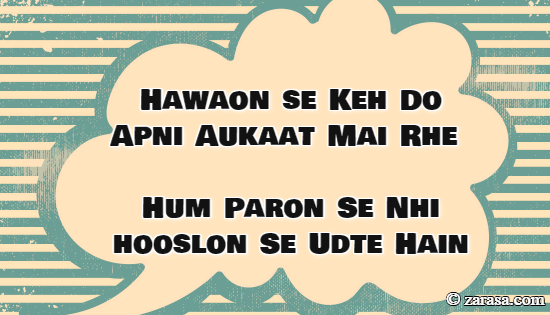 Hawaon se Keh Do Apni Aukaat Mai Rhe
Hum Paron Se Nhi hooslon Se Udte Hain.
हवाओं से कह दो अपनी औकात में रहे,
हम परों से नहीं हौसलों से उड़ते हैं |
ہواؤں سے کہدو اپنی اوکات می رہی
ہم پروں سے نہی حوصلوں سے اڑتے ہیں
---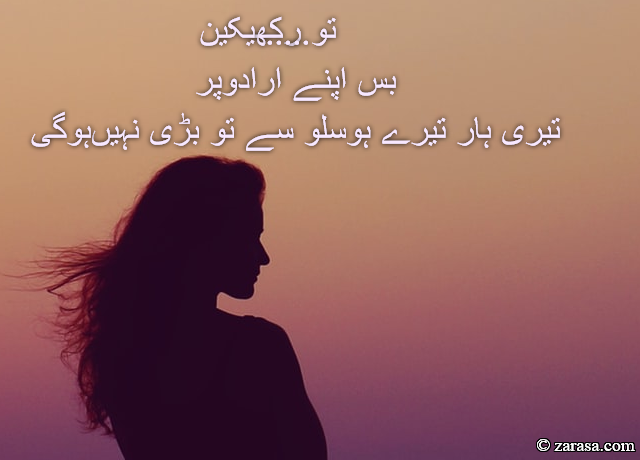 TU RAKH YAKEEN.........
BAS APNE IRADO PAR,
TERI HAR TERE HOSLE SE TO BADI NAHI HOGI
तू राख्न यकीन
बस अपने इरादों पर
तेरी हार तेरे हौसले से तो बड़ी नहीं होगी
تو رکھ یکین
بس اپنے ارادو پر ,
تیری ہر تیرے سے تو بدی نہیں ہوگی
---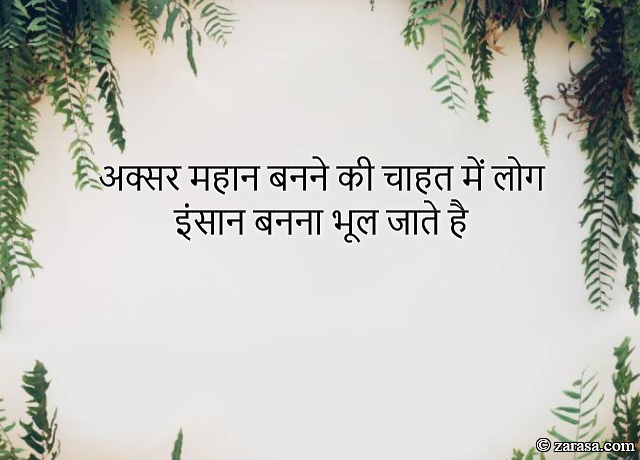 AKSER MAHAAN BANNNE KI CHAHAT
MEIN LOG INSAN BANNA BHUL JATE HAI
अक्सर महान बनने की चाहत में लोग
इंसान बनना भूल जाते है
اکثر مہان بننے کی چاہت میں لوگ
انسان بننا بھول جاتے ہے
---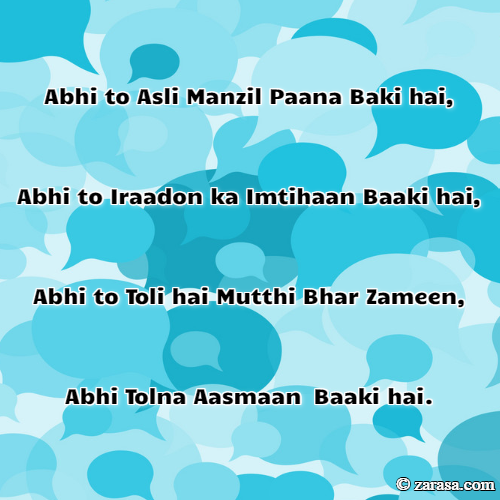 Abhi to Asli Manzil Paana Baki hai,
Abhi to Iraadon ka Imtihaan Baaki hai,
Abhi to Toli hai Mutthi Bhar Zameen,
Abhi Tolna Aasmaan  Baaki hai.
अभी तो असली मंजिल पाना बाकी है,
अभी तो इरादों का इम्तिहान बाकी है,
अभी तो तोली है मुट्ठी भर जमीन,
अभी तोलना आसमान बाकी है।
ابھی تو اصلی منزل پانا باکی ہے
ابھی تو ارادو کا امتحاں باکی ہے
ابھی تو ٹولی ہے مٹھی بھر زمین
ابھی تولنا آسمان باکی ہے
---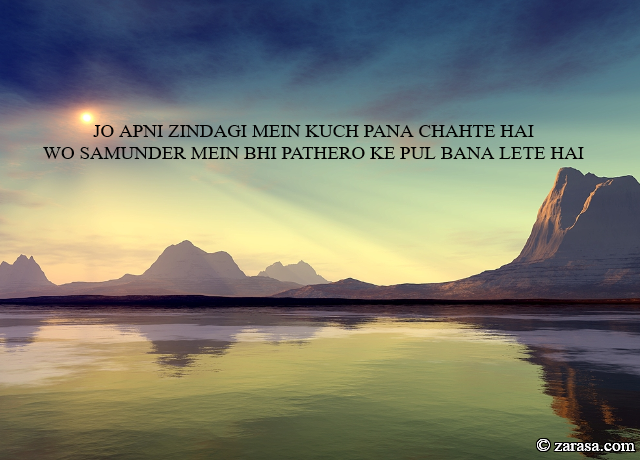 JO APNI ZINDAGI MEIN KUCH PANA CHAHTE HAI
WO SAMUNDER MEIN BHI PATHERO KE PUL BANA LETE HAI
जो अपनी में कुछ पाना चाहते है
वो समुन्दर में भी पथरो के पुल बना लेते है
جو اپنی زندگی میں کچھ پانا چاہتے ہے
وو سمندر میں بھی پتھرو کے پل بنا لیتے ہے
---