( Motivation Shayari For Students)"Ek Na Ek Din Hasil Ker Hi Lunga Manzil"
|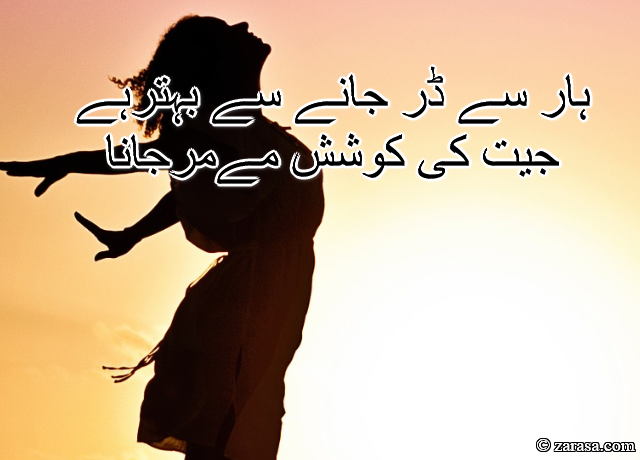 HAAR SE DER JANE SE BEHTER HAI ,
JEET KI KOSHISH ME MERJANA .
हार से डर जाने से बेहतर है
जीत की कोशिश में मरजाना
ہار سے ڈر جانے سے بہتر ہے
جیت کی کوشش مے مرجانا
---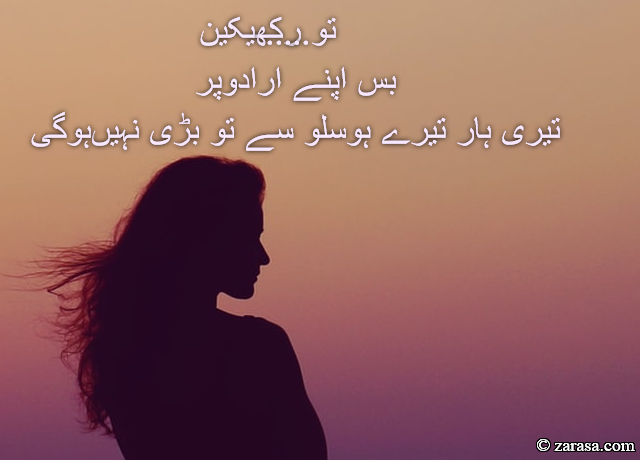 SHAAM SURAJ KO DHALNA SIKHATI HAI
SHAMA PERWANE KO JALNA SIKHATI HAI
GIRNE WALO KO HOTI TO HAI TAKLEEF PER,
THOKAR HI INSAN KO CHLNA SIKHATI HAI........
शाम सूरज को दहलना सिखाती है
शमा परवाने को जलना सिखाती है
गिरने वालो को होती तो है तकलीफ पर
ठोकर ही इंसान को चलना सिखाती है
شام سورج کو ڈھالنا سختی ہے
شمع پروانے کو جلنا سکھاتی ہے
گرنے والو کو ہوتی توہ ہے تکلیف پر
ٹھوکر ہی انسان کو چلنا سکھاتی ہے ......
---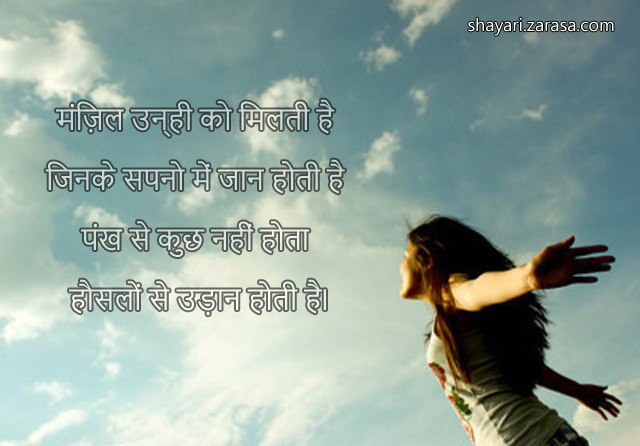 Manzil unhi ko milti hai
Jinke sapno me jaan hoti hai
Pankh se kuchh nahi hota
Hauslon se udaan hoti hai.







मंजिल उन्हीं को मिलती है
जिनके सपनो में जान होती है
पंख से कुछ नहीं होता
हौसलों से उड़ान होती है

منزل انہی کو ملتی ہے
جنکے سپنو مے جان ہوتی ہے
پنکھ سے کچھ نہیں ہوتا
حوصلوں سے ادان ہوتی ہے
---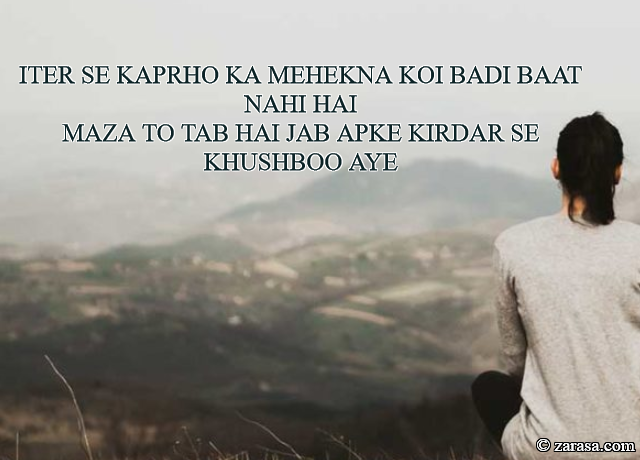 ITER SE KAPRHO KA MEHEKNA KOI BADI BAAT NAHI HAI
MAZA TO TAB HAI JAB APKE KIRDAR SE KHUSHBOO AYE
इतर से कपड़ो का मेहकना कोई बड़ी बात नहीं
मज़ा तो तब है जब आपके किरदार से खुशबू आए
اتر سے کپڑھو کا مہکنا کوئی باڈی بات نہیں ہے
مزہ تو تب ہے جب آپکے کردار سے خوشبو اے
---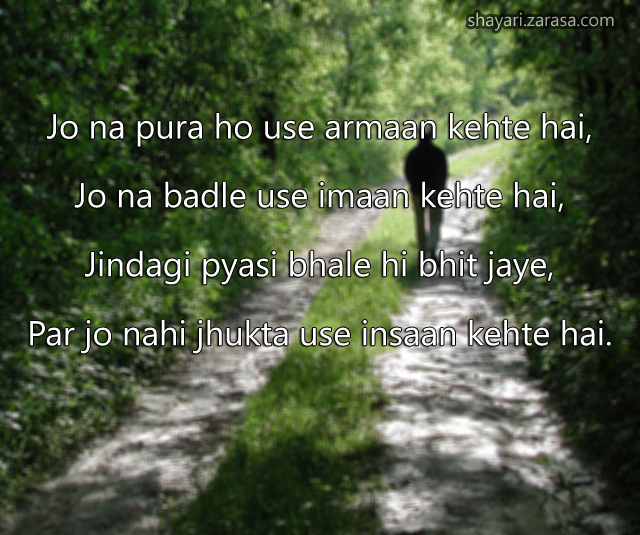 Jo na pura ho use armaan kehte hai,
Jo na badle use imaan kehte hai,
Zindagi pyasi bhale hi bhit jaye,
Par jo nahi jhukta use insaan kehte hai.






जो न पूरा हो उसे अरमाँ कहते है,
जो न बदले उसे ईमान कहते है,
जिंदगी प्यासी भले ही बीत जाये,
पर जो नहीं झुकता उसे इंसान कहते है.

جو  نہ  پورا  ہو اسے  ارمان  کہتے  ہے
جو  نہ  بدلے  اسے  امان کہتے  ہے
زندگی پیاسی  بھلے  ہی  بیت  جائے
پر  جو  نہیں  جھکتا  اسی  انسان  کہتے ہے
---