Shayari for Wafa "Sapna Toota Aankh Me"
|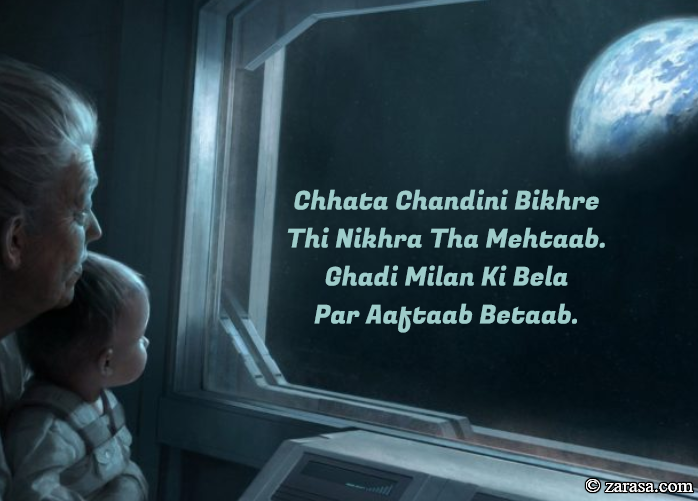 Chhata Chandini Bikhre Thi Nikhra Tha Mehtaab.
Ghadi Milan Ki Bela Par Aaftaab Betaab.
छटा चंदिनि बिखरे थी निखरा था महताब .
घडी मिलान की बेला पर आफताब बेताब .
چھٹا چاندنی بکھرے تھی نخرہ تھا مہتاب .
غدی ملن کی بلا پر آفتاب بیتاب .
---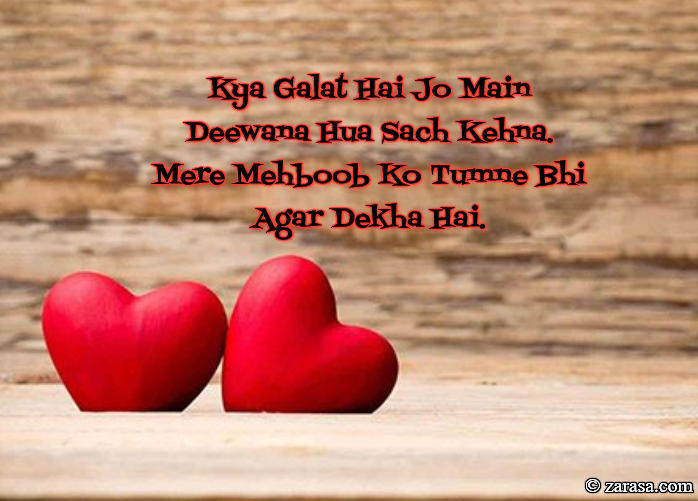 Kya Galat Hai Jo Main Deewana Hua Sach Kehna.
Mere Mehboob Ko Tumne Bhi Agar Dekha Hai.
क्या गलत है जो मैं दीवाना हुआ सच कहना .
मेरे मेहबूब को तुमने भी अगर देखा है .


کیا گلت ہے جو میں دیوانہ ہوا سچ کہنا .
میرے محبوب کو تھمنے بھی اگر دیکھا ہے .


---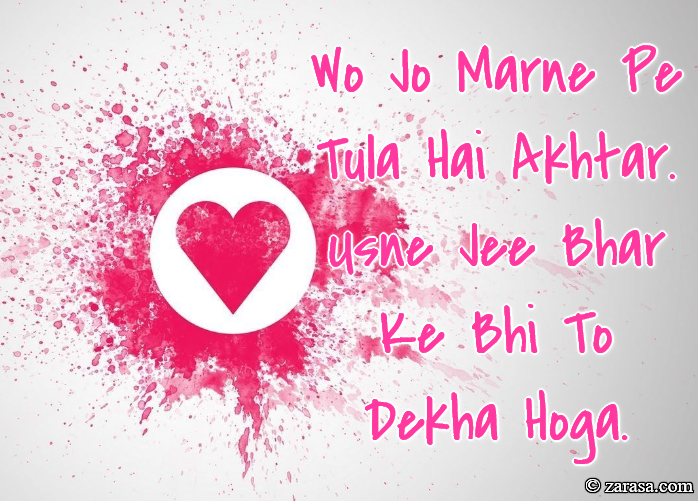 Wo Jo Marne Pe Tula Hai Akhtar.
Usne Jee Bhar Ke Bhi To Dekha Hoga.
वो जो मरने पे तुला है अख्तर .
उसने जी भर के भी तो देखा होगा .
وو جو مرنے پی تلا ہے اختر .
اسنے جی بھر کے بھی تو دیکھا ہوگا .
---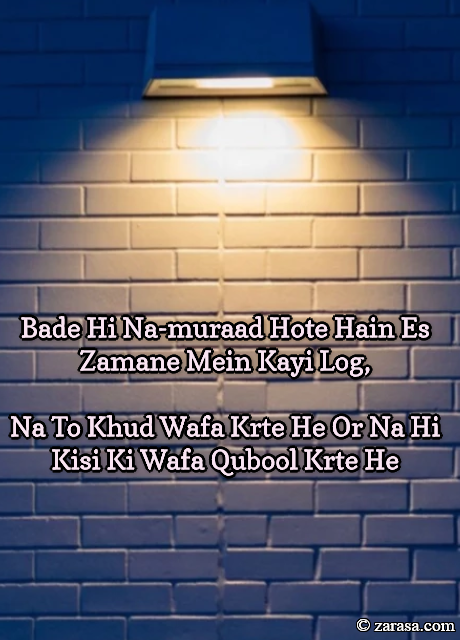 Bade Hi Na-muraad Hote Hain Es Zamane Mein Kayi Log,
Na To Khud Wafa Krte He Or Na Hi Kisi Ki Wafa Qubool Krte He
बड़े ही ना मुराद होते हैं इस ज़माने में कई लोग ,
न तो खुद वफ़ा करते हे और न ही किसी की वफ़ा क़ुबूल करते हे
بڑے ہی نا -مراد ہوتے ہیں اس زمانے میں کی لوگ ,
نہ تو خود وفا کرتے ہے ور نہ ہی کسی کی وفا قبول کرتے ہے
---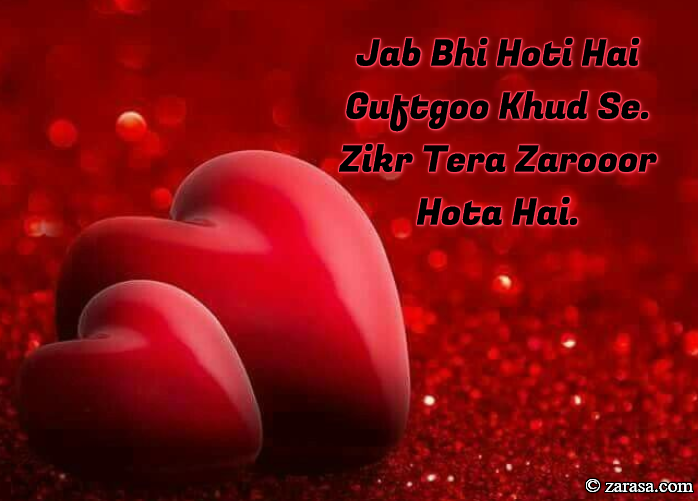 Jab Bhi Hoti Hai Guftgoo Khud Se.
Zikr Tera Zarooor Hota Hai.
जब भी होती है गुफ्तगू खुद से .
ज़िक्र तेरा ज़रूर होता है .

جب بھی ہوتی ہے گفتگو خود سے .
ذکر تیرا ضرور ہوتا ہے .

---