Shayari for Wafa "Jee Sambhal Jaye"
|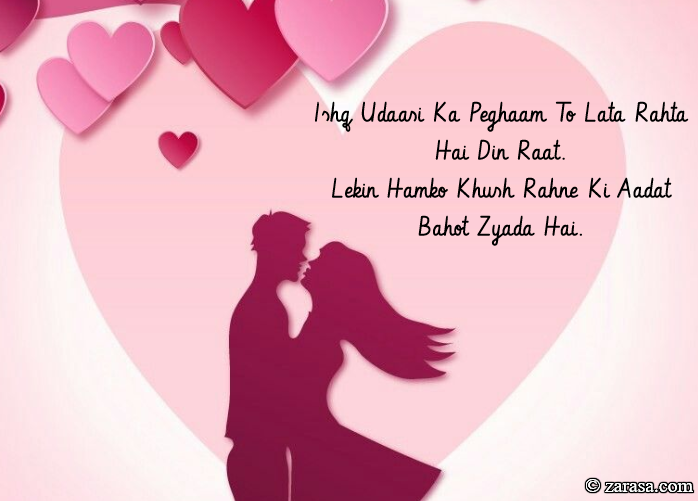 Ishq Udaasi Ka Peghaam To Lata Rahta Hai Din Raat.
Lekin Hamko Khush Rahne Ki Aadat Bahot Zyada Hai.
इश्क़ उदासी के पैगाम तो लता रहता है दिन रात .
लेकिन हमको खुश रहने की आदत बहोत ज़्यादा है .
عشق اداسی کے پیگام تو لاتا رہتا ہے دن رات .
لیکن ہمکو خوش رہنے کی عادت بھوت زیادہ ہے .
---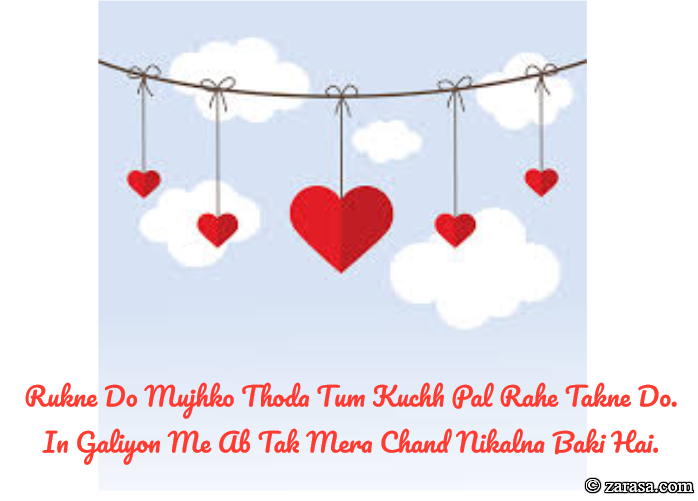 Rukne Do Mujhko Thoda Tum Kuchh Pal Rahe Takne Do.
In Galiyon Me Ab Tak Mera Chand Nikalna Baki Hai.
रुकनेदो मुझको थोड़ा तुम कुछ पल रहे ताकने दो .
इन गलियों में अब तक मेरा चाँद निकलना बाकि है .

روکنے دو مجھکو تھودا تم کچھ پل رہے تکنے دو .
ان گلیوں مے اب تک میرا چند نکلنا باکی ہے .

---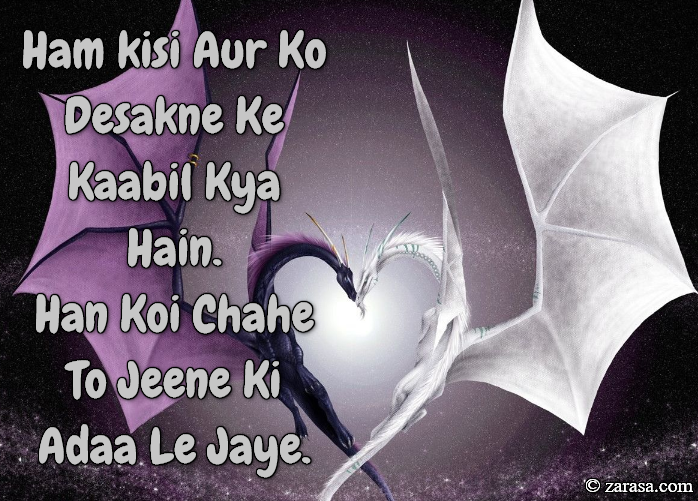 Ham kisi Aur Ko Desakne Ke Kaabil Kya Hain.
Han Koi Chahe To Jeene Ki Adaa Le Jaye.
हम किसी और को देसकने के खाबिल क्या हैं .
हाँ कोई चाहे तो जीने की अदा ले जाये .
ہم کسی اور کو دسکنے کے کابل کیا ہیں .
ہان کوئی چاہے تو جینے کی ادا لے جائے .
---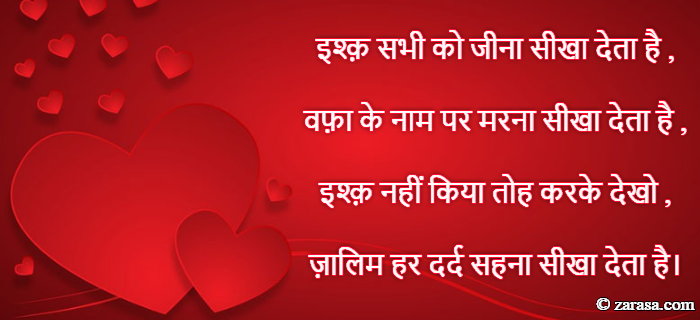 Ishq Sabhi Ko Jeena Sikha Deta Hai ,
Wafa Ke Naam Par Marna Sikha Deta Hai ,
Ishq Nhi Kiya Toh Karke Dekho,
Zalim Har Dard Sehna Sikha Deta Hai ,
इश्क़ सभी को जीना सीखा देता है ,
वफ़ा के नाम पर मरना सीखा देता है ,
इश्क़ नहीं किया तोह करके देखो ,
ज़ालिम हर दर्द सहना सीखा देता है।
عشق سبھی کو جینا سکھا دیتا ہے
وفا کے نام پر مرنا سکھا دیتا ہے
عشق نہی کیا تو کرکے دیکھو
ظالم ہر درد سہنا سکھا دیتا ہے
---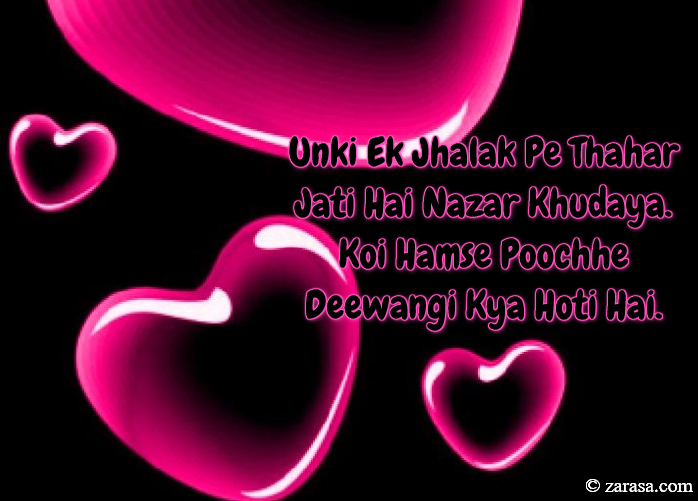 Unki Ek Jhalak Pe Thahar Jati Hai Nazar Khudaya.
Koi Hamse Poochhe Deewangi Kya Hoti Hai.
उनकी एक झलक पे ठहर जाती है नज़र खुदाया .
कोई हमसे पूछे दीवानगी क्या होती है .

انکی ایک جھلک پی ٹھہر جاتی ہے نظر خدایا .
کوئی ہمسے پوچھے دیوانگی کیا ہوت ہے .

---