Shayari for Wafa "Mere Dil Ki Pareshani"
|
Mere Dil Ki Pareshani Bhala Kyun Kam Nahin Hoti.
Bhara Hai Dil Mera Gam Se Ye Aankhe Nam Nahi Hoti.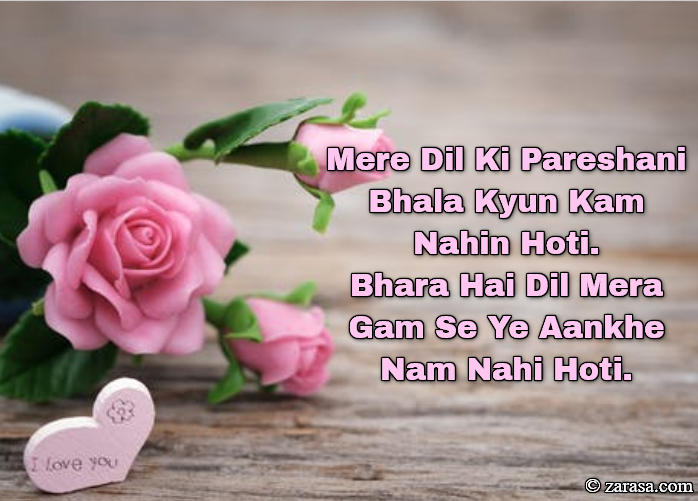 ---

मेरे दिल की परेशानी भला क्यों काम नहीं होती .
भरा है दील मेरा गम से ये आँखे नम नहीं होती .


---

میرے دل کی پریشانی بھلا کیوں کم نہیں ہوتی .
بھرا ہے دل میرا گم سے یہ آنکھ نام نہیں ہوتی .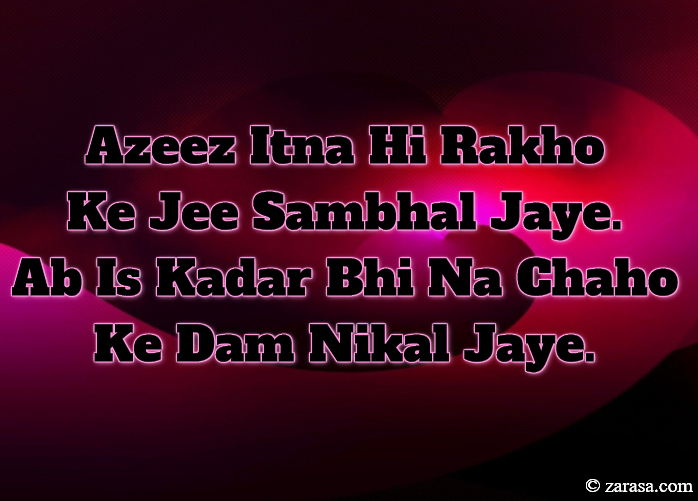 Azeez Itna Hi Rakho Ke Jee Sambhal Jaye.
Ab Is Kadar Bhi Na Chaho Ke Dam Nikal Jaye.
अज़ीज़ इतना ही रखो के जी संभल जाये .
अब इस कदर भी ना चाहो के डैम निकल जाये .
عزیز اتنا ہی رکھو کے جی سمبھال جائے .
اب اس کدر بھی نہ چاہو کے ڈیم نکل جائے .
---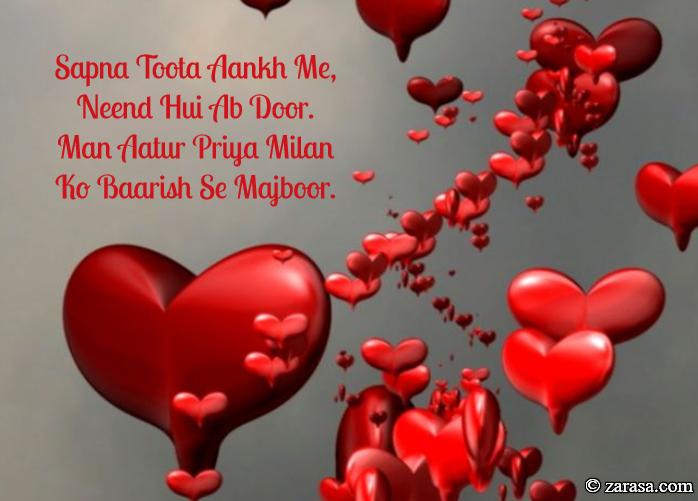 Sapna Toota Aankh Me, Neend Hui Ab Door.
Man Aatur Priya Milan Ko Baarish Se Majboor.
सपना टूटा आँख में नींद हुई अब दूर .
मन आतुर प्रिय मिलान को बारिश से मजबूर .
سپنا ٹوٹا آنکھ مے , نیند ہی اب دور .
من اتر پریہ ملن کو بارش سے مجبور .
---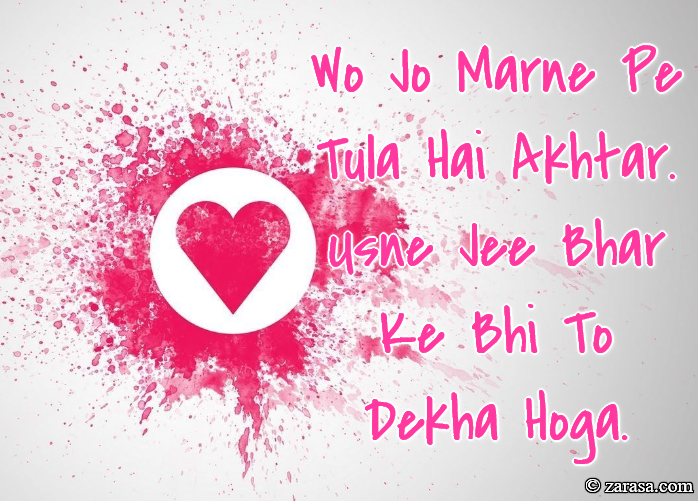 Wo Jo Marne Pe Tula Hai Akhtar.
Usne Jee Bhar Ke Bhi To Dekha Hoga.
वो जो मरने पे तुला है अख्तर .
उसने जी भर के भी तो देखा होगा .
وو جو مرنے پی تلا ہے اختر .
اسنے جی بھر کے بھی تو دیکھا ہوگا .
---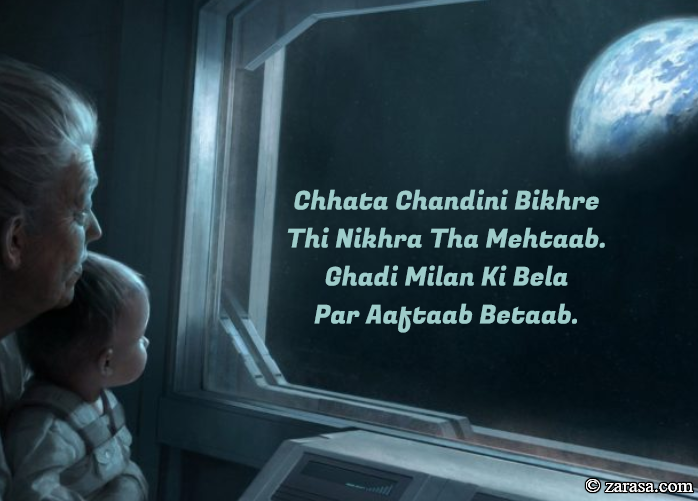 Chhata Chandini Bikhre Thi Nikhra Tha Mehtaab.
Ghadi Milan Ki Bela Par Aaftaab Betaab.
छटा चंदिनि बिखरे थी निखरा था महताब .
घडी मिलान की बेला पर आफताब बेताब .
چھٹا چاندنی بکھرے تھی نخرہ تھا مہتاب .
غدی ملن کی بلا پر آفتاب بیتاب .
---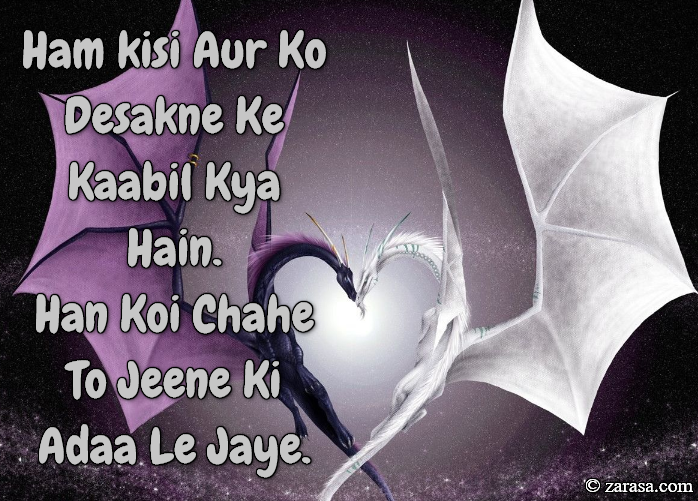 Ham kisi Aur Ko Desakne Ke Kaabil Kya Hain.
Han Koi Chahe To Jeene Ki Adaa Le Jaye.
हम किसी और को देसकने के खाबिल क्या हैं .
हाँ कोई चाहे तो जीने की अदा ले जाये .
ہم کسی اور کو دسکنے کے کابل کیا ہیں .
ہان کوئی چاہے تو جینے کی ادا لے جائے .
---