Shayari for Wife"Dil Mein Tamasha Lag Jaye"
|
Yun Bhi Hota Hai Ki Ek Dam Koi Achha Lag Jaye.
Baat Kuch Bhi Na Ho Aur Dil Mein Tamasha Lag Jaye.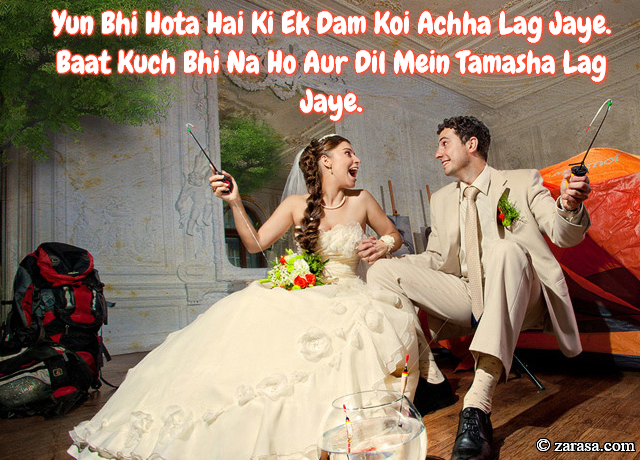 ---

यूँ भी होता है की एक दम कोई अच्छा लग जाये .
बात कुछ भी ना हो और दिल में तमाशा लग जाये .


---

یوں بھی ہوتا ہے کی ایک دم کوئی اچھا لگ جائے .
بات کچھ بھی نہ ہو اور دل میں تماشا لگ جائے .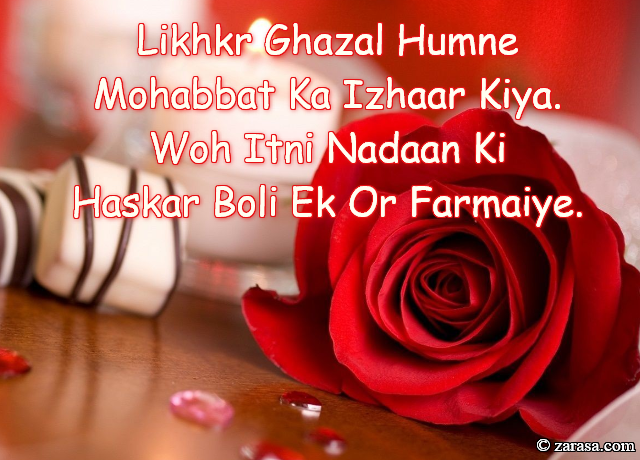 Likhkr Ghazal Humne Mohabbat Ka Izhaar Kiya.
Woh Itni Nadaan Ki Haskar Boli Ek Or Farmaiye.
लिखकर ग़ज़ल हमने मोहब्बत का इज़्हार किया .
वह इतनी नादान की हसकर बोली एक और फरमाइए .
لکھکر غزل ہمنے موحبّت کا اظہار کیا .
وہ اتنی ناداں کی حسکر بولی ایک اور فرمائے .
---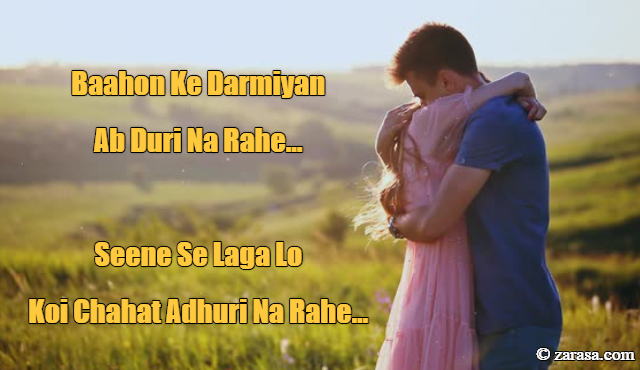 Baahon Ke Darmiyan Ab Duri Na Rahe...
Seene Se Laga Lo Koi Chahat Adhuri Na Rahe...
बाहों के दरमियाँ अब दूरी न रहे..

सीने से लगा लो कोई चाहत अधूरी न रहे..
باہوں کے درمیان اب دوری نہ رہے
سینے سے لگا لو کوئی چاہت ادھوری نہ رہی
---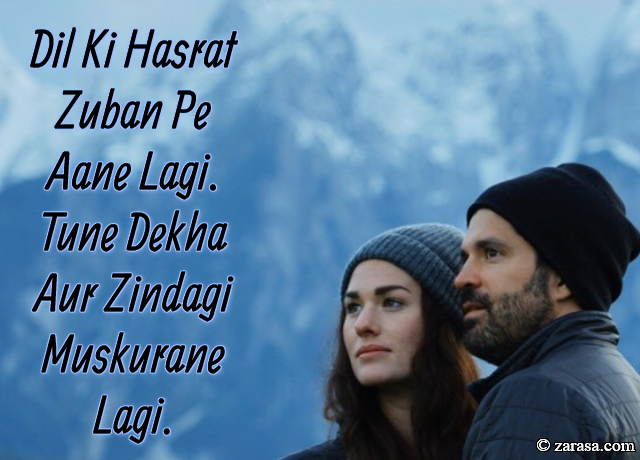 Dil Ki Hasrat Zuban Pe Aane Lagi.
Tune Dekha Aur Zindagi Muskurane Lagi.
दिल की हसरत ज़ुबान पे आने लगी .
तूने देखा और ज़िन्दगी मुस्कुराने लगी .
دل کی حسرت زبان پی آنے لگی .
تونے دیکھا اور زندگی مسکرانے لگی .
---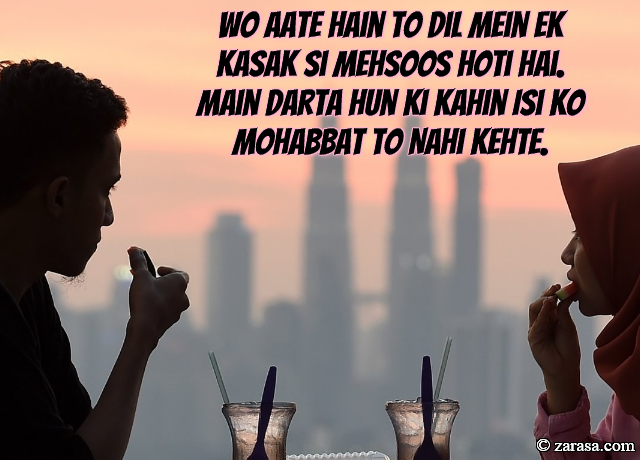 Wo Aate Hain To Dil Mein Ek Kasak Si Mehsoos Hoti Hai.
Main Darta Hun Ki Kahin Isi Ko Mohabbat To Nahi Kehte.
वो आते हैं तो दिल में एक कसक सी महसूस होती है .
मैं डरता हूँ की कहीं इसी को मोहब्बत तो नहीं कहते .
وہ آتے ہیں تو دل میں ایک کسک سی محسوس ہوتی ہے .
میں ڈرتا ہوں کی کہیں اسی کو موحبّت تو نہیں کہتے .
---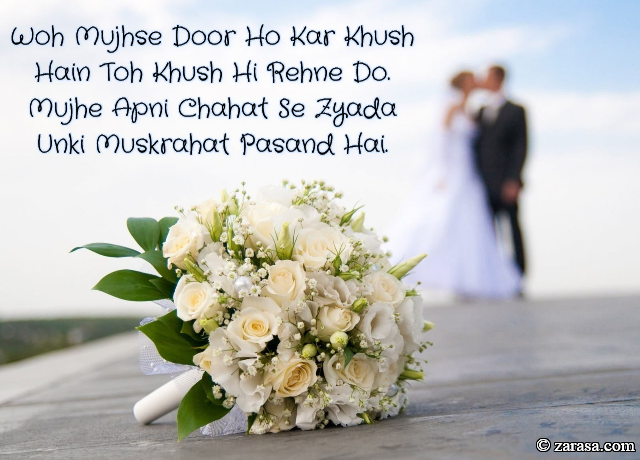 Woh Mujhse Door Ho Kar Khush Hain Toh Khush Hi Rehne Do.
Mujhe Apni Chahat Se Zyada Unki Muskrahat Pasand Hai.
वह मुझसे दूर हो कर खुश हैं तो ख़ुश ही रहने दो .
मुझे अपनी चाहत से ज़्यादा उनकी मुस्कराहट पसंद है .
وہ مجھسے دور ہو کر خوش ہیں تو خوش ہی رہنے دو .
مجھے اپنی چاہت سے زیادہ انکی مسکراہٹ پسند ہے .
---