Shayari for Wife"Uski Mohabbat Ka Silsila Bhi Kya Ajeeb Tha"
|
Uski Mohabbat Ka Silsila Bhi Kya Ajeeb Tha.
Apna Bhi Na Banaya Aur Kisi Aur Ka Bhi Hone Na Diya.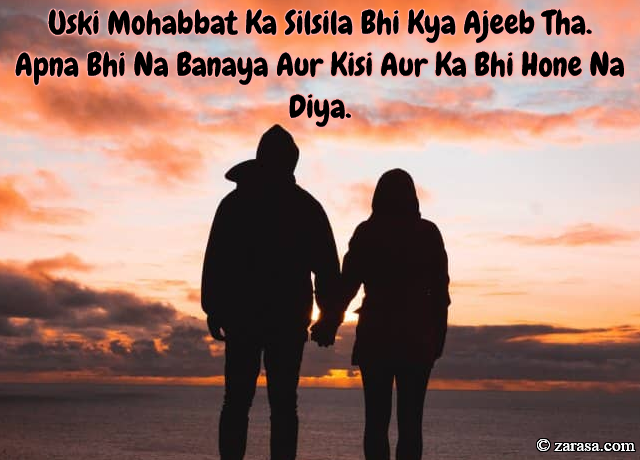 ---

उसकी मोहब्बत का सिलसिला भी क्या अजीब था .
अपना भी ना बनाया और किसी और का भी होने ना दिया .


---

اسکی موحبّت کا سلسلہ بھی کیا عجیب تھا .
اپنا بھی نہ بنایا اور کسی اور کا بھی ہونے نہ دیا .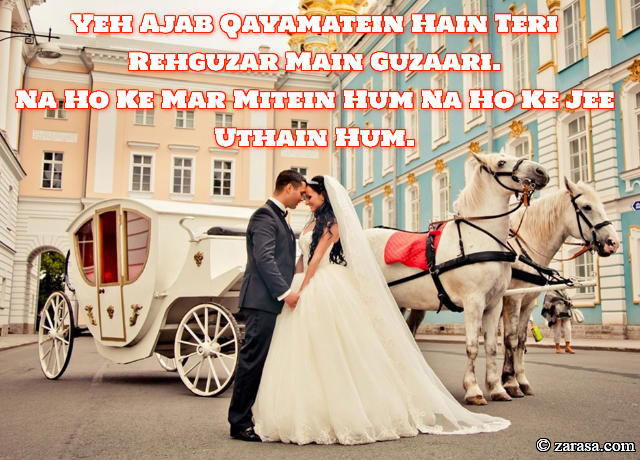 Yeh Ajab Qayamatein Hain Teri Rehguzar Main Guzaari.
Na Ho Ke Mar Mitein Hum Na Ho Ke Jee Uthain Hum.
यह अजब क़यामतें हैं तेरी रहगुज़र मैं गुज़ारी .
न हो के मर मिटें हम न हो के जी उठें हम .
یہ عجب قیامتیں ہیں تیری رہگزر میں گزاری .
نہ ہو کے مر مٹیں ہم نہ ہو کے جی اٹھیں ہم .
---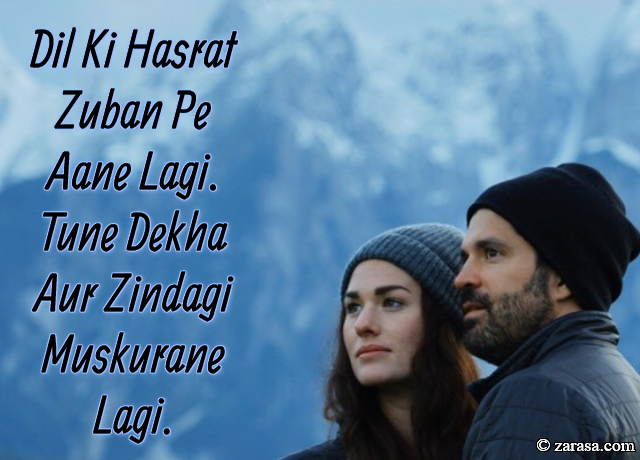 Dil Ki Hasrat Zuban Pe Aane Lagi.
Tune Dekha Aur Zindagi Muskurane Lagi.
दिल की हसरत ज़ुबान पे आने लगी .
तूने देखा और ज़िन्दगी मुस्कुराने लगी .
دل کی حسرت زبان پی آنے لگی .
تونے دیکھا اور زندگی مسکرانے لگی .
---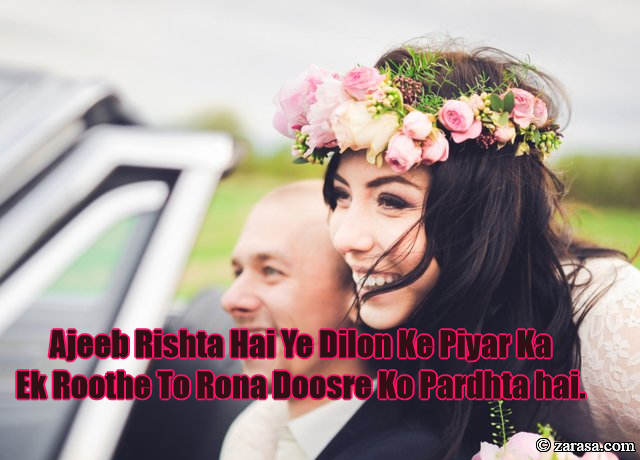 Ajeeb Rishta Hai Ye Dilon Ke Piyar Ka
Ek Roothe To Rona Doosre Ko Pardhta hai.
अजीब है ये दिलों के प्यार का रिश्ता
एक रूठे तो रोना दूसरे को पड़ता है !!
عجیب رشتہ ہے یہ دلوں کے پیار کا
ایک روٹھ تو رونا دوسرے کو پڑتا ہے .
---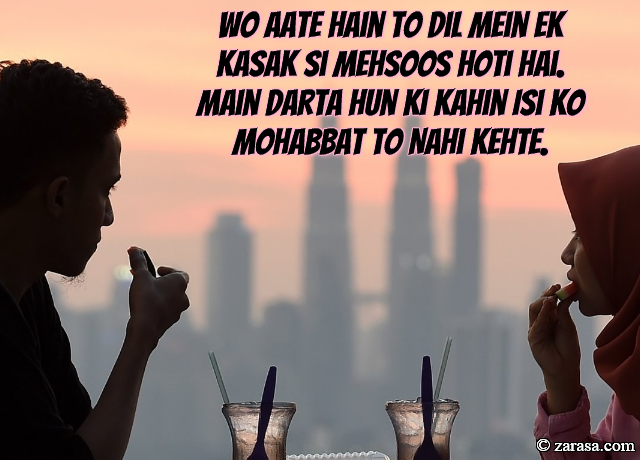 Wo Aate Hain To Dil Mein Ek Kasak Si Mehsoos Hoti Hai.
Main Darta Hun Ki Kahin Isi Ko Mohabbat To Nahi Kehte.
वो आते हैं तो दिल में एक कसक सी महसूस होती है .
मैं डरता हूँ की कहीं इसी को मोहब्बत तो नहीं कहते .
وہ آتے ہیں تو دل میں ایک کسک سی محسوس ہوتی ہے .
میں ڈرتا ہوں کی کہیں اسی کو موحبّت تو نہیں کہتے .
---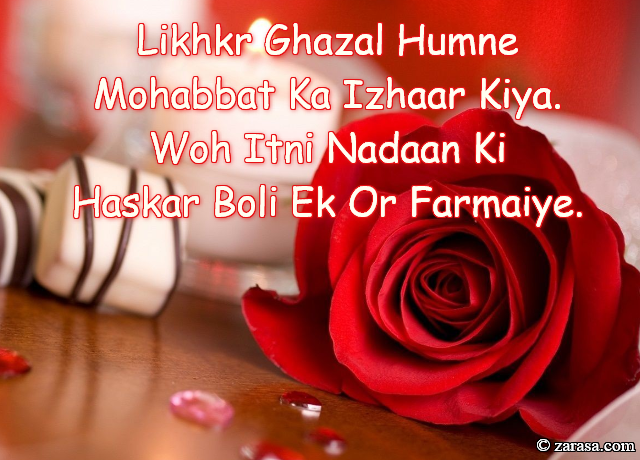 Likhkr Ghazal Humne Mohabbat Ka Izhaar Kiya.
Woh Itni Nadaan Ki Haskar Boli Ek Or Farmaiye.
लिखकर ग़ज़ल हमने मोहब्बत का इज़्हार किया .
वह इतनी नादान की हसकर बोली एक और फरमाइए .
لکھکر غزل ہمنے موحبّت کا اظہار کیا .
وہ اتنی ناداں کی حسکر بولی ایک اور فرمائے .
---