Shayari for Hug Day "Seene Se Laga Lo Koi Chahat Adhuri Na Rahe"
|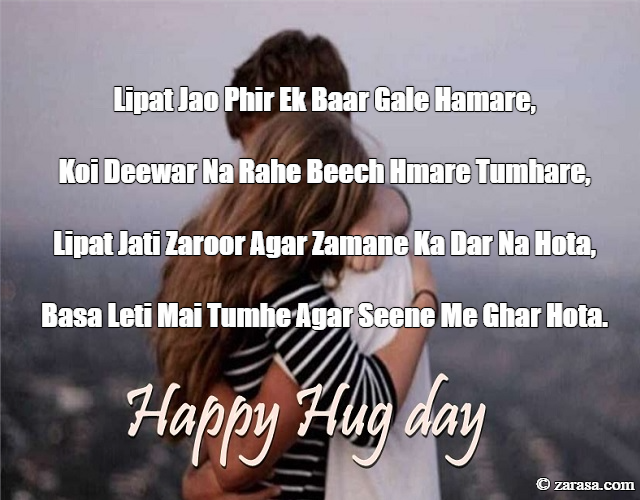 Koi Kahe Ise Jadu Ki Jhappi,
Koi Kahe Ise Pyaar...
Moka Hai Khubsurat,
Aa Gale Lag Ja Mere Yaar.
Wishing you Hug day…
कोई कहे इसे जादू की झप्पी,
कोई कहे इसे प्यार…
मौका है खूबसूरत,
आ गले लग जा मेरे यार।

Wishing you Hug day…
کوئی کہے اسے جادو کی جھپپی
کوئی کھے اسے پیار
موکا ہے خوبصورت
آ گلے لگ جا میرے یار
---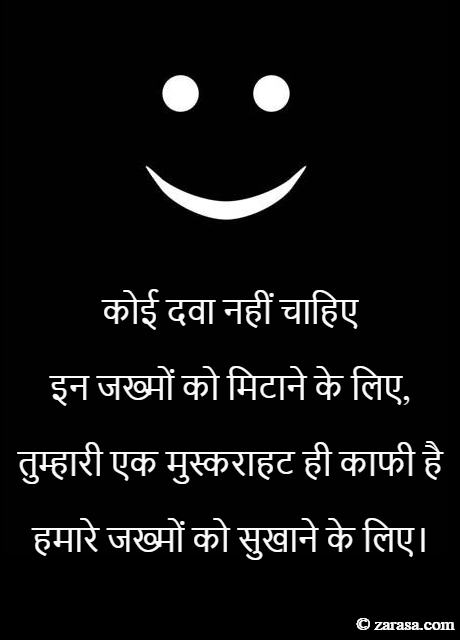 Koi Dawa nahi Chahiye in Zakhmon ko Mitaane ke liye,
Tumhaari ek Muskuraahat hi Kaafi hai
Hamaare Zakhmo ko Sukhaane ke liye…
कोई दवा नहीं चाहिए इन जख्मों को मिटाने के लिए,
तुम्हारी एक मुस्कराहट ही काफी है
हमारे जख्मों को सुखाने के लिए।
کوئی دوا نہی چاہیے ان زخموں کو مٹانے کے لئے
تمہاری ایک مسکراہٹ ہی کافی ہے
ہمارے زخموں کو سکھانے کے لئے
---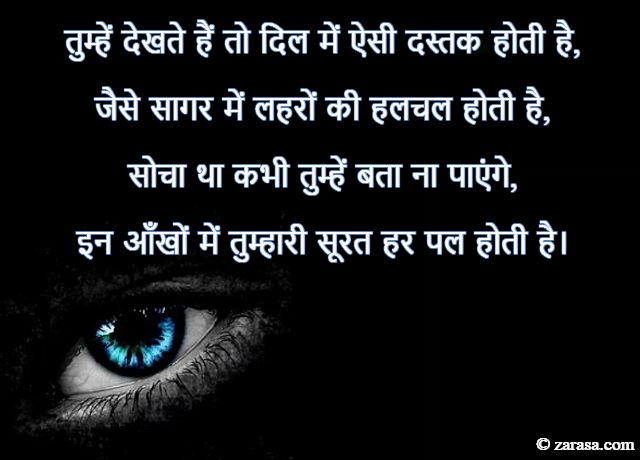 Tumhe Dekhte Dain to Dil Mein aisi Dastak Hoti Hai,
Jaise Saagar Mein Lehron ki Halchal Hoti Hai,
Socha tha Kabhi Tumhe Bataa na Payenge,
In Aankhon Mein Tumhaari Soorat har pal Hoti Hai…
तुम्हें देखते हैं तो दिल में ऐसी दस्तक होती है,
जैसे सागर में लहरों की हलचल होती है,
सोचा था कभी तुम्हें बता ना पाएंगे,
इन आँखों में तुम्हारी सूरत हर पल होती है।
تمھ دیکھتے ہے تو دل می ایسی دستک ہوتی ہے
جیسے ساگر می لہروں کی ہلچل ہوتی ہے
سوچا تھا کبھی تمھ بتا نہ پاینگے
ان آنکھوں می تمہاری صورت ہر پل ہوتی ہے
---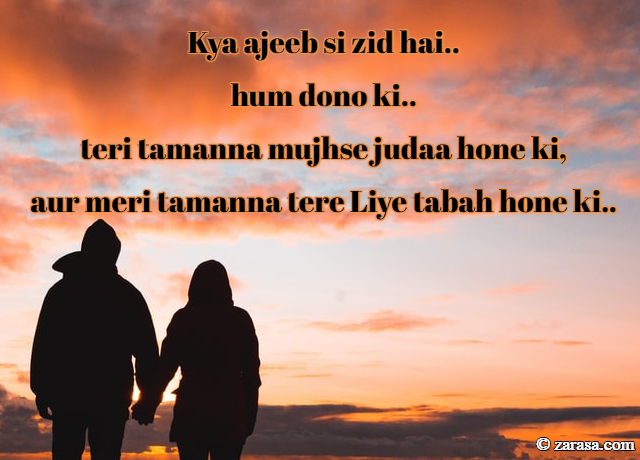 Kya ajeeb si zid hai..
hum dono ki..
teri tamanna mujhse judaa hone ki,
aur meri tamanna tere Liye tabah hone ki..
क्या अजीब सी ज़िद है..
हम दोनों की,
तेरी मर्ज़ी हमसे जुदा होने की..
और मेरी तेरे पीछे तबाह होने की..
کیا عجیب سی زد ہے
ہم دونو کی
تیری تمنّا مجھسے جدا ہونے کی
اور میری تمنّا تیرے لئے تباہ ہونے کی
---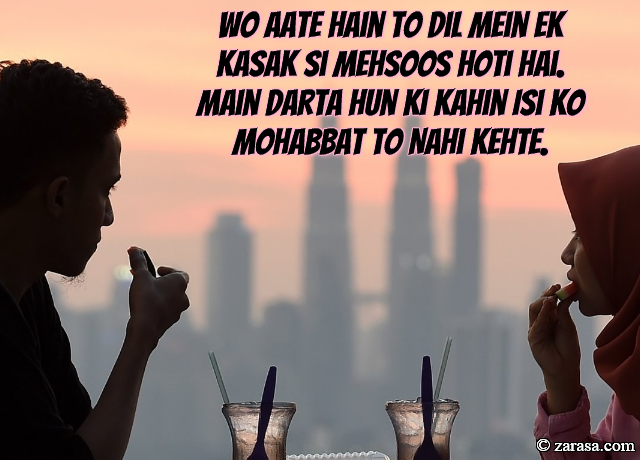 Wo Aate Hain To Dil Mein Ek Kasak Si Mehsoos Hoti Hai.
Main Darta Hun Ki Kahin Isi Ko Mohabbat To Nahi Kehte.
वो आते हैं तो दिल में एक कसक सी महसूस होती है .
मैं डरता हूँ की कहीं इसी को मोहब्बत तो नहीं कहते .
وہ آتے ہیں تو دل میں ایک کسک سی محسوس ہوتی ہے .
میں ڈرتا ہوں کی کہیں اسی کو موحبّت تو نہیں کہتے .
---