Shayari for Wife"Mere Mehboob Ka Naam Hai"
|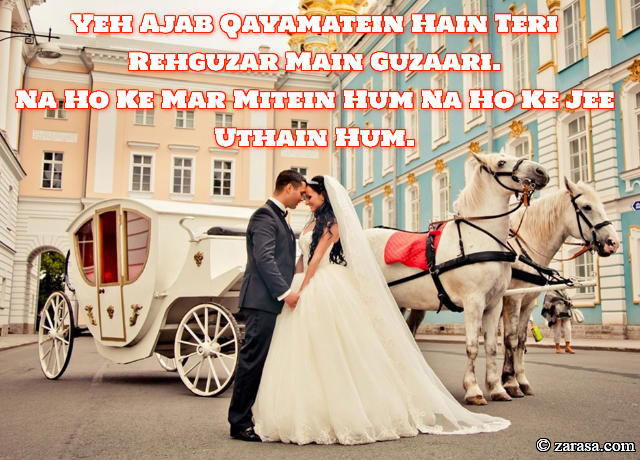 Yeh Ajab Qayamatein Hain Teri Rehguzar Main Guzaari.
Na Ho Ke Mar Mitein Hum Na Ho Ke Jee Uthain Hum.
यह अजब क़यामतें हैं तेरी रहगुज़र मैं गुज़ारी .
न हो के मर मिटें हम न हो के जी उठें हम .
یہ عجب قیامتیں ہیں تیری رہگزر میں گزاری .
نہ ہو کے مر مٹیں ہم نہ ہو کے جی اٹھیں ہم .
---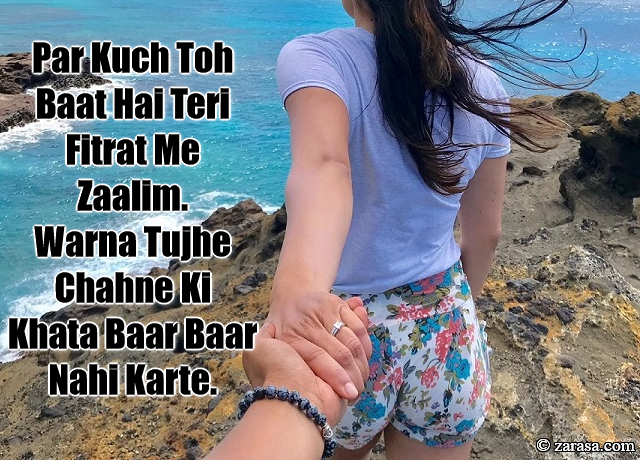 Par Kuch Toh Baat Hai Teri Fitrat Me Zaalim.
Warna Tujhe Chahne Ki Khata Baar Baar Nahi Karte.
पर कुछ तो बात है तेरी फितरत में ज़ालिम .
वरना तुझे चाहने की खता बार बार नहीं करते .
پر کچھ تو بات ہے تیری فطرت مے .
ورنا تجھے چاہنے کی خطا بار بار نہیں کرتے .
---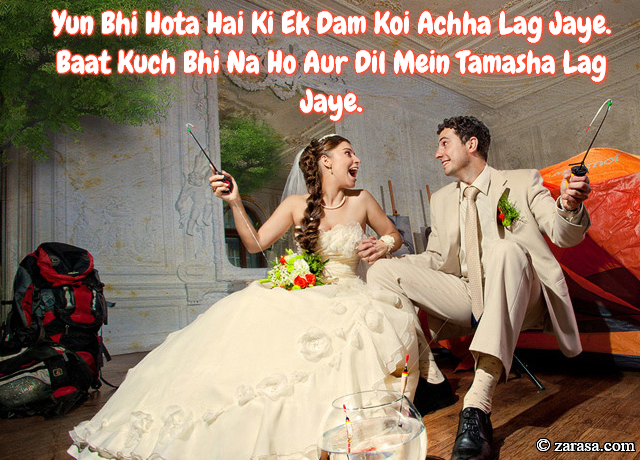 Yun Bhi Hota Hai Ki Ek Dam Koi Achha Lag Jaye.
Baat Kuch Bhi Na Ho Aur Dil Mein Tamasha Lag Jaye.
यूँ भी होता है की एक दम कोई अच्छा लग जाये .
बात कुछ भी ना हो और दिल में तमाशा लग जाये .
یوں بھی ہوتا ہے کی ایک دم کوئی اچھا لگ جائے .
بات کچھ بھی نہ ہو اور دل میں تماشا لگ جائے .
---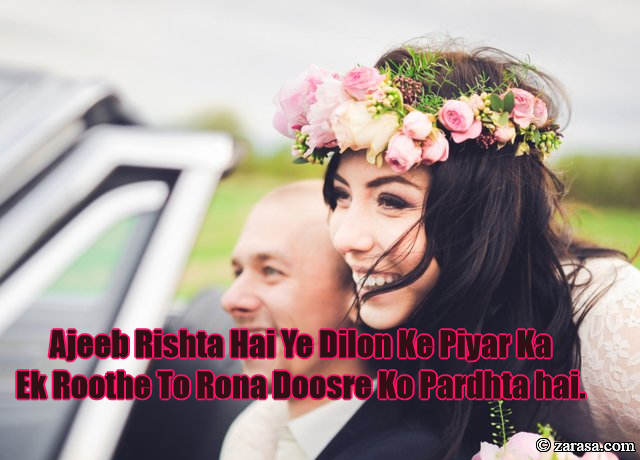 Ajeeb Rishta Hai Ye Dilon Ke Piyar Ka
Ek Roothe To Rona Doosre Ko Pardhta hai.
अजीब है ये दिलों के प्यार का रिश्ता
एक रूठे तो रोना दूसरे को पड़ता है !!
عجیب رشتہ ہے یہ دلوں کے پیار کا
ایک روٹھ تو رونا دوسرے کو پڑتا ہے .
---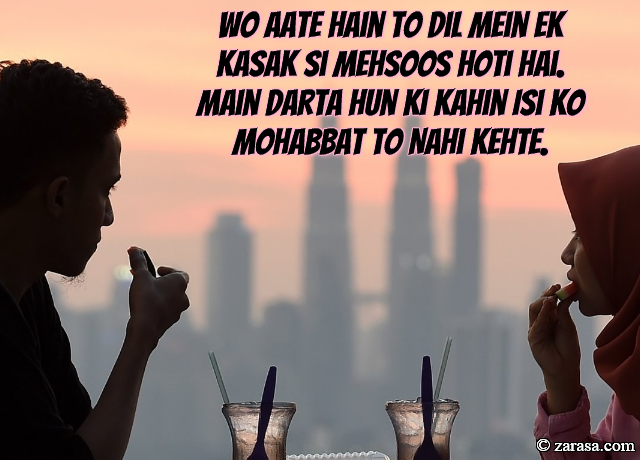 Wo Aate Hain To Dil Mein Ek Kasak Si Mehsoos Hoti Hai.
Main Darta Hun Ki Kahin Isi Ko Mohabbat To Nahi Kehte.
वो आते हैं तो दिल में एक कसक सी महसूस होती है .
मैं डरता हूँ की कहीं इसी को मोहब्बत तो नहीं कहते .
وہ آتے ہیں تو دل میں ایک کسک سی محسوس ہوتی ہے .
میں ڈرتا ہوں کی کہیں اسی کو موحبّت تو نہیں کہتے .
---