Shayari for Wife"Unki Muskrahat Pasand Hai"
|
Woh Mujhse Door Ho Kar Khush Hain Toh Khush Hi Rehne Do.
Mujhe Apni Chahat Se Zyada Unki Muskrahat Pasand Hai.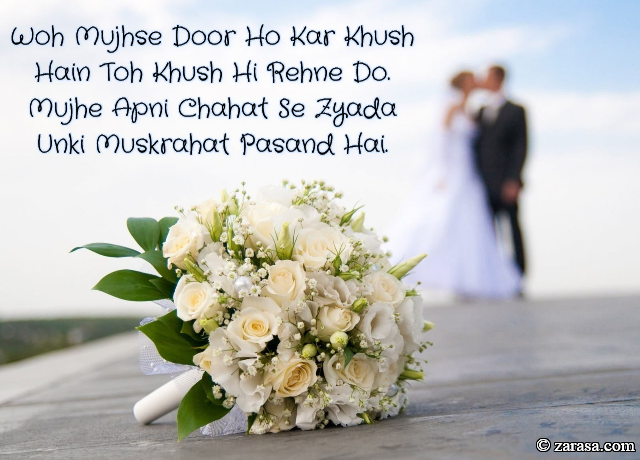 ---

वह मुझसे दूर हो कर खुश हैं तो ख़ुश ही रहने दो .
मुझे अपनी चाहत से ज़्यादा उनकी मुस्कराहट पसंद है .


---

وہ مجھسے دور ہو کر خوش ہیں تو خوش ہی رہنے دو .
مجھے اپنی چاہت سے زیادہ انکی مسکراہٹ پسند ہے .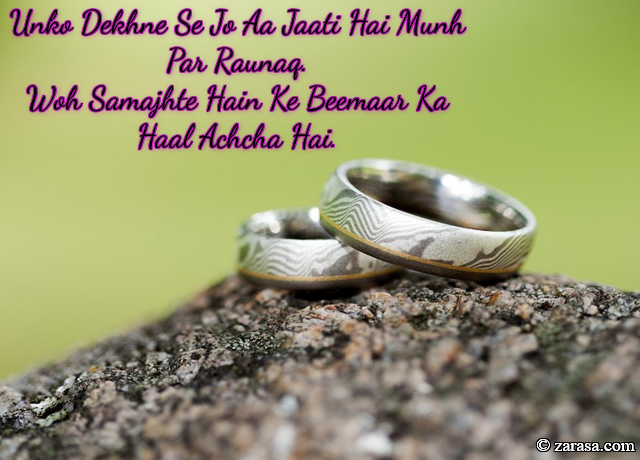 Unko Dekhne Se Jo Aa Jaati Hai Munh Par Raunaq.
Woh Samajhte Hain Ke Beemaar Ka Haal Achcha Hai.
उनको देखने से जो आ जाती है मुंह पर रौनक .
वह समझते हैं के बीमार का हाल अच्छा है .
انکو دیکھنے سے جو آ جاتی ہے منہ پر رونق .
وہ سمجھتے ہیں کے بیمار کا حال اچّھا ہے .
---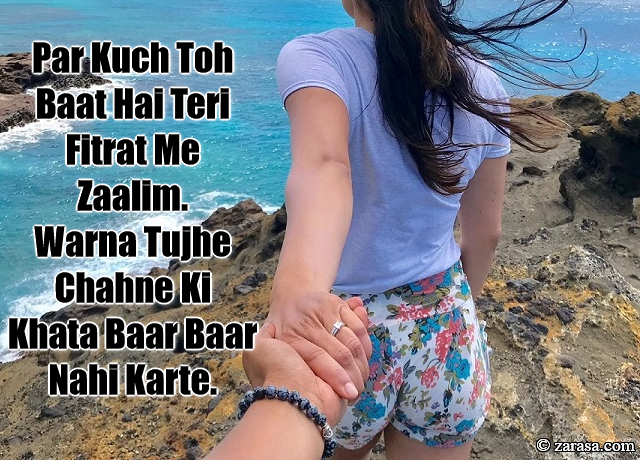 Par Kuch Toh Baat Hai Teri Fitrat Me Zaalim.
Warna Tujhe Chahne Ki Khata Baar Baar Nahi Karte.
पर कुछ तो बात है तेरी फितरत में ज़ालिम .
वरना तुझे चाहने की खता बार बार नहीं करते .
پر کچھ تو بات ہے تیری فطرت مے .
ورنا تجھے چاہنے کی خطا بار بار نہیں کرتے .
---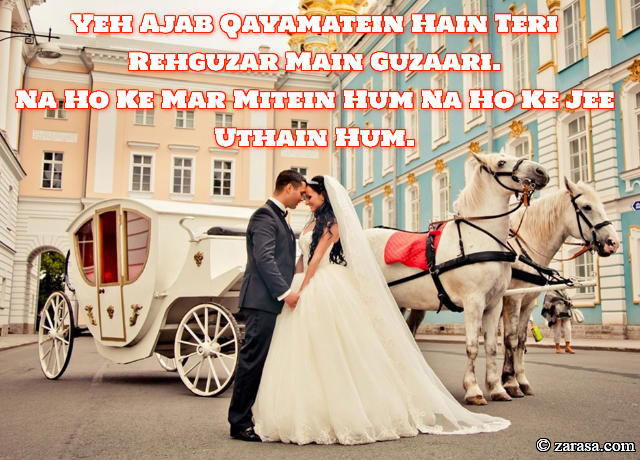 Yeh Ajab Qayamatein Hain Teri Rehguzar Main Guzaari.
Na Ho Ke Mar Mitein Hum Na Ho Ke Jee Uthain Hum.
यह अजब क़यामतें हैं तेरी रहगुज़र मैं गुज़ारी .
न हो के मर मिटें हम न हो के जी उठें हम .
یہ عجب قیامتیں ہیں تیری رہگزر میں گزاری .
نہ ہو کے مر مٹیں ہم نہ ہو کے جی اٹھیں ہم .
---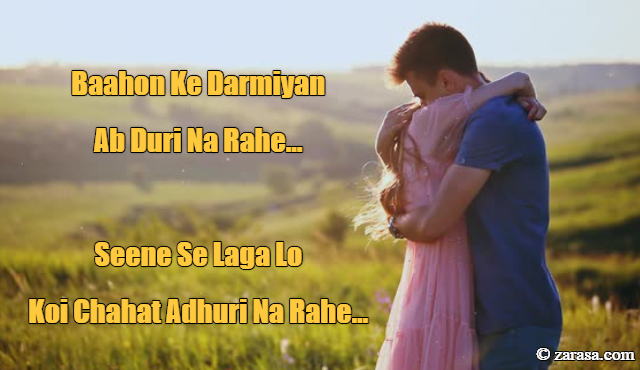 Baahon Ke Darmiyan Ab Duri Na Rahe...
Seene Se Laga Lo Koi Chahat Adhuri Na Rahe...
बाहों के दरमियाँ अब दूरी न रहे..

सीने से लगा लो कोई चाहत अधूरी न रहे..
باہوں کے درمیان اب دوری نہ رہے
سینے سے لگا لو کوئی چاہت ادھوری نہ رہی
---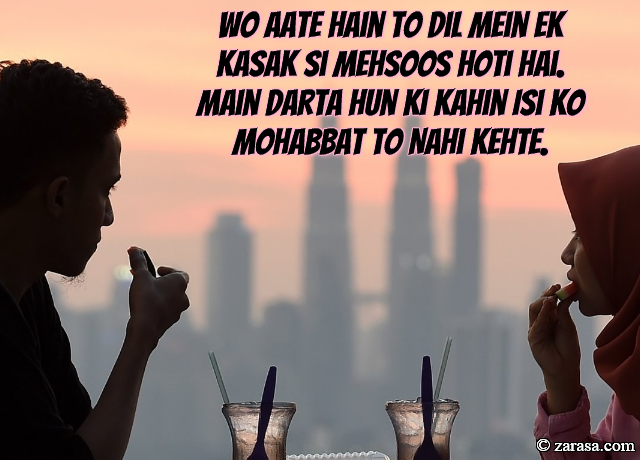 Wo Aate Hain To Dil Mein Ek Kasak Si Mehsoos Hoti Hai.
Main Darta Hun Ki Kahin Isi Ko Mohabbat To Nahi Kehte.
वो आते हैं तो दिल में एक कसक सी महसूस होती है .
मैं डरता हूँ की कहीं इसी को मोहब्बत तो नहीं कहते .
وہ آتے ہیں تو دل میں ایک کسک سی محسوس ہوتی ہے .
میں ڈرتا ہوں کی کہیں اسی کو موحبّت تو نہیں کہتے .
---