Talaash Shayari "Bahane Ki Talash Thi"
|
Wo Shakhs Ek Choti Si Baat Pe Yu Rooth Ke Chal Dia.
Jese Use Sadiyo Se Kisi Bahane Ki Talash Thi.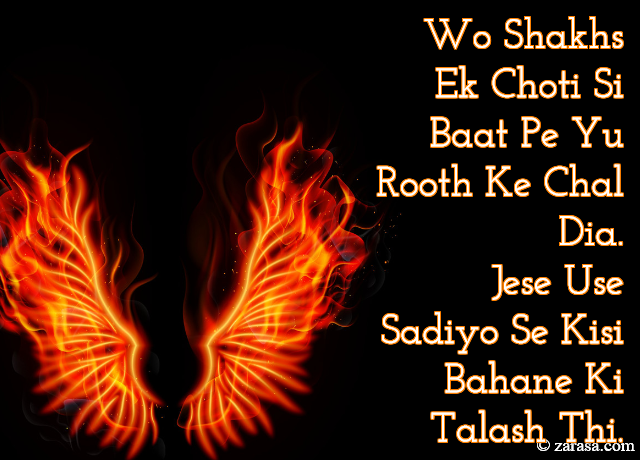 ---

वो शख्स एक छोटी सी बात पे यु रूठ के चल दिए .
जैसे उसे सदियों से किसी बहाने की तलाश थी .



---

وو شخص ایک چوٹی سی بات پی یو روٹھ کے چل دیا .
جیسے اسے صدیو سے کسی بہانے کی تلاشک تھی .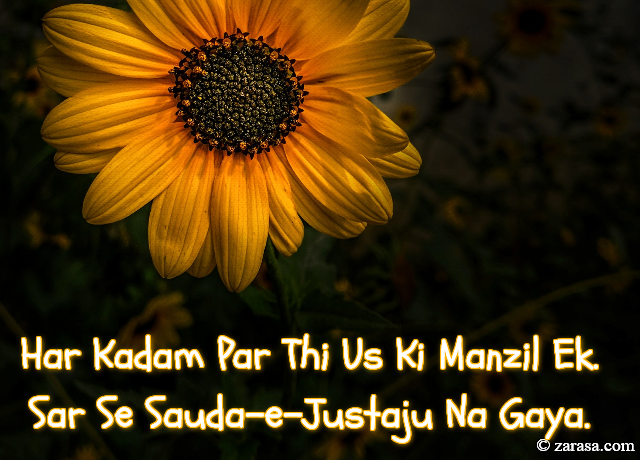 Har Kadam Par Thi Us Ki Manzil Ek.
Sar Se Sauda-e-Justaju Na Gaya.

हर मंज़िल पर थी उस की मंज़िल एक .
सर से सौदा -इ -जुस्तजू न गया .

ہر کدام پر تھی اس کی منزل ایک .
سر سے سودا -ا -جستجو نہ گیا .
---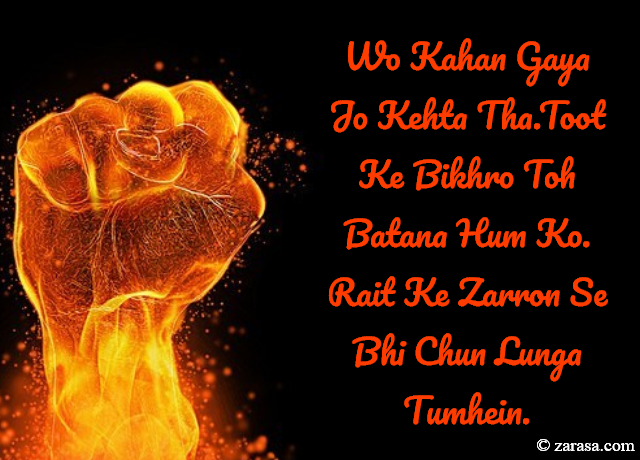 Wo Kahan Gaya Jo Kehta Tha.Toot Ke Bikhro Toh Batana Hum Ko.
Rait Ke Zarron Se Bhi Chun Lunga Tumhein.
वो कहाँ गया जो कहता था .तूट के बिखरो तोह बताना हम को .
राइट के ज़र्रों से भी चुन लूंगा तुम्हें .

وو کہاں گیا جو کہتا تھا .ٹوٹ کے بخرو تو بتانا ہم کو .
ریت کے زرروں سے بھی چن لونگا تمھیں .

---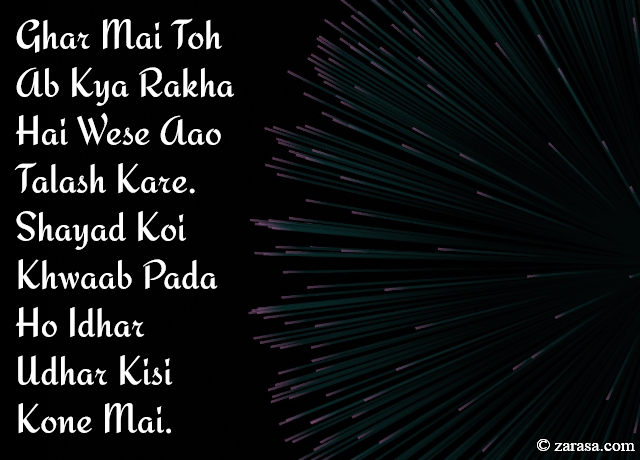 Ghar Mai Toh Ab Kya Rakha Hai Wese Aao Talash Kare.
Shayad Koi Khwaab Pada Ho Idhar Udhar Kisi Kone Mai.
घर मै तो अब क्या रखा है वैसे आओ तलाश करे .
शायद कोई ख्वाब पड़ा हो इधर उधर किसी कोने मै .



گھر می ٹوہ اب کیا رکھا ہے ویسے او تلاش کرے .
شاید کوئی خواب پڑا ہو ادھر ادھر کسی کونے می .



---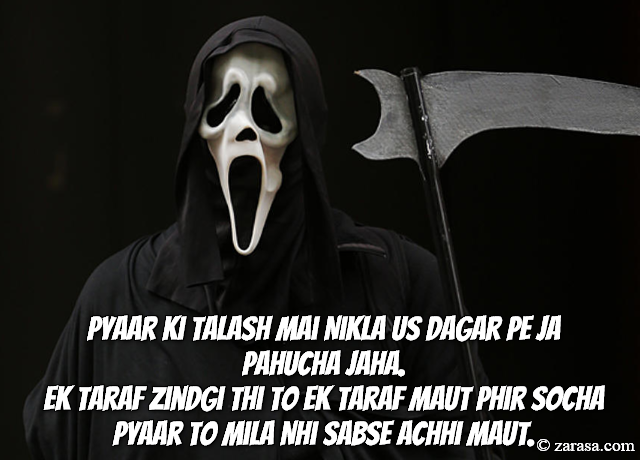 Pyaar Ki Talash Mai Nikla Us Dagar Pe Ja Pahucha Jaha.
Ek Taraf Zindgi Thi To Ek Taraf Maut Phir Socha Pyaar To Mila Nhi Sabse Achhi Maut.
प्यार की तलाश में निकला उस डगर पे जा पंहुचा जहा .
एक तरफ ज़िंदगी थी तो एक तरफ मौत फिर सोचा प्यार तो मिला नहीं सबसे अच्छी मौत .
پیار کی تلاش مے نکلا اس دگر پی جا پہچا جہا .
ایک طرف زندگی تھی تو ایک طرف موت پھر سوچا پیار تو ملا نہی سبسے اچھی موت .
---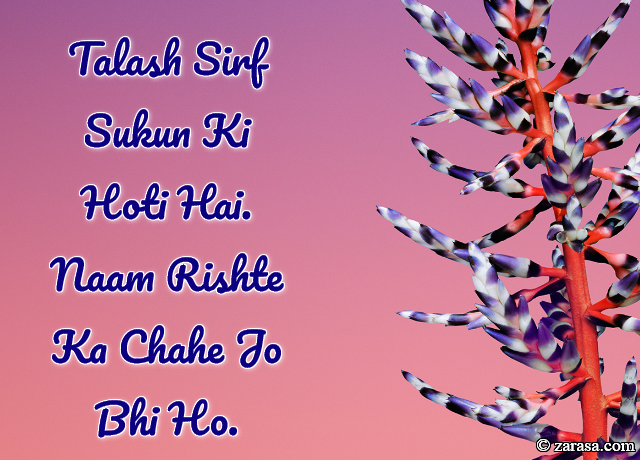 Talash Sirf Sukun Ki Hoti Hai.
Naam Rishte Ka Chahe Jo Bhi Ho.
तलाश सिर्फ सुकून की होती है .
नाम रिश्ते का चाहे जो भी हो .

تلاش صرف سکوں کی ہوتی ہے .
نام رشتے کا چاہے جو بھی ہو .

---