Talaash Shayari "Mujhe Kyu Talash Rahe Ho Huzur"
|
Apni Khamoshi Mai Mujhe Kyu Talash Rahe Ho Huzur.
Apni Dhadkano Se Pucho Mera Ek Basera Waha Bhi Hai.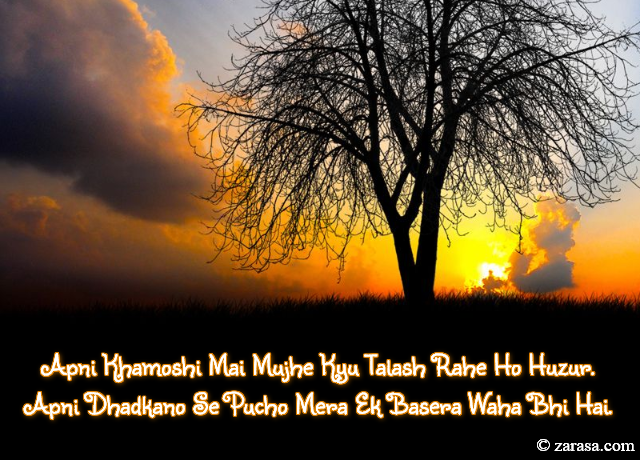 ---


अपनी ख़ामोशी मई मुझे क्यों तलाश रहे हो हुज़ूर .
अपनी धड़कनो से पूछो मेरा एक बसेरा वहा भी है .


---


اپنی خاموشی می مجھے کیو تلاش رہے ہو حضر .
اپنی دھدکانو سے پچو میرا ایک بسیرا وہا بھی ہے .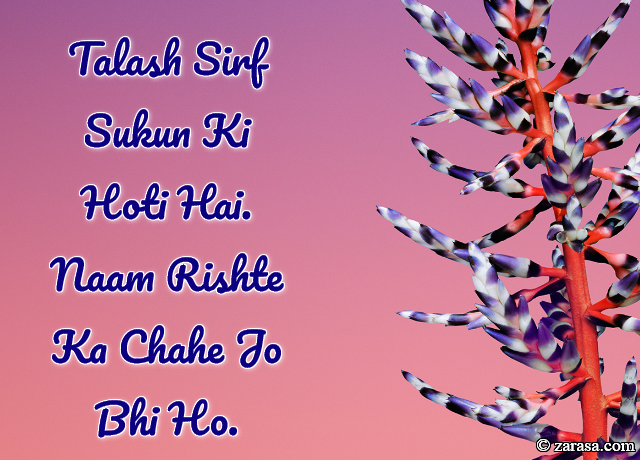 Talash Sirf Sukun Ki Hoti Hai.
Naam Rishte Ka Chahe Jo Bhi Ho.
तलाश सिर्फ सुकून की होती है .
नाम रिश्ते का चाहे जो भी हो .

تلاش صرف سکوں کی ہوتی ہے .
نام رشتے کا چاہے جو بھی ہو .

---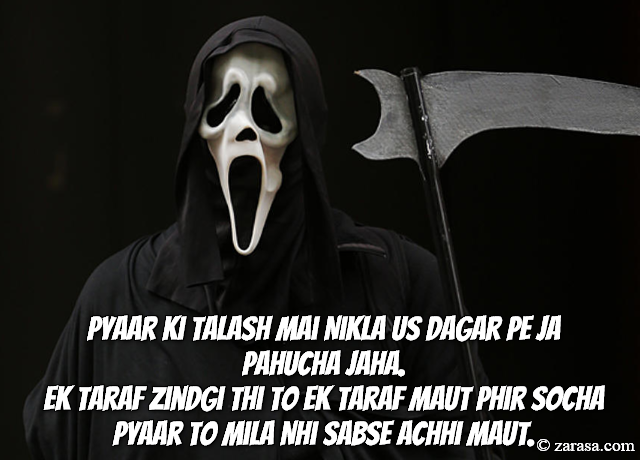 Pyaar Ki Talash Mai Nikla Us Dagar Pe Ja Pahucha Jaha.
Ek Taraf Zindgi Thi To Ek Taraf Maut Phir Socha Pyaar To Mila Nhi Sabse Achhi Maut.
प्यार की तलाश में निकला उस डगर पे जा पंहुचा जहा .
एक तरफ ज़िंदगी थी तो एक तरफ मौत फिर सोचा प्यार तो मिला नहीं सबसे अच्छी मौत .
پیار کی تلاش مے نکلا اس دگر پی جا پہچا جہا .
ایک طرف زندگی تھی تو ایک طرف موت پھر سوچا پیار تو ملا نہی سبسے اچھی موت .
---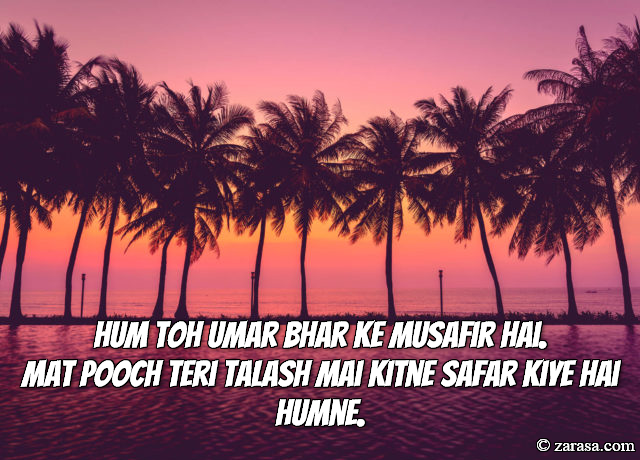 Hum Toh Umar Bhar Ke Musafir Hai.
Mat Pooch Teri Talash Mai Kitne Safar Kiye Hai Humne.
हम तोह उम्र भर के मुसाफिर है .
मत पूछ तेरी तलाश मई कितने सफर किये है हमने .

ہم ٹوہ امر بھر کے مسافر ہے .
مت پوچھ تیری تلاش می کتنے سفر کے ہے ہمنے .

---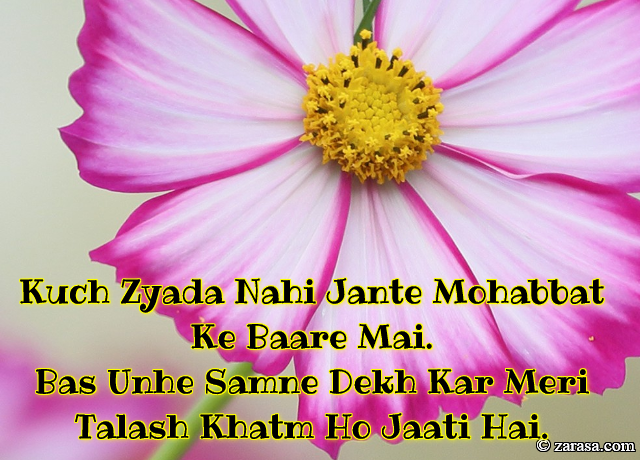 Kuch Zyada Nahi Jante Mohabbat Ke Baare Mai.
Bas Unhe Samne Dekh Kar Meri Talash Khatm Ho Jaati Hai.
कुछ ज़्यादा नहीं जानते मोहब्बत के बारे मै .
बस उन्हें सामने देख कर मेरी तलाश ख़त्म हो जाती है .
کچھ زیادہ نہیں جانتے موحبّت کے بارے می .
بس انھ سامنے دیکھ کر میری تلاش ختم ہو جاتی ہے .
---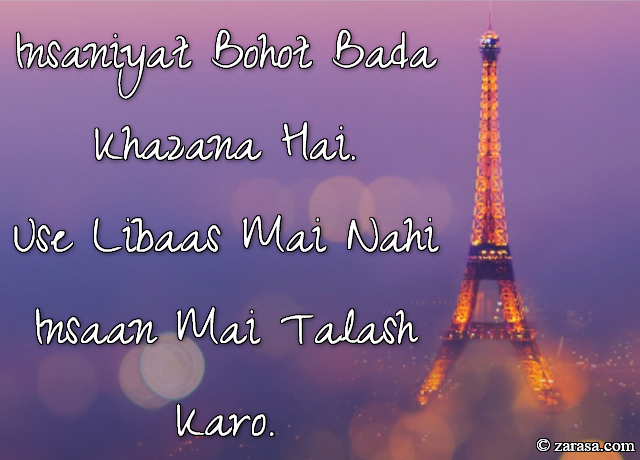 Insaniyat Bohot Bada Khazana Hai.
Use Libaas Mai Nahi Insaan Mai Talash Karo.

इंसानियत बोहोत बड़ा खज़ाना है .
उसे लिबास मै नहीं इंसान मै तलाश करो .

انسانیت بوہوت بد خزانہ ہے .
اسے لباس می نہیں انسان می تلاش کرو .
---