Talaash Shayari "Mujhe Kyu Talash Rahe Ho Huzur"
|
Apni Khamoshi Mai Mujhe Kyu Talash Rahe Ho Huzur.
Apni Dhadkano Se Pucho Mera Ek Basera Waha Bhi Hai.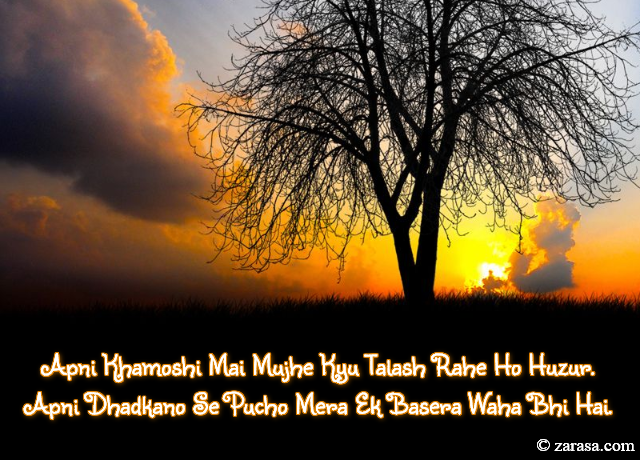 ---


अपनी ख़ामोशी मई मुझे क्यों तलाश रहे हो हुज़ूर .
अपनी धड़कनो से पूछो मेरा एक बसेरा वहा भी है .


---


اپنی خاموشی می مجھے کیو تلاش رہے ہو حضر .
اپنی دھدکانو سے پچو میرا ایک بسیرا وہا بھی ہے .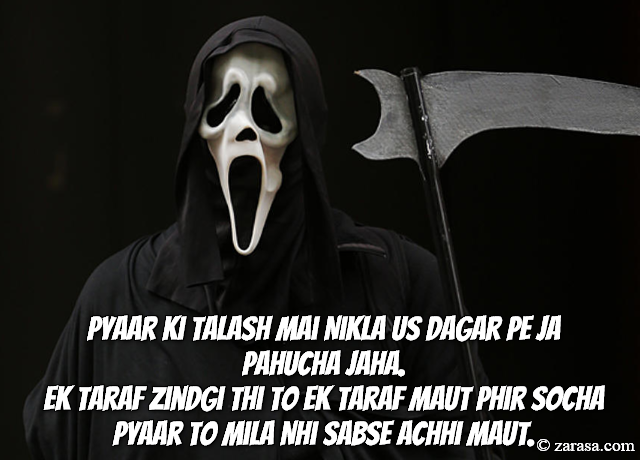 Pyaar Ki Talash Mai Nikla Us Dagar Pe Ja Pahucha Jaha.
Ek Taraf Zindgi Thi To Ek Taraf Maut Phir Socha Pyaar To Mila Nhi Sabse Achhi Maut.
प्यार की तलाश में निकला उस डगर पे जा पंहुचा जहा .
एक तरफ ज़िंदगी थी तो एक तरफ मौत फिर सोचा प्यार तो मिला नहीं सबसे अच्छी मौत .
پیار کی تلاش مے نکلا اس دگر پی جا پہچا جہا .
ایک طرف زندگی تھی تو ایک طرف موت پھر سوچا پیار تو ملا نہی سبسے اچھی موت .
---
Umar Bhar Rahi Faqat Wafa Ki Talash.
Par Har Shaks Mujhko Hi Kyun Bewafa Mila.

उम्र भर रही फ़क़त वफ़ा की तलाश .
पर हर शख्स मुझको ही क्यों बेवफा मिला .

امر بھر رہی فقط وفا کی تلاش .
پر ہر شکس مجھکو ہی کیوں بیوفا ملا .
---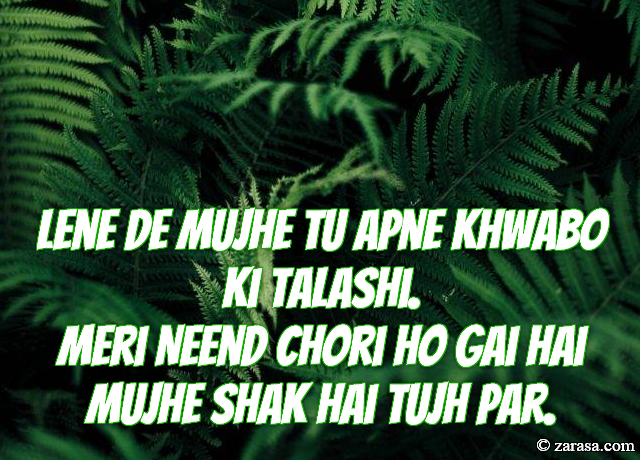 Lene De Mujhe Tu Apne Khwabo Ki Talashi.
Meri Neend Chori Ho Gai Hai Mujhe Shak Hai Tujh Par.
लेने दे मुझे तू अपने ख़्वाबों की तलाशी .
मेरी नींद चोरी हो गई है मुझे शक है तुझ पर .

لینے دے مجھے تو اپنے خوابو کی تلاشی .
میری نیند چوری ہو گئی ہے مجھے شک ہے تجھ پر .

---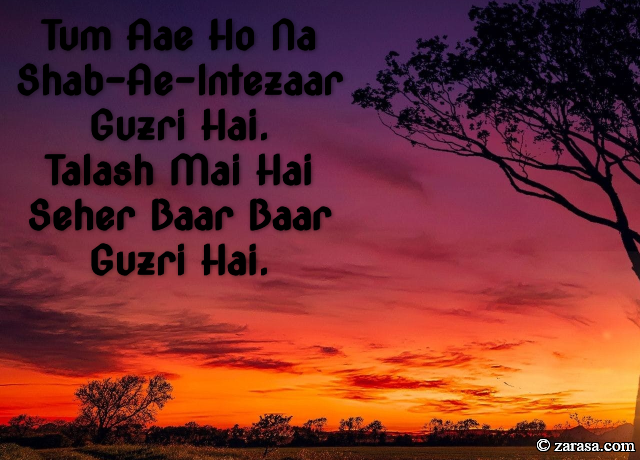 Tum Aae Ho Na Shab-Ae-Intezaar Guzri Hai.
Talash Mai Hai Seher Baar Baar Guzri Hai.
तुम आए हो न शब् -ऐ -इंतज़ार गुज़री है .
तलाश मै है सेहर बार बार गुज़री है .
تم ے ہو نہ شب -اے -انتظار گزری ہے .
تلاش می ہے سہر بار بار گزری ہے .
---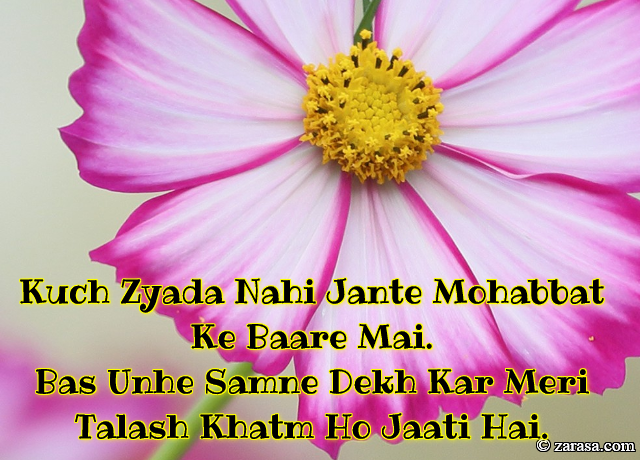 Kuch Zyada Nahi Jante Mohabbat Ke Baare Mai.
Bas Unhe Samne Dekh Kar Meri Talash Khatm Ho Jaati Hai.
कुछ ज़्यादा नहीं जानते मोहब्बत के बारे मै .
बस उन्हें सामने देख कर मेरी तलाश ख़त्म हो जाती है .
کچھ زیادہ نہیں جانتے موحبّت کے بارے می .
بس انھ سامنے دیکھ کر میری تلاش ختم ہو جاتی ہے .
---