Talaash Shayari "Mujhe Kyu Talash Rahe Ho Huzur"
|
Apni Khamoshi Mai Mujhe Kyu Talash Rahe Ho Huzur.
Apni Dhadkano Se Pucho Mera Ek Basera Waha Bhi Hai.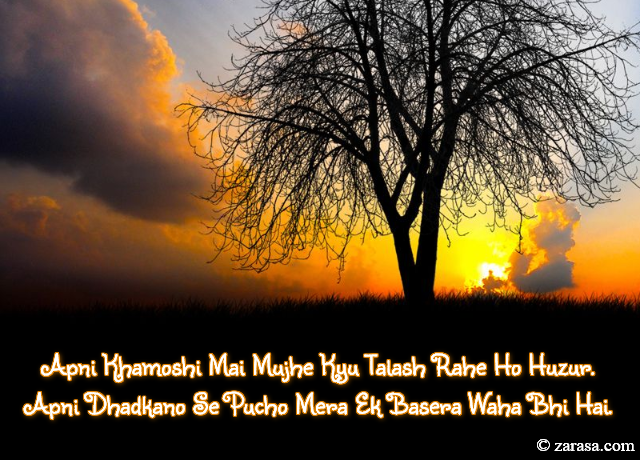 ---


अपनी ख़ामोशी मई मुझे क्यों तलाश रहे हो हुज़ूर .
अपनी धड़कनो से पूछो मेरा एक बसेरा वहा भी है .


---


اپنی خاموشی می مجھے کیو تلاش رہے ہو حضر .
اپنی دھدکانو سے پچو میرا ایک بسیرا وہا بھی ہے .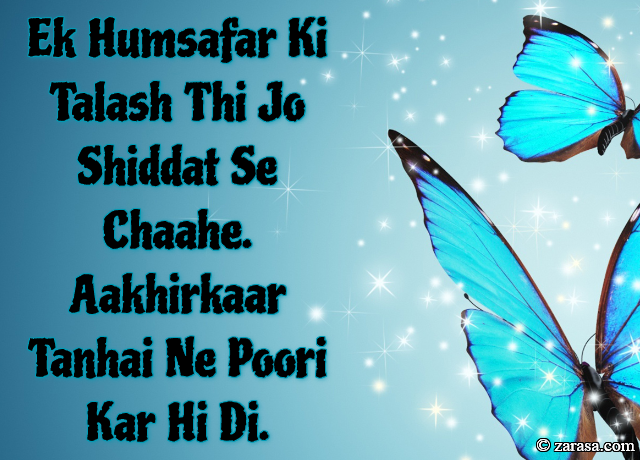 Ek Humsafar Ki Talash Thi Jo Shiddat Se Chaahe.
Aakhirkaar Tanhai Ne Poori Kar Hi Di.
एक हमसफ़र की तलाश थी जो शिद्दत से चाहे .
आखिरकार तन्हाई ने पूरी कर ही दी .

ایک ہمسفر کی تلاش تھی جو شدّت سے چاہے .
آخرکار تنہائی نے پوری کر ہی دی .

---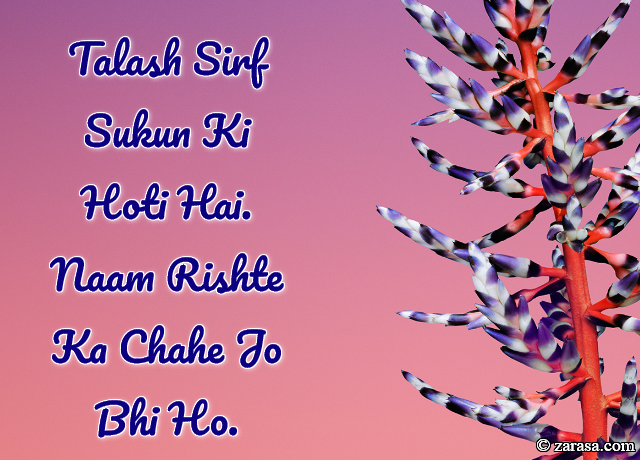 Talash Sirf Sukun Ki Hoti Hai.
Naam Rishte Ka Chahe Jo Bhi Ho.
तलाश सिर्फ सुकून की होती है .
नाम रिश्ते का चाहे जो भी हो .

تلاش صرف سکوں کی ہوتی ہے .
نام رشتے کا چاہے جو بھی ہو .

---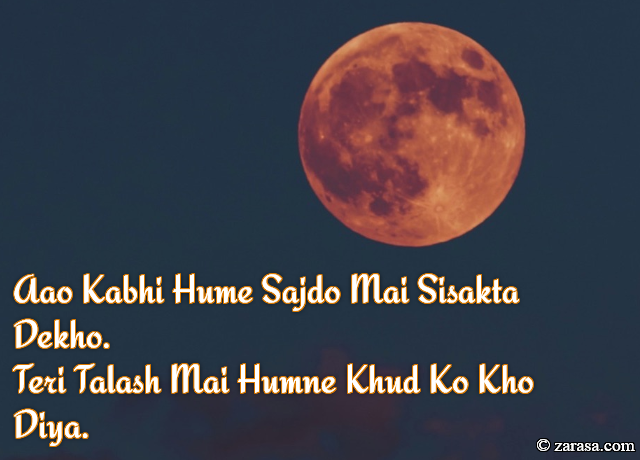 Aao Kabhi Hume Sajdo Mai Sisakta Dekho.
Teri Talash Mai Humne Khud Ko Kho Diya.
आओ कभी हमे सजदों मई सिसकता देखो .
तेरी तलाश मै हमने खुद को खो दिया .
او کبھی ہمے سجدو می سسکتا دیکھو .
تیری تلاش می ہمنے خود کو کھو دیا .
---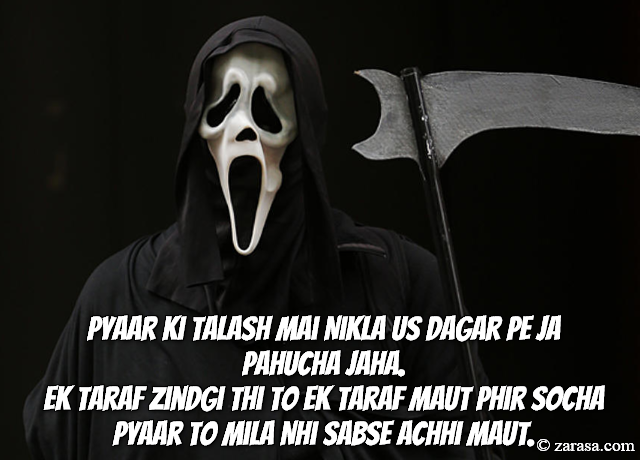 Pyaar Ki Talash Mai Nikla Us Dagar Pe Ja Pahucha Jaha.
Ek Taraf Zindgi Thi To Ek Taraf Maut Phir Socha Pyaar To Mila Nhi Sabse Achhi Maut.
प्यार की तलाश में निकला उस डगर पे जा पंहुचा जहा .
एक तरफ ज़िंदगी थी तो एक तरफ मौत फिर सोचा प्यार तो मिला नहीं सबसे अच्छी मौत .
پیار کی تلاش مے نکلا اس دگر پی جا پہچا جہا .
ایک طرف زندگی تھی تو ایک طرف موت پھر سوچا پیار تو ملا نہی سبسے اچھی موت .
---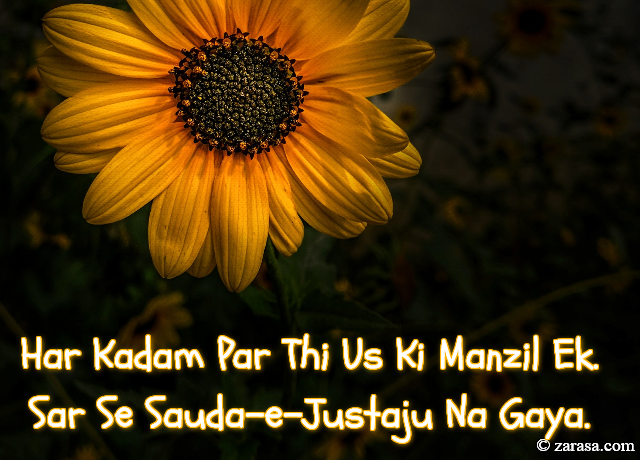 Har Kadam Par Thi Us Ki Manzil Ek.
Sar Se Sauda-e-Justaju Na Gaya.

हर मंज़िल पर थी उस की मंज़िल एक .
सर से सौदा -इ -जुस्तजू न गया .

ہر کدام پر تھی اس کی منزل ایک .
سر سے سودا -ا -جستجو نہ گیا .
---