Talaash Shayari "Toot Ke Bikhro Toh Batana Hum Ko"
|
Wo Kahan Gaya Jo Kehta Tha.Toot Ke Bikhro Toh Batana Hum Ko.
Rait Ke Zarron Se Bhi Chun Lunga Tumhein.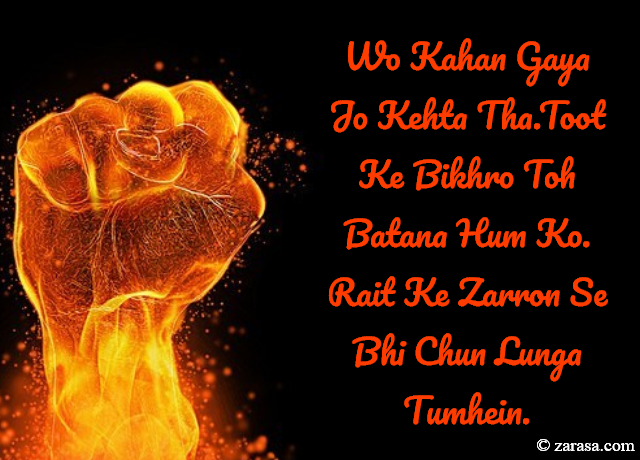 ---

वो कहाँ गया जो कहता था .तूट के बिखरो तोह बताना हम को .
राइट के ज़र्रों से भी चुन लूंगा तुम्हें .



---

وو کہاں گیا جو کہتا تھا .ٹوٹ کے بخرو تو بتانا ہم کو .
ریت کے زرروں سے بھی چن لونگا تمھیں .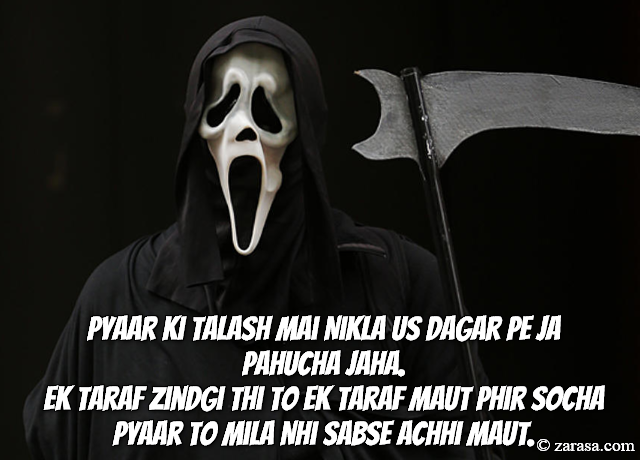 Pyaar Ki Talash Mai Nikla Us Dagar Pe Ja Pahucha Jaha.
Ek Taraf Zindgi Thi To Ek Taraf Maut Phir Socha Pyaar To Mila Nhi Sabse Achhi Maut.
प्यार की तलाश में निकला उस डगर पे जा पंहुचा जहा .
एक तरफ ज़िंदगी थी तो एक तरफ मौत फिर सोचा प्यार तो मिला नहीं सबसे अच्छी मौत .
پیار کی تلاش مے نکلا اس دگر پی جا پہچا جہا .
ایک طرف زندگی تھی تو ایک طرف موت پھر سوچا پیار تو ملا نہی سبسے اچھی موت .
---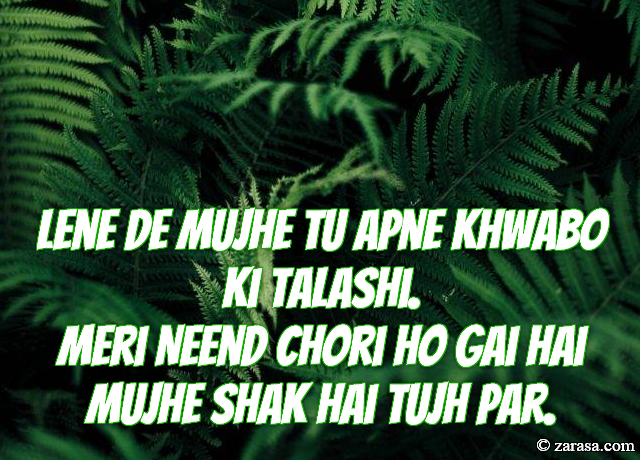 Lene De Mujhe Tu Apne Khwabo Ki Talashi.
Meri Neend Chori Ho Gai Hai Mujhe Shak Hai Tujh Par.
लेने दे मुझे तू अपने ख़्वाबों की तलाशी .
मेरी नींद चोरी हो गई है मुझे शक है तुझ पर .

لینے دے مجھے تو اپنے خوابو کی تلاشی .
میری نیند چوری ہو گئی ہے مجھے شک ہے تجھ پر .

---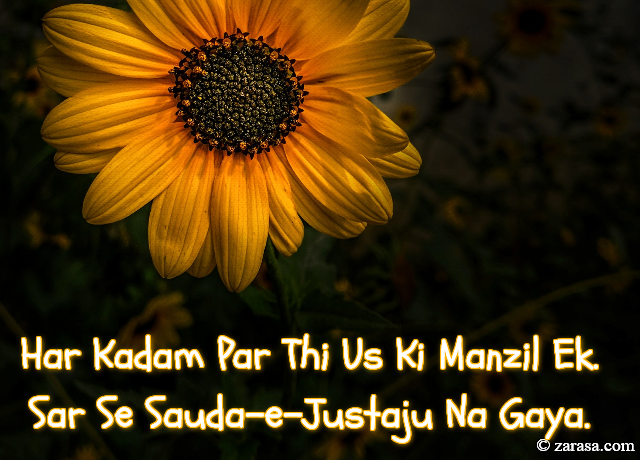 Har Kadam Par Thi Us Ki Manzil Ek.
Sar Se Sauda-e-Justaju Na Gaya.

हर मंज़िल पर थी उस की मंज़िल एक .
सर से सौदा -इ -जुस्तजू न गया .

ہر کدام پر تھی اس کی منزل ایک .
سر سے سودا -ا -جستجو نہ گیا .
---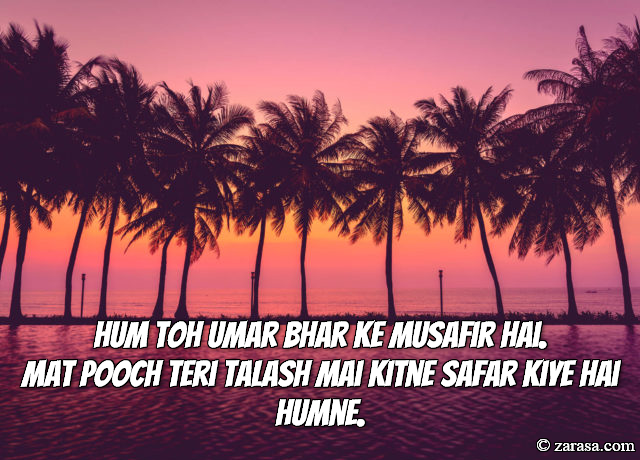 Hum Toh Umar Bhar Ke Musafir Hai.
Mat Pooch Teri Talash Mai Kitne Safar Kiye Hai Humne.
हम तोह उम्र भर के मुसाफिर है .
मत पूछ तेरी तलाश मई कितने सफर किये है हमने .

ہم ٹوہ امر بھر کے مسافر ہے .
مت پوچھ تیری تلاش می کتنے سفر کے ہے ہمنے .

---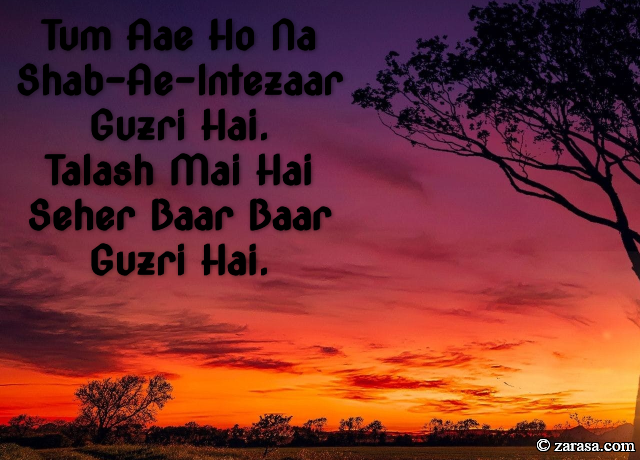 Tum Aae Ho Na Shab-Ae-Intezaar Guzri Hai.
Talash Mai Hai Seher Baar Baar Guzri Hai.
तुम आए हो न शब् -ऐ -इंतज़ार गुज़री है .
तलाश मै है सेहर बार बार गुज़री है .
تم ے ہو نہ شب -اے -انتظار گزری ہے .
تلاش می ہے سہر بار بار گزری ہے .
---