Talaash Shayari "Meri Talash Khatm Ho Jaati Hai"
|
Kuch Zyada Nahi Jante Mohabbat Ke Baare Mai.
Bas Unhe Samne Dekh Kar Meri Talash Khatm Ho Jaati Hai.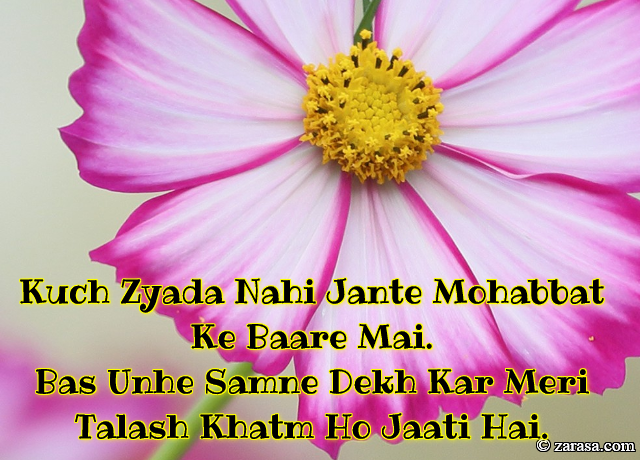 ---

कुछ ज़्यादा नहीं जानते मोहब्बत के बारे मै .
बस उन्हें सामने देख कर मेरी तलाश ख़त्म हो जाती है .


---

کچھ زیادہ نہیں جانتے موحبّت کے بارے می .
بس انھ سامنے دیکھ کر میری تلاش ختم ہو جاتی ہے .


Umar Bhar Rahi Faqat Wafa Ki Talash.
Par Har Shaks Mujhko Hi Kyun Bewafa Mila.

उम्र भर रही फ़क़त वफ़ा की तलाश .
पर हर शख्स मुझको ही क्यों बेवफा मिला .

امر بھر رہی فقط وفا کی تلاش .
پر ہر شکس مجھکو ہی کیوں بیوفا ملا .
---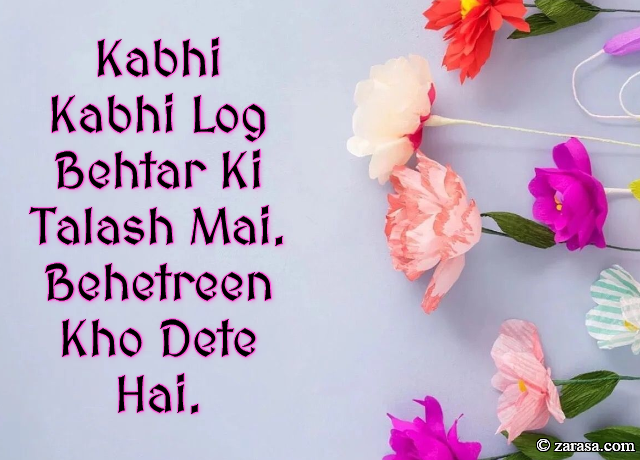 Kabhi Kabhi Log Behtar Ki Talash Mai.
Behetreen Kho Dete Hai.
कभी कभी लोग बेहतर की तलाश मै .
बेहतरीन खो देते है .

کبھی کبھی لوگ بہتر کی تلاش می .
بہترین کھو دیتے ہے .

---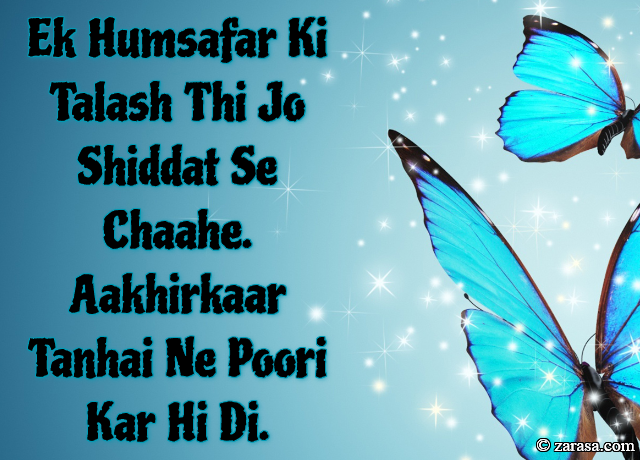 Ek Humsafar Ki Talash Thi Jo Shiddat Se Chaahe.
Aakhirkaar Tanhai Ne Poori Kar Hi Di.
एक हमसफ़र की तलाश थी जो शिद्दत से चाहे .
आखिरकार तन्हाई ने पूरी कर ही दी .

ایک ہمسفر کی تلاش تھی جو شدّت سے چاہے .
آخرکار تنہائی نے پوری کر ہی دی .

---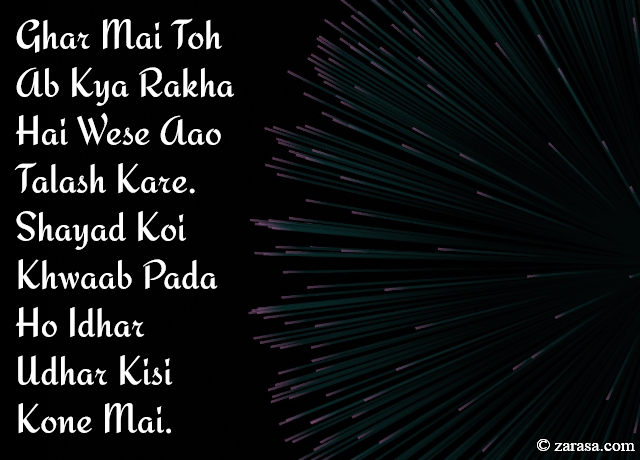 Ghar Mai Toh Ab Kya Rakha Hai Wese Aao Talash Kare.
Shayad Koi Khwaab Pada Ho Idhar Udhar Kisi Kone Mai.
घर मै तो अब क्या रखा है वैसे आओ तलाश करे .
शायद कोई ख्वाब पड़ा हो इधर उधर किसी कोने मै .



گھر می ٹوہ اب کیا رکھا ہے ویسے او تلاش کرے .
شاید کوئی خواب پڑا ہو ادھر ادھر کسی کونے می .



---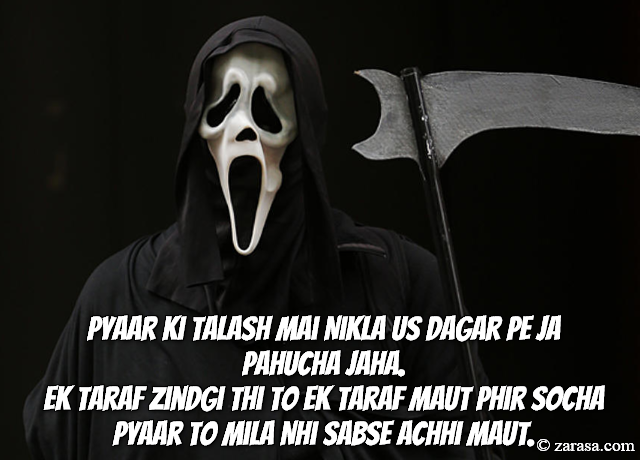 Pyaar Ki Talash Mai Nikla Us Dagar Pe Ja Pahucha Jaha.
Ek Taraf Zindgi Thi To Ek Taraf Maut Phir Socha Pyaar To Mila Nhi Sabse Achhi Maut.
प्यार की तलाश में निकला उस डगर पे जा पंहुचा जहा .
एक तरफ ज़िंदगी थी तो एक तरफ मौत फिर सोचा प्यार तो मिला नहीं सबसे अच्छी मौत .
پیار کی تلاش مے نکلا اس دگر پی جا پہچا جہا .
ایک طرف زندگی تھی تو ایک طرف موت پھر سوچا پیار تو ملا نہی سبسے اچھی موت .
---