Talaash Shayari "Meri Talash Khatm Ho Jaati Hai"
|
Kuch Zyada Nahi Jante Mohabbat Ke Baare Mai.
Bas Unhe Samne Dekh Kar Meri Talash Khatm Ho Jaati Hai.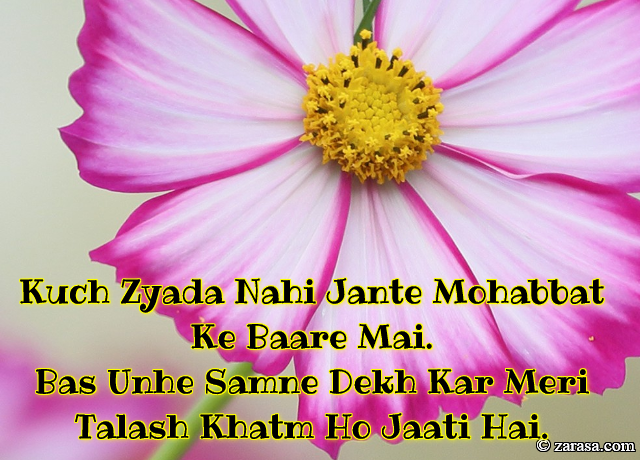 ---

कुछ ज़्यादा नहीं जानते मोहब्बत के बारे मै .
बस उन्हें सामने देख कर मेरी तलाश ख़त्म हो जाती है .


---

کچھ زیادہ نہیں جانتے موحبّت کے بارے می .
بس انھ سامنے دیکھ کر میری تلاش ختم ہو جاتی ہے .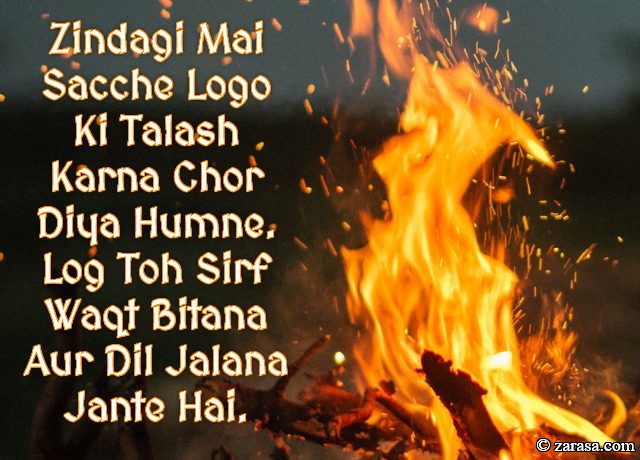 Zindagi Mai Sacche Logo Ki Talash Karna Chor Diya Humne.
Log Toh Sirf Waqt Bitana Aur Dil Jalana Jante Hai.
ज़िन्दगी मै सच्चे लोगो की तलाश करना छोड़ दिया हमने .
लोग तोह सिर्फ वक़्त बिताना और दिल जलना जानते है .



زندگی می سکچے لوگو کی تلاش کرنا چھوڑ دیا ہمنے .
لوگ ٹوہ صرف وقت بتانا اور دل جلانا جانتے ہے .



---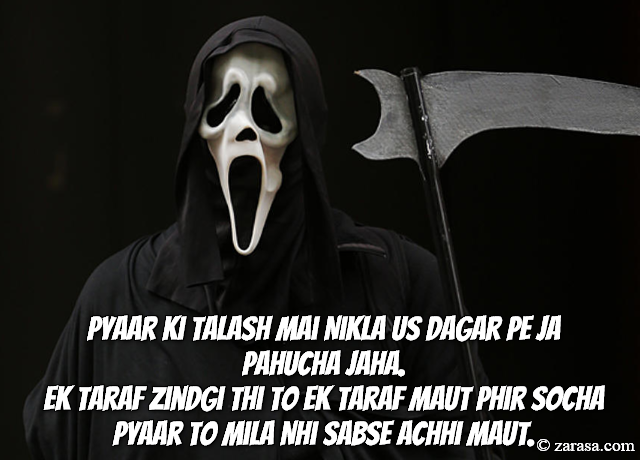 Pyaar Ki Talash Mai Nikla Us Dagar Pe Ja Pahucha Jaha.
Ek Taraf Zindgi Thi To Ek Taraf Maut Phir Socha Pyaar To Mila Nhi Sabse Achhi Maut.
प्यार की तलाश में निकला उस डगर पे जा पंहुचा जहा .
एक तरफ ज़िंदगी थी तो एक तरफ मौत फिर सोचा प्यार तो मिला नहीं सबसे अच्छी मौत .
پیار کی تلاش مے نکلا اس دگر پی جا پہچا جہا .
ایک طرف زندگی تھی تو ایک طرف موت پھر سوچا پیار تو ملا نہی سبسے اچھی موت .
---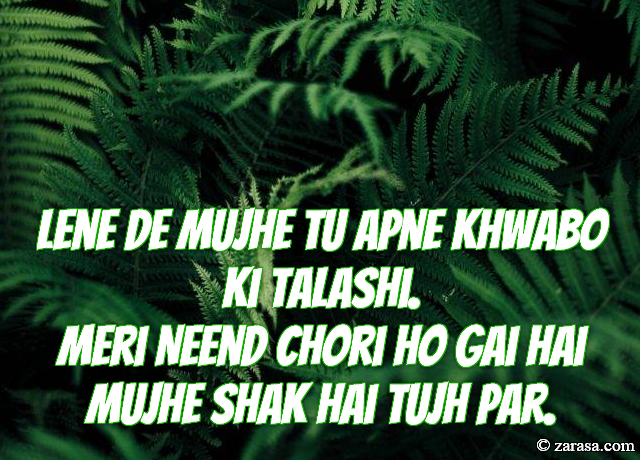 Lene De Mujhe Tu Apne Khwabo Ki Talashi.
Meri Neend Chori Ho Gai Hai Mujhe Shak Hai Tujh Par.
लेने दे मुझे तू अपने ख़्वाबों की तलाशी .
मेरी नींद चोरी हो गई है मुझे शक है तुझ पर .

لینے دے مجھے تو اپنے خوابو کی تلاشی .
میری نیند چوری ہو گئی ہے مجھے شک ہے تجھ پر .

---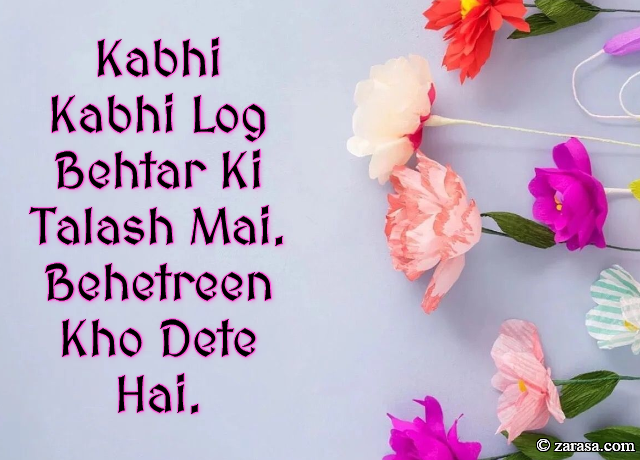 Kabhi Kabhi Log Behtar Ki Talash Mai.
Behetreen Kho Dete Hai.
कभी कभी लोग बेहतर की तलाश मै .
बेहतरीन खो देते है .

کبھی کبھی لوگ بہتر کی تلاش می .
بہترین کھو دیتے ہے .

---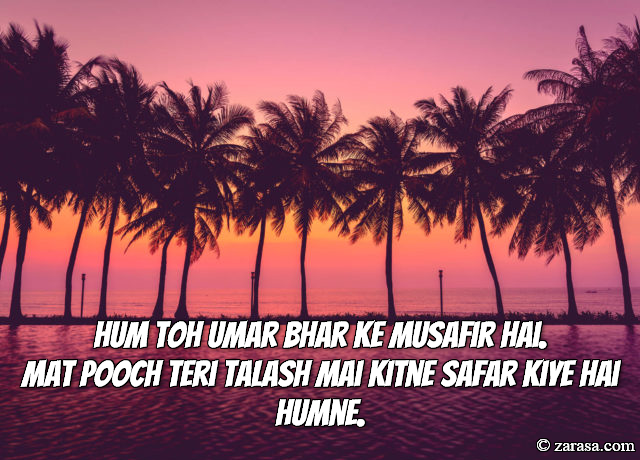 Hum Toh Umar Bhar Ke Musafir Hai.
Mat Pooch Teri Talash Mai Kitne Safar Kiye Hai Humne.
हम तोह उम्र भर के मुसाफिर है .
मत पूछ तेरी तलाश मई कितने सफर किये है हमने .

ہم ٹوہ امر بھر کے مسافر ہے .
مت پوچھ تیری تلاش می کتنے سفر کے ہے ہمنے .

---