Tanziya Shayari (Sarcastic ) "Zaroori To Nahi"
|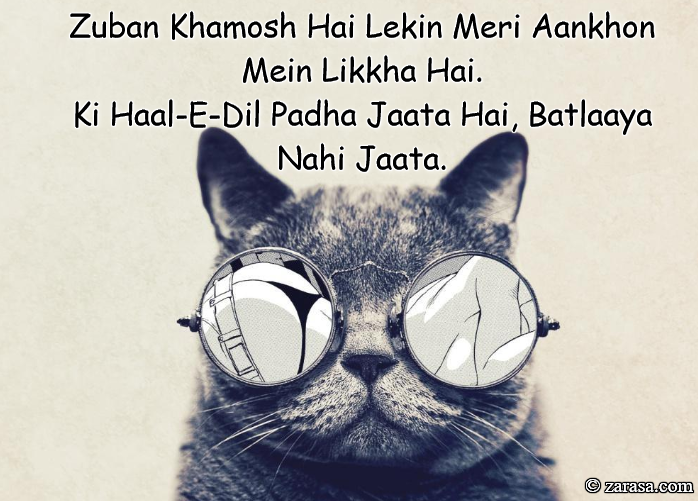 Zuban Khamosh Hai Lekin Meri Aankhon Mein Likkha Hai.
Ki Haal-E-Dil Padha Jaata Hai, Batlaaya Nahi Jaata.
ज़ुबान खामोश है लेकिन मेरी आँखों में लिखा है .
की हाल -इ -दिल पढ़ा जाता है , बतलाया नहीं जाता .
زبان خاموش ہے لیکن میری آنکھوں میں لکّھا ہے .
کی حال -ا -دل پڑھا جاتا ہے , بتلایا نہیں جاتا .
---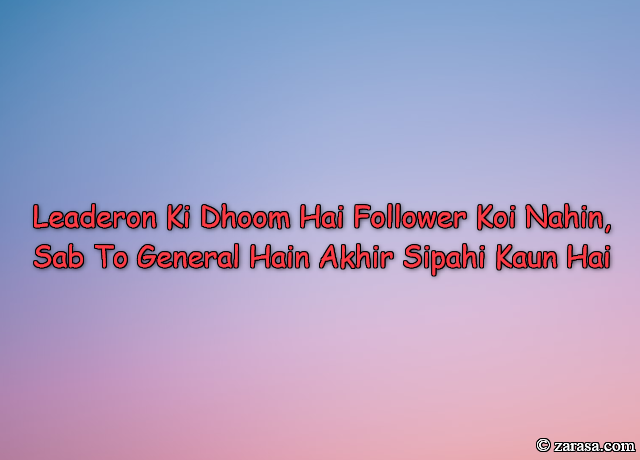 Leaderon Ki Dhoom Hai Follower Koi Nahin,
Sab To General Hain Akhir Sipahi Kaun Hai


लीडरों की धूम है फोल्लोवेर कोई नहीं ,
सब तो जनरल हैं आखिर सिपाही कौन है
              अकबर अल्लहाबादी
لیڈروں کی دھوم ہے فولّور کوئی نہیں ,
سب تو جنرل ہیں اکھڑ سپاہی کون ہے -
              اکبر اللہآبادی
---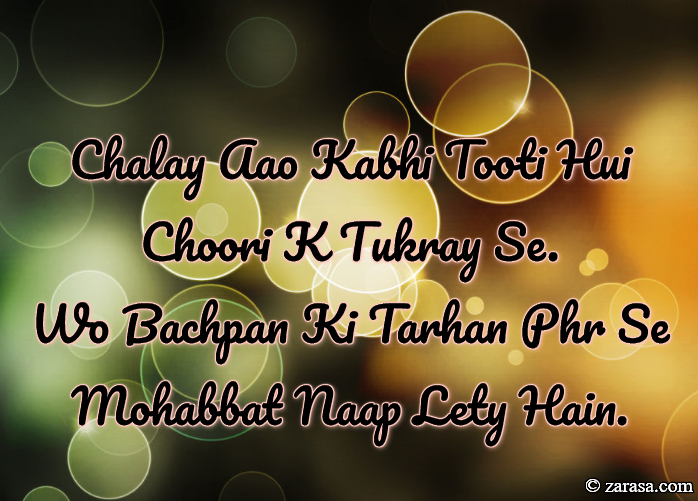 Chalay Aao Kabhi Tooti Hui Choori K Tukray Se.
Wo Bachpan Ki Tarhan Phr Se Mohabbat Naap Lety Hain.
चले आओ कभी टूटी हुई चोरी के टुकड़े से .
वो बचपन की तर्हां पहर से मोहब्बत नाप लेती हैं .
چلے او کبھی ٹوٹی ہی چوری ک ٹکڑے سے .
وو بچپن کی ترہان پھر سے موہبت ناپ لٹے ہیں .
---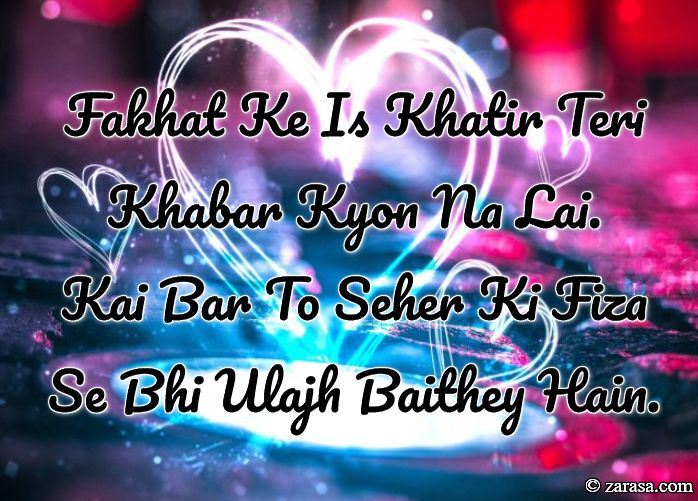 Fakhat Ke Is Khatir Teri Khabar Kyon Na Lai.
Kai Bar To Seher Ki Fiza Se Bhi Ulajh Baithey Hain.
फखत के इस खातिर तेरी खबर क्यों ना ले .
कई बार तो सेहर की फ़िज़ा से भी उलझ बैठे हैं .
فاخت کے اس خاطر تیری خبر کیوں نہ لی .
کی بار تو سہر کی فضا سے بھی الجھ بیٹھے ہیں .
---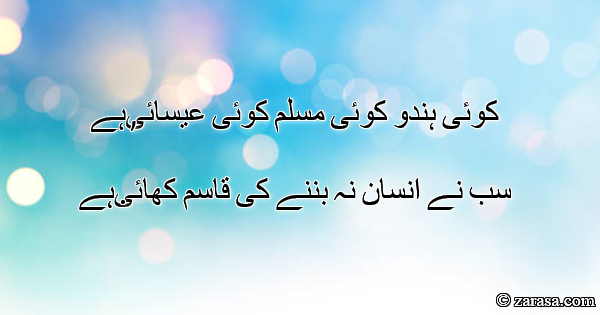 Koi Hindu Koi Muslim Koi Isai Hai,
Sab Ne Insan Na Banne Ki Quasam Khaai Hai.


कोई हिन्दू कोई मुस्लिम कोई ईसाई है,
सब ने इंसान न बनने की कसम खाई है.
کوئی ہندو کوئی مسلم کوئی عیسائی ہے ,
سب نے انسان نہ بننے کی قاسم کھائی ہے .
---