Tanziya Shayari (Sarcastic) "Leaderon Ki Dhoom Hai Follower Koi Nahin"
|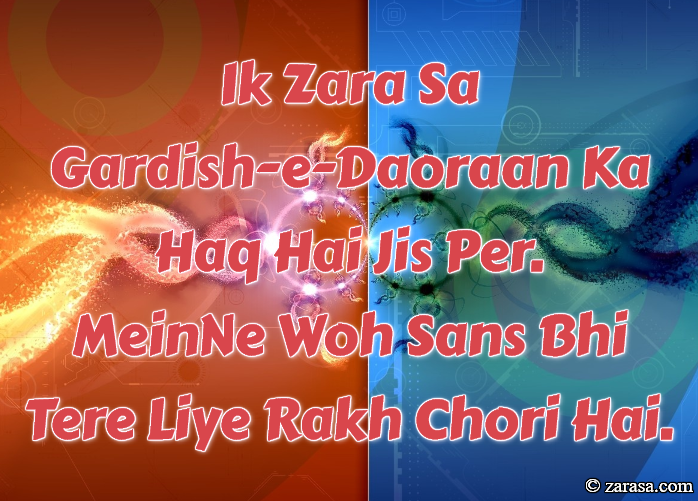 Ik Zara Sa Gardish-e-Daoraan Ka Haq Hai Jis Per.
MeinNe Woh Sans Bhi Tere Liye Rakh Chori Hai.
इक ज़रासा गर्दिश -इ -दौरान का हक़ है जिस पैर .
मैंने वह साँस भी तेरे लिए रख चोरी है .
اک ذرا سا گردش -ا -دوران کا حق ہے جس پر .
میںنے وہ سانس بھی تیرے لئے رکھ چوری ہے .
---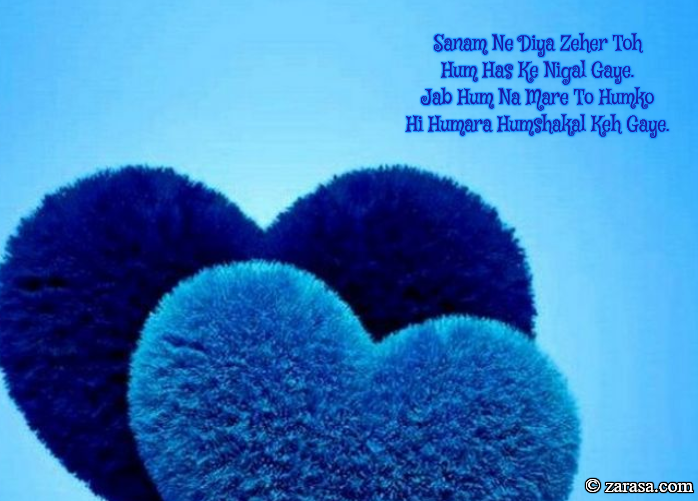 Sanam Ne Diya Zeher Toh Hum Has Ke Nigal Gaye.
Jab Hum Na Mare To Humko Hi Humara Humshakal Keh Gaye.
सनम ने दिया ज़हर तोह हम है के निगल गए .
जब हम ना मारे तो हमको ही हमारा हमशकल कह गए .
صنم نے دیا زہر ٹوہ ہم حس کے نگل گئے .
جب ہم نہ مارے تو ہمکو ہی ہمارا ہمشکل کہ گئے .
---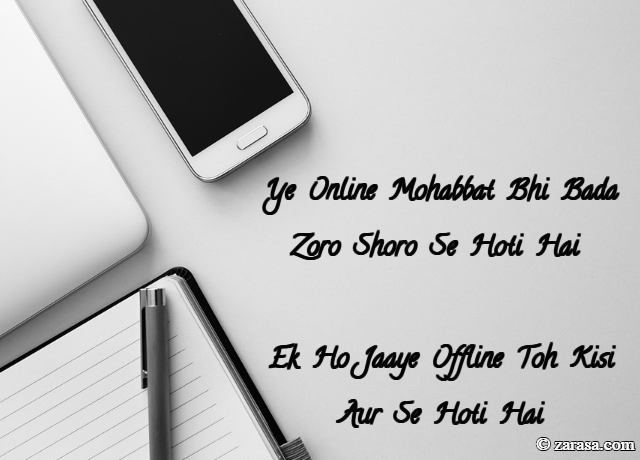 Ye Online Mohabbat Bhi Bada Zoro Shoro Se Hoti Hai
Ek Ho Jaaye Offline Toh Kisi Aur Se Hoti Hai...
ये ऑनलाइन मोहब्बत भी बड़ा ज़ोरो शोरों से होती है
एक हो जाए ऑफलाइन तोह किसी और से होती है।
یہ آن لائن موحبّت بھی بد زورو شورو سے ہوتی ہے
ایک ہو جائے وففلنے توہ کسی اور سے ہوتی ہے
---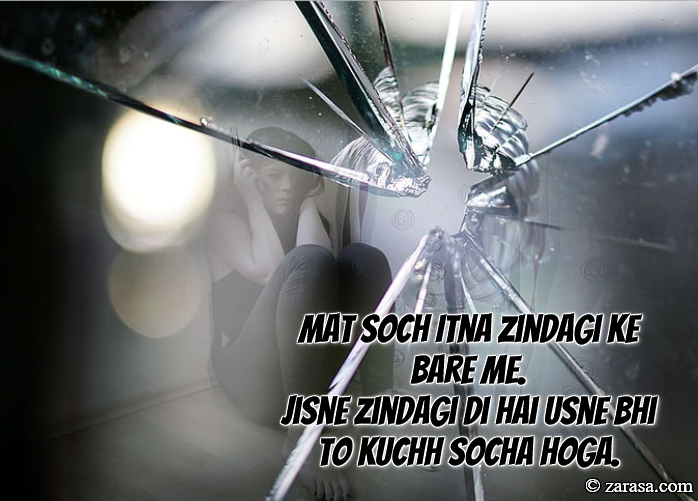 Mat Soch Itna Zindagi Ke Bare Me.
Jisne Zindagi Di Hai Usne Bhi To Kuchh Socha Hoga.
मत सोच इतना ज़िन्दगी के बारे में .
जिसने ज़िन्दगी दी है उसने भी तो कुछ सोचा होगा .
مت سوچ اتنا زندگی کے بارے مے .
جسنے زندگی دی ہے اسنے بھی تو کچھ سوچا ہوگا .
---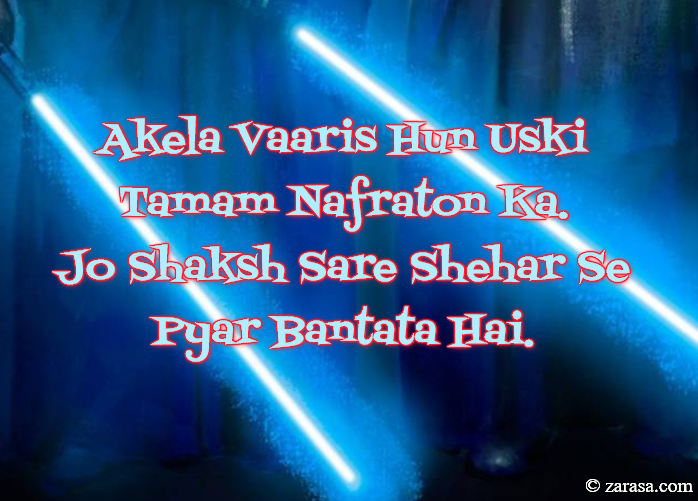 Akela Vaaris Hun Uski Tamam Nafraton Ka.
Jo Shaksh Sare Shehar Se Pyar Bantata Hai.
अकेला वारिस हूँ उसकी तमाम नफरतों का .
जो शक्श सरे शहर से प्यार बांटता है .
اکیلا وارث ہوں اسکی تمام نفرتوں کا .
جو شکش سارے شہر سے پیار بانٹتا ہے .
---