Tanziya Shayari (Sarcastic) "Leaderon Ki Dhoom Hai Follower Koi Nahin"
|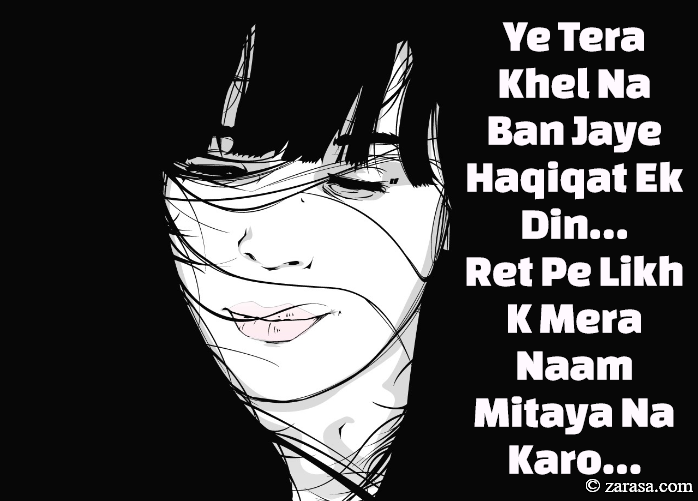 Ye Tera Khel Na Ban Jaye Haqiqat Ek Din…
Ret Pe Likh K Mera Naam Mitaya Na Karo…
ये तेरा खेल न बन जाये हक़ीक़त एक दिन …
रेट पे लिख क मेरा नाम मिटाया ना करो …
یہ تیرا کھل نہ بن جائے حقیقت ایک دن …
ریت پی لکھ کے میرا نام مٹایا نہ کرو …
---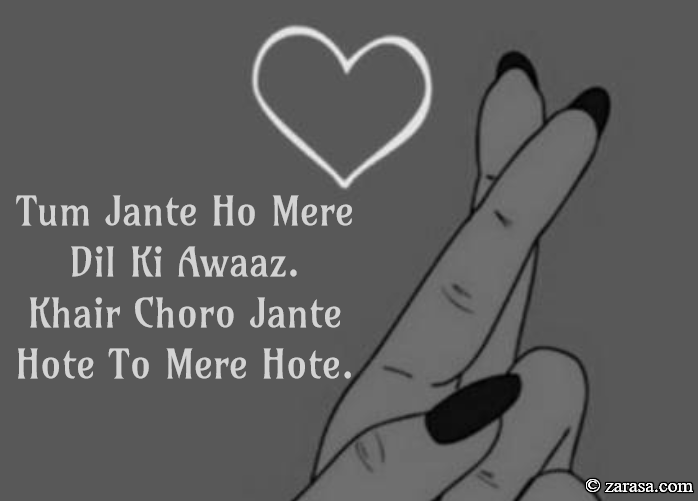 Tum Jante Ho Mere Dil Ki Awaaz.
Khair Choro Jante Hote To Mere Hote.
तुम जानते हो मेरे दिल की आवाज़ .
खैर चोरो जानते होते तो मेरे होते .
تم جانتے ہو میرے دل کی آواز .
خیر چھوڑو جانتے ہوتے تو میرے ہوتے .
---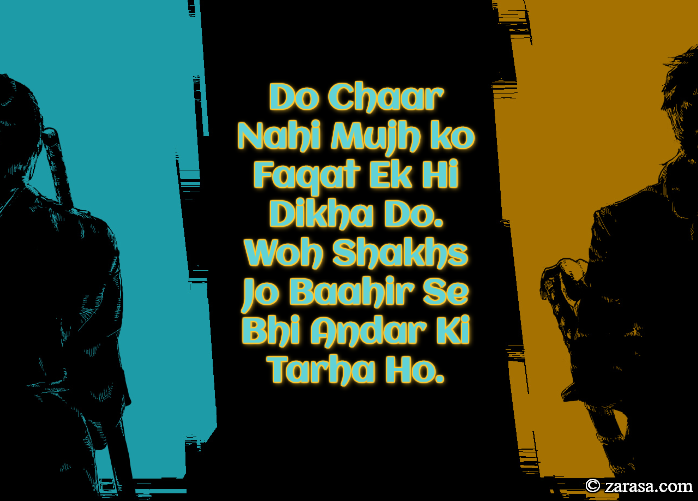 Do Chaar Nahi Mujh ko Faqat Ek Hi Dikha Do.
Woh Shakhs Jo Baahir Se Bhi Andar Ki Tarha Ho.
दो चार नहीं मुझ को फ़क़त एक ही दिखा दो .
वह शख्स जो बाहिर से भी अंदर की तरह हो .
دو چار نہیں مجھ کو فقط ایک ہی دکھا دو .
وہ شخص جو باہر سے بھی اندر کی تارہا ہو .
---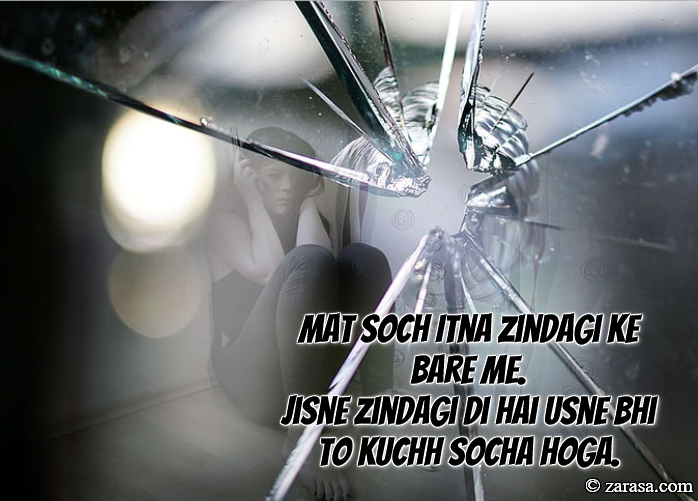 Mat Soch Itna Zindagi Ke Bare Me.
Jisne Zindagi Di Hai Usne Bhi To Kuchh Socha Hoga.
मत सोच इतना ज़िन्दगी के बारे में .
जिसने ज़िन्दगी दी है उसने भी तो कुछ सोचा होगा .
مت سوچ اتنا زندگی کے بارے مے .
جسنے زندگی دی ہے اسنے بھی تو کچھ سوچا ہوگا .
---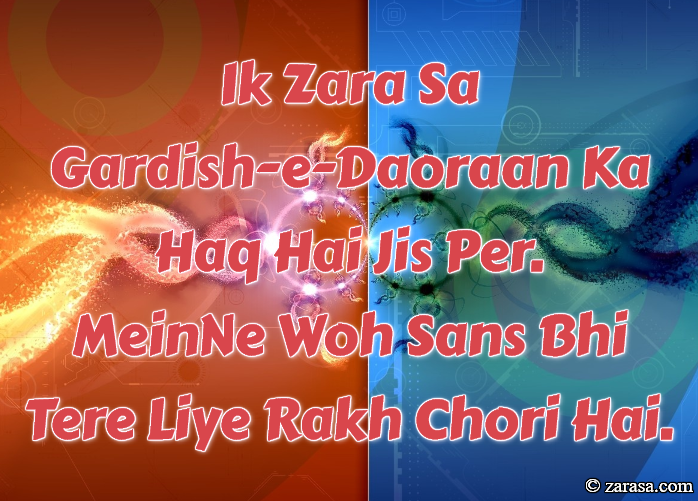 Ik Zara Sa Gardish-e-Daoraan Ka Haq Hai Jis Per.
MeinNe Woh Sans Bhi Tere Liye Rakh Chori Hai.
इक ज़रासा गर्दिश -इ -दौरान का हक़ है जिस पैर .
मैंने वह साँस भी तेरे लिए रख चोरी है .
اک ذرا سا گردش -ا -دوران کا حق ہے جس پر .
میںنے وہ سانس بھی تیرے لئے رکھ چوری ہے .
---